Welcome to Year 6
Hawk Class is taught by Miss Tingle and supported by Mrs Lovekin alongside Mr Grace and Miss Wood.
Eagle Class is taught by Miss Orchin and supported by Mrs Roberts alongside Mr Wan.
Additional information for parents will be added to the bottom of this page.
Thanksgiving Service 2019
Year 6 led the rest of Ashley School in our Thanksgiving Service today. They encouraged us to look back and be thankful for the academic year that will soon be drawing to a close. It was also an opportunity for Year 6 themselves to reflect on their time at Ashley and consider how they have developed, not only in their learning but personally too. They sang a song entitled "Once I was in Year 1". The words of which can be found below. There wasn't a dry eye in the church!
Year 6 did a wonderful job and Miss Orchin and Miss Tingle could not be prouder of them.
Two weeks to go!
Summer 1:
Where can we find awe and wonder in the Alps?
The Principle of Adaptation
This half term, Year 6 are preparing for their much-anticipated trip to Chamonix by exploring the awe and wonder of the Alps!
We have been generating descriptive language to create our very own 'Travel Guides' for the Alps and have produced some incredible writing:
The crystal blue water sparkles in the sunlight. Fluffy clouds hover over the everlasting green as eagles soar over the mountains. - Thomas D
The bliss alpine smell surrounds the dagger like mountains standing tall in the sharp wind. The eagle glides by; the water ripples reflect off his glassy eyes. - Billy R
Silver mountains clustered together like an arrow in a leather quiver. - Gabriel W
Ascending the rugged mountains, my ears rang with the blissful hum of bees; confused colours filled my eyes with wonder. - Ethan T
Blankets of snow lie upon the Alp's surface; a gradient transformation from crystal snow, to emerald grass appears. - Eden F
Claude Monet
In Art, we have been studying Claude Monet's artwork and style and we were inspired to produce our own paintings of the Alps by imitating Monet's work.
SATs week? Not a bother to this lot!
The Year 6 team could not be prouder of how well Eagles and Hawks have handled this week of assessments. They have worked extremely hard in the run up to their SATs and approached their tests in a calm and confident manner. Keeping with the Year 6 Ashley tradition, we made our way to the park this morning for lots of fun, laughter and silliness! We also had the absolute treat of an ICE CREAM VAN paying us a visit. A massive thank you to one of our wonderful SNAs, Mr Wan, for this surprise.
Well done Year 6! No matter what the results, you're all superstars!
Spring 2:
How do the Inuit live with nature?
The Principle of the Cycle
Year 6 celebrate Pancake Tuesday!
This morning, Year 6 took a bit of break from our usual timetable and celebrated Pancake Tuesday properly by making and flipping pancakes! They were delicious.
Year 6 Great Works
Year 6 finished a busy term by sharing their Inuit Dream Stories with Year 5. Miss Orchin and Miss Tingle were very proud of the children throughout the story writing process and the final drafts were captivating and exciting. Well done Year 6!
Spring 1:
Is Antarctica Worth Protecting?
The Principle of Interdependence
'Sustainability is about finding beautiful solutions to ugly problems.'
Is Antarctica worth protecting? It is a HUGE question, one which requires intensive discussion, research and a lot of hard-working Year 6s.
Year 6 have started to explore the beauty and wonder of Antarctica and have truly fallen in love with this magical world.
In our English learning, we have been producing narrations about the breeding cycle of the Emperor Penguin based on models from the infamous Sir David Attenborough. We got into groups to create our own documentaries on the Emperor Penguin using Adobe Spark and we will be presenting these during our Great Works on the final week of half term so... watch this space!
Science investigations... it all links!
In Science this half term, we are looking at the functions of the body and as a link with our Learning Enquiry, we wanted to know which material would keep us the warmest for longest if we were to ever go trekking through the treacherous conditions of the Antarctic continent. We have been exploring materials that make the best thermal insulators. What are thermal insulators I hear you ask? Thermal insulators are materials which prevent - or decrease - heat transfer and therefore, stop the temperature from increasing and decreasing. If we want to stay warm in Antarctica, we want to be covered in excellent thermal insulators in order to stop heat escaping from our bodies and keep us warm.
We conducted an investigation to discover which was the best thermal insulator out of foil, bubble wrap, polystyrene, newspaper and fabric.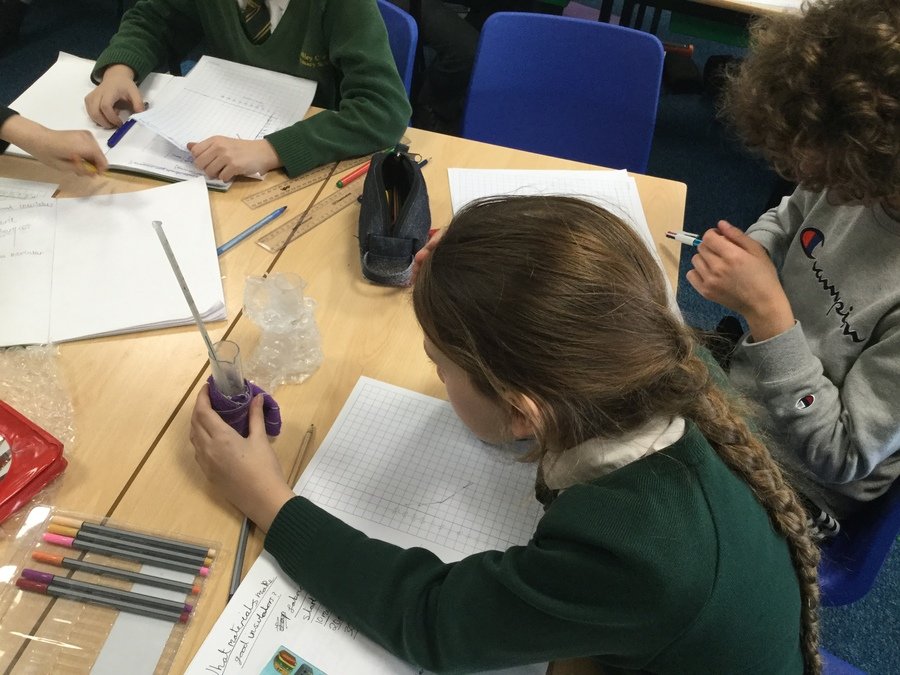 There's a geometry in all we see...
This week, Year 6 have been looking at the geometry that can be seen within snowflakes. We noticed that the snowflake is a hexagon and there are many hexagonal patterns within snowflake design. We constructed our own hexagons by forming interlocking circles with a compass and within these hexagons, we designed our very own snowflake. No two snowflakes are the same, after all!
Autumn Term 2:
How can we learn to live in peace?
The Principle of Oneness
"We shall fight on the beaches, we shall fight on the landing grounds, we shall fight in the fields and in the streets, we shall fight in the hills; we shall never surrender." - Winston Churchill
World War II still rages on. As loved ones are left at home to mourn for those who have lost their lives, soldiers are still fighting across Europe.
This half term, Year 6 will be learning about the end of World War II and will ultimately be exploring whether the world has learned to live in global peace in its aftermath. We will be discussing how we can create a peaceful and harmonious world for our future and how we can learn from history, to ensure it does not repeat itself.
This week, we began with the 'beginning of the end' and created non-chronological reports on the infamous D-Day.
Remembrance
W
i
th proud thanksgiving, a mother for her children,
England mourns for her dead across the sea.
Flesh of her flesh they were, spirit of her spirit,
Fallen in the cause of the free.
Solemn the drums thrill; Death august and royal
Sings sorrow up into immortal spheres,
There is music in the midst of desolation
And a glory that shines upon our tears.
They went with songs to the battle, they were young,
Straight of limb, true of eye, steady and aglow.
They were staunch to the end against odds uncounted;
They fell with their faces to the foe.
They shall grow not old, as we that are left grow old:
Age shall not weary them, nor the years contemn.
At the going down of the sun and in the morning
They mingle not with their laughing comrades again;
They sit no more at familiar tables of home;
They have no lot in our labour of the day-time;
They sleep beyond England's foam.
But where our desires are and our hopes profound,
Felt as a well-spring that is hidden from sight,
To the innermost heart of their own land they are known
As the stars are known to the Night;
As the stars that shall be bright when we are dust,
Moving in marches upon the heavenly plain;
As the stars that are starry in the time of our darkness,
To the end, to the end, they remain.
On the 11th November 2018, it will be 100 years since the guns fell silent, marking the end of World War I, on the eleventh hour, of the eleventh day, of the eleventh month.
This week, we have been focusing on Remembrance. We visited Guildford Cathedral, where we were able to experience amazing workshops all about World War 1, encouraging us to reflect upon the many aspects of War and of Peace between the years 1914-1918. We also had time to reflect and acknowledge those refugees who have lost their homes - both in recent years and all those years ago - and consider how we can learn from these events throughout history and be the leaders of a peaceful and harmonious world.
The children conducted their Remembrance Service on Friday, performing to Years 2-5 and the parents of Year 6. The children began with a reverential performance of the poem For the Fallen by Laurence Binyon, followed by a group reading of Empty Chairs at Empty Tables, as sung in the musical 'Les Miserables'. The children then led the rest of the school outside towards the cenotaph in a ceremonious silence before performing Flanders Fields by John McCrae and laying down their handmade poppy wreath.
As their first official duty as Year 6s and leaders of the school, they accomplished such an admirable and heartfelt service. Everyone should be extremely proud of the maturity and respect they displayed. Well done, Year 6.
Our Great Works
This week, we saw the end to our learning on 'How can we learn to live in peace?' with a show-stopping Poetry Recital for our Great Works, attended by parents, Mr Dunne and Mrs Stevens. The children of Hawk and Eagle Class have worked tirelessly to produce truly astounding poems, which have been inspired by infamous WW1 poets such as Wilfred Owen and Laurence Binyon (to name a few). The children performed the poems beautifully to produce a very moving and professional recital.
This Great Works really showed how hard they have worked this term and we are immensely proud of them.
Converting media.
(Media will continue converting in the background)
Autumn Term 1
What can we learn from life on the Home Front?
The Principle of Diversity
The year was 1940. The British population had been warned that air attacks on cities were likely and defence preparations had been started. Those with gardens built simple corrugated steel Anderson shelters, covered over by earth. Larger civic shelters built of brick and concrete were erected in British towns and a blackout was rigorously enforced, by ARP Wardens after darkness. Around this time, the Home Guard (originally known as the Local Defence Volunteers) was also established. Their job was to defend the five thousand miles of Britain coastline in the event of an invasion by Germany. Who were these Home Front heroes who would protect the civilians from warfare? They were Eagle and Hawk class of course!
On Tuesday and Wednesday of this week, Eagle and Hawk class travelled to Henley Fort and were immersed in Home Front life. They became the newest Air Raid Precaution and Home Guard recruits and underwent vigorous training. Have a look at what they got up to below:
Cooking
This week, Year 6 have had the opportunity to channel their inner Jamie Oliver and get their hands dirty washing, peeling and chopping vegetables to be made into a delicious soup. This is our "practise go" for Harvest festival next week when we will prepare and serve soup to the grandparents of Ashley school. If the soup tastes as good next week as it did this week, our grandparents are in for a treat!
Black History Month October 2018
Our Harmony Principle this half term is Diversity and we are lucky enough to have had that coincide with Black History Month, which takes place in October every year!
Strictly speaking, we did not focus too heavily on its links to WW2 as there is SO much background information we needed to learn first. We spent an afternoon this week exploring and learning about the Civil Rights Movement of the 1950s and 1960s and the history of slavery in America. We focused particularly on Martin Luther King Jr. and his infamous 'I Have A Dream' speech, which he made during the 'March on Washington' in 1963. As 'attendees' of this protest, we then made posters to display around the school which promoted racial equality and discouraged segregation.
We learnt a lot! We especially learnt that it is up to US to ensure discrimination is eradicated in modern day society.
We have a dream!
____________________________________________________
Information for parents