Welcome to Year 4
Kingfisher class is taught by Miss Hood and supported by Mrs Pratt, Mrs Ince and Mr Grace.
Swan class is taught by Miss Higginson supported by Mrs Rides and Mrs Hart.
Take a look at what we have been learning about at school.
There is also additional information for parents at the bottom of this page.
Summer 2: When is food at its best? The principle of health and well being
Year 4 become Entrepreneurs!
This week we have been designing organic, healthy cereal or cereal bars. We have been working in groups to design and create a product, using recyclable packaging. We made the packages for our products by drawing nets for 3D shapes, with tabs so we could join them together. Also, we created slogans, logos, names and other features for our products. We are looking forward to advertising and filming them, using persuasive language!
Printing in Year 4
This half term we had a go at making tiles and printing with them. First, we designed our tiles based on the inside of different fruits. We used a range of colours to make more than one layer of our print. Some of us did two layers and some of us experimented with three. They turned out really beautifully.
Seasonal Food calendars
To start off our learning enquiry we have been looking at when food is in season. We made our own seasonal food calendars to remind us when fruits and vegetables are at their best. We learnt that apples are in season all year round, but some fruits, such as strawberries, are only in season in the summer months; June, July and August. Here are some of the seasonal food calendars we have created.
Summer 1: How did the Ancient Egyptians live life? The principle of oneness
Ancient Egyptian Museum
This half term, for their great works, year 4 made their classrooms into an Ancient Egyptian museum.They had a great time sharing all their hard work with the parents and Miss Holder!
Egyptian Artefacts
The year 4 children have been working very hard this half term, on their home learning, to create some Egyptian artefacts. In the final week of this half term the children will be presenting their artefacts to the rest of their class and then they will create a museum for all the parents to come and see. There are some exceptional pieces of work. The children should be VERY proud of themselves!
Clay Canopic Jars
The children have been designing and making canopic jars this half term. They are full of knowledge about what the Ancient Egyptians would fill the different canopic jars with. They have loved getting mucky and modelling their jars!
Egyptian Theatre Workshop
Year 4 thoroughly enjoyed their 'Entertaining Egyptians' workshop. We learnt all about the importance of pharaohs and also their mummification. We worked together in groups to perform to each other the drama of Howard Carter uncovering Tutankhamun's tomb. We learnt a lot and had great fun too! Thank you to all the parents who worked hard on the Green Stall. The money you raised was used to fund this experience for the children.
Pyramids
Year 4 have been learning all about pyramids. We started the week by creating large square based pyramids outside. Then we made other pyramids including pentagonal pyramids and a star-based pyramid.
Did you know that the Great Pyramid of Giza is 146m tall (twice the size of Big Ben) and each side is 230m long? (The same length as 2 football pitches) Each block weighed 2500kg. We have been exploring forces in Science and measuring how much force is needed to pull weights. We don't know how the Ancient Egyptians managed to move the stones to build the pyramids!
Spring 2: What can we learn about the stars? The principle of diversity
Great Works
This half term year 4 had a go at writing constellation myths. Today, for their great works they had the opportunity to read them to year 3. Thank you for coming to listen to our myths year 3, we hope you enjoyed them!
Swans and Kingfishers take a trip to Space!
On Monday 18th March, Year 4 were treated to a visit by the Space Dome. They had an excellent morning and learnt lots about the constellations and the myths behind them. They listened beautifully and were very keen to ask lots of questions and find out more!
Red Nose Day 2019
We enjoyed raising lots of money for charity on Friday. The teachers even put together a dance to perform for us in assembly! At the end of the day we were greeted by Princess Elsa, Princess Anna, Princess Belle, Sleeping Beauty and Minnie and Mickey Mouse. We donated money to have pictures with them!
D.T. Day for Y4!
We spent the day exploring pneumatics and how it works for our D.T. day. We designed pneumatic aliens and used syringes and tubing in order to make one part of our alien move. Finally, we got the chance to put our aliens together, using recycled materials and paint and tissue paper!
Year 4 Gymnastics
This half term Year 4 have been trying out lots of different balances; individually, in pairs and in groups. Have a look at some of our fantastic gymnasts!
Spring 1: What are the cycles of our solar system? The principle of cycles
Space Great Work
Year 4 have learnt so much about the solar system and planets that they were extremely keen to share all their knowledge. Each expert group had lots to information to say. We hope the parents learnt a lot!
We spent the last week of enquiry studying rockets. We made film canister rockets and rocket mice and well as using a stomp rocket. We had great fun investigating how far we could make them travel.
Exploring the colours of our Solar System
Year 4 started the week by exploring the colours and textures found in our Solar System. They used a variety of media, including collage, water colours and felt tips.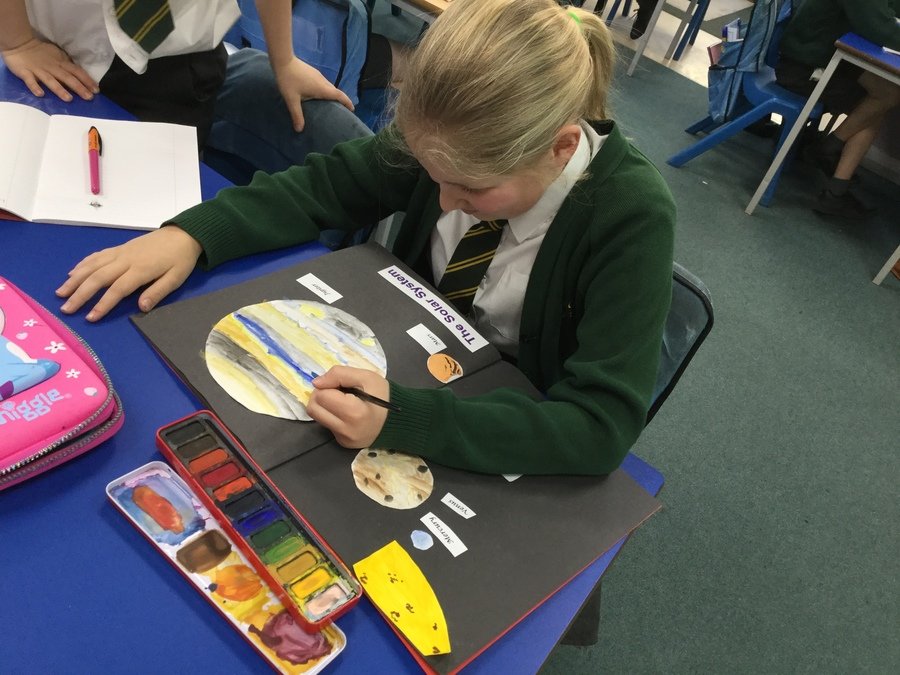 Musicians among Year 4!
Year 4 children are lucky enough to have the opportunity to choose to play clarinet or trumpet at the beginning of the academic year. The children will learn to play their instruments from September right through to July. They have been learning some great songs to play each week, including Mamma Mia!
Year 4 homework is out of this world!
Take a look at some of our amazing homework projects!
Autumn 2: How can we build community in Walton? The Principle of Interdependence
Year 4 enjoyed making and decorating lanterns for the Walton Festival of Light. Some of us then joined the parade carrying our lanterns. It was lovely to take part and start off Christmas in this way.
On Tuesday 16th October, Year 4 spent the day as Tudors. They were involved in a number of activities including: playing Merrells, creating Tudor rose badges, making pomanders and decorating biscuits. In the afternoon, the children performed dances and a song to their parents, as well as sharing their vast Tudor knowledge. To their surprise, King Henry VIII turned up to enjoy the entertainment. It was a great day!
Year 4 prepared and cooked Tudor quince and apple tarts using quinces grown at Ashley. If you fancy making them yourself, take a look at the food section of our website for the recipe. We would recommend it. They were delicious!
What a fantastic day Year 4 had at Hampton Court. We were awed by the size and majesty of the palace. We met the inhabitants of the palace and learnt what life would be like to be a servant there. We visited Henry VIII's apartments and the kitchens to begin to learn how we can prepare for our own Tudor banquet.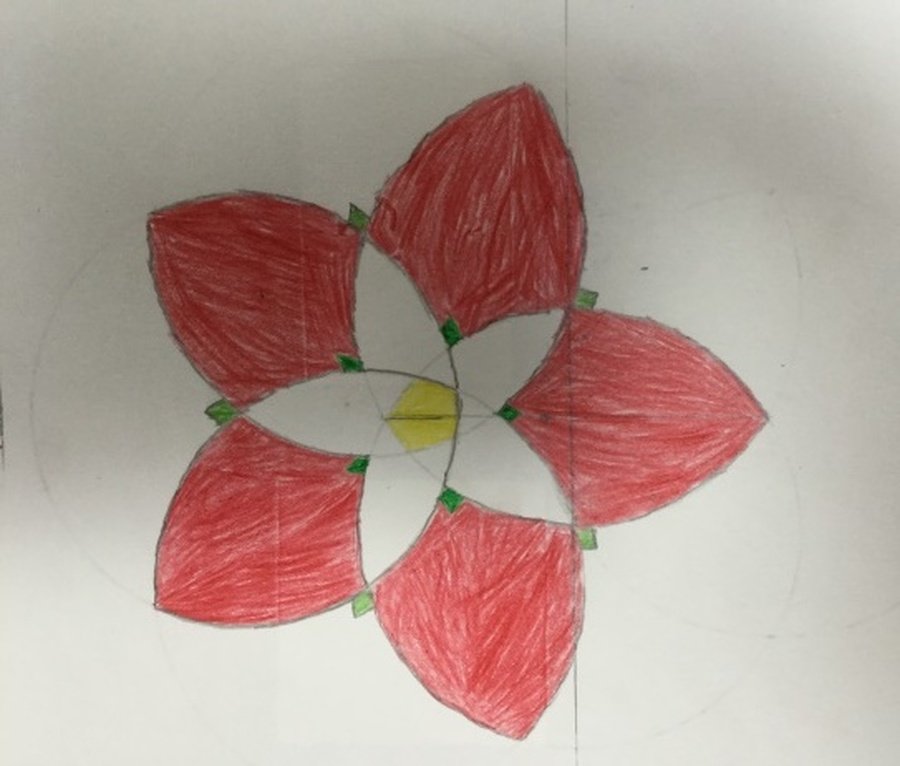 Year 4 have been learning about how Henry Tudor became King by defeating Richard III at the Battle of Bosworth, leading to the start of the Tudor period in History. We have really enjoyed acting out the battle! We discovered that Henry VII united the House of Lancaster and the House of York, combining the two symbols to create a Tudor Rose. We used compasses to draw and colour our own Tudor Roses.
____________________________________________________
Information for parents
Suggested books for Year 4.pdf
Click on the above link to see a PowerPoint for progression of maths skills at Ashley school. These will be useful so that you are able to understand the methods your child uses, which may be different to the methods you use, so that you can best support them. Please ask your child which method they use as it will differ for each child. The key is that they are comfortable and secure in the method they use.