Welcome to Year 3
Skylark Class is taught by Mrs Ready and supported by Mrs Shin alongside Mrs DeQuincey.
Robin Class is taught by Mrs Morgan and Mrs Harris (Fri am) and supported by Mrs Heavens alongside Mrs Salmon.
Woodpecker Class is taught by Mrs Atkinson and Mrs Harris (Tues) and supported by Mrs Attwood-Smith alongside Mrs Caswell and Mrs Pockett.
There is additional information for parents at the bottom of this page.
SUMMER TERM 2: What is daily life like in rural Uganda? The Principle of Health
Year 3 Great Works
Year 3 presented their final Great Works to parents this week and what a fantastic turn out we had. Thank you to all the parents that attended. We enjoyed sharing some of our newspaper reports which we have been working on, learning how to write in the third person and past tense, using inverted commas for speech and including interesting vocabulary. We hope you enjoyed how we made them into performances. The traditional African song was made even more fun when the parents joined in! Finally, we loved looking through our topic books with you to show a selection of the learning and hard work from the past term. Thank you to Reece for taking the photos!
African Tip-Taps
In Year 3 we have discovered that some African villages have Tip-Taps which are simple structures often made from readily available materials that allow families to wash their hands where there is no running water simply by pressing a lever with their foot. Families who have built a Tip Tap notice that instances of upset tummies drop almost immediately. When we found out that 1.4 million children die every year from illnesses caused by unclean water and poor sanitation, we wanted to do something to help.
We have each brought in 50p which will be enough to buy the gift of three Tip Taps to go to African villages. We are buying them through the 'Send a Cow' charity website.
Here are some photos of us attempting to make our own versions of Tip Taps.
During reflection time we reflected on how we felt knowing that we had raised money to help buy a Tip-Tap for an African community.
Real Life Learning
Whilst learning about the daily life of a typical Ugandan child, the children in Year 3 experienced what it would be like to have to collect water like children in Uganda have to do. They had to carry buckets and boxes of water around the field. When they returned they commented that it was 'exhausting', 'frustrating' and they felt 'hot and sweaty' with 'hurting hands'.
Book Day Fun in Woodpecker Class!
Please see below for some images of the children's wonderful costumes for our Book Day. Thank you all for making the effort.
SUMMER TERM 1: What are the traditions of Africa? The Principle of Oneness
Year 3 Great Works
Parents and carers were treated to an authentic African experience on Wednesday when 90 children stomped through the hall wearing their African masks. The children explained some facts about why they are worn and how African masks are traditionally made. Their ones were made from papier mache rather than wood but the patterns on them were designed for purpose. Following this, the children performed an African dance which they have been practising together in classes and as a whole year group. They brought the performances to a close with a fantastic rendition of 'Singa-ba-ham-ba-yo-thin-na', a traditional African song.
If you missed it, please find a video of the dance below, made especially for the website. If you were able to come, thank you and we hope you enjoyed it!
The song will be performed again at the summer fete.
Learning about Rhythm and Tempo
Year 3 had a visitor from a drummer this week to teach them about rhythm and tempo, particularly in African music. The children really concentrated when trying to keep in time with each other!
Traditional African Tales
Year 3 have been learning how to write stories based on some of the well known traditional African tales. We began by immersing ourselves into the story 'How the Giraffe got his long neck' until we felt we knew it really well. Following on from that, we have written our own stories using a similar structure. We had lots of fun thinking about who the characters could be and how they could change. Here are some of our stories:
African Dancing
Year 3 were treated to a fantastic African dance workshop by Miss J from ZEST dance on Thursday. The children (and adults!) thoroughly enjoyed the experience and may even feature some of their moves during their upcoming Great Works.
Year 3 Great Works!
On Wednesday, Year 3 invited their parents and carers in to view a slideshow of our recent trip to Sayers Croft and to share the work relating to our first learning enquiry of this half term 'How can I be a great team player?'. We enjoyed reminiscing the fun moments of what one parent described as 'an unforgettable experience'. We certainly made lots of fond memories!
We destroyed our artwork!
Year 3 are currently learning about the impact deforestation has on our rainforests and in turn, our world. The children spent a long time creating beautiful pictures of what rainforests look like before deforestation to then be instructed to rip them up and destroy them, just like the rainforests. We certainly felt the impact that had on us and it helped us to reflect on the large scale impact deforestation has on our world.
The photo below shows the picture before being destroyed.
Welcome Ash and Ley!
Woodpecker Class would like to welcome the new whole school pets, Ash and Ley! They will live in and be cared for by Woodpecker Class but there will be a rota for every class to come and pet them at 'Guinea Pig Club' every Friday. We hope they will be very happy in their new home!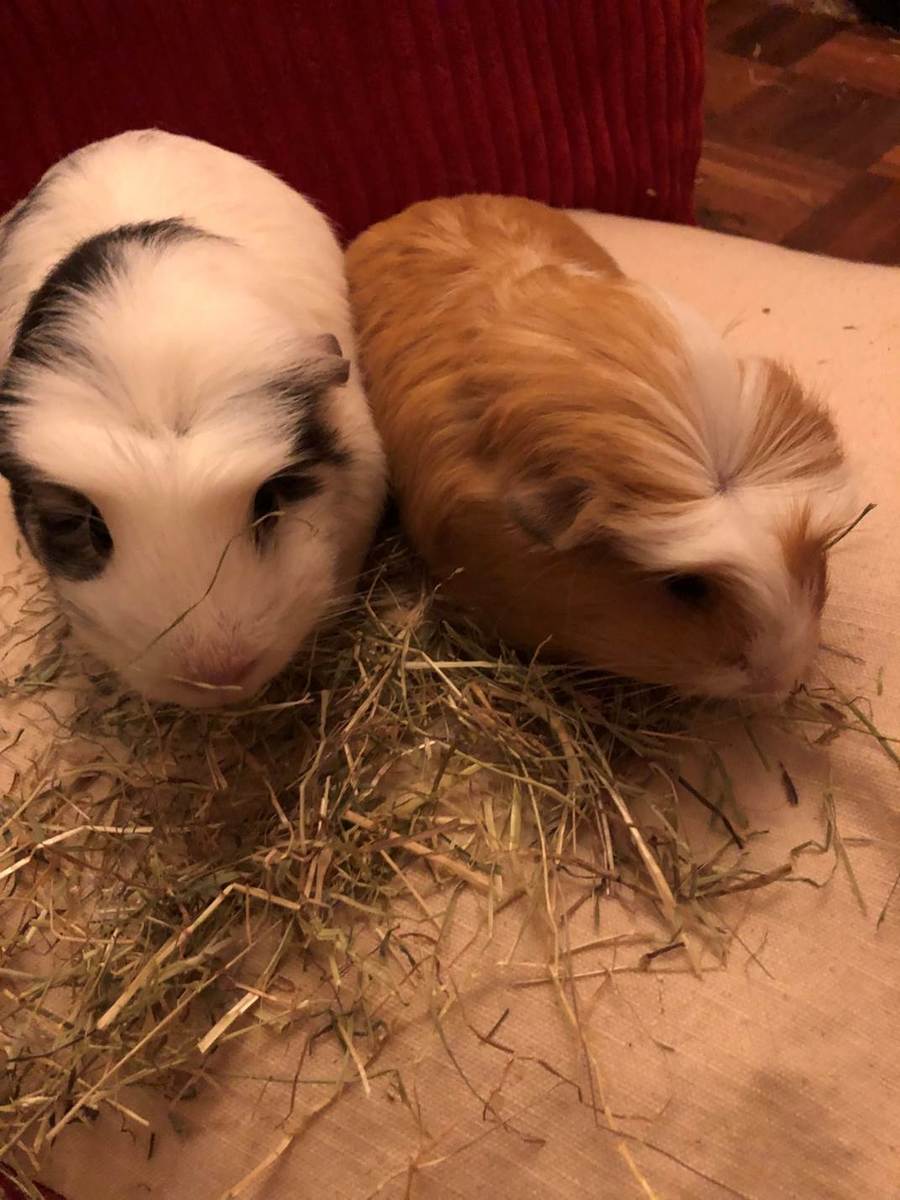 Sayers Croft!
Although it was just last week, it seems like a long time ago now when 90 children and some adults ventured down to Cranleigh in the heart of Surrey to have an adventure in the outdoor learning centre 'Sayers Croft'. We all had so much fun, learnt a lot about ourselves and the staff were very proud of the children. Please enjoy seeing a selection of the photos below. More will be shared at the Year 3 great works soon.
SPRING TERM 2: How can I be a great team player? The Principle of Interdependence
With our upcoming residential trip to Sayers Croft the children have been thinking about what it means to work as a team. They made the most of the sunshine earlier this week and headed outside to create their own teams and work together to create a picture using shapes and natural resources.
SPRING TERM 1: What makes rainforests so awesome? The Principle of Diversity
Busy Learning!
Year 3 have been very busy with their learning last week, impressing their teachers with their skills of focus and concentration when presenting a beautiful non-chronological report about their chosen rainforest animal. In PE we have been exploring how to create a sequence of different balances and rolls and our artwork has been linked to the animals found in the different layers of the rainforest.
Exotic Animal Visit
Earlier this week Year 3 were treated to a visit by Tropical Inc. and their amazing exotic animals. Steve, the animal keeper brought snakes, lizards, frogs, spiders, birds, a skunk and a desert hedgehog for them to find out about, look at and handle. Every child was given the opportunity to handle an animal and most of them said yes! When asked what the cleverest and most dangerous animal in the world is the children were shocked to discover that it's us humans. It put our potential fears of these harmless creatures into perspective and gave us courage to get that bit closer.
AUTUMN TERM 2:
How did the Roman army achieve so much? The Principle of adaptation
Year 3 Autumn Term Great Works
Year 3 invited visitors in and thoroughly enjoyed sharing their learning with them. They made a grand entrance to fully exhibit their stunning Roman shields and their handmade mosaics were arranged together to create an impressive display. Some time spent looking through their beautifully presented topic books was appreciated by all. Thank you for coming.
Chertsey Museum Visit
Chertsey Museum visited us to share a mixture of genuine and replica Roman artefacts. The children got to handle the replicas and observe the genuine ones. Writing on beeswax tablets was a new experience and not the sort of 'tablets' the children are used to! They all thoroughly enjoyed being immersed into Roman life.
Roman Shields and Formations
Year 3 became Roman soldiers using their geometry learning to create these stunning symmetrical shields. We then took the shields out into the battle/playground to re-enact traditional Roman soldier formations.
The Roman army was the backbone of the empire's power, and the Romans managed to conquer so many tribes, clans, confederations, and empires because of their military superiority.
___________________________________________________
Information for parents
Sayers Croft meeting Powerpoint
Suggested Reading Books for Year 3
Click on the above links to see a PowerPoint for progression of maths skills at Ashley school. These will be useful so that you are able to understand the methods your child uses, which may be different to the methods you use, so that you can best support them. Please ask your child which method they use as it will differ for each child. The key is that they are comfortable and secure in the method they use.