Welcome to Year 2
Otter Class is taught by Miss Sargeant (Mon-Wed) and Mrs Goodfellow (Thur-Fri)
and is supported by Mrs Kalbassi and Mrs Glands.
Fox Class is taught by Miss Walker and is supported by Mrs Bradford, Mrs Kean and Mrs Meyer.
Badger Class is taught by Ms Gardiner and is supported by Mrs Pockett, Mrs Paddon and Mrs Ince.
Further information about Year 2 can be found at the bottom of this page including Key Stage 1 SATs
SUMMER TERM 2: Why are bees and bugs so brilliant? The Principle of Interdependence
This term the children have been learning all about honey. The children have found out that although it is a tasty treat to eat there is so much more to this stick, sweet substance. Here are some of their wonderful information creations for you to learn more.
This term the Year 2 children have had the chance to enter a competition to design a honey label for our Ashley School honey. Here are some of the entries. The winner will get their label printed on our honey jars this year.
SUMMER TERM 1: What can we learn about dinosaurs? The Principle of Diversity
This term we have been learning all about 'Mary Anning'. We wrote questions to ask her all about her life and discoveries. Then we made posters all about her. We hope you enjoy reading them and learn some interesting facts all about her and her life. We have sent them to the Lyme Regis Museum and they are hoping to display some of them on their website.
SPRING TERM 2: Where are we in the world? The Principle of Oneness
This term, we began our learning with a walk around Walton-on-Thames. We looked at the human and physical features of where we live and where it is in the world. Then we found our route on an aerial map and wrote a recount of our outing.
We were very excited to have a special visitor this week. Sylvia came in talk to us all about Malaysia. She told us all what it was like to grow up there, what school was like, about the food she ate and the animals she saw. It really helped us to understand all about the country and we now cannot wait to find out more.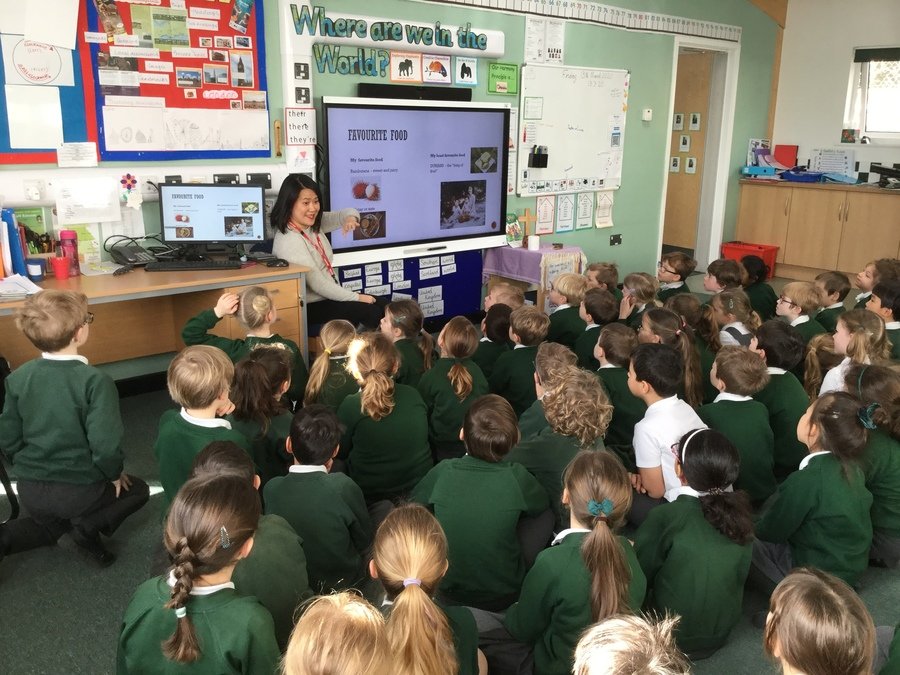 SPRING TERM 1: How can we bring Traditional Tales to life? The Principle of Cycles
Congratulations to Badger Class who were spectacular in their Twisted Traditional Tales assembly! Your huge smiles and voices showed everyone how much you are enjoying this Learning Enquiry.
We had a very exciting start to our term with a visit from Joe Ridgley who put on a wonderful puppet show. He taught us how to use the puppets effectively and how important it is to use the eyes to show the characters actions. We then explored using puppets ourselves and created our own sock puppets. We can't wait to start designing our own puppets for our 'Great Works' performances at the end of term.
We also had a visit from Heather Lewis who showed us her own sewing and taught us how to sew on a button. She also showed us how to do different types of stitches. We will be practicing these skills this term at school and at home.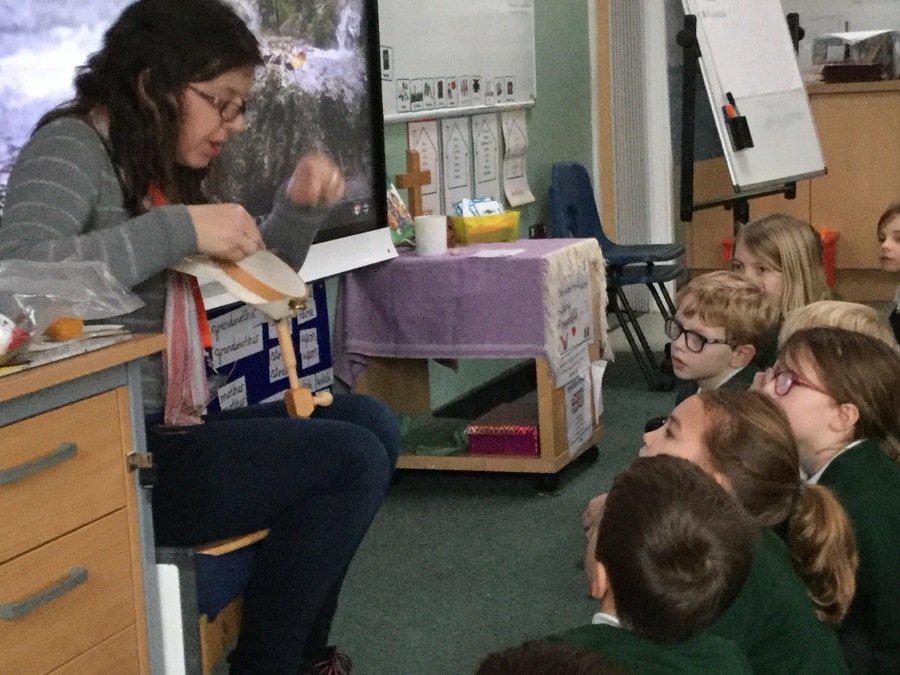 Year 2 had a special visit from Year 5 this week! The Year 5s shared their stunning shipwreck stories and the Year 2s were astonished that they had been written and illustrated by 9 and 10 year old. What an inspiring afternoon!
AUTUMN TERM 2:

What can we learn from The Great Fire of London? The Principle of Adaptation
For our Great Works we re-enacted the Great Fire of London and watched our home-made houses burn down! It was amazing to see how quickly the fire spread and thrilling to watch the flames flickering through the houses. We have loved learning about the Great Fire of London and now know a huge amount about this dramatic event in London's history.
To start off our new learning enquiry we had a workshop with Time Travelling Tina who transported us back to 1666 to witness the start of the infamous fire. We met Thomas Farriner in his bakery in Pudding Lane where the fire started, buried our precious possessions to keep them safe from the inferno, journeyed across London listening the sounds of crashing buildings ablaze and finally learned a rap all about our adventure! We now cannot wait to learn more about this exciting period of history.
AUTUMN TERM 1:
What does it mean to be healthy?
The Principle of Health
For more information about this term please click on the link below.
We had so much fun celebrating our 'great works' this term with some members of our families. We designed and made our own healthy pizza ensuring that we had all the food groups to create a 'balanced' meal. Then we made our delicious pizzas and shared them with our visitors. In addition to eating healthy food to keep us healthy we learnt that being happy makes us healthy too, so we made table decorations, name cards and fun, puzzle mats for our visitors to complete whilst they waited for their food. It was a lovely afternoon.
Today we experimented with an app called 'Chatterpix' which allowed us to pretend to be Florence Nightingale reporting on the horrific condition of hospitals in Scutari during the Crimean War. Take a look at our videos and listen to Florence Nightingale's thoughts on the hygiene of 1850s hospitals!
This morning, Year 2 ventured out to our vegetable patches to sketch what was growing there. We saw onions, cabbages, tomatoes, aubergines and most of the vegetables from our Harvest Festival song 'Cauliflowers Fluffy'! We then pulled out some carrots and gave them to Year 6 who will be turning them into delicious soup for the Grandparents at Harvest Festival. What a great start to the week!
Over the summer holidays the Year 2 children collected all sorts of things related to what they had been doing with their families. They shared these items with their friends and wrote recounts of their adventures. It was lovely to see and hear all about these wonderful experiences.
Yoga
As part of our learning enquiry, Year 2 were very excited to have a visit from Sami Rich who ran a yoga session. The children were very focused and thought carefully about their breathing whilst holding their various poses. We will continue to build on these skills over the next few weeks. Afterwards we felt much happier, relaxed and refreshed. We discussed how being healthy is not only about physical exercise but also exercise for our mind too.
Information for parents
Click on the above links to see a PowerPoint for progression of maths skills at Ashley school. These will be useful so that you are able to understand the methods your child uses, which may be different to the methods you use, so that you can best support them. Please ask your child which method they use as it will differ for each child. The key is that they are comfortable and secure in the method they use.
Please click on the videos below to see how we are teaching addition and subtraction in Year 2
Please click on the videos below to see how we are teaching fractions in Year 2
Please click on the videos below to see how we are teaching division in Year 2