Welcome to Year 2
Otter Class is taught by Miss Sargeant (Mon-Wed) and Mrs Goodfellow (Thur-Fri)
and is supported by Mrs Shin and Mrs Murray.
Fox Class is taught by Miss Walker and is supported by Mrs Bradford, Ms Wood and Mrs De Quincey.
Badger Class is taught by Miss Yousif and is supported by Mrs De Quincey.
AUTUMN TERM 2: What can we learn from The Great Fire of London? The Principle of Adaptation
For more information about this term please click on the link below.
Great Fire of London Drama Workshop
Year 2 had a wonderful start to our new learning enquiry when 'Perform' drama came to visit. We travelled back in a time machine to 1666, and discovered how the Great Fire of London started and why it spread so quickly. We recreated Thomas Farriner's bakery and rowed quickly across the Thames to escape the ferocious flames. Everyone has a great time and joined in fantastically, well done Year 2!
AUTUMN TERM 1:
What does it mean to be healthy?
The Principle of Health
For more information about this term please click on the link below.
Autumn Term 1 - Curriculum Map
We started the year off by learning about our class animal. First we found information about them and sorted facts into true and false. Then we did some art work to brighten up our new classrooms. Here are some examples.
We were so excited to have Mr Rich come in to teach us yoga this week. We learned different postures such as the tree, mouse and cobra. Afterwards, the children explained that they felt more relaxed, full of energy and happy. We discussed how yoga is not only great exercise For our bodies but also wonderful for keeping our minds healthy too. The children cannot wait to teach their families.
The school nurse came to visit Year 2 to teach us all about hand washing. Although we wash our hands regularly at school we need to ensure that we wash every part thoroughly. The nurse brought in a UV machine and gave us some safe, pretend germs to rub our hands. We then washed our hands and checked to see if the germs had all gone. We did a great job but it did show us the parts of our hands that can usually get missed such as the thumbs, nails and wrists. In English we then made hand washing posters to put up around the school to teach them how to wash their hands correctly.
Otter class have painted some beautiful images of vegetables growing above and underground. They have learned which fruit and vegetables are 'in season' and used this knowledge to inspire their story writing based on 'Oliver's Vegetables'.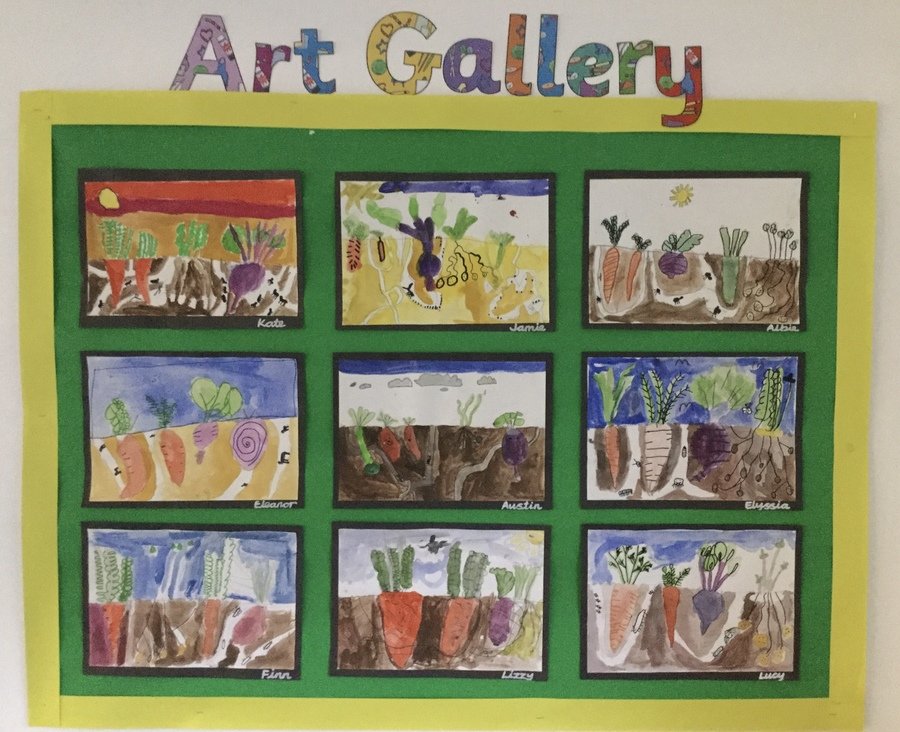 Please click on the video below to see how we are teaching phonics in Year 1 & 2
Please click on the videos below to see how we are teaching addition and subtraction in Year 2
Please click on the videos below to see how we are teaching fractions in Year 2
Please click on the videos below to see how we are teaching division in Year 2