Welcome to Year 1
Butterfly Class is taught by Miss Gardiner and supported by Mrs Mitchell and Mrs Spencer.
Frog Class is taught by Miss Sargeant (Mon-Wed) Miss Osborne (Thurs-Fri) and supported by
Mrs Bradford, Mrs Povah and Mrs Paddon.
Dragonfly Class is taught by Mrs Beresford and Mrs Hart (Thurs) and
supported by Mrs Pledger and Mrs Glands.
There is additional information for parents at the bottom of this page.
SUMMER TERM 2: Why do we like to be beside the seaside?
The principle of Interdependence
Year 1 started off their new Learning Enquiry with a rather smelly start! We sketched mackerel and noticed that their bodies were vesica shaped. We were amazed at the different colours and patterns on the mackerel, and can't wait to learn more about the amazing creatures that live beneath the sea around the UK.
SUMMER TERM 1: What is your favourite wildflower and why?
The principle of Cycle
Great Works
Year One teamed up with Year Two for their great works this half term. The Year One children created a beautiful collaged flower with information underneath each petal about their favourite wild flower. The Year Two children then had to the guess which wild flower they were describing. The children loved wowing each other with what they have learnt and realising how important bees are to wild flowers and how important wild flowers are to bees.
Year 1 have been helping to develop our school grounds by getting outside and doing some gardening. The children really enjoyed planting peas, beans and potatoes. We are sure they will be delicious when the have grown!
On Wednesday 1st May, the intrepid Year 1 Team went to explore Kew Gardens on a mammoth wild flower hunt! They clambered up the Treetop Walk and looked out across Horse Chestnut Trees, Bluebells and Tulips, ventured into the humid Palm House to see Banana and Cocoa trees, and even spotted some carnivorous plants in the Princess of Wales Conservatory. They spotted lots of Dale Chihuly's flower inspired glass sculptures and were amazed by the Victorian artwork in the Shirley Sherwood Gallery. In spite of a long day of walking, the Year 1s were full of energy and enthusiasm for the flowers. What a lovely day!
SPRING TERM 2: How is the Caribbean different to where we live?
The principle of Oneness
Year 1 had an action packed day of creating masks, instruments, dances and floats for our Caribbean Carnival. We enjoyed a delicious Caribbean lunch and took part in a limbo competition and dance challenge. What a great way to end our learning enquiry!
We started our new learning enquiry by flying to the Caribbean. When we arrived we visited a Caribbean market and tasted some delicious fruit. We particularly enjoyed the pineapple and mango! We then sketched the fruit and looked at the different shapes and patterns. We were surprised to find a star shape inside a pomegranate which reminded us of a snowflake and a flower!
SPRING TERM 1: How has our school changed since Victorian times?
The principle of Adaptation
Year 1 had a wonderful time sharing their experience of school with their Grandparents for our Great Works. We loved having the Grandparents in and hearing about how much school has changed since they went to school!
Our Victorian Adventure
Yesterday, Year 1 visited the Rural Life Centre in Farnham and had an action packed day learning about life in Victorian times. We experienced doing household chores without electricity, and realised how grateful we are for washing machines and hoovers! Then we discovered how the Victorians farmed and learned to make rope out of grass and how to milk a cow. Finally, we experienced a real Victorian classroom where we met a very strict teacher who taught us a valuable life lesson - 'Good, better, best. Never let it rest, until your good is better and your better is BEST!'
On Tuesday, we stepped back in time and experienced life in a Victorian School. Our strict Victorian teacher checked our hands were clean and we had lessons on the 'Three Rs' Reading, Arithmetic and Writing. Some of us really enjoyed being in a Victorian school, whilst others definitely prefer going to Ashley School today!
This term we have been exploring Ashley School and learning about how the school has changed over time. We sketched the old and new parts of the building and asked teachers questions to find out facts about Ashley School today. Did you know that the Year 1 children are the same age as the Jubilee Block?!
AUTUMN TERM 2: How have toys and games changed? The principle of Health
Toys and Games from Chertsy Museum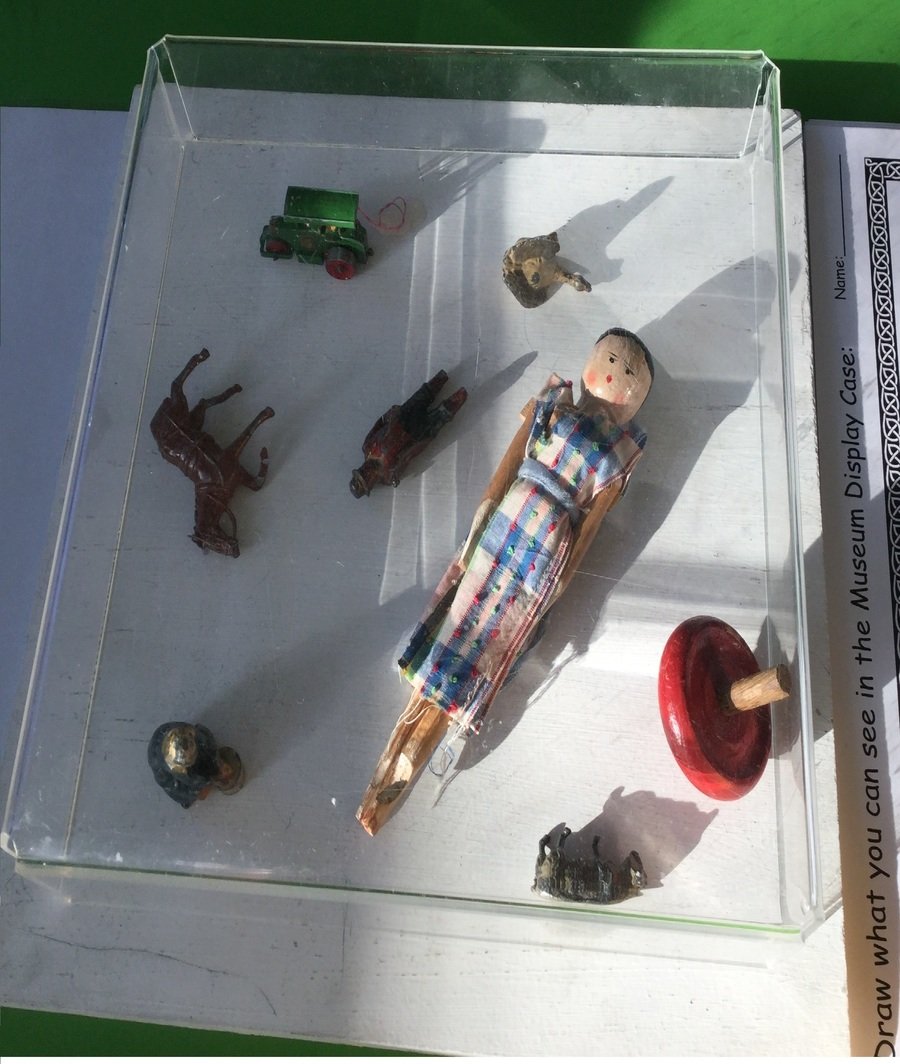 Year 1 had an amazing start to the term with a visit from Nicky from Chersty Museum who showed us a range of old toys and games. We learned about the different materials that toys are made from and how that has changed over time. We got to play a some old fashioned toys including pop guns and zoetropes, and even made our own thaumatropes!
AUTUMN TERM 1: How can we be superheroes? The principle of Diversity
Real life superheroes visit Year 1!
On Monday, Year 1 had the privilege of being visited by several real life superheroes from our community. We learned all about how we could grow up to be superheroes by helping others by being a nurse, police officer, pilot or firefighter. We got to try on lots of fun uniforms, we pretended to be nurses by using stethoscopes and bandages AND we even got to use a firefighter's hose! Thank you to everyone who came in - you really are superheroes.
Superhero Day!
Year 1 have had a wonderful day of putting their super powers to great use! We have helped people around the school, made superhero crafts and shown that we are caring, brave and responsible SUPERHEROES!
We carried out Superhero jobs across the school helping Mr Herbet, Mrs Rebbeck, Mrs Stevens, Mrs Porter and the office with lots of tricky tasks. We even made posters about recycling properly and shared them with the whole school. We are learning to be responsible for our school and our planet!
Wibble Rescue!
We had a serious Superhero mission to find Wibble (our class puppet) who had gone missing! We found suspicious footprints and several other clues which led us to the writing shed. We saw that Wibble had been reading a book about feeling sick so thought that he must have been hiding because he was feeling poorly! Luckily, real life superheroes were at hand to make him feel better. Now Wibble is well and happy again!
The children have been dressing up as Superheroes and writing about their special Superhero powers. They have been using capital letters, full stops as well as 'and' to extend their sentence.
_______________________________________________
Information for

pa

rents
Click on the above links to see a PowerPoint for progression of maths skills at Ashley school. These will be useful so that you are able to understand the methods your child uses, which may be different to the methods you use, so that you can best support them. Please ask your child which method they use as it will differ for each child. The key is that they are comfortable and secure in the method they use.