Ashley School has received a grant from The Royal Society to further our outdoor Science learning. As part of this we are partnered with Mr Jim Arbury, a fruit specialist at RHS Wisley. The project began last Summer Term (2013) and involves Year 1, 2, 3 and 5 children.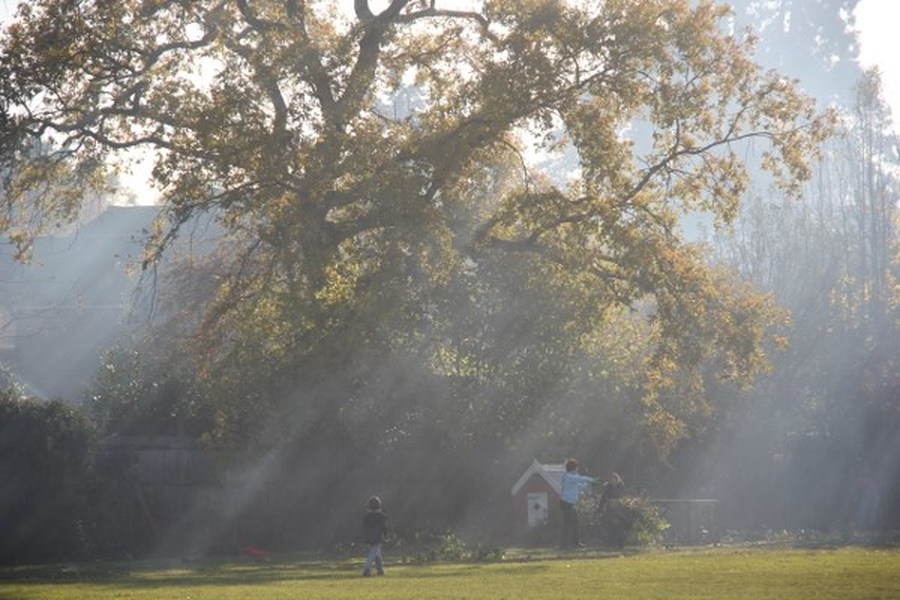 Trees around our school is a focus for Year 3
As part of this project our aim is to create a year round living lab for the children to be inspired by the scientific study of nature.
The focus for each year group is:
Year 1: developing a wildflower meadow in order to study plant growth, investigate what they require to grow and know the names of local wildflowers
Year 2: studying variation in bees and butterflies. As part of this project Year 2 train to be bee-keepers, monitor the number of bees and butterflies that are attracted to different areas in our school grounds, and learn how critical bees are to the pollination process.
Year 3: planting, identifying and measuring fruit trees and native trees so that they become experts in tree recognition. Alongside this, they observe seasonal changes in our school trees throughout the year. Year 3 also identify and study the different pests and disease on varying trees and how these can be damaging to the eco-system.
Year 5: comparing the differences between different types of flowers including how their pollination types vary. Year 5 also study the important inter-relationships within biodiversity and how they can protect and enhance local biodiversity in our school grounds.
What have we done so far?
1.) Year 1 have planted 15 varieties of native wildflower plugs at the back of the school field. They then observed these flowers as they started to grow and measured them to identify their rate of growth. More wildflowers will be planted this year.
2.) Last Summer Term the Year 2 class learnt about bee and butterfly variation. Each child became a bee-keeper and every child contributed to a study to monitor the number of bees and butterflies at our Wild Flower Area and our Flower Border. So far it appears we have more bees than butterflies in our school grounds but we shall continue this study to the end of this academic year.
3.) Year 3 planted an orchard of plum trees in the Autumn Term 2013. They have been studying native trees throughout the year to identify the changes that occur. Additional native trees have been planted by Darrel Leggett, our school gardener, in order to support Year 3's study. Further work on this will take place in the Summer Term.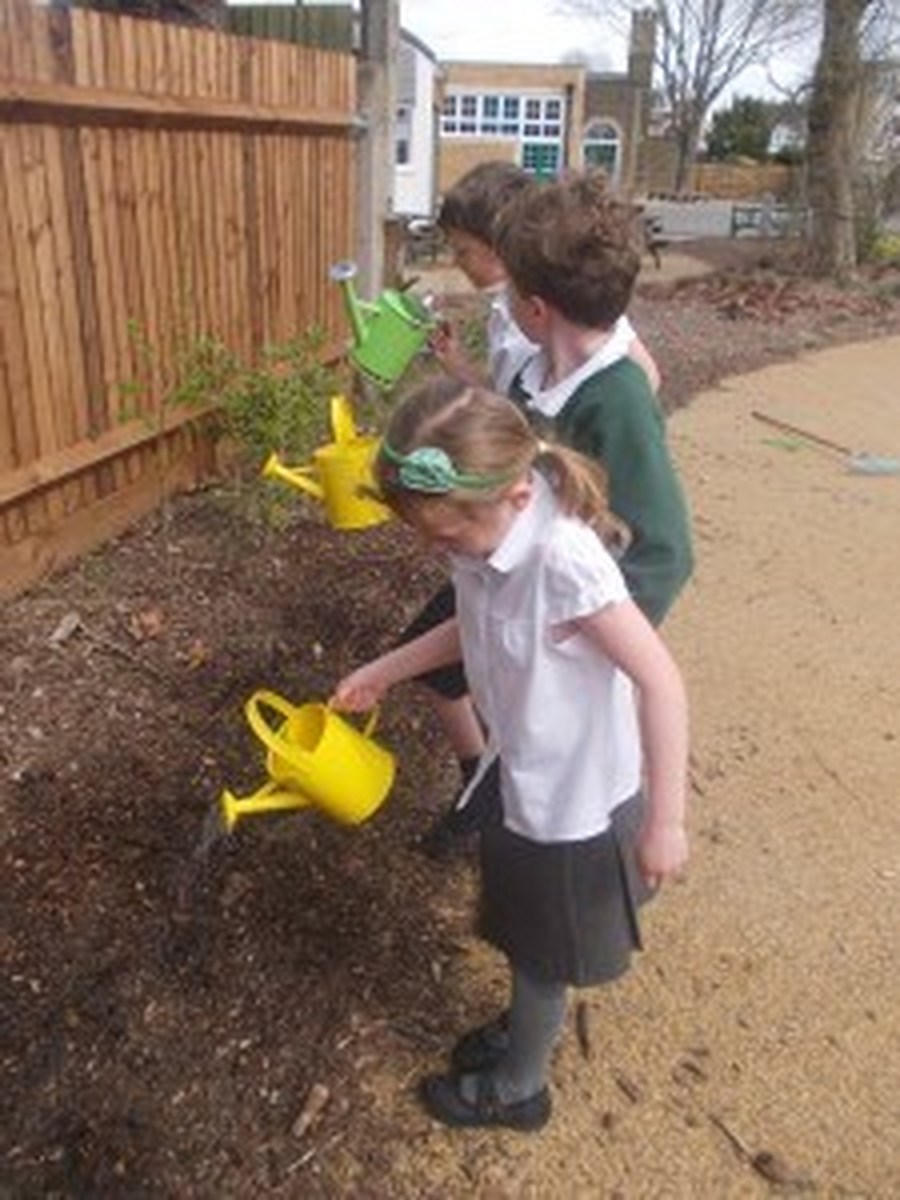 5.) Year 5 have looked at biodiversity in our school grounds and in Bushy Park. As part of this project they have recorded the measurements of different types of plants in different locations.
6.) New microscopes have been purchased to support the close observation of the parts of plants, including understanding how the pollination process works.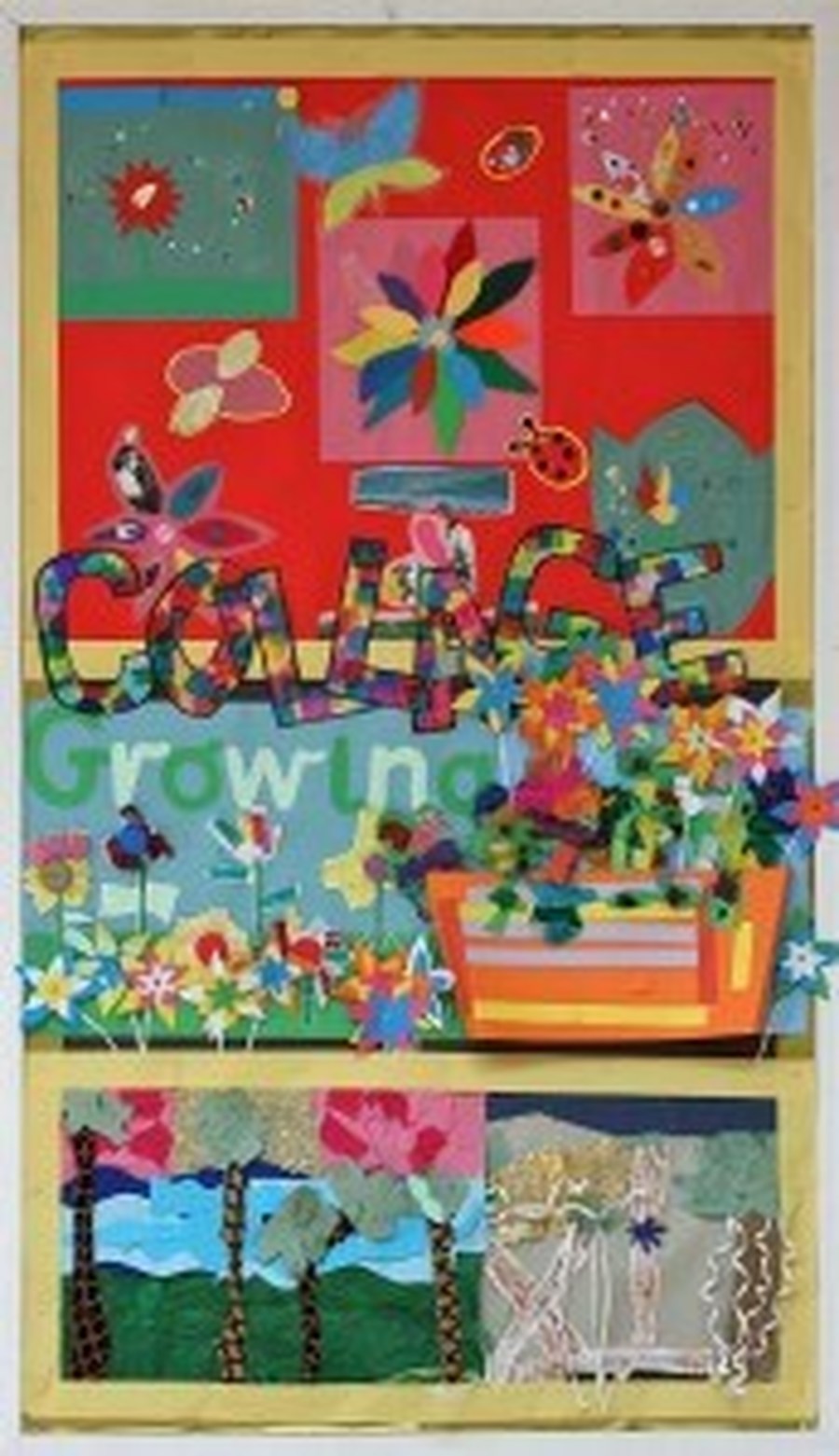 Year 2 Update on the monitoring of the Wild Flower Area and our Flower Border
Year 2 have planted Aspen to attract Tortoiseshell butterflies, Bird's-foot Trefoil to attract the Common Blue butterfly and Buckthorn to attract the Brimstone butterfly. On the grounds at Ashley, we already had many plants which attract bees and butterflies, including Blackthorn, Common Sorrel and Bramble. We have been monitoring two areas on the school ground to count the number of bees and butterflies over the weeks and discovering the different things which help attract them. When it is cold and raining, we didn't see any bees or butterflies but when the sun is hot and its warm, we have seen various varieties. As the plants are starting to flower, we have noticed more bees and butterflies in this area.
Year 2 Bee Work
Year 2 have spent the week working outside to ensure our wonderful grounds are ready for the summer months. Otter Class have built a minibeast hotel in the hopes that when we go on our minibeast hunt at the start of the Summer Term we will be able to find lots of new minibeasts in this habitat.
Rabbit Class have planted comfrey in order to attract some bumble bees to our school field.
Chloe and Daniel wrote a brief report on their time outside.
"We went outside with Darrel to plant comfrey. Darrel told us that in the 1st World War they used the leaves as a compress for broken bones. Bumblebees collect nectar from comfrey so it is important we have some in school. We worked as a team and planted the comfrey 50 cm apart in a long line. They will grow quickly."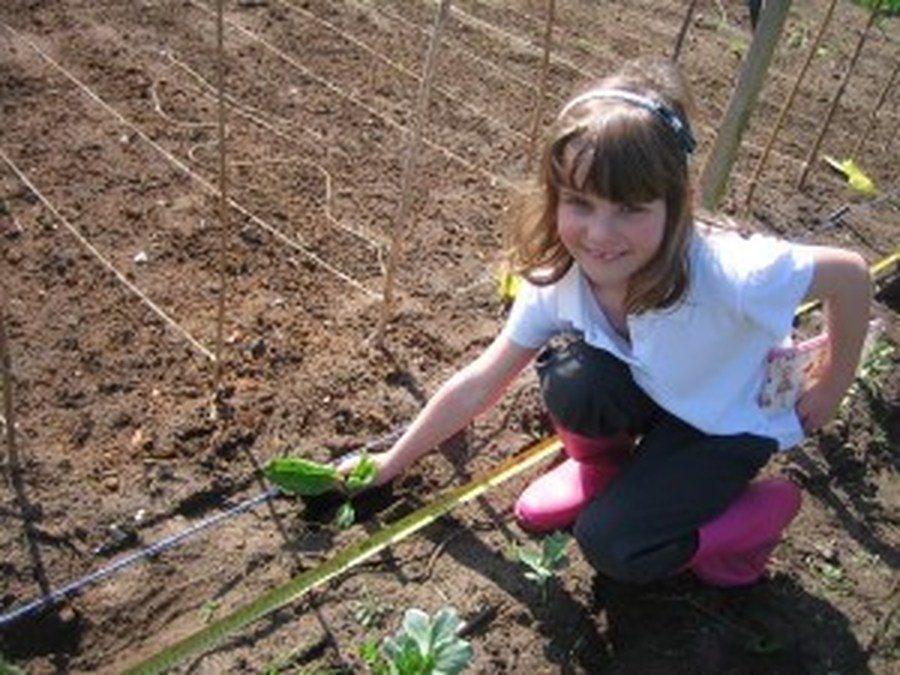 Some of Rabbit Class children also worked with Mr Curnow to make bee hotels for solitary bees.
Katy and Jinseo have written this report on what they did.
"We made a bee hotel not for honey bees but for solitary bees. We used recycled plastic shapes for the wings, pipe cleaners for the antennae and legs and yellow tape for the pattern. We used some nails to put the wings on and a screwdriver to twist the nails in. We then added string to the tops so we can hang them up outside on the field for the solitary bees. We had to think carefully when working with the nails so they didn't get loose. We put bamboo sticks inside which will be where the bees live. Mr Curnow helped us. We enjoyed making the bee hotels."
Bee Keeper Visit
Year 2 had a visit from a bee keeper who helped them learn about their future role as bee keepers in school. After their visit, they looked at bee keeping tools and created individual posters for their Topic Books that identify the different pieces of equipment they will use when working with bees. They have started to identify the variation within honey bees and look forward to spotting them in the hive.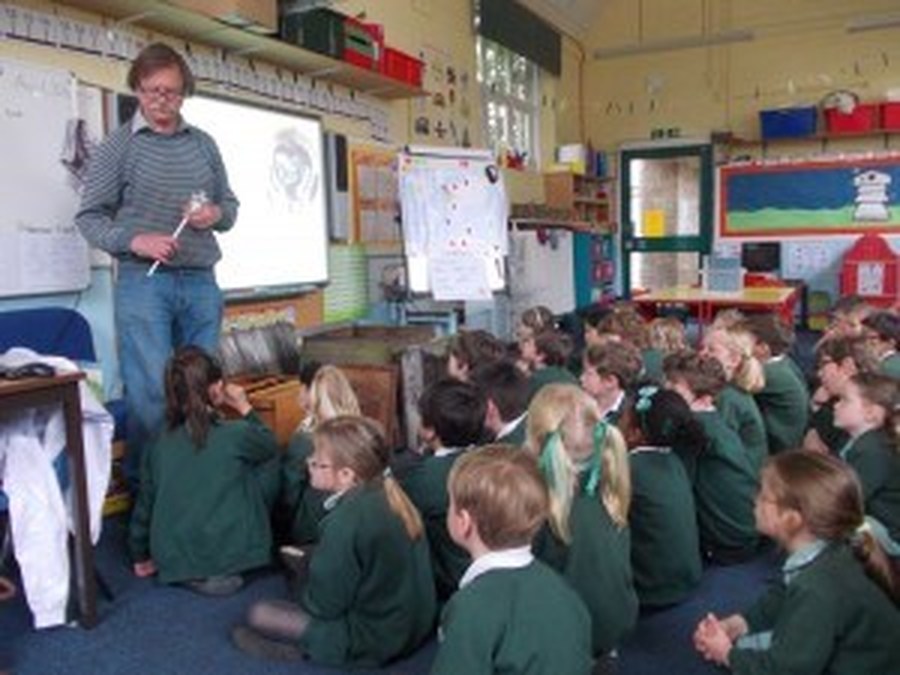 Bee and Butterfly Monitoring
Although the weather has not been on our side this week we did venture out to look at the two areas we are monitoring for bees and butterflies.
Rabbit Class stood by their Flower Boarder area and spotted 2 bees. We hope to see more butterflies as the weather gets better.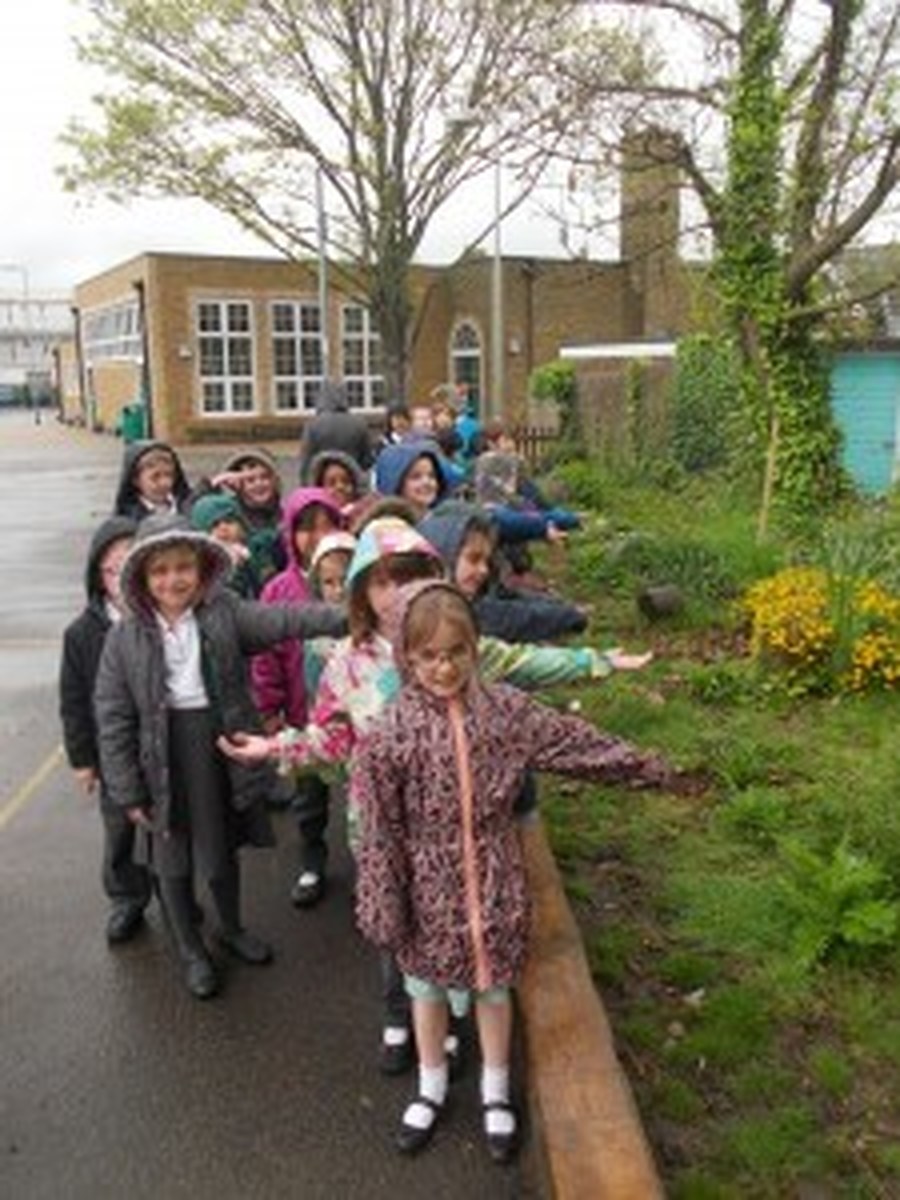 Natural Dyeing in Year 5
The children learnt about the variety of plants that can be used to dye material. They collected dandelion heads, Alder bark, nettles, lilac and Lady's Bedstraw from the school grounds and boiled the ingredients with a fixative to release the colour.
After learning about the dying process, the children will be using the wool they have dyed to make Dream Catchers with a twig frame, also collected from the school grounds.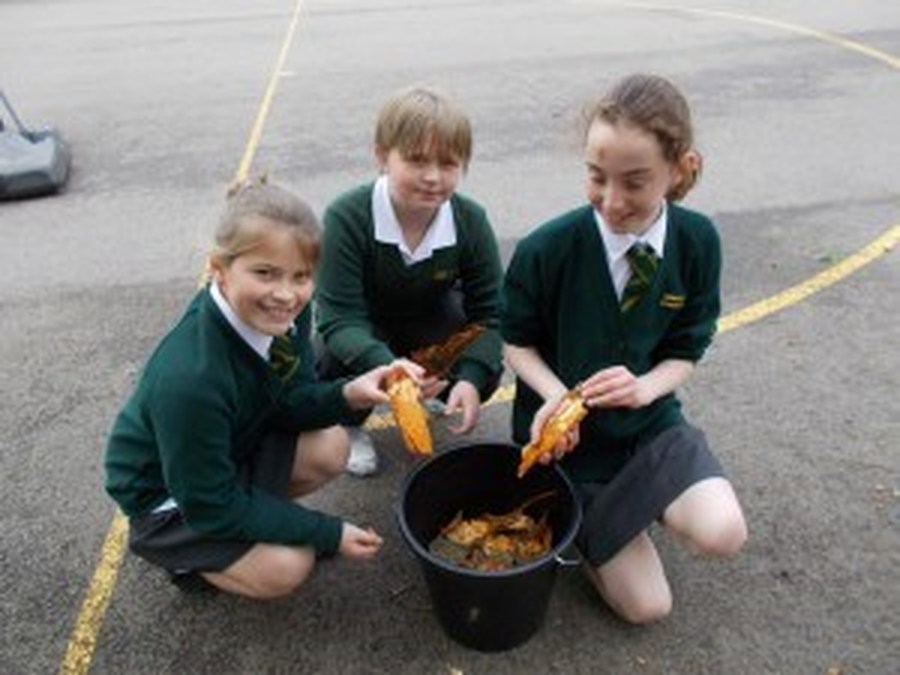 Artistic inspiration in our school grounds
An early morning sketchbook activity involved collecting a selection of natural materials from the school field. We looked at each specimen and drew the details carefully with pencils.
Exploring microclimates
The children discussed the term microclimate and then explored how different microclimates support different types of plants in the school ground. After a finding an area to investigate, they then measured the amount of space, light, soil quality and shelter, before making Microclimate Top Trumps cards.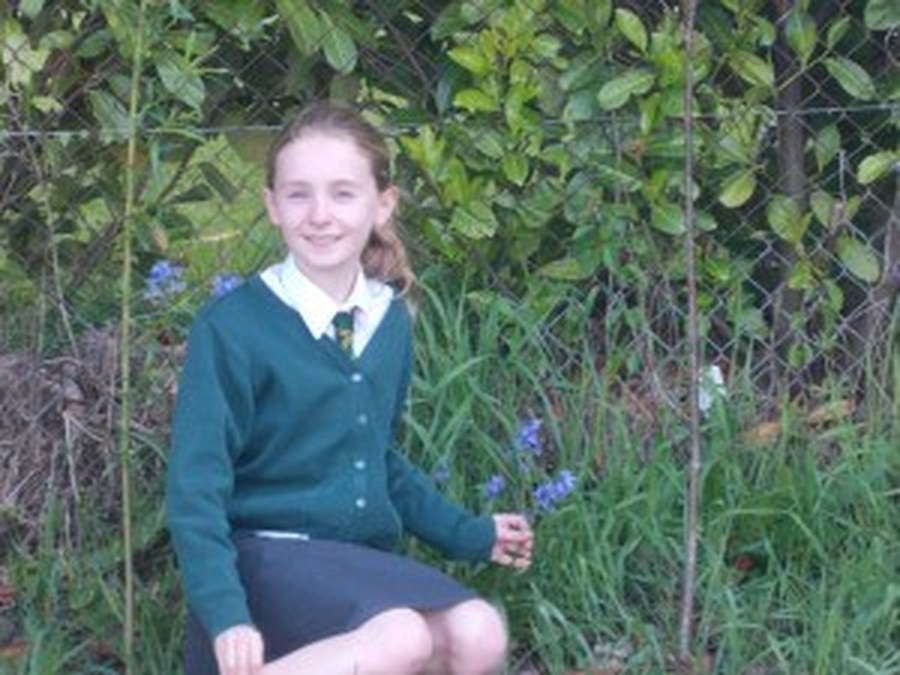 Tree classification in Maths
As part of Year 5's Maths learning we have been looking at ratio and proportion. We tallied up the different species of tree that grow around the school grounds; identifying the trees by their leaves from reference books. Our investigation will look at the number of types of trees in a particular area and the proportion of these to each other and as a whole.
Bee and Butterfly Monitoring Update
The children have been monitoring the number of bees and butterflies on our school field over the Sumer Term.
So far they have noticed that when the weather is cold, cloudy and rainy the number of bees and butterflies is much lower than when it is sunny and warm.
On the 19th May when the children noted the weather was sunny and warm they found 10 bees on the flower boarder and 1 butterfly. The exciting part of this observation was that the children were able to identify the butterfly as a Peacock.
Here is a picture of a peacock butterfly: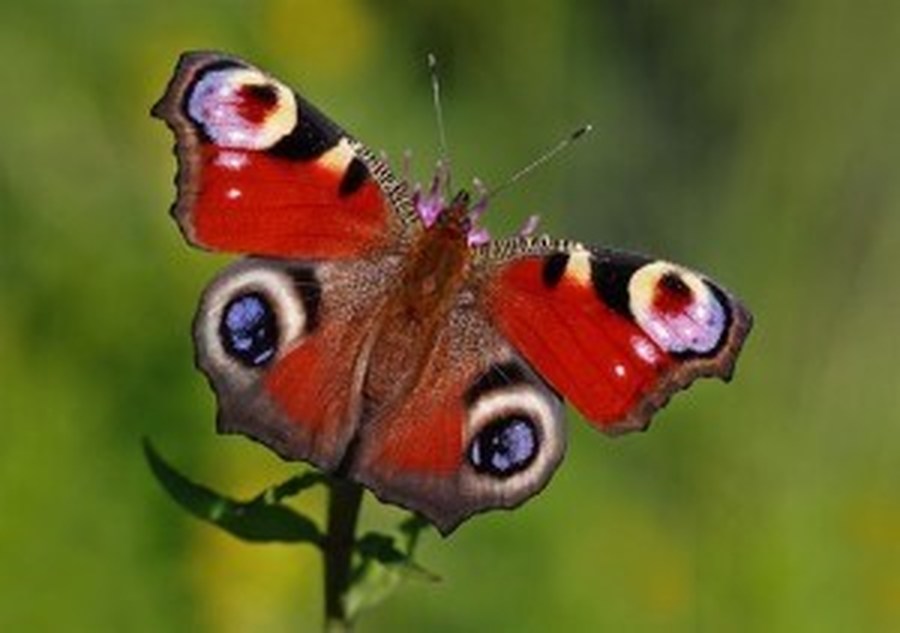 A week later when the temperature really picked up we found 11 bees and 3 butterflies. This is a huge improvement from our first observation on 2nd May when we only found 1 bee.
The children carried out some research on the peacock butterfly and this is what they discovered.
"We used a book and discovered that the Peacock Butterfly likes to eat stinging nettles. We decided the stinging nettle area at the back of the field is the perfect habitat for them as they have plenty of food!" By Chloe, Rory, Ashley, Zanele and Issy.
YEAR ONE WILD FLOWER MEADOW
Since the beginning of the summer term, Year 1 have been learning about Wild Flowers. This has involved planting wild flower plugs, preparing and looking after a wild flower seed trough, and monitoring the wild flower meadow that last years children grew.
The children loved preparing their own troughs of seeds, and whilst there are still no flowers, they have enjoyed watching the stems and leaves grow week-by-week. We are going to continue monitoring how many flowers develop in our meadow throughout the rest of the term, and will continue to measure the heights that they grow.
Here in the pictures are some of the wild flowers we have learnt about.
We have also been monitoring last years wild flower meadow which is situated on the school field. We only started seeing flowers just before half term.