Welcome to the Ashley School Sports Page.
Keep up to date with our latest news!
Curriculum Overviews
Please find attached our curriculum overviews for the year. Please note that these are subject to change.
Sport Newsletter
Please find attached the link to the Sports Council newsletter. They hope you enjoy reading it. It certainly is a great celebration of all the sport that is going on at the school!
Junior Success at District Sports!
On Tuesday 11th June, children from Years 3-6 competed in the annual District Sport athletics competition at the Xcel Centre. From running to throwing to jumping, they competed against other schools in the area, and they all did fantastically well!

Overall, we came an amazing 2nd place with 227 points, only narrowly missing out to the overall winners St
James. Well done to the whole Ashley team. We are so proud of you!
Junior Success at District Cross Country!
On Saturday 23rd March, children from Years 3-6 represented Ashley School at District Cross Country. All the children did us proud against some strong competition. The under 9 boys came second overall, the under 10 boys came third and there was a fantastic second place run from Lily in the under 11 girls event. Well done everyone!
Surrey Primary Races
On Saturday 9th March four year 5/6 children headed to Reigate Priory to take part in the Surrey Primary races. Despite the very windy conditions, the children did Ashley proud in an extremely competitive field. Well done India, Chloe, Charlie and Ollie!
Football in the Snow!
On the 22nd February the year 5/6 Girls Football team headed off for their quarter final match against Manorcroft. Despite the snow, the girls played on! At the end of the match the score was 1-1, so it was down to penalties. Thanks to some excellent goal keeping and fantastic shots at goal, they won 3-1 on penalties! Well done to everyone who played for the win and persevering in the snow!
Ashley Sport Leaders
Our sport leaders have been very busy training to be great leaders. In the Infants, eight children in Year 2 took part in 'My First Steps to Leadership'. They will be using their leadership skills to lead P.E warm ups and active breaks.
In the Juniors, 20 children from Year 5 and 6 took part in 'Physifun' they learnt many leadership strategies and skills to make games both fun and challenging. The children will be using their training to deliver lunch time clubs for the rest of the school in the spring term.
Active Ashley Mufti Day
On Friday 19th October Ashley School were out in force in their sports clothing to raise money for new equipment. We raised a fantastic £534! The sports council will have to think hard about how to spend the money. To celebrate Active Ashley each class took part in a fun active session to get their hearts pumping.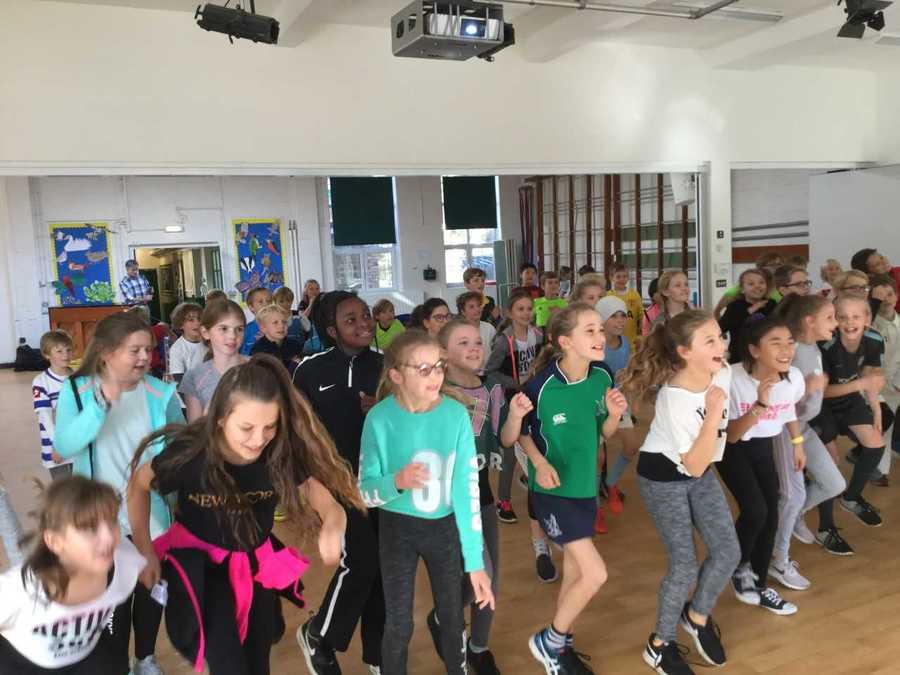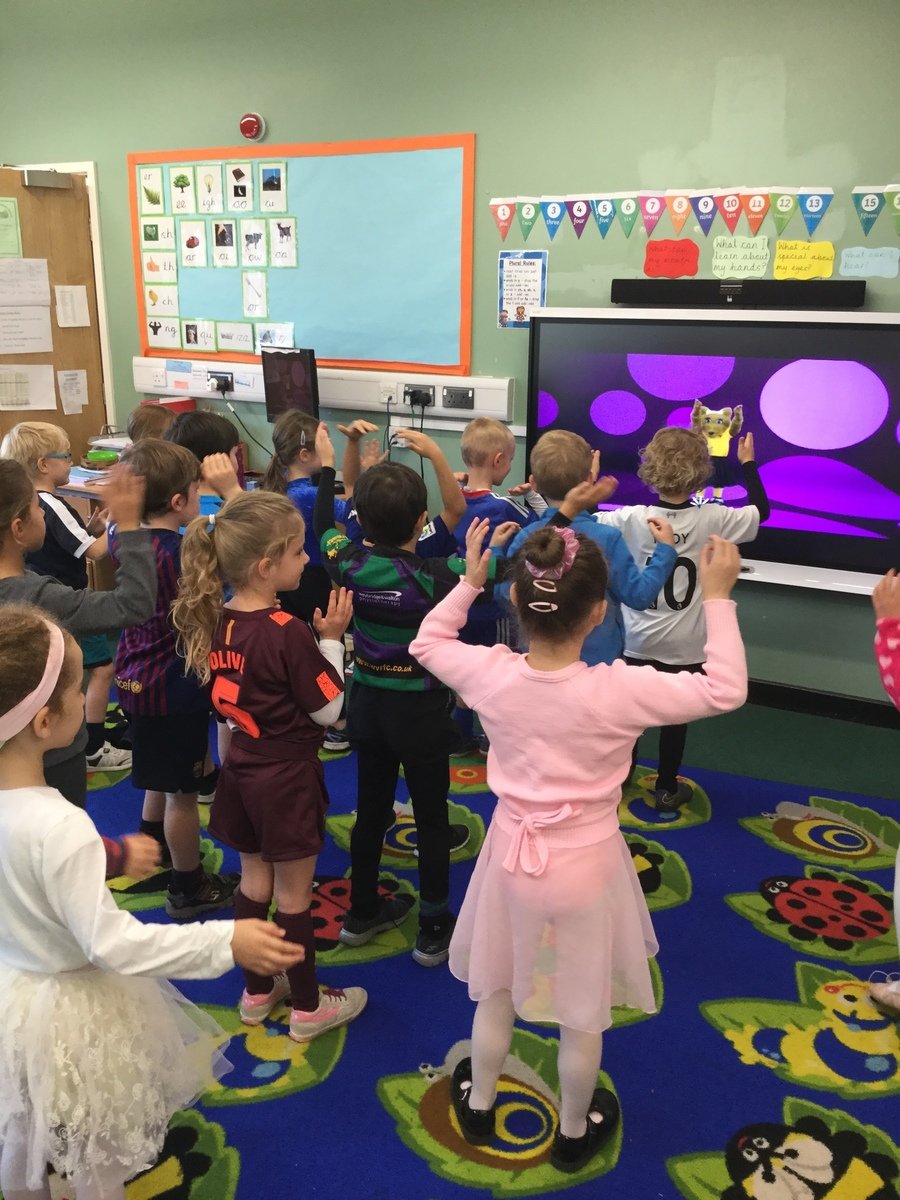 Year Four Mini Olympics
Friday 5th October 2018
30 children from Year Four took part in a mini Olympics tournament at Cleves School. They competed in a range of relay events including; running, rugby and hockey. Ashley School did an amazing job and came in a very impressive 2nd place, only 5 points behind the winners!
"The Olympics was really fun and it took a lot of team work."
"It was a good day because everyone cheered each other on."
"It was amazing because everyone played there part to achieve second place."
Ashley Sports Day
Tuesday 17th and Wednesday 18th July
This week saw our biggest days of the sporting calendar - Sports Days! Tuesday was a day of field events with the children competing in their classes for points, encouraging everyone to take part and have fun. Activities included welly throwing, long jumping, assault courses and even a 'water sponge relay'! Infant class winners were Badger class and junior winners were Eagle class!
Wednesday saw the more traditional side of Sports Day with races along the track including sprints, long distance, egg and spoon, three-legged and even a sack race. We were also very pleased to see our largest number of parents in a long time take part in the Parents Race! Well done to Shannon House for winning! Thank you to all the parents for coming and cheering them on and to all the teachers for organising and preparing the children.
Year 4 tennis tournament - 12th July 2018
District Sports - 10th July 2018
On 10th July, nearly 50 Ashley pupils took part in the annual District Sports. It was a fantastic day which was enjoyed by all.
Overall Ashley school came 5th!
A special mention goes to the following children who made it to the final and were awarded these places:
Joshua Lavery (Y3 throw) – 1st place
Sophie Ward (Y3 sprint) - 2nd place
Charlie Hathaway (Y4 sprint) - 1st place
Benjamin Edwards (Y4 long distance) - 3rd place
George Upsdell (Y5 sprint) - 2nd place
Evie Bedford (Y5 long distance) – 1st place
Lily Martin (Y5 throw) – 2nd place
Anthony Michaelides (Y6 sprint) - 2nd place
Anthony Michaelides, Lewis Cooling, Luke Oryem, Lance Lavery and Danny Settle (Y6 relay) - 3rd place
As well as their results the children must be congratulated on their behaviour and energy throughout the afternoon - there was a real sense of team spirit, looking after each other and cheering one another on. It was wonderful to have so many different children representing the school. It was also really lovely to see the children cheering and supporting their friends from other schools as well. Finally, a huge thank you to Mr Phil, Miss Beeby and Miss Beresford for supporting the children. Well done Team Ashley!
Year 6 Ashley Cricket Team came 3rd! - 9th July 2018
The Golden Mile
The children are all really enjoying their Golden Mile. Here are some quotes from the children!
Carla Lee: "I love running with my friends."
Myla Stavrou Perrin: "When we started I found it really hard but it's getting easier each time."
Ben Russel: "I find it really tiring but I always feel good afterwards!"