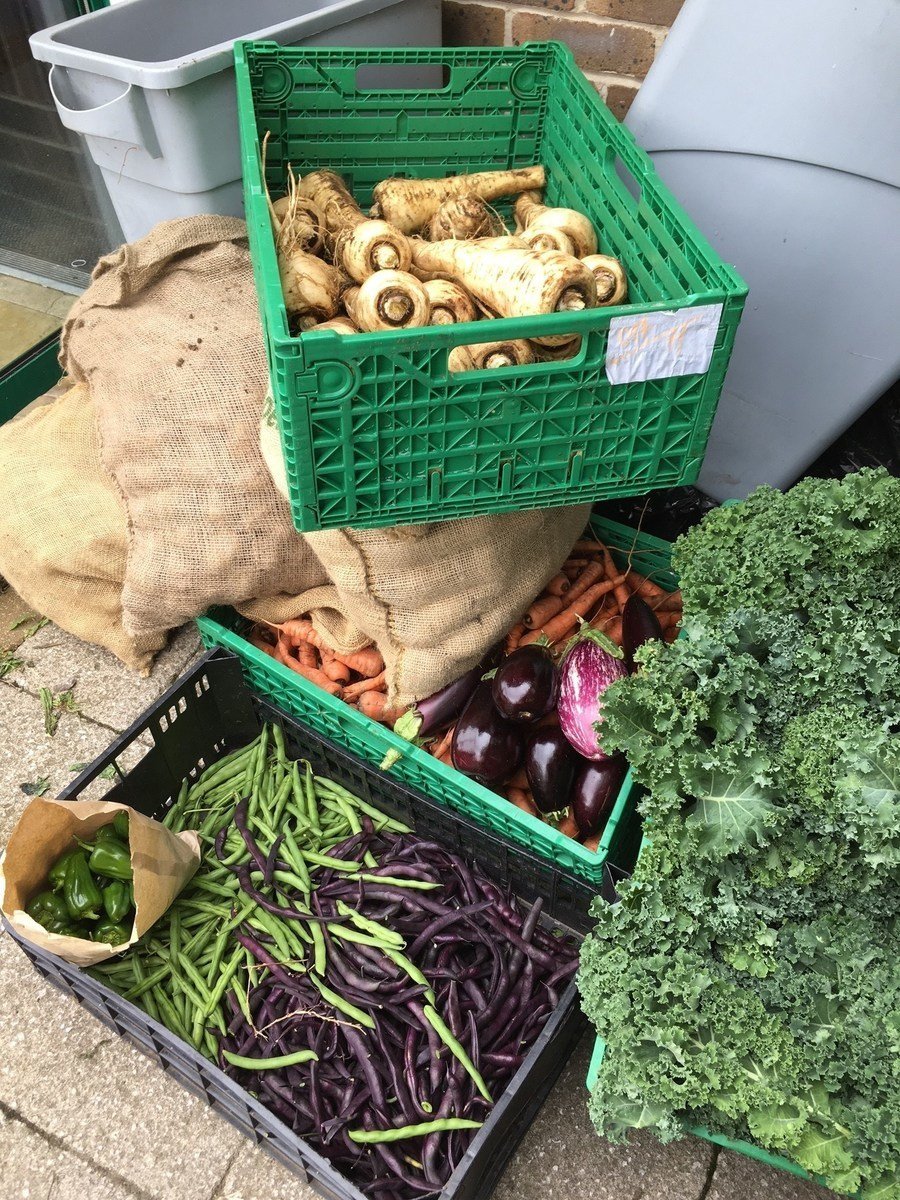 January: Cabbage, Kale
February: Leeks, Parsnips, Carrots
March: Cauliflower, Spring Greens, Rhubarb
April: Parsley, Rocket, Coriander
May: Asparagus, Strawberries, Lettuce
June: Broad Beans, Peas, Gooseberries
July: Apricots, Peaches, Courgettes
August: Nectarines, Blueberries, Cucumbers
September: Fine Beans, Melon, Tomatoes
October: Aubergines Peppers, Borlotti Beans
November: Chard, Salsify
December: Potatoes, Brussels Sprouts, Swede

At Ashley we believe that what the children eat and where their food comes from is vital to their well-being and knowing how to live a healthy lifestyle. Our 'Food Council' is made up of 12 children from Years 1 to 6; they meet each month to discuss the food that they eat at lunchtime and share their thoughts and advice on how to make lunchtimes even better. We continually seek views and opinions from the children to ensure that they are provided with an enjoyable and healthy diet. Menus are carefully looked at and altered according to demand. We also invite parents in to enjoy our lunchtime experience so that they can share their feedback.
The children in all year groups work alongside our gardener to help plant and grow fruit and vegetables. As a result the children at Ashley are fully aware of what we can grow here and what needs to be done to ensure that our crops are varied and plentiful. Much of this food is prepared by the kitchen staff, for the children as part of their lunch. Each year group has a growing focus so that they become experts in the different areas during their time at Ashley: Year One – native wild flowers; Year Two – bees and honey; Year Three – fruit trees; Year Four – currants and berries; Year Five – salads and herbs; Year Six – vegetables. (For more information on the food we grow, please look at our Eco School page.)
The food served at lunchtimes is of a very high standard. We serve food meeting the Food for Life Silver Standard; all our meat is organic, our eggs free range and all food is sourced locally and seasonal whenever possible. Lunch is served on china plates and eaten with silver cutlery. The children enjoy 'family style' dining, where they serve each other on the table. We have found this  makes lunch time a more social and communal experience.
Whilst we strongly encourage children to enjoy our school lunches, largely locally sourced, organic and always healthy, we also encourage families who choose packed lunches to prepare healthy, waste free meals. Please take a look our advice on How to Prepare Healthy Packed Lunches and also How to Prepare Waste Free Lunches.
Part of our vigilance in ensuring that food waste stays at a minimum is to 'Weigh the Waste' each day. Year Four weigh our waste with the kitchen then upload the data to our Ecodriver software so that we can analyse it in our maths learning. This is then linked to the menu, which is adapted as a result of the findings. Our target is to keep the waste below 10kg each day. All waste is composted, which then goes back into the soil for our next round of food growing.
Ashley School currently holds a Bronze Award from the Food for Life partnership. Food for Life is one of the most highly acclaimed organisations working in food education and provision in the UK. In working towards our Bronze Award Ashley has experienced many positive changes such as Year Four's partnership with Bore Place farm and. The feedback received from Food for Life was incredibly positive and we expect to reach the Silver Award in the near future.
HEALTH & WELLBEING EDUCATION
As well as our ethos of learning through play, many aspects of looking after ourselves are covered in the school's curriculum as well as the programmes of study in the Science National Curriculum Framework. We aim to give children a greater understanding of themselves by covering aspects of diet, hygiene, exercise and well-being. Throughout the week, the children practice mindfulness to help them learn techniques to cope with the pressures put upon them by the modern world.
RELATIONSHIP & SEX EDUCATION
Relationship and Sex education forms part of the Health Education and the Science curriculum. Year 5 & 6 children study Relationship & Sex Education and Relationships within a moral, family orientated framework. Parents have the right to withdraw their children from Relationship and Sex Education and should contact the teacher if they wish to do so. A meeting for Year 5 & 6 parents is held in the Summer Term to give details of what will be taught.
EXTRA CURRICULAR ACTIVITIES
The School offers a range of extra-curricular activities both during and after school.
The activities cover Art, Choir, French, Spanish, Football, Netball, Athletics, Rounders, Running, Science, Computing, Dance and Cookery.
We review the clubs regularly to meet the needs of our children.
HOMEWORK
Throughout their time at Ashley School children will be expected to spend some time at home following up work or completing tasks set by the teacher. Most of the time children will be able to complete the work on their own, but there will be times when they will need you to work with them. The work set may be reading, learning spellings and tables, discussing, researching, investigating and reinforcing.
VISITS
A valuable part of our children's learning at school are the day visits and residential visits we offer. Ashley School is committed to offering this rich source of learning.
Year 3 children have the opportunity to experience a residential journey for 2 nights/3 days at Sayers Croft Field Centre in Ewhurst, Surrey. The activities there are mainly science/geography related.
In Year 5 the children take part in a five-day residential trip to Adventure International in Bude to experience an outdoor and adventurous activities programme.
In Year 6 we take the children to Chamonix to learn about well being and sustainability at an individual, team and global level.