Sustainability Themes
At Ashley, we greatly value the different sustainability themes and ensure we give each of them our time, energy and love. Read below to find out exactly what we do for each of these themes: Energy, Healthy Living and Food, Recycling and Waste, Water, Biodiversity, Transport and Global Perspective.
Energy
Ashley is rated as the best school in Surrey for energy consumption when compared to schools with similar buildings - take a look at our Display Energy Certificate DEC. We achieve this in two ways: by producing our own renewable energy through our solar panels and locally sourced woodchip biomass boiler, and by energy saving methods. Our Year Six children monitor our energy on a daily basis using ecoDriver software. Each school building has a weekly energy target agreed by the energy monitors. In our achievers assembly every week, Year Six share whether targets have been achieved. Each time a building achieves its target, the children receive £5 in savings from Mr Dunne. Click on the ecoDriver link to see how much energy we are using and creating right now.
In the summer term Ashley School runs the '100 Club Challenge', where families are challenged to reduce their energy to under 100kWh a week. Those who are successful are celebrated in assembly and receive one of our coveted certificates; we also have a '50 club' for our super savers. There is a strong message in school and at home that we can save both money and the environment if we reduce our energy. Read about our project in greater detail on the Eco Schools case study page.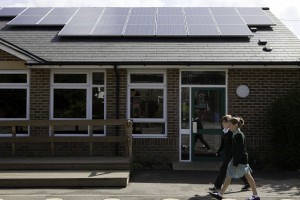 Millennium Block Solar Panels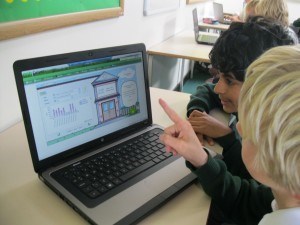 Healthy Living and Food
Click on this link to read our latest Growing Round-up.
Ashley School grows a significant amount of food, with our vegetables and fruit grown on site going into our school lunches or our year group learning projects, significantly reducing the effects of both transport and needless packaging on the environment. We have planted a heritage Surrey apple orchard with 32 varieties, potato beds with over 10 varieties, 24 varieties of gooseberries and a pear orchard with 21 local varieties. We want our children to see that the food cycle is a closed loop system where all the waste becomes fuel for the next round of food growing. Year Four are responsible for food waste weighing and measuring with our kitchen staff. They work out where and how we can reduce the amount we waste before recycling it into our Ridan composter. Take a look at our food waste measurement on ecoDriver. Each week in our Achievers assembly, Year Four children share how much food waste was created each day so the whole school is aware. However, it is really important to us that we are not just monitoring our food waste but trying to reduce it too; consequently, in 2013 we set up a Food Council. The Food Council work alongside teachers, the office, the kitchen and our gardener to ensure our food growing and lunches constantly improve.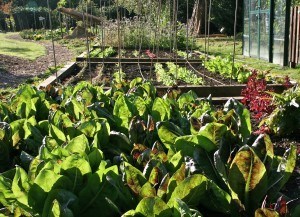 Our raised beds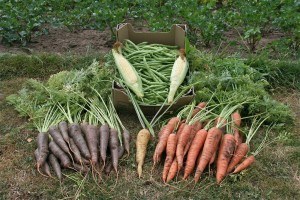 Our food growing programme encourages children to see food as something they can grow from seed, rather than something you have to buy in a shop. We have expanded our food growing from seven vegetable beds to five growing zones and a greenhouse. We grow a diverse range of food throughout the year. Our part-time gardener works with the children on our food growing projects, running termly sessions through the seasons and liaising closely with our kitchen in providing school-grown food every week. Read more about how our project helps combat climate change on the Eco Schools case studies site.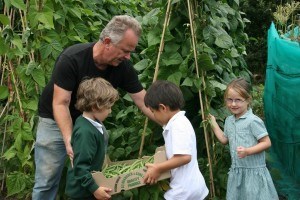 Darrel, our gardener, running a workshop
We believe our work is inspiring others in similar projects. In September 2011, the Co-operative launched their 'Green Schools Revolution' programme live on breakfast television in front of our food growing areas – take a look at the video here: Green Schools Revolution. In March 2012, we were the feature school for a BBC Learning Zone Eco Maths lesson on how to reduce food miles by growing food on-site (Ashley is featured from 6 minutes 6 seconds into the clip). In July 2012, our Surrey heritage apple orchard was replicated as an RHS Wisley garden at the Hampton Court Flower Show to promote diversity in food growing.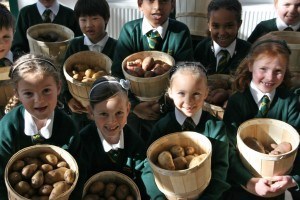 Also, in July 2012 our school kitchen was recognised as the UK Primary School Catering Team of the Year, awarded by LACA (Local Authorities Caters Association), for its work in closing the loop on food production and sharing its practice with other schools. In our school lunches all our milk is organic, our meat is free range and organic, and our fruit and vegetables are both seasonal and locally sourced. If we cannot provide fruit and vegetables from our own extensive food growing areas, we work with our local green grocer to ensure the significant majority of any additional fruit and vegetables are supplied from farms within the home counties. In November 2012, our children led the first ever live Skype lesson on food, run by the NGO ActionAid, in which the children taught a lesson on food growing to three schools in London, Liverpool and Texas, USA. Have a read of our blog on the ActionAid website.
Packed Lunches
Whilst we strongly encourage children to enjoy our family style school lunches, largely locally sourced, organic and always healthy, we also encourage families who choose packed lunches to prepare healthy, waste free meals. Please take a look our advice on How to Prepare Healthy Packed Lunches and also How to Prepare Waste Free Lunches.
In addition to these ideas, so that we can be as sustainable as possible, you might like to think about:
Are the ingredients used in season?

Where has the lunch and its contents been grown or produced? Is it local or has it come from overseas?

Has the lunch and its contents been sourced from a fair-trade producer?

Cost permitting, is the food organic and / or free range?
Seasonal Food
At Ashley, we promote the eating of seasonal, local food. Local, seasonal food is fresher, tastier and more nutritious than food which has travelled a long distance. It also cuts down on carbon emissions caused by transporting food, known as 'food miles' (something Year Four investigate in the summer term). Click on this link informing you what vegetables, fruits and herbs are in season, informing what you cook at home and what you buy in the shops: What's in Season?
You may even want to print this helpful calendar for display at home: Seasonal food calendar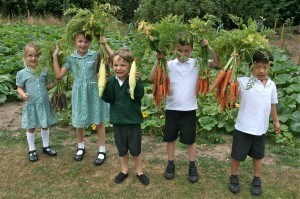 Reception class harvesting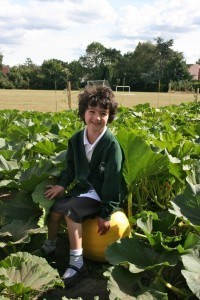 Recycling and Waste
At Ashley, each class has recycling bins and we do our best to reduce, reuse and recycle. For those children who have a packed lunch, we strongly encourage parents to provide lunches free of packaging.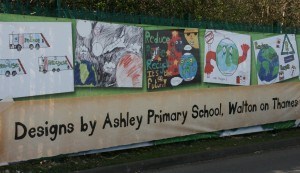 Posters displayed at the local recycling and waste centre
Year Four are responsible for measuring food waste. Everyday they weigh the waste and update the weight and menu to ecoDriver. They then review the lunches and speak to the kitchen and the Food Council to help design a lunch menu that produces as little waste as possible. Any food waste we create at school is composted, which is monitored by children from Year One and Three. We have two composts at school: our compost on the field for fruit, teabags and vegetables; and our Ridan composter which allows us to compost cooked food waste. Our food waste is in fact fuel for our food growing.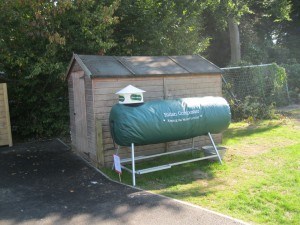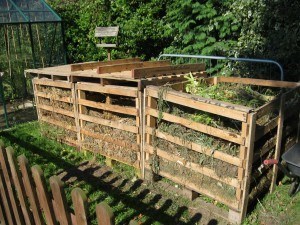 Water
We ensure that we do not waste water in school. Year Five are responsible for monitoring our water use. They check the meters on ecoDriver every week and look for ways to make further savings. They also measure how much water is wasted at the end of each lunch time, working alongside the kitchen to measure water left in jugs; any leftovers are deposited on our growing areas so nothing is wasted. Year five coordinated a Cycle for Water fundraising campaign in 2012. The event captured the emotions of the whole school on how vital water is to our world and raised £6,500 which has funded water projects for schools in Thailand and Honduras. Click on the link to see the truly inspirational Cycle for Water video showcasing our fundraising efforts.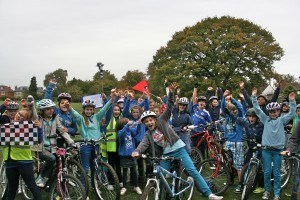 Cycle for Water Fundraiser, 26 October 2012
Biodiversity
Our school grounds are increasingly becoming home to a wealth of biodiversity. Apart from the developing diversity of trees, plants, vegetables and fruits, we love learning about other creatures that live at school. Every January we take part in the RSPB Big Schools' Birdwatch, where we use our bird hide (the consequence of the 2012 Year Six's Design for Change project) to record species spotted at school. We also enjoy looking under logs and in plants to learn about the variety of creepy crawlies living with us. Butterflies are of particular abundance, with 10 different species spotted last summer. Check out the Big Butterfly Count (entering KT12 1HX as the postcode) to see what has been uploaded for our school area.
At Ashley we also keep bees. The Year Two children participate in learning around the lifecycle of a honey bee and help produce and sell delicious organic honey.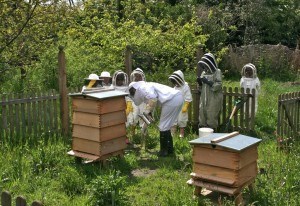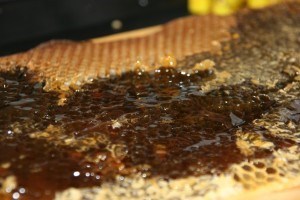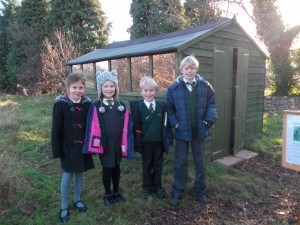 Transport
We are one of the best schools in Surrey for utilising green modes of transport to school. A large proportion of our children cycle, scoot or walk to school – methods embraced by our staff as well. Each year we take part in the Golden Boot Challenge, monitored and led by our Year Two children, where each class monitors our modes of transport to school for a month. A campaign started by our reception children in the summer of 2012 has resulted in a new, safer road network outside school. The reception children were concerned by the fast traffic and spoke to the local council who have subsequently reduced the traffic from Ashley Road onto the one way system to a one lane entry.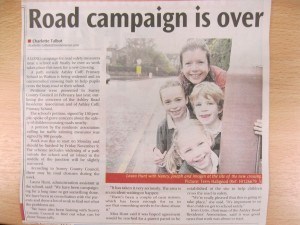 Making outside school a safer place
Global Perspective
Year Three are responsible for promoting Fairtrade products in school. They learn about the importance and meaning of fair trade products, as well as sharing their understanding with the rest of the school. At the moment, they are working to ensure that all food from our ktchen is fairtrade so we can become a Fairtrade School.
Ashley has a link with the Riverside School in India, who inspired us to engage in Design for Change projects every term, where each class acts to improve an issue that concerns them, either in school, in the local community or in the wider world. In addition, there are many other links throughout our curriculum where we learn about the wider world. Year Six visit Chamonix, France, in June for their New Leaders in Sustainability expedition. Click on the New Leaders in Sustainbility link to read last year's blog and watch the fantastic video to see what the children get up to. The trip focuses on what we need to be well and live in harmony with our world, and the children look at the impact of climate change first hand, seeing and touching the nearby Mer de Glace glacier which is melting at a worrying speed. During the trip, the children make pledges on how they will positively impact their individual, team and global well-being.