Hawk Class Chamonix 2019
Hawk Class head to Chamonix on Monday, 24th June. Good Luck, Hawks!
Monday, 24th June
This morning, the Hawk Class Chamonix team arrived right on time for the second week of the Year 6 New Leaders in Sustainability expedition. The coach left before the planned 7.30am departure time and, with the M25 unusually clear, we arrived at Gatwick at 8.30am for a leisurely bag drop and airport security check. We spent the morning playing games and wandering around duty free, and then we headed to Gate 102 for our flight to Geneva. Everyone ate their lunches on the plane and before long we could see snow-capped mountains out of the window as the Alps came into view. It was spitting with rain when we boarded the plane at Gatwick, but it was hot and sunny and 30C when we landed in Switzerland. It was a relief to get into our air-conditioned coach.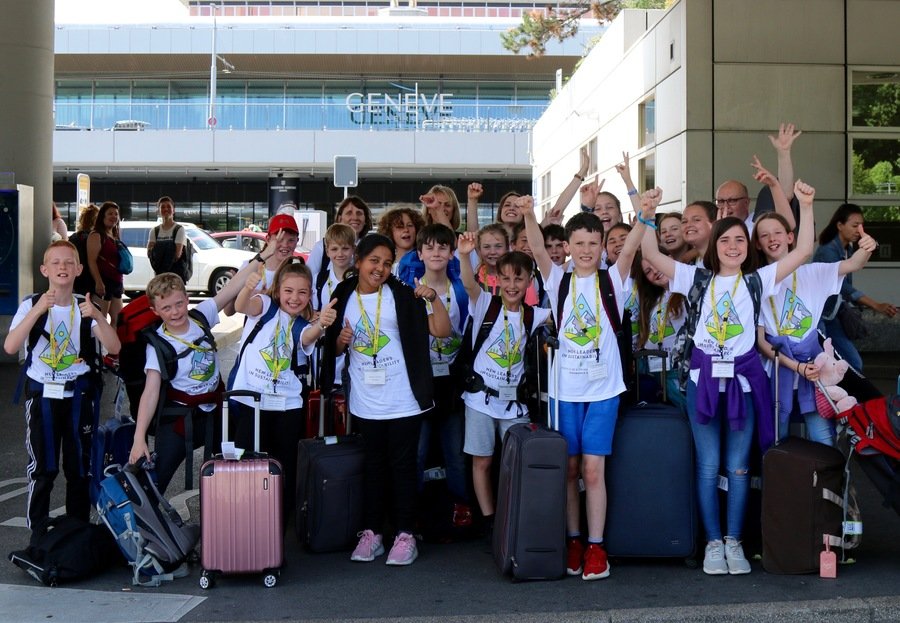 We had a short hour and a quarter journey up into the mountains and everyone was really excited as we pulled up outside Hotel des Lacs. Keys were handed out and the children headed upstairs with their heavy bags and suitcases to settle into their rooms. We then had a brief talk about our teams for the week - energy, food, waste, water and transport - before our evening meal of lasagne and salad, followed by sorbet, ice cream and a very tangy and tasty compote of forest fruits.
After dinner, each group shared an observation or a thought from the day. The energy group reminded us to think about the energy we use during our stay and whether we really need to use it. The waste group observed that the fact that everyone h
Before taking a walk round the lake, we all joined in with a rousing rendition of HAPPY BIRTHDAY TO YOU for Freddie's birthday.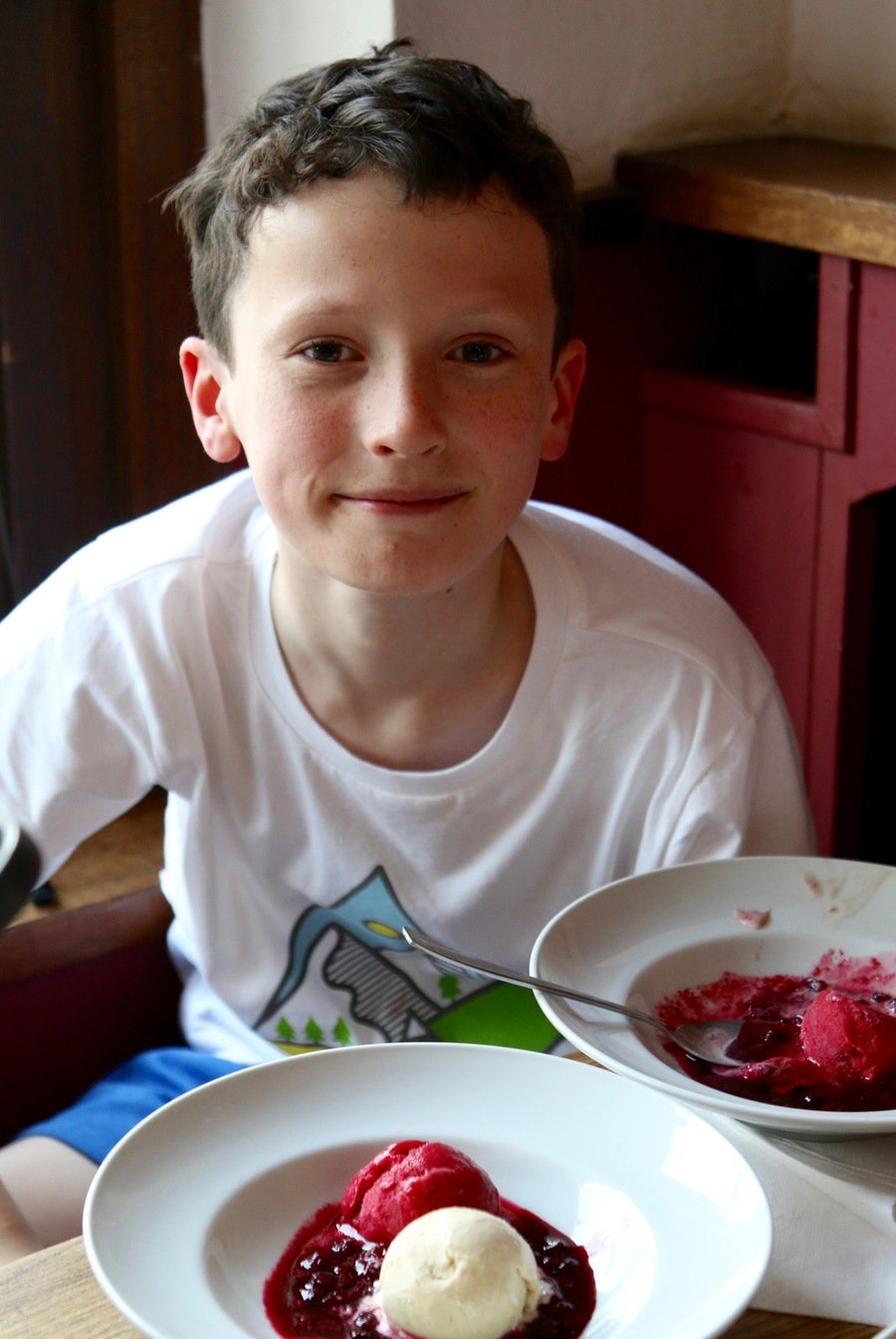 We had a final circle time and shared how we were feeling. Excited, nervous, exhilarated (to be here), eager, thankful, proud and peaceful. And then it was time for bed. It's now 9.20pm and it's worryingly quiet. Have they really all gone to sleep? We hope so as we have a busy day tomorrow!
Tuesday, 25th June
After a good night's sleep, we all met for breakfast at 7.45am and tucked into pain au chocolat, baguette and jam, and cereal, all washed down with hot chocolate and orange juice. What a great combination that is! We then walked the short distance to Les Gaillands rock face and found a spot to gather in our teams, undertake some morning stretches and meditations, and check in to see how we were all feeling.
We returned to our rooms to do our teeth, collect our water bottles and put on sun cream - it has been very hot today! - and then came back out to give our presentations. We did these as one big group and it was great to hear what the children and adults had to say about their life journey so far, interests and hobbies, and hopes for the future.
We then came back inside and began our morning activities with 3 minute portraits of one another without taking the pencil off the page. It is no easy task and here are our results. Miss Tingle was particularly thrilled with her portrait.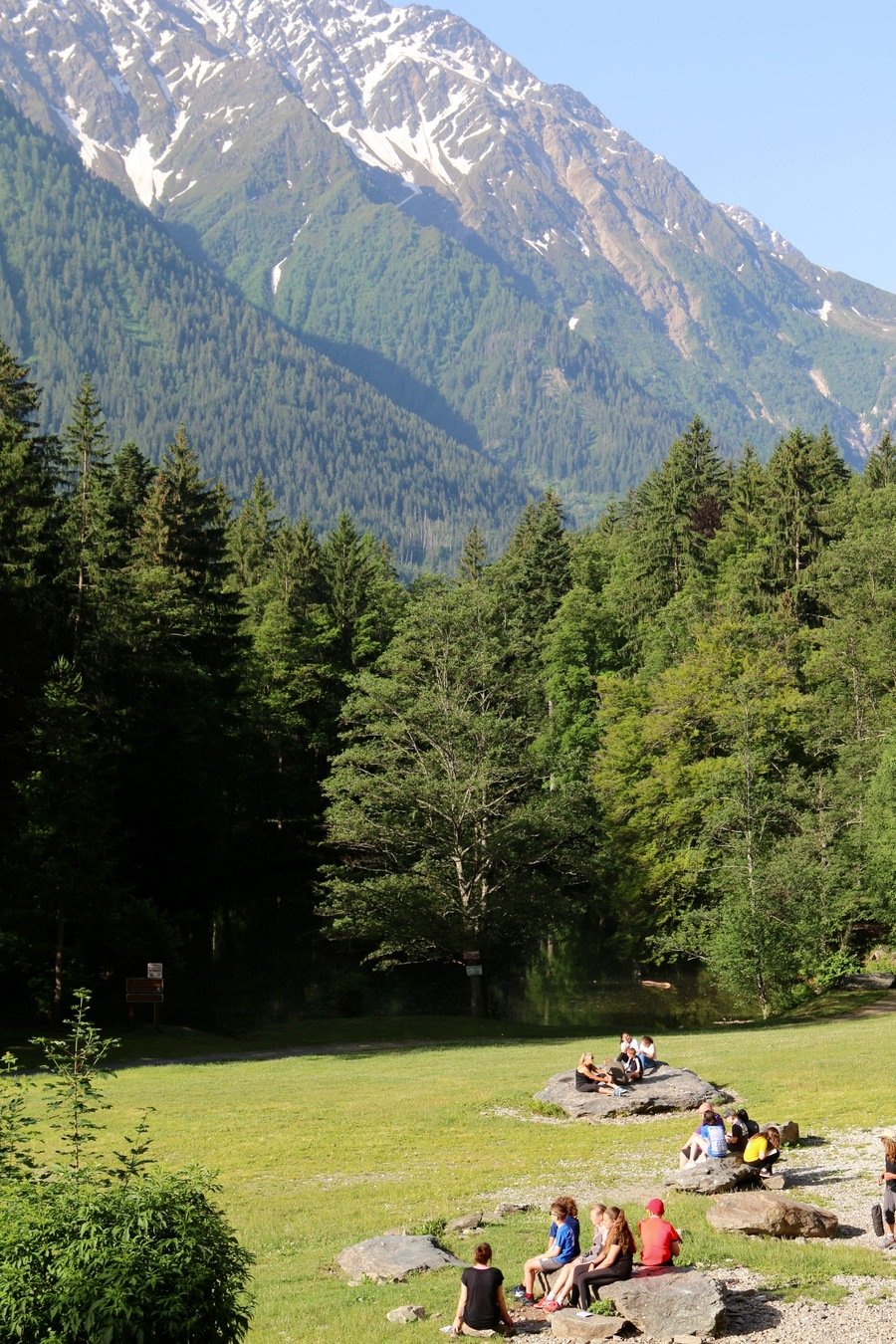 We had a break before designing our posters around what we need to be well and both the children and the adults spent the next hour creating some pretty cool well-being designs, as you can see.
After a picnic lunch of baguette filled with ham, cheese, tomato and cucumber, a chocolate crispy cake and fruit, we changed into our climbing gear, met our instructors for the afternoon and found a cool part of the rock face for our climbing. Lots of children and adults expressed their fear of heights, but we all knew that courage - from the French word coeur meaning heart - was going to be key in overcoming our fears and that encouraging each other during the challenges that lay ahead would be critical to our success. Without exception, everyone rose to their individual challenges, some scampering up the rock face like mountain goats and others taking their time as they made their way carefully to a safe height that set the bar for future climbs. It was about trust in ourselves and those holding the ropes to keep us safe.
We finished the afternoon with our individual well-being pledges. Here are some of them:
I pledge to try my hardest in all that I do and have confidence to believe and trust that I can do it.

I pledge to always believe in myself and experience more with nature.

I pledge to never doubt myself as I may never know what I can accomplish.

I pledge to always be supportive and positive so I can push myself to try new things.

I pledge to be closer to nature and to care for it.
Then it was time for another delicious meal at the Hotel Vert. Richard, the owner, came and told us about what they do to be sustainable from insulating the hotel to save energy to buying local, seasonal food and only using tap water to drink. We had another rousing rendition of Happy Birthday to you to celebrate George's birthday.
HAPPY BIRTHDAY George!
Then it was time to pack our bags for the big hike up in the mountains tomorrow. We have heard that the route is now clear of snow so we are good to go. It's going to be a long, hot day and we are going to need to work well as teams to achieve our goal and reach the refuge safe and well.
Wednesday, 26th June
Wednesday was all about team well-being.
After breakfast, we began the day with each team working out how to work together to move two wooden skis with one foot strapped to each ski. It wasn't easy at all and the first time was a real challenge, but the groups talked about how they could improve by communicating better and moving in unison to a left, right rhythm, and in a short space of time, they definitely got better.
With their rucksacks packed, everyone walked into town on another hot day to catch the train from Chamonix up to Montenvers and La Mer de Glace glacier. We then took a cable car halfway down to the glacier and continued walking another 500 steps – or at least it felt like that! – to the entrance. It was shocking to see how much the glacier has melted in such a short space of time. Inside the glacier, we touched the ice and saw how quickly it melted on our hands. We experienced climate change in that moment. Everyone was in awe of the ice and marvelled at its beauty.
The temperatures kept rising during the afternoon as we trekked across from Montenvers to the refuge. With our focus on team well-being, everyone had to work hard to support and encourage each other and communicate well throughout the trek, offering each other water, sweets and positive words along the way. We left at 1pm, had a break at Le Signal to reflect on how much the glacier has changed in such a short amount of time, celebrated reaching the famous rock for our team photo, and eventually arrived at the refuge at 7pm. What a long day!
We had a delicious evening meal outside, watched the sunset over the mountains and shared our team well-being pledges. We were elated to have made it and a little bit giddy with all the excitement and exhaustion of the day.
Thursday, 27thJune
It was a very early start for some. We won't say what time, but by the time we had breakfast, it probably felt more like lunch for those who had woken in the early hours! Breakfast was big bowls of hot chocolate with bread, jam and cereals. We then went outside to take in the breath-taking views and consider how we could make the Chamonix valley more sustainable with reference to five key areas - transport, energy, food, water and waste. The children came up with some brilliant solutions and presented their ideas in teams with the back-drop of the mountains and valley behind.
Here are some of the very sensible, sustainable solutions for Chamonix:
Bike stations in Chamonix town that charge 1 euro to hire a bike. The money generated would go towards funding renewable energy projects in the town.

Water refill stations free across the town and in shops and restaurants. There would then be no need to sell plastic bottles of water.

A law to make every household and business recycle all their waste.

Locally grown food projects using the compost from the food waste in the valley.

Public transport that is either hybrid or electric to reduce traffic and pollution in the valley.
The final hike for Hawk Class was up to the cable car to take us to the top of the mountains, l'aiguille du midi. Several of us were feeling apprehensive about the ride and it was a very steep ascent, but the views once we arrived made it all worthwhile as we looked over the Alps in glorious sunshine. We made our final pledges up at the top for the well-being of the world and what we would like to do to look after it.
We could see climbers making their way across the sea of ice and snow. The altitude made some of us feel a little dizzy so we had lunch and then came all the way down into town for some cold drinks and gifts. Everyone is now packing their bags for the journey home tomorrow. We can't believe how quickly the time has gone and how blessed we have been with the weather. We can't wait to see you all tomorrow, but will be sad to leave Chamonix, too!