A Class left, A family Return
A final morning reflection gazing out at the mountains in the sunshine was a difficult one. The week had gone so quickly everyone shared. All were excited to return home but at the same time did not want to leave this place of peace and stillness. They knew that whilst the week's challenges had been conquered, an even greater challenge lay ahead in fulfilling their pledges and developing as leaders at home too. Would there be opportunities for these times of calm before rushing into the day's routines? We hope so.
So we bid goodbye to our home for the week. We left the Magical Kingdom in body but our minds and hearts would remain for a long time.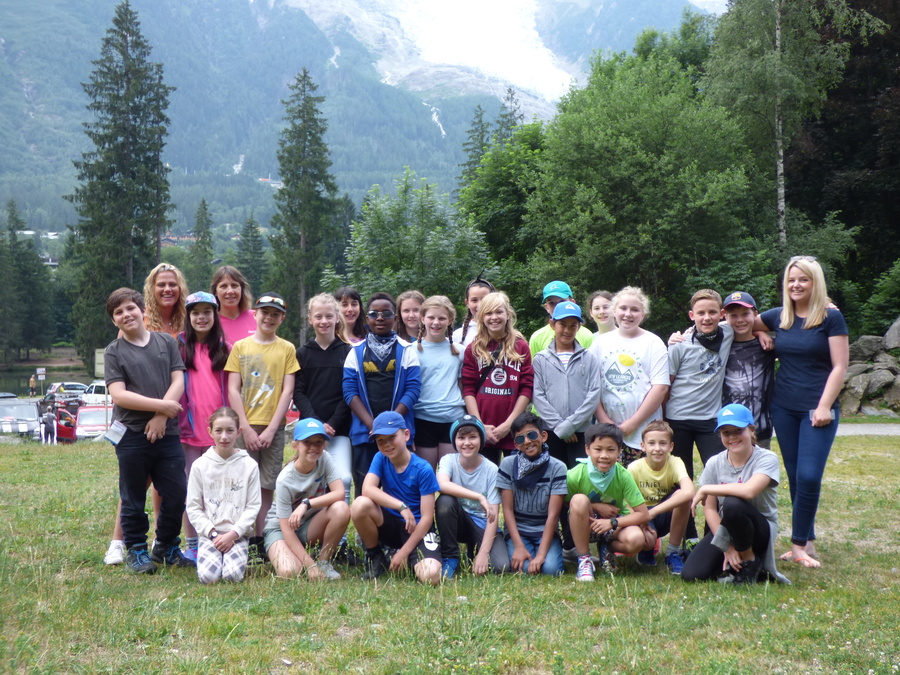 Our next stop was the Jardine des Cimes - a beautiful garden set in the hills half an hour outside Chamonix. The winding roads certainly tested the steal of our team's stomachs but we were more than pleased to see everyone keep their breakfast down. The gardens were the perfect way to culminate our learning - the perfect example of how our world needs to be. The gardens are a place for people with emotional troubles to find peace through gardening, for those people who have not found life easy to find individual wellbeing. It is also a place for all the community with wheel chair access throughout and groups of nursery children learning how to make paints from natural ingredients and how to grow plants from seed - community wellbeing. It is also a remarkable example of where seemingly unusable waste can be reused in beautiful ways working in harmony with the natural world promoting environmental wellbeing. Our three days of pledges wrapped into one.
And so the journey was almost at an end. Another coach ride and we were at Geneva Airport and on a plane back to the UK, to our families and to new beginnings as leaders. With our bags all safely claimed at the baggage drop, we formed a circle, holding hands, for one last time. We held the moment quietly for just a few last seconds savouring it as long as we could. Miss Holder spoke of the incredible achievements over the week, ones nobody thought possible beforehand. Confident young people stepped forward and thanked the group for the time together and also thanked the adults for their support. But, there was one very clear message this week, shared by different people on different occasions. Hawk Class were no longer a class - they were a family. This group, who may not always spend time with each other at school, had bonded. They had experienced magical moments together and had developed the trust that only a family could have.
With bags on backs, the adults told our New Leaders to step forward and lead their way to their parents eagerly waiting in arrivals.
Thank you Hawk Family for an unforgettable week. All your pledges will be posted soon...
What does our world need to be well?
On Thursday morning we woke up with the same clear skies we had been treated to all week, but this time way up in the mountains looking down at Chamonix town. Morning reflections brought a wonderful peace in everyone before large bowls of hot chocolate were slurped up.
After breakfast we heard of some incredible feats: the first explorers to climb the surrounding mountains in the eighteenth century, the cable cable and Mont Blanc tunnel in the 1950s. And, in turn, we were challenged to be the Mayor of Chamonix and think radically because despite its beauty, Chamonix has many troubles. It is one of the most polluted places in the world due to transport and green waste burning - its population surges from 10,000 to 130,000 in the peak months. It quite simply cannot cope. We learnt that school children do not go out to play in the winter due to high pollution levels. Here were some of our ideas:
Waste: art exhibitions to be held by school students using waste.
Energy: friction from traffic to be captured and used to power drones to deliver food to homes.
Transport: solar powered trams along scenic and historic routes.
Water: clean filtration straws to be used so all mountain water can be drunk removing the need for any plastic bottles.
Transport: paragliders replacing helicopters serving the refuge with supplies.
These ideas might make you laugh but that is exactly what people did when the Mont Blanc tunnel and cable car lines were suggested. We must think outside the box.
We then waved farewell to Claude and the refuge and began a short hike to the cable car midpoint station which would take us to the Aiguille du Midi.
Standing at the top of the world, 3,842m up, we looked down at Chamonix town, now even smaller, and considered our place on this living planet which we are destroying.
At The Top of the World, we answered the day's question and made our final pledge of the week. Standing in a circle, each person confidently stepped forward and shared what they will do, however small, to heal our world:
"I pledge to create environmentally friendly machines or mechanisms to reduce the impact of pollution on the world." (Sam P)
"I am going to remember to keep my pledges and appreciate this wonderful world because I don't think I do it enough at home." (Tom P)
"I pledge that I will pick up and throw away any litter that I see no matter who dropped it." (Jess)
After whizzing down in the cable car, some exploration of the local tourist scene and a much needed shower, the teams came together outside with the challenge of sharing their learning this week through creative means. Once again, this extraordinary group of children did not fall short. Through poetry, dance, raps, drama and chants, each team shared all they had learnt whilst bringing smiles to our faces.
A final dinner was accompanied by a Thank You to the hotel staff and also to the adults taking part in this week's learning too - all led and instigated by our New Leaders in Sustainability. Tomorrow we say goodbye to this magical kingdom - it won't be easy...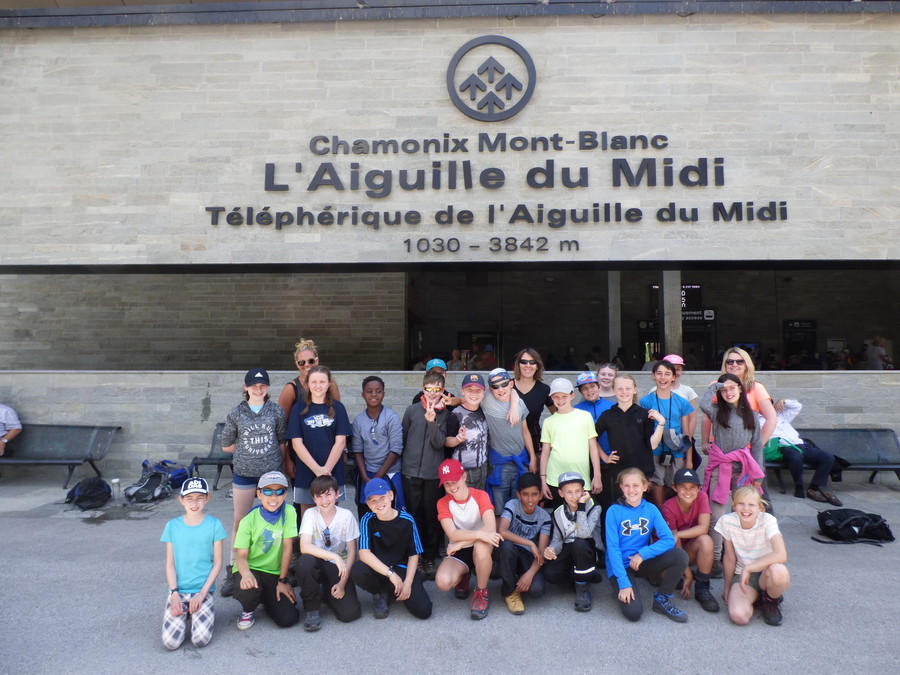 Tomorrow we depart our hotel at 9.30am. The final day's blog will be posted over the weekend. Thank you for reading.
What does a team need to be well?
Wednesday morning had finally arrived and after morning reflections and fuel for the day's journey, the troops excitedly gathered outside for a coat or two of sun cream. Bags were checked, then checked again and after a few trips back to rooms for forgotten items, we were all ready. Today's focus would move from yesterday's important selfish focus to today's selfless focus on supporting those around us towards a common goal. To test the group's before a challenging hike, we engaged in a spot of skiing.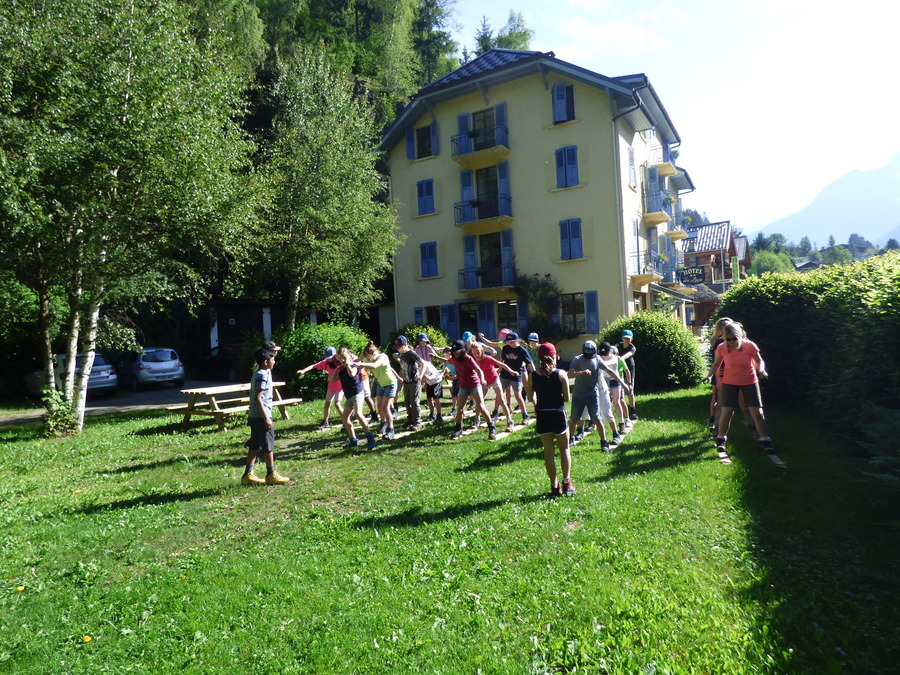 Moving in time, working together and staying positive is no easy task and this challenge proved it. However, and most importantly, each team improved in every attempt. The activity finished with each team choosing three words to 'live by' for the day - they included cooperation, positivity, trust, communication and listening to name just a few. With those words in mind, we walked through Chamonix town, just about getting used to the weight of our rucksacks, and boarded the 11am funicular train to the Montenvers viewing station of the mesmeric Mer de Glace or Sea of Ice - the 7km long, 200m deep glacier which is drastically melting as a consequence of climate change. We jumped on the gondolas and travelled deep into the ice caves taking note of the dated sign post of where the glacier was not so long ago, and then entered the caves connecting with this ancient frozen river at its core.
A spot of lunch in the only shade we could find and another coat of sun cream, then we were off on our hike. The hardest and most challenging part waited for us right at the start - an hour ascent. Despite the challenge of the heat and steepness, everyone was resilient and also supportive. As we hiked up, we marvelled at the views of the glacier snaking round the mountains, dotted with hikers on even more dramatic journeys.
Eventually, our ascent finished as we arrived at Le Signal. A spot where we heard the story of our 4.7 billion year old planet represented as the life of a 47 year old man, in which in just the last 60 seconds of that man's life - from the start of the industrial revolution - humans had plundered the earth for fossil fuels, made over 500 species extinct, polluted our atmosphere with carbon gases and fought and killed each other in conflicts. Everyone was asked to do one thing: to sit on their own and listen to what the mountains were telling them; to listen to what Mother Nature needs. In one big circle everyone shared their responses:
"It's not too late." (Sam)
"Be the change you want to see in the world." (Lawrence)
"The Alps told me to be the change I want to see in what could be heaven on earth. It told me if we don't do anything, nothing will change and it will get even worse. It's great thinking about it but to make a difference, we actually have to do something about it." (Dan K)
"'Help!' she cries, but she just melts, lost forever – never to return. She weeps and still she melts. She works all day to please the eye of the human but the human just harms her, taking advantage of her. No one appreciates her or gets to learn how special she is. But, we listen, we hear her, we care." (Georgia)
After this heart-felt moment, we bid goodbye to this fading beauty knowing we had to do something to protect it. Approximately three hours later, with tired legs but bright smiles on our faces, we arrived victorious at the Refuge L'plan de Aiguille. Here we would stare in awe at the views of Chamonix town and the colossal rocks scaled the day before, now seeming like pebbles fit for an ant to scale. It is here that we met Claude, a wonderful host who treated us to warm soup, local cheese and tarte tatin.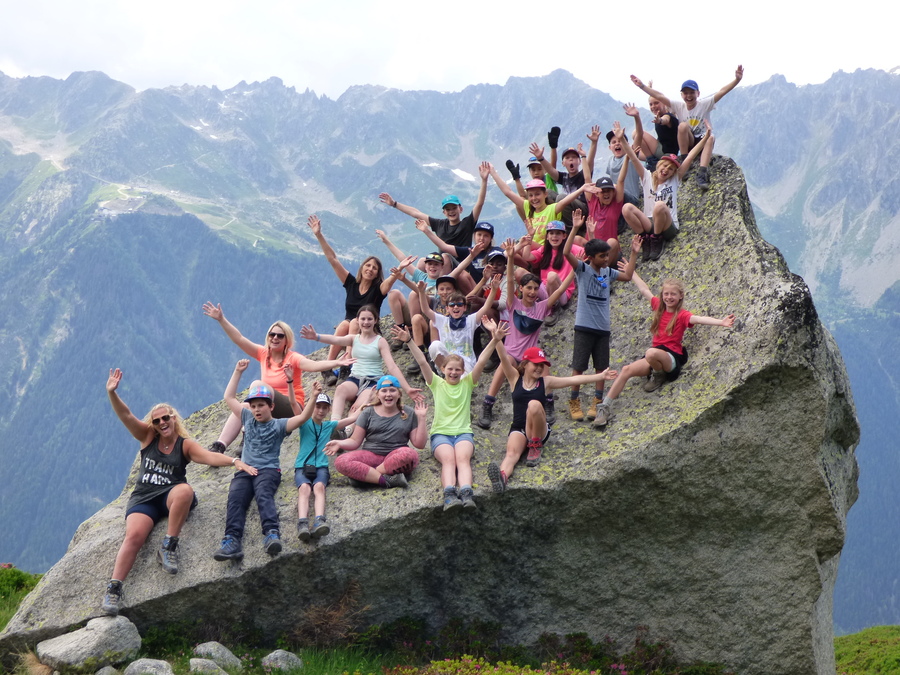 Finally, before a very well deserved rest and night's sleep. We gathered once more to share our second pledge of the week:
"I pledge to understand the challenge and difficulties others face and be more helpful and supportive." (Bettina)
"I pledge to support the people around me even when I am having difficult in myself." (Callie)
"I pledge to work well in a team by using friendship, teamwork and positivity." (Dan C)
Reflections and Pledges on individual wellbeing
After an eventful day, the four groups took some quiet time alone to design their first pledge of the week – a promise designed to improve each person's wellbeing from this day onwards. In one large group we stood in a circle, each person stepping forward and sharing their pledge.
"I pledge to do my best and never give up even when times are tough and things are looking bad." (Daniel K)
"I pledge to do things that scare me more often because it builds my confidence and leadership skills." (Tom)
"I pledge to face my fears more often and take more responsibility in my life." (Connor)
It was then dinner time and big, mouthwatering bowls of pasta waited for us followed by delicious fruit salads. In between courses, each team shared their reflections from the day linked to their focus:
Transport team: "We noticed the need to fuel ourselves for our climbing like the fuel transport needs. We are also aware of how noisy motorcycles can be in Chamonix." (Callie and Gianna)
Energy team: "We need to replenish our energy reserves after a day's activities." (Annie)
Water team: "We saw how important it is to drink water and stay hydrated when it's hot. Tomorrow, we will need to pace ourselves on the hike." (Pippa)
Waste team shared this poem:
Careless people appear not to see
How truly wonderful life can be.
There is no cost to looking up
And yet they drive on in their ever polluting trucks.
You can go that extra mile
Only to find your largest smile.
A vast expanse of mountains seem
Like a magical fairy tale dream.
We were then greeted by Dani from the Hotel next door who shared how they run a sustainable business, from giving food waste to disadvantaged locals, to saving water using slow release tap systems in their showers, to using low energy light bulbs and timers on televisions; to sourced only locally grown food.
One last play and then a serious message about tomorrow's kit list. We discussed Needs (waterproofing, sun protections, hiking boots) and Wants (change of clothes, books, teddy bears). It is for our leaders to decide what they pack and they will live with that choice tomorrow. Tomorrow's weather forecast looks good. We will spend the night in the refuge and so there will not be any blog entries until Thursday afternoon/evening.
Welcome to the Rock
After lunch we stood in the shadows of the intimidating rock faces at Les Gaillands. It was hear that we met our five guides for the afternoon's climbing and here that we shared how we were feeling: anxious, excited, nervous, petrified, buzzing. Harnesses fastened and helmets on, children and adults set off for close to three hours of climbing and belaying in the sweltering heat. Despite all of the challenges, EVERYONE was incredible. Not one person gave up and not one person lacked positivity - truly remarkable.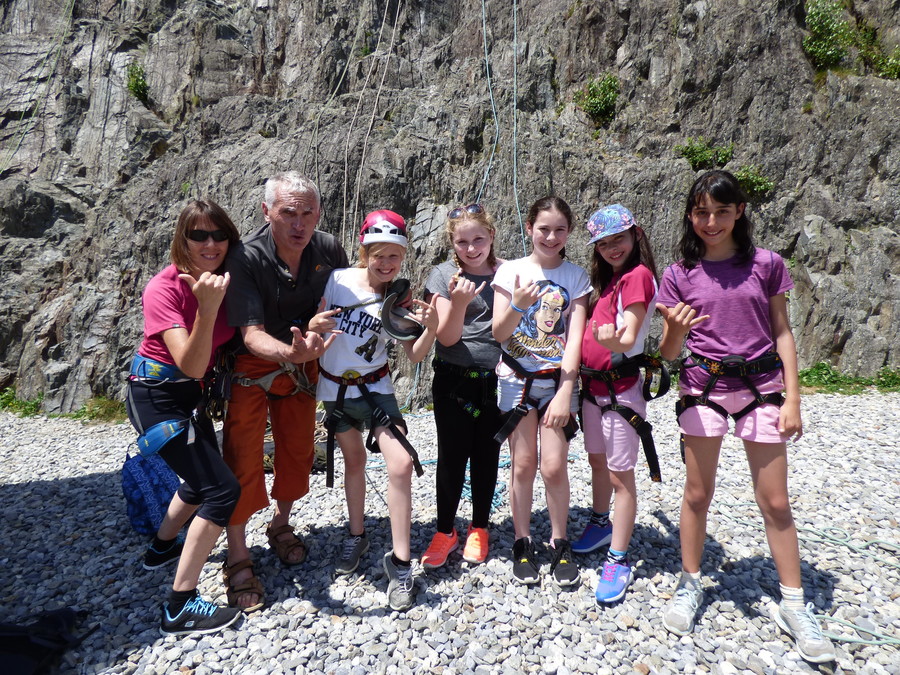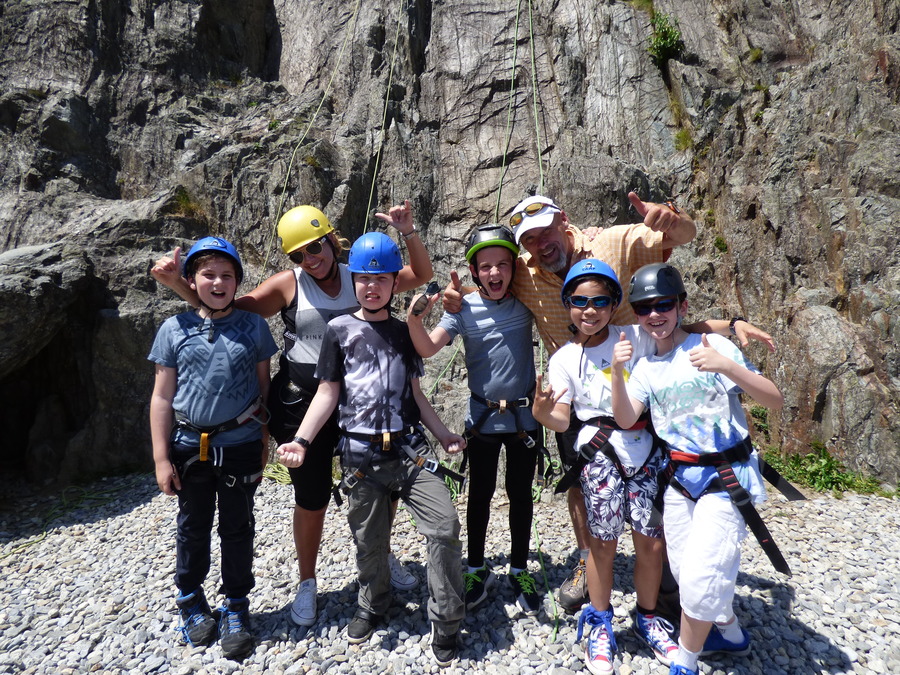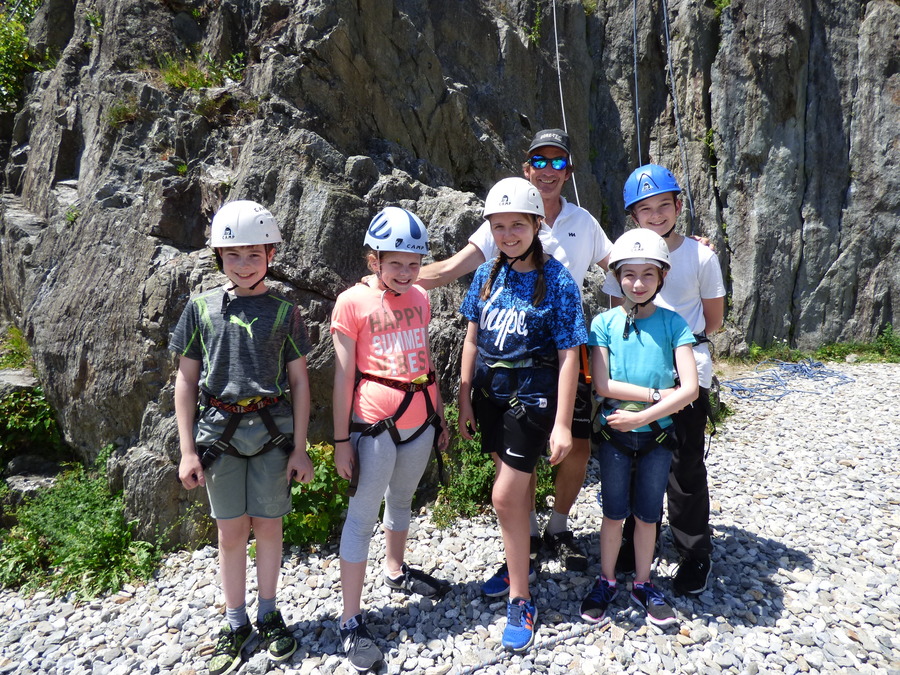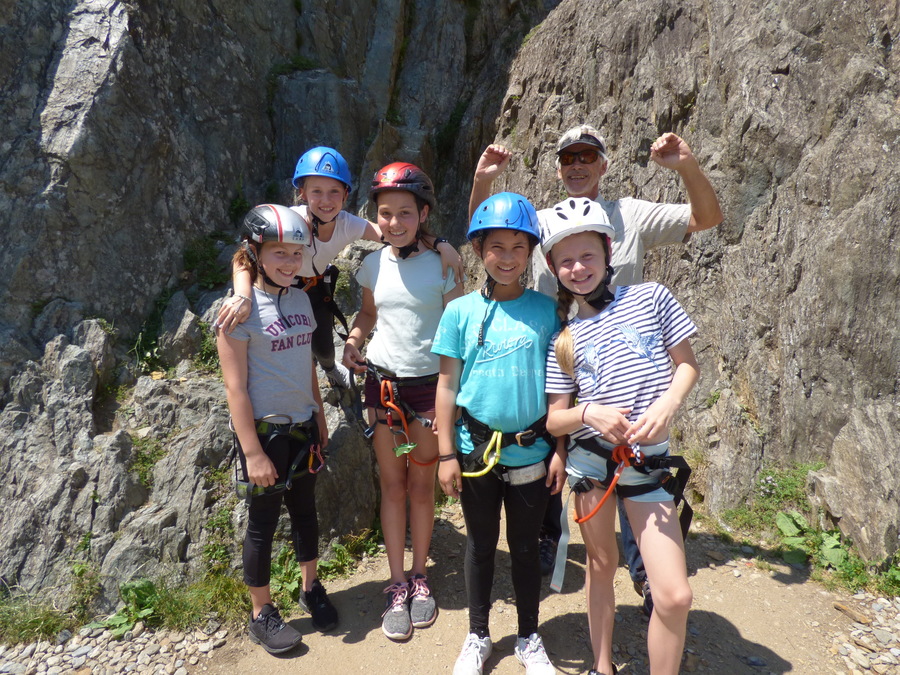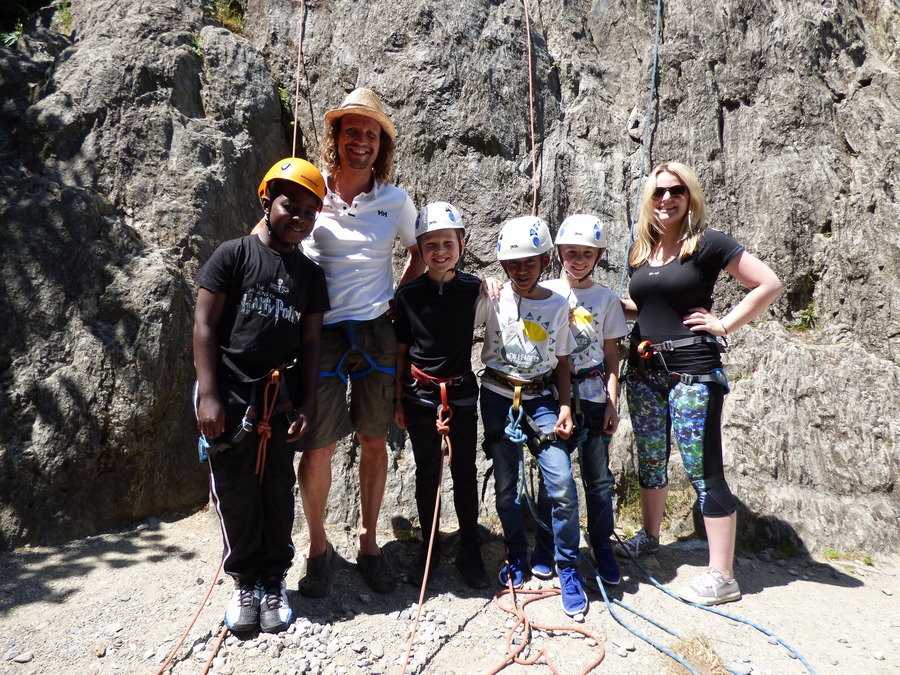 The afternoon was filled with countless personal achievements for all:
It was also a filled with countless examples of support, love and compassion for others. After the last climber was down, we reconvened in our circle to share how we found the experience and how we felt. The one word that kept being shared was 'proud'. A huge thank you to Fred and his team of guides for their patience and support.
"I am so proud of what I achieved today; I never thought I could climb that high. I am equally proud of all of you for doing so well and supporting me." (Marina)
Later, in our smaller groups, we reflected on how rock climbing had helped improve our physical, emotional and intellectual wellbeing - we knew ourselves better from this experience.
What do I need to be well?
Waking up to clear sky view of the mountains never gets tiring. After a well deserved sleep, the teams met outside for morning reflections: a time to be still, to be aware of our minds, hearts and bodies before we rush off to the day ahead - something we too often miss in our daily lives. It was also a time to share our hope and fears for the day ahead. The rocks were waiting for us....
After a hearty breakfast of baguettes, cake, cereal and hot chocolate, we discussed our understanding of Leadership and Sustainability. Impressively, everyone already had a good understanding and were keen to explore further through this week's activities. Afterwards, we split into two circles to share our two minute presentations all about 'me'. It was lovely to hear from such a passionate group of children and adults who already have a clear appreciation for their passions and aspirations in life.
Back in the hotel, we participated in an activity of mindfulness and connection. In just two minutes, we were challenged to draw the person opposite without the pencil leaving the paper. We reflected on how it feels to be challenged, pressured and pushed out of our comfort zone but also how it feels to be watched so intensely. There were also lots of laughs!
Our focus then shifted back to what we need to be well. On tables we wrote down everything we felt we needed; responses ranged from love and friendships to exercise and healthy food to challenge and purpose and even to beliefs – spiritual or religious. Looking more closely, we grouped these ideas into three areas: physical, intellectual and emotional wellbeing (body, mind and heart). Each person then celebrated the answer to the day's question in a poster. Once again, Hawk Class' creativity came through strongly.
After a picnic lunch in the shade and a bucket of sun cream applied to each and all, we are now enjoying some downtime before meeting our instructors and those ever so tall rock faces…
The Journey
Meeting outside school at 5.40am, Hawk Class gathered with excitement along with a slightly apprehensive group of parents and the odd sibling still in pyjamas. Everyone arrived promptly and once the coach had arrived too, we kissed, hugged and waved goodbye to loved ones. St Pancras International was a little more frantic with Eurostar employees rushing us through immigration and security checks at light speed. Eventually, we had our seats and waved goodbye to London. Fortune did not favour us, however, as we managed to get seats in the only carriage with broken air conditioning. Our fresh and fragrant Chamonix T-shirts soon became sweat-drenched; the journey was long but spirits remained high - most of the time.
Arriving in Paris at the Gare de Nord, we drank up the fresh air and began our travel across the city by Metro and then foot, over the River Seine in the blazing French sun to the Gare de Lyon where we would board our train south to Annecy - luckily, the air conditioning was operating well. Lunch and refreshments were enjoyed as we sped off through the rolling French countryside.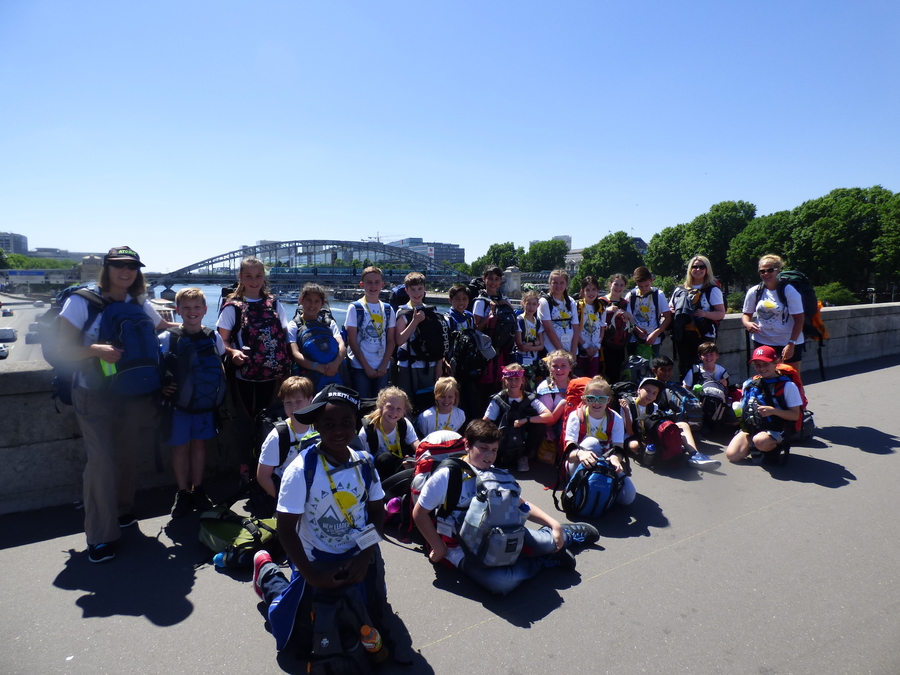 On the train journey down we split into our four groups for the week: Food and Water, Energy, Waste and Transport. In those groups we reflected on what we had noticed so far on our journey linked to the group's focus, what we understood by it and also generated three questions each that we would like to explore when in Chamonix. Four hours later and with patience dwindling but spirits still very high, we finally arrived in Annecy in temperatures well above 30c. The final leg in the coach was anything but boring as we were treated to awe-inspiring views of snow-capped mountains, rushing waterfalls and graceful paragliders as we ascended through the valley to Chamonix town.
At just passed 6pm we arrived at our beautiful Hotel. Finally finding out who everyone was rooming with, the troops rushed off to explore their rooms, smiling out of their windows at the breath-taking views of Mont Blanc. We gathered on the grasslands by the hotel and had a short orientation to the area in our first circle of the week. Miss Holder shared a short prayer whilst we held hands listening:
A Prayer among Friends
Among other wonders of our lives, we are alive
with one another, we walk here
in the light of this unlikely world
that isn't ours for long.
May we spend generously
the time we are given.
May we enact our responsibilities
as thoroughly as we enjoy
our pleasures. May we see with clarity,
may we seek a vision
that serves all beings, may we honor
the mystery surpassing our sight,
and may we hold in our hands
the gift of good work
and bear it forth whole, as we
were borne forth by a power we praise
to this one Earth, this homeland of all we love.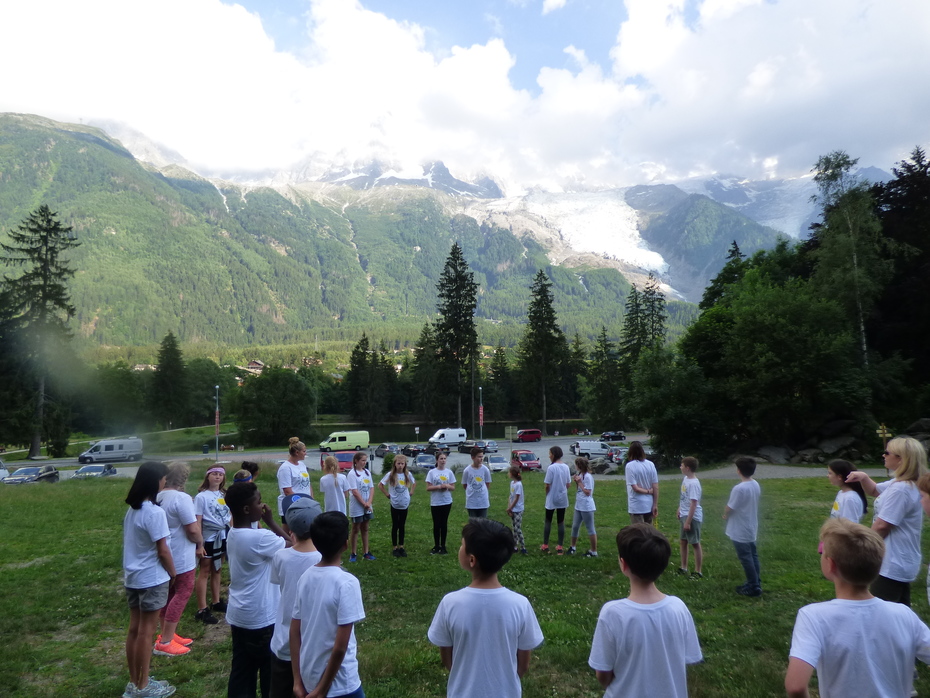 After a quick run around and exploration, we sat down for a delicious meal of breaded chicken, potatoes and vegetables followed by some bread and butter pudding. The adults were hugely impressed by the manners and behaviour whilst we enjoyed our dinner. Between courses several people shared some of their learning and reflections from the day:
"The chicken is free range and from Bergundy in France so it hasn't travelled far which is good." (Dillon)
"The water we are drinking is from the tap but it is local water from a spring." (Grace E)
"Travel group are exploring the question 'What is the best way to travel?' So far I liked the Eurostar best because it was quick and environmentally friendly and also there was space so it was comfortable. What was your favourite?" (Sam P)
"What does the group think about the use of TVs in our rooms and the elevator in the hotel - are they wants or needs?" (Connor)
"I don't think we should use the elevators or TV because even though it is just a little energy used by one person, it all adds up and a little is worse than none." (Maisie)
Having decided as a group to not use the elevators or TV (for tonight at least) we enjoyed one last play outside before we went off to our rooms at 8.30pm for a much needed shower. Good night all zzzzz.
Our Hopes and Fears...
Hopes
I really hope I'll be able to climb to the top of the rock face. Callie
I hope the weather is good when we get to Chamonix because participating in the activities might not be as fun in the rain or snow! Sam
I hope that by the time I get back from Chamonix I will have become a better leader. Marina
I hope that we will have lots of fun and that we will learn loads throughout our journey. Gianna
I hope the food is nice! I'm sure it will be. Connor
Fears
I am fearful about not achieving my best . Dillon
I fear that I'm going to have forgotten something when I get there! Jess
I fear I'll not be able to get to sleep and be tired whilst carrying out the activities. Theo
I'm fearful about delivering my speech to the class. Bettina
I am a bit worried about abseiling; I have not done it from so high before. Daniel