Hawk Class Chamonix 2016
Day 1: Arrival in the Magical Kingdom
At 5.55am this morning, Hawk Class waved goodbye to their families in the wet and dreary weather of England, excited about their journey ahead and the experiences they will have in Chamonix. The travel could not have gone smoother: we boarded our Eurostar train from London St Pancras to Paris on time and this year, it did not break down 10 minutes into its journey! Three hours later we were in France, still not escaping the dreary weather. A quick dip into the Metro and then we were out on the streets of Paris, soon crossing the Seine on our way to the Gare de Lyon.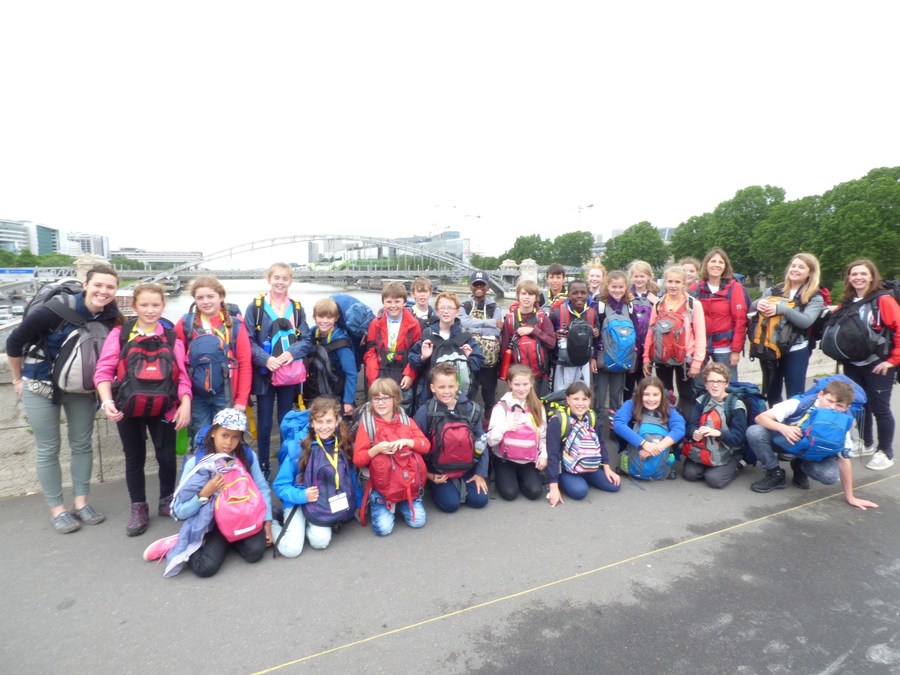 A little tired from lugging our bags across the French capital, we were happy to arrive with 20 minutes to spare for our train south to Annecy. Again, we departed on time and quickly saw the French landscape change from a built up urban area to a beautiful countryside. In this long and arduous four hour trip south, we split into our five groups for the week to discuss our focus areas. Here are some reflections and questions that were shared:
Energy team: Energy is everywhere and in everything. How does Chamonix preserve its energy?
Waste team: Not making the most of something you use is wasteful. We might be wasting time travelling now, but we will be better informed on our return to make a difference, tipping the scales back in our favour. What is making the most of time: doing nothing or multi-tasking?
Food team: We are what we eat! How does food travel to Chamonix? What is the quality of the food we eat?
Transport team: It is better to have transport filled up otherwise it is wasteful. What is the best way to travel?
Water team: Water can be used in lots of ways; it's versatile. How is water used in Chamonix?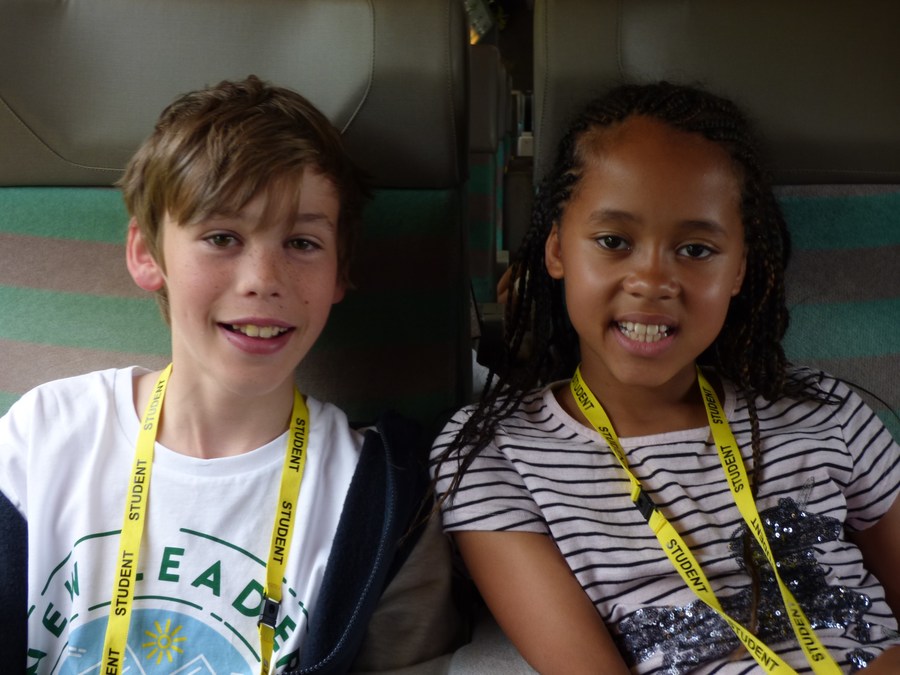 Finally, at 4.30pm local time, we arrived at Annecy for the final leg of our journey. We boarded our coach and became more and more astounded by the natural environment as we drove further into the Chamonix valley - gobsmacked by the rock outcrops, waterfalls and snow capped mountain peaks. At 6pm we arrived at the Hotel des Lacs in good weather. After checking into our rooms, we joined each other in our first circle on Les Gaillands next door and took a moment to take in the awe inspiring scenery, including perfect views of Le Boisson (the glacier facing our hotel), Le Aiguille du Midi (where we hope to travel to on Thursday) and Mont Blanc (the highest peak in western Europe). Miss Goymer shared a short prayer with the group which helped us tune in even further to our wondrous surroundings and our need to both admire them and respect them.
Dear God,
We ask you to bless the journey which we are undertaking- may it profit the health of our soul and our body. As we look around us we are amazed at the greatness and majesty of all that you have made. We ask you on our leaders in sustainability expedition to help and support our friends; to be the comforter when people are overwhelmed, the energy when others are weary and wisdom when there is uncertainty. When we return, start our new adventures and schools, help us to understand that the most important thing we can do is to always be true to ourselves.
Amen
We then received a warm welcome at the Hotel Vert where our hungry stomachs were greeted with a delicious chicken pie followed by a seasonal fruit crumble. The waste team suggested that we monitor how much waste we produced each meal so we are more aware; the energy team opened up a discussion on use of electricity in our rooms; and the water team encouraged us to drink lots of water. After a short play, everyone is now very tired and in their rooms preparing for a well earned night's sleep ready for tomorrow's activities. Bon nuit!
Day 2: What do I need to be well?
Waking up to the mountains is an experience like no other. This morning we were blessed with some good weather in the Chamonix valley. Some early drizzle had wet the ground but otherwise it was dry for our morning reflections. In our busy lives we so often do not stop for a moment of calm to allow our minds and bodies to wake up. Staring at the stunning surroundings, we valued this time to reflect on our feelings both in the present and linked to the day's activities ahead:
After a delicious breakfast of croissants and freshly baked baguettes, alongside with hot chocolate, we reconvened on the grass by our hotel to share our presentations; this was a great opportunity to learn a little more about each other: our passions, interests and hopes for the future. Everyone stood and spoke with great confidence.
As the drizzle returned, in perfect timing we made our way back into the hotel for our morning workshops. Firstly, everyone was challenged to draw the person opposite them in just two minutes without the pencil leaving the page. We reflected on how this experience challenged us emotionally (some were frustrated, some enjoyed the challenge) and physically (we needed to think carefully how to draw the face without moving the pencil from the paper). The question for the day was then introduced: What do I need to be well? After group discussions and initial ideas noted, we began to group our thoughts into four key areas: physical needs (body), emotional needs (heart), intellectual needs (mind) and spiritual needs (the untouchable and almost unexplainable). Each person was then given quality time to explore these areas more deeply in the form of creative posters. Pleasingly, the rain seems to be weakening and the sky brightening up for an afternoon where we will test and explore our learning on the rock faces of Les Gaillands.
After a packed lunch and a play, we met with our five climbing guides in the shadow of the impressive rock face at Les Gaillands at 1.30pm. After introductions, we put on our harnesses and helmets and learnt how to tie the correct knot and how to belay our friends while they climbed.
Within minutes, everyone was finding they were testing their physical, mental and emotional limits. Whilst some raced to the top of the rock faces like spiders up a drain pipe, others took the climbing at a slower pace but all the while making great progress. With three hours of rock climbing their was plenty of time to explore all 10 climbing lines, some harder than others, and also time for cheers of joy as well as a few inevitable tears. This year, for the first time, there was a 30 metre high rock face open to climb - quite an achievement for those who scaled it.
Climbing these rock faces is an achievement not to be underestimated, both for the children and adults. Everyone was exhausted at the end, invigorated by the experience and most importantly, proud of their achievements. Through this activity, everyone had a richer understanding of what they needed be well.
After some very well earned down time in our rooms, we met in our groups to discuss the day's learning and the first of three pledges for the week: a pledge on what we will do from this day on to improve our wellbeing in order to sustain ourselves. In one large circle, each in turn, we stepped forward and confidently shared our pledge, each time followed by a chorus of 'We support you'. It was a wonderful feeling and there was a great sense of achievement in the air.
Needs and Wants: Our last challenge of the day was to prepare for tomorrow when we will hike up the mountain from Chamonix town to the refuge at Le Plan de l'aiguille which sits over 2000metres up on the mountain side. We discussed the challenge ahead and what we needed to pack and what we wanted to pack - each person aware that they would literally have to carry their choices on their back tomorrow.
Off to sleep now, ready and excited about tomorrow's journey to the refuge. Luckily, the weather forecast looks promising although we know from today's shower outbursts that it cannot be wholly trusted. We will not be blogging tomorrow as we are away from internet; we look forward to sharing our journey on Thursday when we will return.
Day 3: What does our team need to be well?
Waking up to clear blue skies, we began to focus our attention on the day's question: What does our team need to be well? Firstly, we agreed that a team was a group of people working together for a common goal; it could be a sport team, a group in school, a class, a family or even a community. For our world to live in harmony, we also need to work in harmony with one another. Soon we were put to the test, and in true Chamonix style we went skiing to see how well we functioned as a team.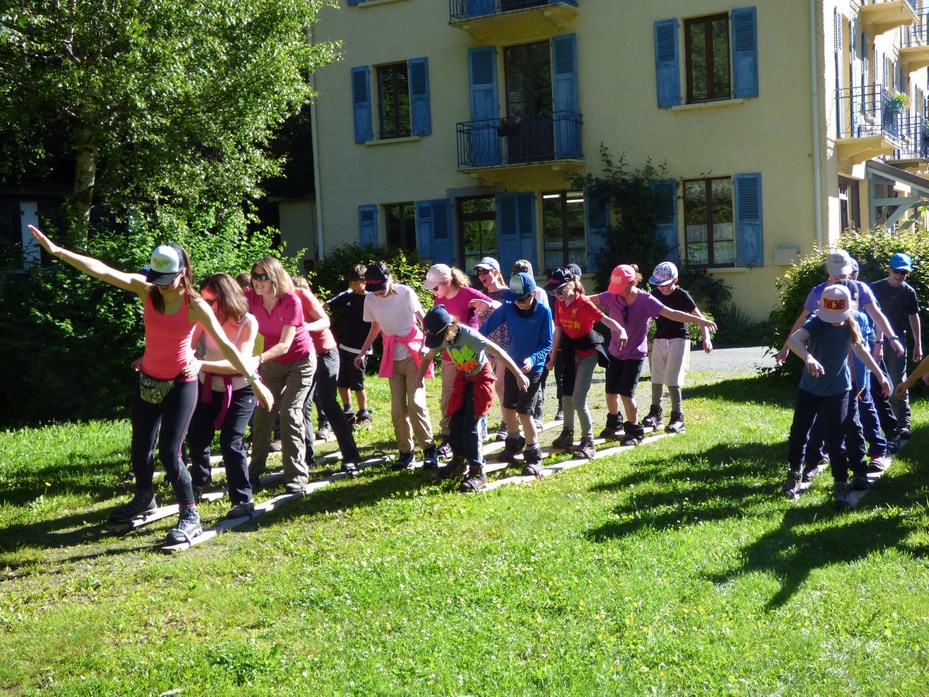 After a few attempts, everyone made progress as a team and decided on three words linked to teamwork that they would focus on in their groups for the day's hike.
Following a scenic trip snaking around the mountain side on the funicular train, we finally arrived at the Montenvers station where we caught our first glimpse of the majestic Mer de Glace - a 7km long 200m deep glacier that is melting at an alarming late as a result of our warming climate. As we descended down to the ice caves, into the glacier itself, we were all shocked as we noticed signposts highlighting glacial melt over the last 30 years..
Due to summer arriving later this year, the typical route to the refuge (our accommodation for the night) was blocked by snow and ice. Consequently, we returned to Chamonix town and began our ascent through the forest where the snow had melted. Without doubt, this was the hardest challenge any of the group had experienced before. Five hours of constant incline in close to 30c temperatures tested us physically, mentally and emotionally - but more importantly, it tested our ability to support each other, listen, communicate and be positive as a team. Whilst during the hike there were many upset faces, the feeling of reaching the refuge was one unlike anyone had experienced before: both relief and jubilation.
After the ravenous group enjoyed a delicious buffet dinner followed by Tarte Tatin, we met outside to reflect on the day and design our pledge on how we will work with others in the future more harmoniously. Everyone - even those who found the hike gruelling - had valued the experience and felt a huge sense of achievement; we had all literally climbed a mountain. Exhausted, and with our bodies close to breaking point, we gladly hit the sack as the sun set behind the mountains, tired but excited about the day ahead.
Day 4: What does our world need to be well?
Once again, we were blessed with clear blue skies as we woke at the refuge. We met outside and used our reflection time to soak up the vista in all its glory. After a hearty breakfast accompanied by bowls of hot chocolate, the mood turned to a sombre one. Gazing at the mountains, we heard the story of our planet; a planet that is 4.6 billion years old but when represented as a 46 year old person can see humans present for just the last 60 seconds - a minuscule proportion in history. However, we heard that in that short time, humans have caused the extinction of over 500 species of animals, we have plundered the earth for resources and consequently polluted our air and oceans, we have also seemingly always been at war with each other causing death and destruction. In short, we have destroyed the natural harmony that was in existence before us. Everyone then sat alone, looking at the mountains and listened - listened to what nature was telling us.
Just a few responses that were shared afterwards:
'Nature needs to be loved more by us.' (Tyler)
'Nature wants us to be quiet so we can hear its beautiful sounds.' (Jacob)
'We need to give back more than we take.' (Keira)
'Let me breathe!' (Miss Goymer)
This sombre moment certainly left us feeling that something had to be done and the mood soon changed with the positive news that the mayor of Chamonix is already doing lots to reduce the significant pollution levels in Chamonix and other sustainable initiatives such as recycling schemes and insulation tax breaks for housing. But today, we were challenged to be the mayor; each team presented their ideas for improving the waste, energy, food, water and transport in the town. Wacky, imaginative ideas were encouraged and we certainly got them: solar panels along the mountain side, river systems for transport, buses run on human waste, water purification plants, allotments throughout the town - lots of ideas that just could make a difference. All we need now is leaders to develop them.
Before we knew it, our backpacks were on again as we trudged our way through the snow to the cable car station where we made our final ascent up to the Aiguille de Midi, 3,482m up. Here we were able to touch the glacier at its source and look out upon the mountains from a new perspective. It is also here that we stood and shared our final pledge. After our pledges we held hands and savoured the moment, hoping that we could hold it in our hearts and never forget it.
'I pledge to be a great doctor; to nurse the world and get others to join me in making nature alive and healthy again.' (Martha)
'I hear cries of pain, wails of boredom. This can be changed if we work together to appreciate our beautiful surroundings. This is my pledge to our lovely world: to appreciate the gift we have.' (Baxter)
In a moments notice, we were back down in the scorching heat of Chamonix town; we looked back up at the refuge and could not believe we had climbed so high; we looked the Aiguille de Midi and remembered our pledges made at the top of the world. A much needed shower and rest later, each group brought their week's learning together whilst also showing their creative talents using dance, music and drama to share it. The group has grown and learnt so much in such a short time.
We have just finished another sumptuous meal at the Hotel Vert (one that we served by ourselves to reduce our food waste; something the children suggested to the hotel) and were treated to some information on how the hotel runs sustainably, from putting bricks in their toilet cisterns to buying locally grown food to reusing materials and resources whenever possible. One last play outside and we will pack for our return tomorrow; we will return with what we brought with us and so much more.
Day 5: A return as New Leaders in Sustainability
As promised on day one, the week had gone by in the blink of an eye. Final morning reflections offered the New Leaders a chance to share their thoughts and feelings on the week, on leaving the Magical Kingdom and on new horizons ahead; what was very clear was that everyone had enjoyed the week of a lifetime. They were reluctant to leave somewhere which they could already call their home after just four days; they had connected with nature and felt comfortable in its company. At the same time they were excited to see their loved ones and share everything they had learnt and experienced. We gathered our bags came together for one last photo before waving goodbye to the valley of Chamonix.
Our final stop before Geneva Airport was the Jardin des Cimes. A beautiful location that celebrates our week's learning journey. The gardens are a place for individuals to become more well; often young people who have found it hard to find their place in society come to work in the gardens to find peace and rehabilitate. The gardens are also a place for the community. It welcomes groups to enjoy its grounds, with access for all people irrespective of any disabilities they may have. (We saw two nursery school groups enjoying some gardening workshops while we were there.) It is also a place where reused and unwanted materials have been used in creative ways in harmony with the natural environment: individual, team and global wellbeing working in perfect harmony.
Before we left, we joined to hear a final prayer shared by Miss Holder:
A Prayer Among Friends by John Daniel
Among other wonders of our lives, we are alive
with one another, we walk here
in the light of this unlikely world
that isn't ours for long.
May we spend generously
the time we are given.
May we enact our responsibilities
as thoroughly as we enjoy
our pleasures. May we see with clarity,
may we seek a vision
that serves all beings, may we honor
the mystery surpassing our sight,
and may we hold in our hands
the gift of good work
and bear it forth whole, as we
were borne forth by a power we praise
to this one Earth, this homeland of all we love.
With our bags collected at Heathrow Airport, we joined in one final circle holding hands. The New Leaders were then told to leave together to meet their families but now without the adults who had supported their journey during the week. The message was clear: go and lead. In truth, it is not easy to be a leader at any point in your life, let alone at 11 years old. However, what is for certain is that these young people now have the confidence and understanding to become leaders and we look forward to seeing the great things they will achieve. Our world is safer in their capable hands.
PLEDGES
Click here to read each individual's pledges: Hawk Class Pledges 2016