Safety Positivity Enjoy Listen and Learn Leadership
Hopes and Fears
Today, Hawk Class were given the final itinerary for their upcoming trip to Chamonix. After all of the basics were covered (what time to arrive, what to wear, when they can start eating sweets etc.) the children were given some time to silently reflect on what their hopes for the trips were and any fears they may feel. It was lovely for the children to share their thoughts so openly.
I hope that I can get through the week without missing my family too much. Lara Cl
I hope that I will keep myself safe especially on the mountain hike! Lance
I hope I will become a more confident person. Seth
I hope I don't forget anything! Natalia
I hope that I will stay positive throughout the whole trip. Lucy
I hope I will become a better leader. Megan
I'm apprehensive about the journey because I often get travel sick – it's not pretty! Ashley
I'm worried I'll fall off the mountain! Lewis
I'm a bit scared about travelling on a cable car. Molly
I'm scared of heights but I'm hopeful that I will achieve my best when rock climbing. Myesha
I'm a bit worried that I will get homesick. Dan K
The Hawks have (finally) landed!
What a day! And what a start to our adventure! We left school in plenty of time, proud that we had been able to set off slightly earlier than planned. The excitement from the children was clear and even more so from the parents, possibly at the thought of having a whole week of peace and quiet. We only spotted one dad shedding a tear. It was an easy ride into London and straight in to St. Pancras, where again, we just had time to catch the Eurostar into Paris – no time for a photo! Plain sailing, so we thought, and then it happened! An announcement over the tannoy, "I'm afraid there isn't a free platform and we are going to be delayed by about 20 minutes." Half an hour later we started rolling into Gare de Nord. By then we realised we would be very tight on time getting across Paris to catch the TGV to Annecy – so the decision was made to take the Metro. The children's spirits were still high and they rose to the challenge.
Unfortunately, 3 metro trains couldn't get us to the train on time (problem 1). Still with high spirits and the sun shining brightly, whilst Mrs Stevens went to find and book the next train, the children sat and ate their lunch on the concourse outside, and of course, drank all their water (problem 2). At the station we decided to split into our 5 sustainability groups of Water, Energy, Transport, Waste and Food and share our thoughts on the week ahead and what questions we might like to ask and answer.
Energy thought about using solar panels to generate electricity and have air driven cars. Waste group thought about the different kinds of waste including time, energy and food. The transport group thought that cycling would be a better option for travel, saving time and money. The water group wondered how the water from the mountain was cleaned to make it drinkable and finally the food group were interested in food packaging; where the food in Chamonix came from and if any of it was Fairtrade. So much for us to consider and many questions to answer.
The next train we could take left Gare de Lyon at 16.45, still the children were spritely and excited – problem 1 solved. A trip to a supermarket and a purchase of 10 large bottles of water to share among the children solved problem 2. Once settled on the TGV we were sure the children would be exhausted and fall asleep – no such luck – out came the card games and some snacks to keep them going. The highlight of the train journey, in our carriage, was the man with a live parrot on his shoulder!
Are we nearly there yet? Will we see the mountains soon? During this 4-hour train ride we passed through some glorious countryside and the sun continued to shine down on us. The train finally arrived in Annecy and our coach driver was on the platform waiting for us; he'd been waiting a long time! As the sun set, we travelled in the evening shadow of Mont Blanc until we reached our destination: Hotel des Lacs. Later than we expected, but nonetheless, we made it! Rooms were allocated and then a much anticipated and delicious late-night meal was waiting for us in Hotel Vert. Spaghetti Bolognese has never tasted so good.
16 hours from door to door. Not the journey we planned or expected but the one we got! Time for bed now. We will upload photographs tomorrow once we've all had a decent night's sleep!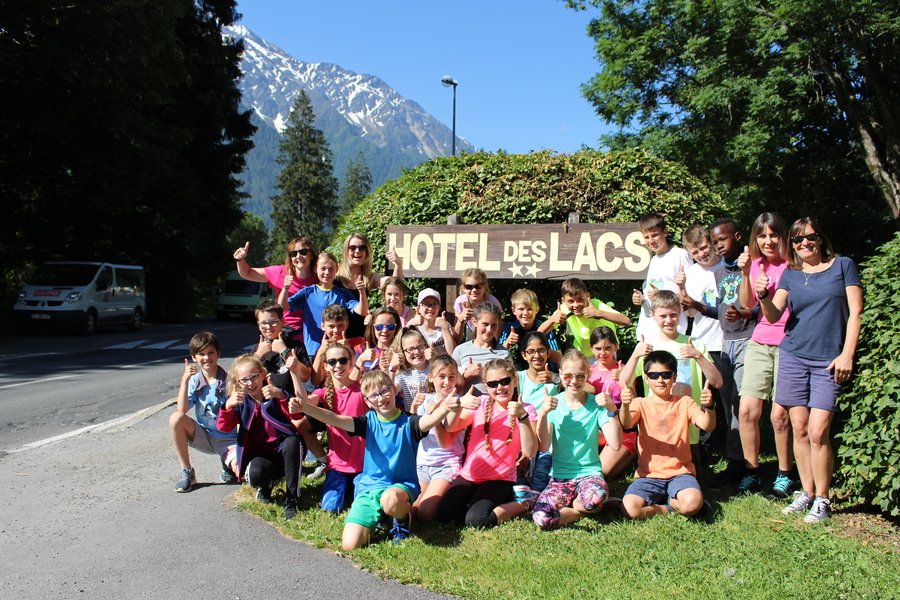 Tuesday 26th June
The children were allowed to have a little lie-in this morning as they had had such a long day yesterday. At 8'o'clock, we all headed out onto Les Gaillands for our early morning reflections. Oh what a glorious day greeted us: blue, blue sky and fresh crisp air changed our mood and the way we all felt. We could see Mont Blanc gleaming white in the distance and hear the birds singing – just the sound of a tractor interrupted the absolute serenity and calmness that we all experienced. In our groups we explored the surrounding area, looked in anticipation at the rock face we would be climbing this afternoon and queried at the fishermen gathered around the lake. After sharing reflections and looking forward to the day ahead by considering hopes and fears, we headed back for our longed-for petite dejeuner of croissant, French bread and hot chocolate.
Back on Les Gaillands before our first workshop, we stood in two circles at first sharing a little bit about ourselves as individuals:
Henry feared that he was going to struggle with altitude sickness and wanted to become a better leader, Freya wants experience the culture of France and 'be the best version of me as possible.' Lara shared her hate of little bugs – but she had Lucy to protect her from the spider in her room. Lucy was anxious about the hike but was determined to stay positive. Myesha is facing her fear of heights; she is keen to get to know her friends better and was sure that 'if people got to know me more they would find her to be a good friend.'We could go on, however, this is just a flavour of some of the things the children were happy to reveal and share. How inspiring and thought provoking the children have been already, contemplating the big steps in life before them and reflecting on the life they have left behind for a week. This opportunity to be immersed in beauty, mindfulness and the wonder of the mountains is an absolute privilege for everyone. Mrs Gault expressed how joyful and special she felt being able to come to such a beautiful place. 'Tranquilly on Earth'.
What will the mountains tell us as the week progresses? What will we learn form them? How can we translate the messages we hear into our everyday lives once we return to normality? Profound and meaningful questions that we are all keen to have answers to in the days to come.
Back in the hotel the first workshop focussed on personal, mental, spiritual and social wellbeing. The customary portrait sketches (portraits in graphite where the pencil wasn't lifted from the page) were 'interesting' to say the least. This was followed by a short session on face proportions – a necessary addition. The children then thought about everything they needed to be well; after discussions they created some wonderful posters that show what the most things are for them to be well.
Some extracts from the speeches delivered by the children are listed below. We were so proud of the thoughtful and heartfelt warmth for their world and others around them that went into them.
I'm starting a new chapter in my life. In Chamonix I hope to be able to reflect mindfully on the whole experience. We are caretakers of our planet for a short time and we need to pass on all our knowledge to the next generation. Anthony
I want to gain courage and take risks. Anabelle
I want to make sure that I put other people before myself. Lance
I'll always look around me and think about how we could live in a better way. I have learnt that you don't need to be good at something to enjoy it. Lara
After making our own baguette lunches and eating them in the sunshine, we prepared for our next challenge: rock climbing! Feelings that permeated through the group were those of anticipation, fear and excitement. We were put into four groups with Roland, Pierra, Francois and Gerald and they kitted us out with all of the safety gear we needed. They kept reminding us that safety was paramount in this exercise and that we had to be responsible for not only ourselves, but for others too. With fluttering hearts and trembling knees, the first few children started to climb… The group were so positive and supportive of each other that many were able to conquer their fears and reach great heights on the rock face. There was plenty of time in this three-hour activity for the children to climb multiple times and really master this new experience. During the reflection afterwards, it was clear that every child felt proud of their achievements and shared some very positive feedback. The instructors also commented on how agile and confident our class were and they were impressed with our 'have a go' attitude.
After our climbing adventure, we took some time to reflect on our focus of the day: what do I need to be well? We re-read and refined our pledges ready to share with each other. It is not always easy to think about what we need to be well individually, so we took quality time to discuss and consider this. Our pledges were shared in a circle on Les Gaillands with Mont Blanc in the distance.
I pledge to push myself to be the best I can be by trying my hardest at everything. Molly
I pledge to try to have a growth mindset and to be more positive in what I do. To try until I succeed and to be proud of what I achieve. Megan
I pledge to not be apprehensive, to try new things and to appreciate the lovely things I am given. Natalia
I pledge to be prepared for challenges in the future and overcome them independently. Lance
I pledge to have self-control, eat healthier and understand other people's emotions and ways of thinking. Dan K
I pledge to keep a positive attitude even in the hardest times, push myself to have a good mindset and not turn down a hard challenge. Lara Cl
I pledge to listen and engage more in conversations to help move forward in my learning. Max
In order to prepare for our two-day hike, Mrs Lovekin led a session on 'needs and wants' for the days ahead. We considered the absolute essentials for our hike across the mountain (needs) and if fluffy toys and hardback books were absolute necessities… Before heading back to Hotel Vert for our evening meal, we started to pack our small rucksacks and gather together everything we needed.
After a delicious meal of tagine and pan perdu (forgotten bread), we had some time on Les Gaillands to play on the rocks and let off some steam. Final reminders about tomorrow were given and then it was off to bed. What a day!
As we're off to the mountains tomorrow, there won't be a blog. Check back on Thursday evening to find out what we got up to!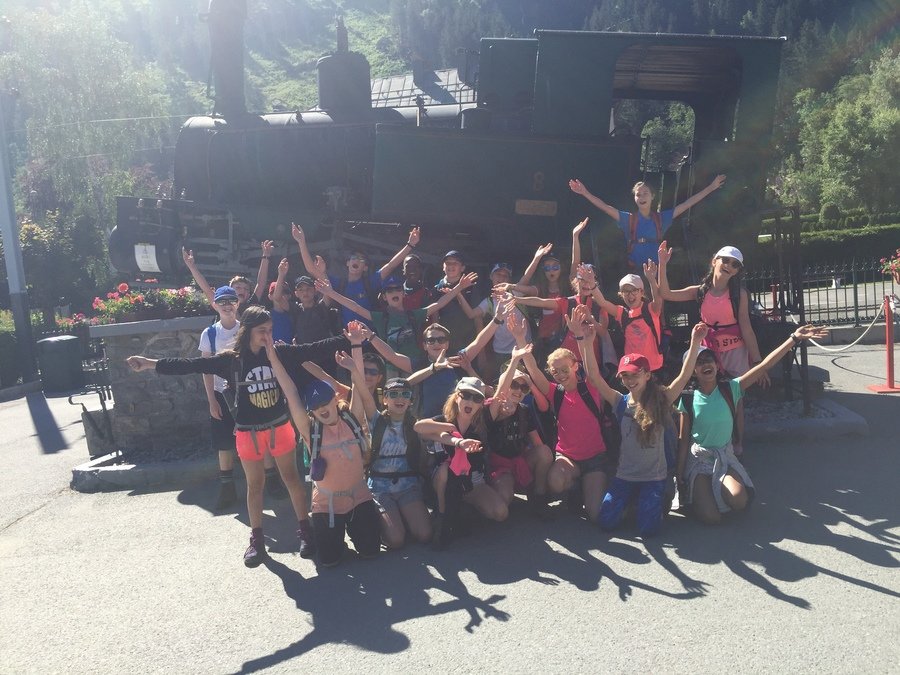 Wednesday 27th June
What a day! The children woke to the most glorious sunshine again. The mountain was beckoning. What would today bring? After early morning reflections and another delicious breakfast, with pain au chocolat this time, the children checked they had everything they needed and the adults everything they wanted (hehe). Only joking, we were weighed down with extra water, medical kits, sweets and fruit for the journey. Whilst the children were given their first team challenge led by Ed (transport team lived up to their name and won the race) Mrs Stevens and Mrs Gault headed into Chamonix to collect the two-day passes for the Montenvers train and cable cars.
As the children marched towards the station their excitement for the day ahead of them was growing and growing.After a short cable car ride and over 800 steps later the children descended into the ice caves,they were horrified and shocked at the rate at which the glacier had receded in recent years, since 2015 this was about the height of a house. The impact of this was clear to see and the children were quite vocal and inspired to consider how they could do something to make a difference.
After lunch we headed onwards and upwards towards the Refuge. We did take a little scenic detour over rocky terrain, which the children loved, before heading along the correct path one behind the other. The children were mesmerised by the wonder and beauty of the mountains, blue sky and distant birds calling. How privileged we all are to have such a wonderful experience. Nowhere else could there be such serenity and beauty in the natural world.
After what seemed like hours of walking we arrived at Le Signal. We took time to listen to the mountains talking and reflect on our earlier experiences. The children were told the story of the world and what little time it taken us, human beings, to cause destruction. We have to say this group have been one of the best at responding to this story. Individually they wrote prayers and poems which were so thought provoking and profound.
Soon, we were off again. We took a path that traversed over rocky terrain and even a few snowy patches! The children were amazing; they supported each other (and the adults) incredibly well. Hours passed and we finally saw the red shutters of the refuge. What a relief! A delicious three-course meal awaited us and nearly every plate was completely clean by the end. We needed it!
As the sun set over the mountains, we came together and shared our team pledges. We were inspired by the experiences of the day and many profound promises were shared. Then it was time for bed! Much giggling and excitement as the children finally settled in their dormitories for the night. We had seen the refuge perched high on the edge of a precipice from way down below on Le Gaillands and couldn't believe we had actually hiked all this way and were spending the night far from anywhere – what a treat!
Thursday 28thJune
We awoke to the sounds of the mountains on another absolutely beautiful morning. We spent some time, during our morning reflections, to take in and admire the amazing view. The rock face we had scaled days earlier seemed so small and insignificant from where we sat.
A delicious breakfast was provided; there were many fans of the huge bowls of hot chocolate we were given! After breakfast, we spent some time learning about the history of Chamonix and the troubles it has faced with pollution. We were challenged to become the Mayor of Chamonix and invent practical and inventive solutions to this problem. Before we knew it, it was time to trek back down the mountain into Chamonix town. We packed our lunches and off we went!
We took a different route to the way we came but the views were just as stunning. Even though some of us were still tired from the day before, we sang songs, told jokes and riddles and ate sweets to pass the time and keep us moving! Three and a half hours later, we arrived in Chamonix town. We ate our lunches in the shade, preparing for the next part of our adventure.
As the cable car up to L'aiguille du Midi was closed for maintenance, we took another cable car up to Brevant where we were able to immerse ourselves in the beauty of Mont Blanc from a different perspective, The snow-capped mountain against the clear, blue sky was something to behold. To get even higher, we took a tiny funicular to another viewing point. Here, we shared our mayor of Chamonix ideas. Each group fed back on every sustainability focus and the pollution solutions presented varied from harnessing the power of the mountains to covering car parks in government-funded allotments!
Time was ticking and we had to get some of the last cable cars back down to town. As amazing as the children were, we couldn't quite face another three hour trek down! Then came the part of the trip that many of the children were most looking forward to – shopping! We dumped our bags and headed off into town. It was recommended that the children buy gifts for relatives but the temptations of ice-cream and sweets proved too strong for many members of Hawk Class.
After the busiest day ever, with aching feet and heavy rucksacks, we took the free bus back to Hotel des Lacs. As much as we had loved our time in the mountains, it was such a good feeling to see our hotel again, eat another delicious, hearty meal and finally shower. We came together as a group to make our final pledges which focused on what we can do as individuals to have a global impact. The children applied their learning from the week to create some really profound and moving pledges. These pledges will be shared with you on our return.
Time for bed! The children have packed for tomorrow and await to see how many of them have left liquids in their hand luggage…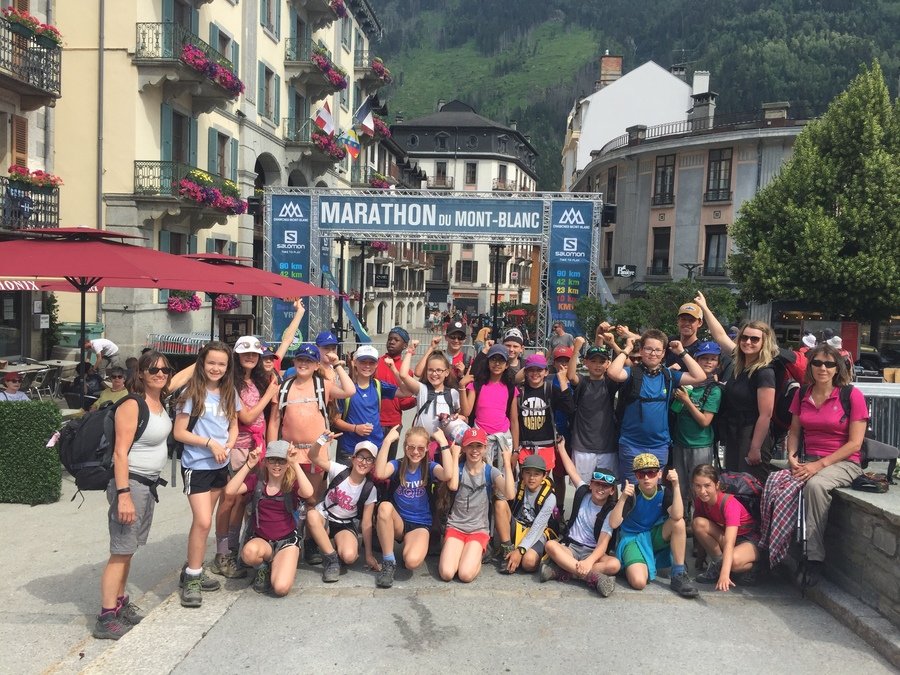 Friday 29th June
We awoke to another day of glorious sunshine, all of us not quite believing it was our last day in the mountains. We spent our morning reflections looking out at the view and sharing how we felt about the amazing things we had achieved during the week. A hearty breakfast of cereal and croissants followed and all of a sudden it was time to close up our rooms and get on the coach. We waved goodbye to Hotel des Lacs and started the journey to Jardin des Cimes.
We arrived at Jardin des Cimes (along with quite a few other school groups!) and we started our walk through the beautiful gardens. Throughout the route, we were amazed by intricate and interesting structures made from recycled materials and the variety of delightfully fragrant plants and flowers. Mrs Stevens came out of the gardens inspired by the amazing wicker structures; we're expecting to see some around school soon!
We ate our lunch in the shade and then had some time to play before we got onto the coach to take us to Geneva Airport. Considering our bad luck with travel days, we were eager to get there and checked in. What followed was quite possibly the smoothest run through an airport any of us had ever experienced - what a difference to Monday's shenanigans! Before we knew it, we were touching down at Heathrow and everyone was eager to see their families again. Once our rucksacks were collected, we stood together in a last circle. The adults shared how proud of the children they were and the children thanked the adults for the help and support they had given. Then, it was time for our ''Love Actually" moment... The children burst through the doors of Arrivals with vigour, perhaps a little too much as quite a few of Hawk Class hit the deck!
Well done, Hawk Class! We had an absolutely amazing week and it was great to see you all grow as New Leaders in Sustainability. You should be incredibly proud, we certainly are.