Eagle Class Chamonix 2018
I pledge to ...
Quitting is easy. Perseverance is a quality of true leaders.
Here are all of Eagle Class' pledges from their week away in Chamonix. Remember Eagles, everyone in the group is here to support you with these pledges - you're not alone :)
Eagle Class New Leaders in Sustainability Pledges 2018
Our journey home
After an extremely well deserved sleep back in the comfort of our hotel beds, the Eagles rose one last time to the surroundings of the Magical Kingdom. Feelings were similar throughout: sad to leave this paradise, this place where we have felt more and more at peace each day, yet excited to return home to loved ones to tell them all about it.
Bags packed and the coach loaded, we waved farewell and said our au revoirs to the hotel staff as we headed off by coach to the Jardin des Cimes. These gardens are the perfect location to culminate the week's learning. Here we can see individual, team and global wellbeing working together in harmony. The gardens serve as solace for people who have experienced struggles in their life; it is a place for all of the community and local school groups to come and learn; and it demonstrates how we can reuse and recycle materials rather than throw it into landfill.
The group took a walk through the gardens, experiencing the different conditions of the Alps, including dense forest, glaciers and beautiful wildflowers.
Following our tour of the gardens, we joined together to sing a traditional African song called Belle Mama. Singing beautifully in harmony together served us with a reminder that although on this trip we have witnessed countless examples of Mother Nature at her most beautiful, we - humans - are part of nature too, and we can come together, working in harmony, to produce our own moments of magic and beauty as well.
We then basked in the sun having our final packed lunch whilst enjoying the most intoxicating view of Mont Blanc.
Landing back at Heathrow airport, a flight attendant came to congratulate the adults on the behaviour of the children who all showed great respect for those around them sharing the flight despite their obvious enthusiasm to be returning home. After collecting our ruck sacks at the baggage claim, we stood in our final circle holding hands. Miss Orchin thanked the group for their courage and passion but with the reminder that the pledges made in Chamonix must not be forgotten. She reminded the group that biggest mistake we can make is thinking that the world's problems will be solved by someone else - we must be the leaders.
After some final thanks and words from the children, this time it was the young leaders who led the way through customs to their parents and families.
Well done Eagles. Never forget your time in the Magical Kingdom. Never forget what the mountains told you.
"I pledge to always remember what the mountains told me and when I am back in England, I will listen to the trees too." (Nancy)
On Thursday morning we woke high amongst the mountains having slept under a clear, starry sky, The sun's rays kissed our faces and brought us out of our slumber for our morning reflections following the previous day's exertions.
Looking down upon Chamonix town, we were somewhat surprised to hear that what looked like a paradise had, in fact, serious problems. A population which increases from 10,000 to 130,000 in peak periods was struggling to deal with the impact. Pollution is a serious concern. The valley itself captures fumes from transport and log burning, not allowing it to escape. As a result, more and more children are developing asthma and the air has been assessed as well above safe levels during those peak times in the summer holidays and winter ski season. However, the mayor has been creative in solving these problems. Free public transport, incentives and tax breaks for green initiatives for businesses and homes have all made a difference. Eagles were then challenged to play the role of mayor themselves. They were inspired by the trailblazers before them who had dared to dream. Those British dare devils who had been the first to climb Mont Blanc, those who had designed the idea of putting a cable car 3,800 m up to the Aiguille du Midi, those who drilled a seven mile tunnel through Mont Blanc connecting France to Italy.
So what might Chamonix town look like if it was run by Eagle class? Well energy would be generated through friction pads on people's shoes which could then be used to charge appliances at home. In addition, melting snow would be used to turn turbines creating further power for homes and businesses. Water would come from glacial melt and would be filtered and pumped around town through pipes made from recycled materials. Food would be grown everywhere, from a large communal allotment in town to the mountain slopes where climbers could pick fresh, organic fruit on their journeys. Supplies to places such as the refuge could be delivered by drones rather than polluting helicopters. People would travel around town either on river canal boats or roller skiis with solar panels on them for an energy boost up hills. Finally, waste would be dealt with in a positive way; where it could't be reduced, it would be used as part of a sculpture park where local children could contribute to designs. Cows would have bags attached to them to capture methane released which would then, in turn, be used as a further energy source. This certainly would be an interesting town! .
With the cable car out of action, we began our decent back to Chamonix town - no previous group had done this. Hiking down a hill certainly tests the strength of knees and patience but once again, Eagles kept spirits high. Three hours later - 20,000 steps by the end of the day according to Dan W's watch - we had returned to Chamonix town and its unrelenting heat. Ice cream and souvenir shopping was enjoyed and one final hill climbed before we took the cable car to Brevent on the other side of the valley. It was here that the group designed their final pledges of the week: What does our world need to be well? After they were shared, the group stood holding hands looking at the glacier. They were told to hold this moment in their hearts, to never forget it. And in this moment, magic happened. The transformation we had hoped would happen, happened. A love passed through the group and they realised they were ready. They were now leaders. Although they will be home soon, they will never forget that moment, on that mountain top, shared with friends of many years and adults who care for them dearly - the moment they became New Leaders in Sustainability.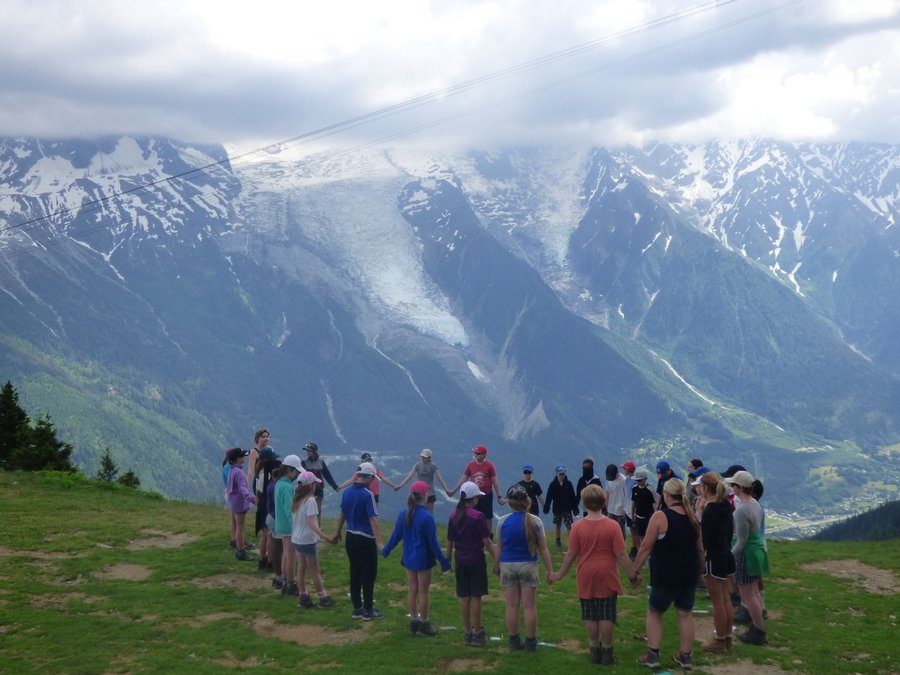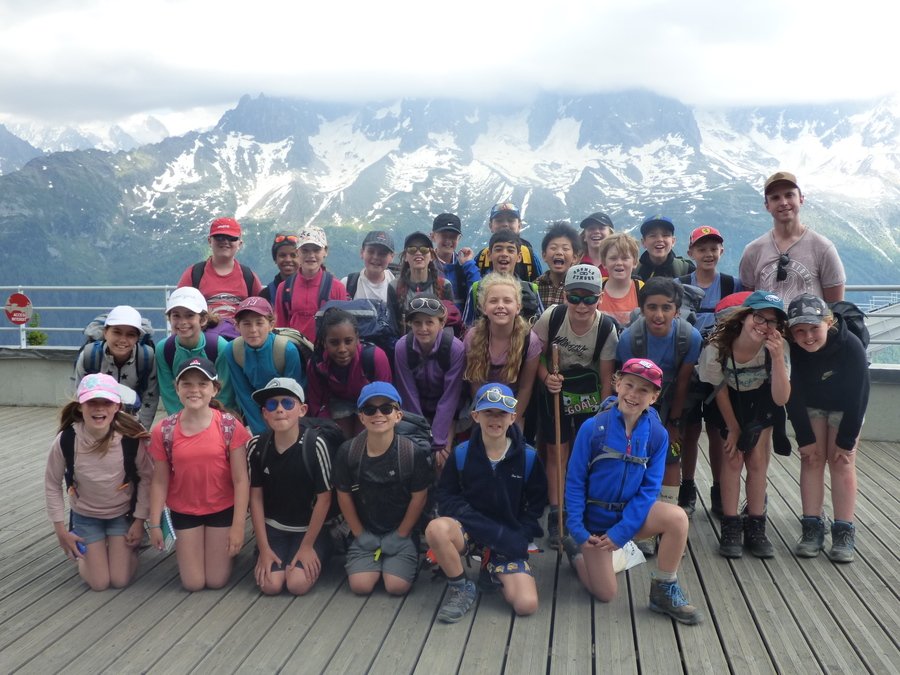 At last back at our hotel and at last showered, we were ready to enjoy our final meal and also have the chance to hear how the Hotel Vert runs a sustainable business in relation to each of our five focus areas for the week. Afterwards, the final challenge of the day: in groups, present what you have learnt this week in a creative way. Needless to say, Eagles did not disappoint. We had dances, singing, acting and everything you can imagine! Here are the lyrics from one of the performances:
We listened to the mountains
Drank from water fountains
Solar panel bicycle
Cooler than an icicle
We went from up to down
Back to Chamonix town
We missed the bus
No need to fuss
This trip was really worth the while
We had a cheer and shared a smile
Team Wellbeing
On Wednesday morning we were once again gifted with clear skies and exceptional views of the mountains. Today our focus shifted to the question What does a team need to be well? We discussed the meaning of a 'team' and agreed it was a group working together for a common goal; it could be a sports team, a scout or guide group, a class, a family – even a school or a community.
No journey to Chamonix would be complete without the chance to go skiing. Each group were challenged to work as a team to move giant wooden skiis across the grass. As you can imagine, it was not all smiles and success at first; however, each team remained positive, communicated and improved on each attempt. Following that experience, each group chose three words linked to teamwork to focus on for the day. They would reflect on these as they hiked.
With bags packed for hiking, only including the most essential items to keep the weight to its lowest, we travelled to Chamonix town, hopped on the funicular train to the Montenvers viewing station of the Mer de Glace – a 7km long glacier running 200m deep that is rapidly melting as a consequence of our warming planet. As we descended into the ice caves, everyone was shocked to see sign posts marking the glaciers position in years gone by.
After fuelling up with lunch, we began our journey traversing the mountains to the refuge where we would stay for the night. Everyone walked with great energy despite the initial steep incline, but there was a lot of 'Are we nearly there yet?', 'My back hurts', 'How much longer?' With that in mind we paused for a rest and Miss Orchin shared a poem with the group called 'The Station' by Robert J Hastings. The message of the poem is clear: there is no 'station'. In life we are always thinking about getting somewhere or achieving something and once we have done that, we set new targets or goals – instead we must relish the moment. Here is the last paragraph of the poem:
'So stop pacing the aisles and counting the miles. Instead, swim more rivers, climb more mountains, kiss more babies, count more stars. Laugh more and cry less. Go barefoot oftener. Eat more ice cream. Ride more merry-go-rounds. Watch more sunsets. Life must be lived as we go along. The Station will come soon enough.'
We then reached Le Signal. At beautiful vista of the Mer de Glace. We heard the story of our world and how humans have been part of its existence for an fraction of its life but in that time have caused such destruction and pollution to our beautiful living planet. The challenge was then simple: go and listen to the mountains who have witnessed this destruction, come back and tell us what they have told you.
"Our World doesn't deserve this. Be a hero." (Lenny)
"Work with nature, not against it." (Andrew)
"Be at peace in your heart, body, mind and soul." (Mrs Brewis)
"Live at one with nature." (Dan R)
"Listen. Learn. Help. Believe." (Issy)
This really was a powerful moment. In everyone's eyes we could witness the sadness of the mountains' message but also the determination to do something about it.
With that determination running through our body, we continued with our hike, keen to work well as a team, keen to show leadership. Along the way, no longer consumed by 'getting there', we relished the journey and the breathtaking scenery. Some late snowfall meant we needed to show great care in patches but everyone was exemplary - helping others when needed.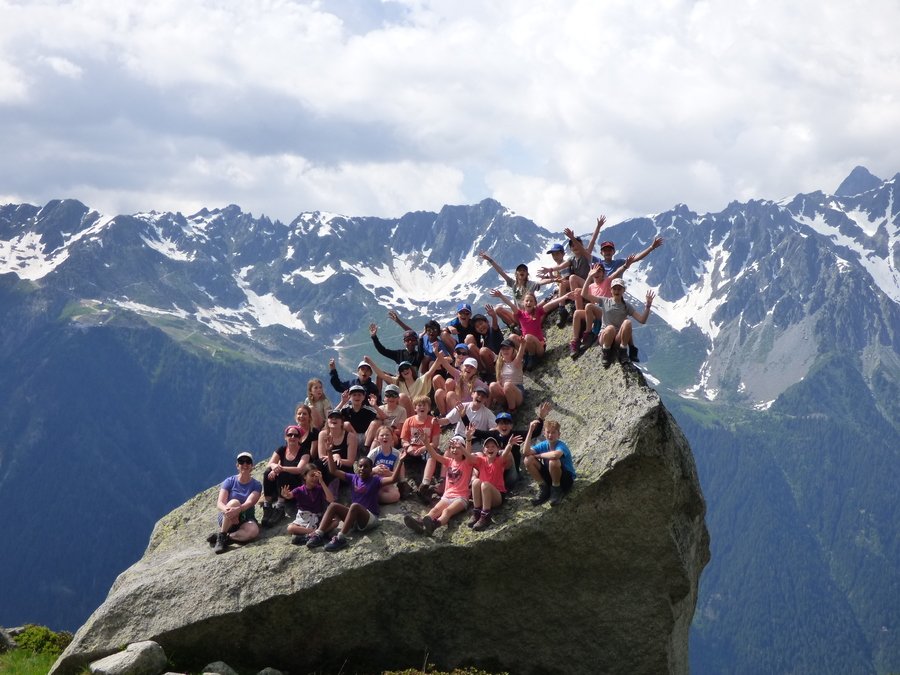 Finally, after over four hours of hiking, 16,000 steps by Dan W's Fit Bit count, we arrived at the beautiful solace of the refuge and its steaming soup, French cheese and warm welcome from Claude and Eddy.
The Eagles have worked unlike any team before them. Closer than ever. Stronger than ever.
"I pledge to believe in my team and let others take the lead when needed." (Andrew)
"I pledge to try and keep my team's spirits up and keep them happy no matter what and support them if they need me." (Lenny)
"I pledge to stay behind for other people so they don't feel lonely." (Grace)
What have our teams been discussing?
Once again our evening meal was graced with contributions from each group who were keen to inform everyone of their discussions and developments...
Travel team: "We noticed there are lots more people hiking or cycling here than at home. We think it is because it is more beautiful here. If we protect our environment more and make it look beautiful, we think more people will walk or use non-polluting travel." (Chloe)
Food team: "We think we need to do more to promote locally sourced and organic food." (Dan W) "We also need to question where our food has come from more." (Grace)
Waste team: "We have reflected on wasted time and how in cars you don't really enjoy the experience of travelling but when you walk or cycle, you really appreciate your surroundings." (Hannah)
Energy team: "We have seen that more people walk, cycle and climb than at home. These are methods of travel that don't pollute. They use our energy rather than fossil fuels." (Aaron)
Water team: "We have started to monitor how much water we use each day. We have estimated we each use 25 litres a day but will investigate further." (Annie)
N.B. The average person from England uses between 130-150 litres of water a day, one third of which is flushed down the toilet.
First Pledges
Three pledges, three promises, will be designed and shared over the course of the week. Each focused on making a positive change in the lives of our New Leaders in Sustainability. Today's focus was individual wellbeing - being selfish but in a positive way. All the pledges will be shared upon our return once collated but here is just a taster from today:
"I pledge to plan ahead more, to be thinking about what's to come and prepare for it. However, I know I could get caught up in all this and forget about the present so as well as preparing I want to make good decisions and live in the moment and appreciate what I have." (Lucy)
"I pledge to continue to give my all in everything that i do with the hope of inspiring others to do the same." (Dan R)
"I pledge to put myself forward for new experiences and have a positive attitude towards the challenges that will arrive." (Dan W)
"I pledge to be a good listener." (Charlie)
"I pledge to have a growth mindset so I am always ready to learn and have fun." (Katy)
Everyone has their own Everest
With lunch digested and calories waiting to be burned, Eagles met under the shadow of the intimidating rock faces at Les Gaillands ready to test themselves physically, emotionally and mentally. Their muscles, fitness and agility would be pushed to their limits; they would confront conflicting emotions of anxiety - even fear - excitement and apprehension; they would have to think with great care as they carefully position their feet and look for grip holds.
Our five incredible guides (Francois, Fred, Gerard, Antony and Roland) met us and we all introduced ourselves, also sharing how we were feeling. Then it was time to get harnesses tightened, helmets on and minds focused. They learnt how to climb and importantly, how to belay their friends.
As Roland the guide says, 'Everyone has their own Everest'. Each climber, be it child or adult, reached their peak this afternoon. They overcame their fears and were remarkably brave. They also supported their friends with a positive energy that was infectious. Mr Cadman remarked that he had never seen a group climb with such skill or such braveness - not a tear shed from any of the group which is quite unusual.
Three hours of climbing in the blazing hot sun certainly took it out of everyone. One final circle with the guides allowed each and all to share on how they felt following their climbing session. Everyone loved it; everyone was tired; everyone was proud of their achievements.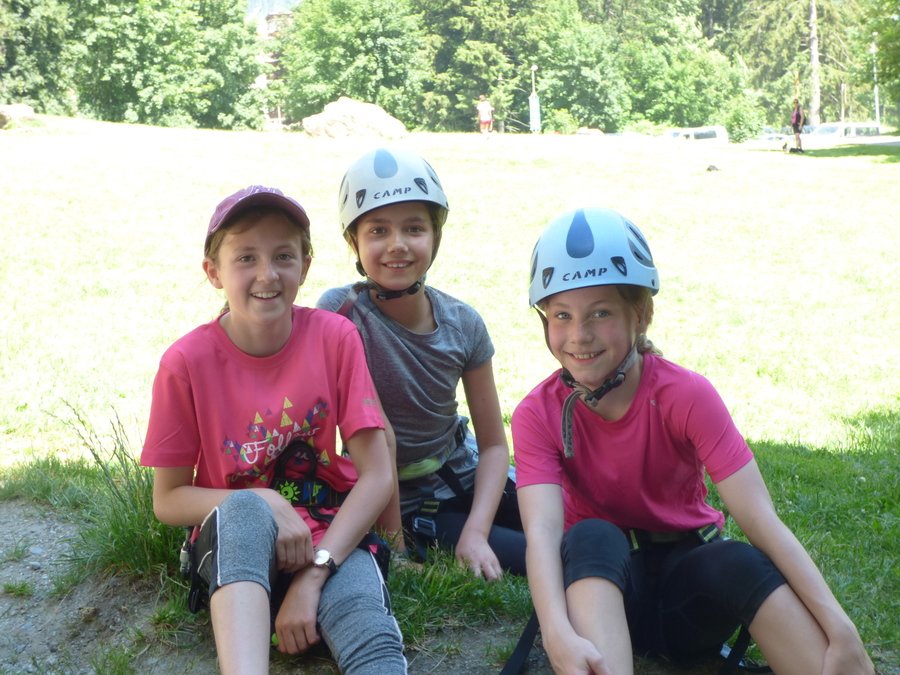 What do I need to be well?
We woke up this morning to the serenity of mother nature, blessed with crystal clear blue skies decorated with the postcard image of Mont Blanc - the highest peak in western Europe. In groups, we reflected on how we felt, what our body was telling us and what our mind was telling us in such a contrasting environment to our usual day to day lives at home. So often, we wake and rush to jobs or chores of our daily lives, never giving the time to stop, breathe and just be still.
Following a delicious, hearty breakfast of croissants and fresh baguettes alongside steaming hot bowls of hot chocolate, we convened in circles to share our presentations, prepared before departure and developed on the journey. Each shared who they are, their passions and hopes for the future.
We then joined together and were challenged to sketch the person opposite us in just two minutes with the additional challenge of not lifting the pencil off the page. We reflected both on how we felt nervous being sketched and very self-conscious and also eager to impress as the artist, fearful of failure.
As a group, we then set out to tackle one of life's biggest questions: what I need to be well? How can I be happy? We discussed what this question really meant to us. Our discussions led us to four dimensions to individual wellbeing: emotional (heart), physical (body), mental (mind) and spiritual wellbeing. We then personalised this to us with some creative posters.
At that point, we were all ready for a picnic lunch which we made and enjoyed in the shade before the looming rock faces awaited us in the sweltering heat.
Sun Trip 2018
Just as we sat in our groups to reflect on the day past, we were graced with quite a sight: a solar powered bicycle on the journey of a life time. Tomorrow, approximately 35 adventurers (all in their own, uniquely designed vehicles) will embark on a journey of a life time travelling from Chamonix to China, 12,000km, all powered by solar energy. A great example for our New Leaders in how we can be innovative in solving our planet's problems. Do check out this website for further details: https://www.thesuntrip.com/sun-trip-2018/lyon-canton/
Eagles take flight
Whilst the French rail strikes did cause some unwanted changes to our travel, arriving at school for a far more civilised 8am was appreciated by one and all. Bags were quickly tossed under the coach, last kisses to love ones were delivered and then Eagle class were off to huge cheers. The coach to Gatwick went without any delays and we managed to navigate airport security with only a handful losing a boarding pass, dropping a passport or having their bags inspected for liquids. Most importantly, 35 got on the flight to Geneva and the same number landed an hour and a half later - again, to great cheers. This group really enjoys a cheer! The final leg from Geneva snaking up the valley to Chamonix gave the group a taster of the awe and wonder that lay ahead. Our eyes were treated to gushing rivers, spectacular waterfalls and incredible mountain tops. Finally, the snow capped peaks showed themselves and we knew we had arrived.
After finding out eagerly anticipated room allocations, we met down on Les Gaillands - the grassy area besides our hotel - where we stood in a circle and took in our surroundings.
"This is one of the most beautiful places I've ever been." (Maeve)
We heard all about the Magical Kingdom of the Chamonix valley. We were told that when we returned home in five days we would be different people if we did one thing: listen to the mountains. Our challenge over the next week is to listen to them, to understand their language and to respond to their needs. Miss Orchin then shared a 'Prayer Among Friends' followed by Hannah who offered a prayer of happiness, fun and love.
We then split into our five groups for the week: food, water, waste, energy and travel. Each group discussed what they understood by their group's focus, what they had noticed so far on their journey and what they would like to find out this week. We then settled down for a sumptuous dinner of lasagna, salad and garlic bread followed by a chocolate and berry desert. During desert our New Leaders already began to show their leadership qualities, standing and sharing some of their discussions linked to their groups focus.
Energy - reflected on the importance of fuel. We need food and water to fuel ourselves but some fuel lasts longer and is more sustainable (e.g. carbohydrates v sweets). Offshore wind turbines we saw use a renewable energy source as fuel to create energy as opposed to the fuel our aeroplane burned.
Travel - reflected on the different ways we had travelled and how some are more harmful to our environment. They already had seen some very unique and creative ways of travel around Chamonix including a solar powered bicycle (more to follow on that later) and a skateboard/ski. At the end of the week they will inform the group what they think is the best way to travel.
Waste - have started to widen their eyes to all the waste we produce in our everyday lives, from sweet wrappers to food leftovers to lights left on. Their challenge is to see how it can be reduced.
Water - commented that we are made up of 70% water and how important it is to us. They are going to look closely at how much water they use everyday this week and want to find out where Chamonix water source is.
Food - discussed the need to buy local, organic produce and were keen to find out where our salad had come from. Grace was even confident enough to ask the hotel who informed us it was grown locally but not organic.
After dinner, a relaxing walk around the lakes in the shadow of the mountains and the glacier Bossons was just the trick after a long day. A little bit of play time for some and a little bit of football for others was then followed by bed.
The Eagles have taken flight, the Eagles have landed. Watch this space to see where the soar next...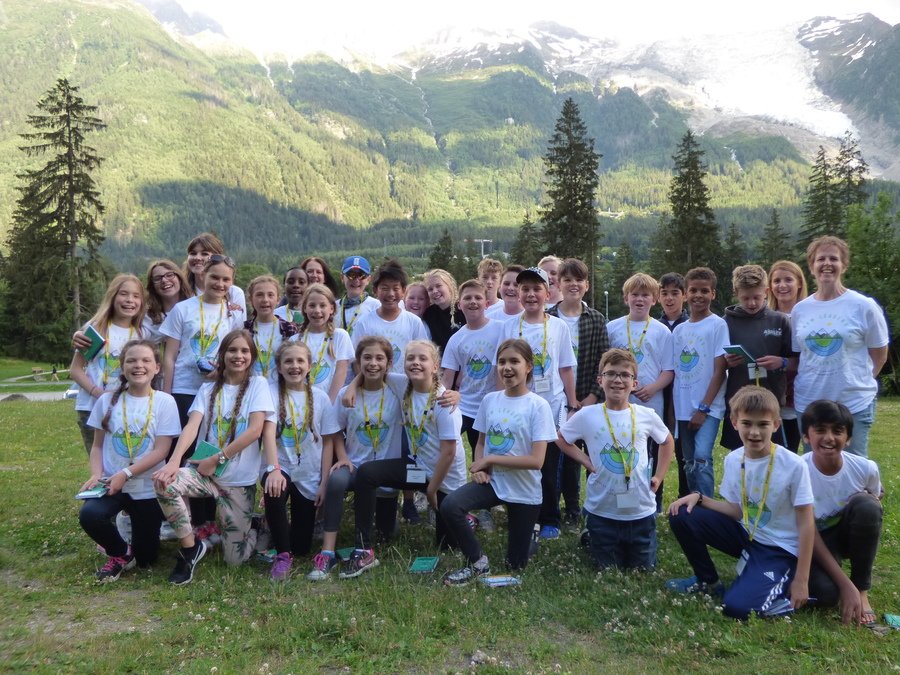 Hope and Fears
It is inevitable that before such an adventure, such a step into the unknown, we experience anxieties and excitement, aspirations and concerns. To be well, it helps us if we reflect on these and even sometimes share them. Bottling things up never helps. With that in mind, Eagles took a moment to be still and listen to their hearts and minds and note down their hopes and fears for the week ahead.
"I am looking forward to the journey there and back. I hope to see some truly beautiful and inspiring views and I will strive to learn more about the people I am with. I am slightly nervous about how I will cope with the change in altitude but I know that I will be perfectly safe." (Lucy)
"I am excited to have the opportunity to experience a trip of a lifetime. I am hoping that I will develop my leadership skills and that I become the best version of myself that I can be." (Aidan)
"I am apprehensive about how high up we will be and I am concerned about how I will cope with the altitude. I also know that I will miss my friends in the other class and I look forward to sharing my experiences of the trip with them and hearing theirs. I hope to develop as a sensible leader throughout the week." (Nancy)
Learning to SPELL
On Thursday 14th June, Miss Orchin and Mr Cadman met with Eagles to discuss the exciting adventure which is now so close we can almost touch it. After reviewing the basic itinerary for the week, the children had the chance to ask some vital questions: How much does an ice cream cost in town? How long does the coach trip take? Is Miss Sykes the lady with the bob haircut? They certainly were very excited and wanted to know everything!
Most importantly, we discussed our acrostic for the week - our mantra.
Safety (always comes first)
Positivity (even when things are challenging)
Enjoy (our last Ashley School trip in one of the most beautiful places in the world)
Listen and Learn (listen to the adults, our friends, ourselves and the most importantly, the mountains)
Leadership (this experience is all about becoming leaders so we can make the changes our world so badly needs)