***Please support the FOA and help to provide extra facilities and equipment for the school***
News
The minutes from the most recent meeting (11th January 2017) are now online and able to be viewed/downloaded. Please see this page for more information. The date of the next FOA meeting is Thursday 2nd March, everyone is welcome to attend and we'd love to see some new faces at our next meeting. In fact, at the last FOA meeting, a challenge was set for everyone attending the next meeting to bring a friend who has not been to an FOA meeting before. Could you be one of our new friends?
Well done to all involved in fundraising - we banked over £18,500 in the Autumn term - a great effort!
We are looking for Committees to be formed for the Summer Fete in June and the Christmas Bazaar in December of this year. Make new friends, learn new skills, work as part of a team, be a role model to your kids… and…. importantly…. come and HAVE YOUR SAY on how FOA funds are spent. Please contact FOA Chairs Sharon Moat and Lindsey Blake with your interest to friendsofashley@yahoo.com.
Micro Scooters
Similar to Stamptastic (detailed below), Shona Hedley has kindly set something up on this site for any products that are ordered. Please use the code 141294 when ordering and the FOA will then receive a donation. Perfect for this time of year!
Links
Stamptastic – personalised stamps – no ironing or sewing!
***UPDATE: Orders of this by Ashley parents using the code below have earned a whopping £324 so far – keep it up!***
We're reposting the link for Stamptastic as you may want to buy a kit for the new uniform you'll be purchasing over the summer (Year 6 leavers too?!) Parents have asked for the details again and several new parents have joined since it was last posted. Please use the code ASCE when ordering and the FOA will then receive a donation.
Stamptastic is a local business set up by three Richmond mums. No more ironing or sewing, just stamp! A personalised stamp handmade in the UK. Can be used on fabric, plastic, wood & metal and the ink lasts wash after wash!
Links
Ashstock 2014 – sun cream, serene, superb!
The weekend of the 12th and 13th July saw the field at the back of the school transform into a haven for families of current Ashley children as Ashtock was back for another year! Excited children (and adults) were chomping at the bit to get in, as the gates swung open at 12pm to allow for tents to be put up while children were reluctantly, but wisely slathered with sun cream to protect them from (as Mr Kipling probably would have called it, an 'exceedingly hot sun').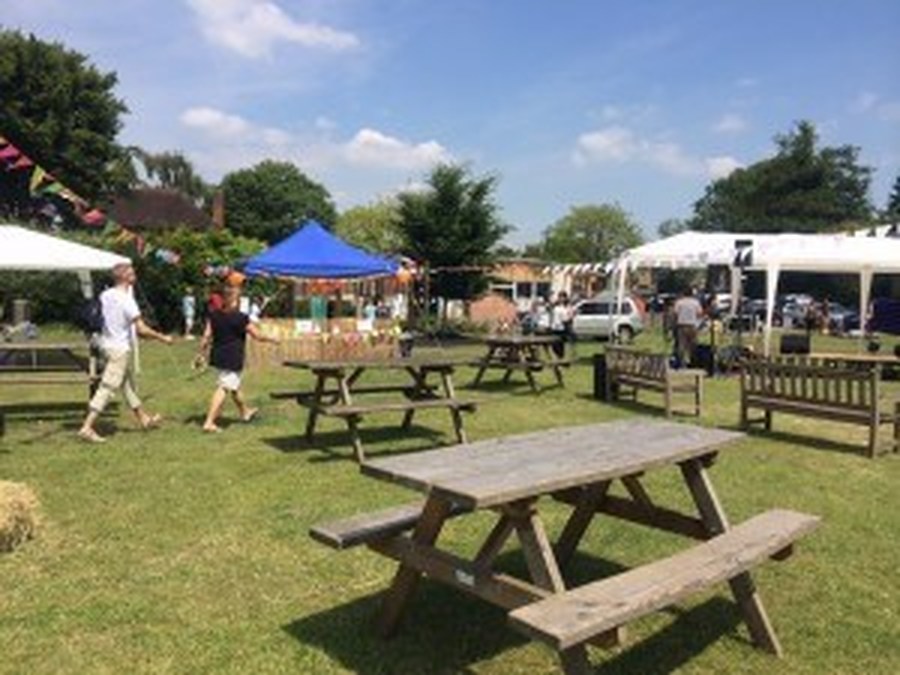 Fortunately, this exercise was soon over and all the vehicles made their way off the field and mayhem soon commenced, in the form of a convoy (of sorts) of bicycles – one would have thought the Tour de France had taken an unexpected diversion to Walton on Thames! For those not fortunate to have two-wheeled transport, there were a variety of sports and several good-natured but incredibly intense water fights taking place. The adults were looking to seek solitude from their smaller versions and seemed incredibly relieved when the announcement that the bar was open. A queue to rival the Boxing Day sale at Harrods quickly formed and the first of many alcoholic beverages was consumed.
With the party in full swing, it was time for entertainment, courtesy of Janek Schaefer's energetic Lucky Dip Disco, and the first of two acts booked for the night, the impressive James Cogavin who did a wonderful job getting the sun-drained kids and adults onto the dancefloor (although, with the latter, it may well have been the Cava helping them along!) While the main event was being prepared, the resident DJ played a selection of tantalising toe-tappers and then hit paydirt, by playing a selection of songs from Disney's Frozen, as over-excited 4-10-year olds flooded to the dancefloor, engaging in a quote-along that would rival a West-End screening of The Rocky Horror Picture show (minus the strange clothing, obviously). Thankfully, the sun decided to power down a tad just as the second act begun – and what an act! The Ukaye Ukes took to the stage and blew Ashtock away with their contemporary take on pretty much anything they saw fit to perform – from Jessie J's 'Price Tag' to Monty Python's 'Always Look On The Bright Side of Life'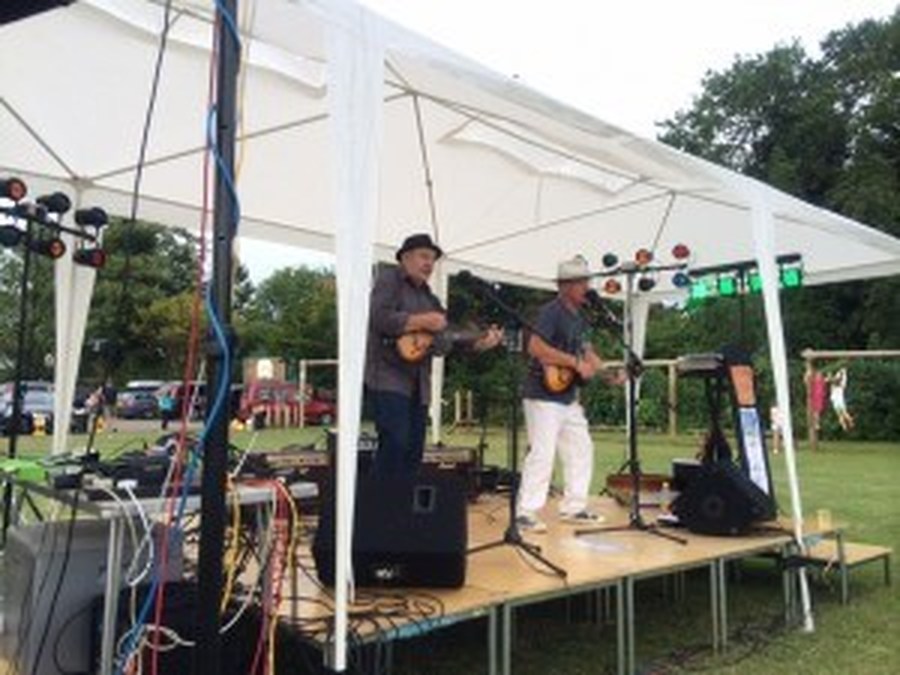 People jumped up and down, sang (well, shouted) the lyrics to all the songs and fell over bales of hay attempting ill-advised dance moves. Encore upon encore came and went but sadly as darkness fell, it was all over.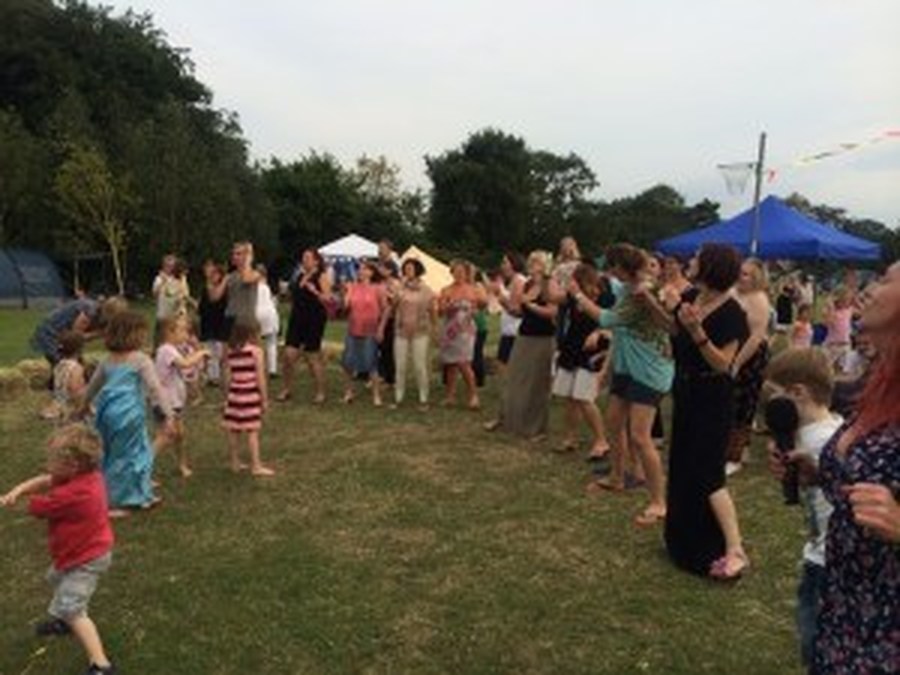 Soon, it was time for sleep as parents attempted to convince children that some rest would do them the world of good. This may have not been as successful as intended as there were still excited chattering and giggling way past midnight.
Sunday morning came and bacon butties were the order of the day, providing the much-needed energy to carry out a clean-up operation and pack away – it was great to see all ages contribute to this task as Sports Day was rapidly approaching, the field need to look in pristine condition.
So, that was Ashstock 2014. Time will only tell whether 2015 can top it. Thanks for coming and hopefully see you next year!