Welcome to Year 5
Kestrel Class is taught by Mrs Athersuch and supported by Miss Bardel, Mrs Cozens and Mrs Gault.
Owl Class is taught by Miss Penney and supported by Mrs Hart, with Mrs Povah and Mrs Glands.
Take a look at what we have been learning about at school.
There is also additional information for parents at the bottom of this page.
SUMMER TERM 2: How did the Ancient Greeks use the natural world?
The Harmony Principle of Oneness
The Greek Key
Many Ancient Greek temples and pottery used a particular pattern to decorate them - the Greek Key. A meander or meandros (Greek: Μαίανδρος) is a decorative border constructed from a continuous line, shaped into a repeated motif. Such a design is also called the Greek fret or Greek key design. They were among the most important symbols in ancient Greece; and perhaps
symbolised infinity and unity; many ancient Greek temples incorporated the sign of the meander. "The eternal flow."
Year Five were challenged in their maths learning to use their ratio and scale factor skills to scale up the Greek Key designs they had been given and draw them in chalk in the playground.
Ancient Greek Pottery
Year 5 enjoyed getting their hands dirty to explore the building and sculpting qualities of clay this week. They had already designed their own Greek pots, based on designs from Ancient Greece. Miss Bardel also helped them take a spin on the potter's wheel - the children loved this experience. We will be showing our finished pieces at the Riverhouse Barn exhibition in July.
SUMMER TERM 1: What does Nature do for us? The Principle of Diversity & Adaptation
Bird Watching!
Thanks to some very helpful parents, the children were able to get outside and become twitchers! The children saw a whole host of British birds including blackbirds, thrushes, magpies and the loud parakeets!
Bude - Adventure International 2017
Stay up to date with what we're up to down in Cornwall for our school journey to Bude by reading our blog.
We will try to update it every evening, Wi-Fi permitting!
Find the blog here.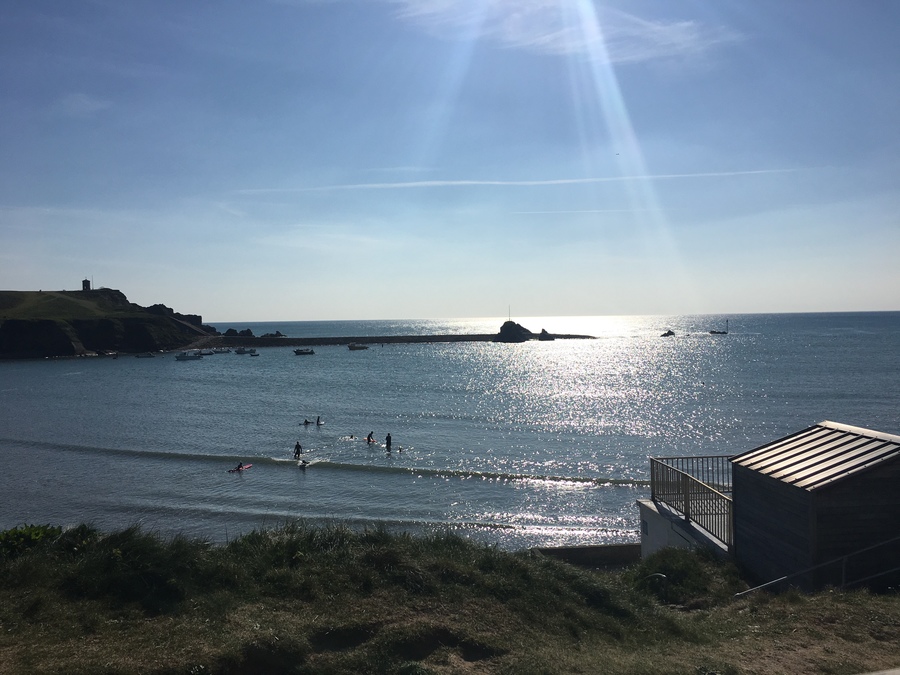 Biodiversity Survey for OPAL - Open Air Laboratories
On Monday morning, Year 5 ventured outside to carry out some citizen science for Imperial College London. Armed with magnifying glasses, the children delved into all the hedges, bushes and places that creepy crawlies like to live. The children enjoyed getting to know the fauna that surrounds them.
SPRING TERM 2:

How can we experience India through our senses? The Principle of Health
India Day Great Works!
Year Five finished their India learning enquiry with a cultural celebration. Dressed in their finest saris and colourful silks, the children enjoyed a fashion show, dancing, mendhi designs, spicy snacks, yoga and a Bollywood film - Lagaan. We finished the day with a vibrant and exciting Holi festival. The children have loved learning about India!
Delicious Indian Street Food - with the Jhalmuri Express!
Colourful Chemistry with Dr Toby!
Year 5 were very lucky to start British Science Week off with a visit from a real scientist! Dr Toby Athersuch (clue is in the name) from Imperial College London, took the children through a colourful range of experiments around acids and bases. The children were enthralled with how amazing chemistry can be and how it is used in real life. Thank you Dr Toby for a brilliant day!
Yoga - good for soul and body
On Thursday morning all 62 children (and adults!) in Year Five were treated to an inspirational Yoga session from Faye Koe - the biggest class she had ever taught! The children were first told the story about 'the weed and the big tree', which comes from the translations and commentary by Sri Swami Satchidananda on The Yoga Sutras of Patanjali. This taught the children the importance of having a supple body, as well as how a supple body will always be healthy and tension free. Following on from this the children learned a number of different yoga poses including apanasana, setu bandha, lying twists, cat balances and downward facing dog, to mention just a few! The session was ended with some calming relaxation, exploring how each body part felt as well as focussing on their breathing. As Faye commented, "I have never seen a room of 62 children before, all with eyes shut and calm; a lovely moment for me and the teaching staff!" The children were all particularly calm and focussed for the remainder of the morning - maybe every morning should be started with a yoga class?!
Thank you very much Faye! (Faye Koe, owner of 'Body Soul Yoga Surrey' and British Wheel of Yoga Qualified and Certified yoga teacher).
SPRING TERM 1:

What will we see on our journey through India? The Principle of Beauty
Great Works - Travel Show!
On the last day of term, both Owl and Kestrel classes wowed their parents by inviting them on a journey through India. Groups of children shared their learning about the six destinations we visited on our train journey across India: Mumbai, Jaipur, Agra, Amritsar, Shimla and Kerala. We hope you enjoyed listening to the children's learning.
Spicy Cooking in Year 5
Over the past two weeks, Owl and Kestrel class have been cooking up a storm in the Harmony Centre. With some fantastic parent helpers, the children got to practice their peeling, slicing and frying skills as they created Sag Aloo and flatbreads to go with our Indian theme.
A huge thank you to all our helpers.
Kestrel Class Assembly - The Om Factor!
What a colourful, confident assembly Kestrel Class treated us to yesterday as their shared their learning all about India and the different characters and qualities of the Indian gods and goddesses through their very funny, entertaining show 'The Om Factor'. From the dancing interludes to all the fascinating facts about the gods and goddesses to the glamorous show host presenters themselves, it was a captivating class assembly.
Bollywood Vibes - Indian Dance!
Owl and Kestrel class started January off with a real blast with a fantastic dancing workshop with Bollywood Vibes. They wore authentic costumes and enjoyed learning a super dance routine. They had to be very energetic to keep up with the pace. Stay tuned for a video of their performances!
AUTUMN TERM 2:

How can we ensure our oceans stay amazing? The Principle of Interdependence
TED Talks: How can we lessen the negative human impact on our oceans?
Year Five classes worked collaboratively to write and present their own TED Talk to persuade others to lessen their impact on the oceans.
Jonah Man Jazz - Promenade Choir Performance
On Sunday 11th December, Owls and Kestrels performed at St Peter's Church in Hersham. They have practised so hard over the whole term and musical director, Christopher Goldsack, at the helm, they performed like stars!
Well done to all of Year Five for working so hard, singing harmonies, rounds and performing in front of a large audience! A HUGE thank you to Christopher and Jan who gave up their time to put this choir together and give the children an experience they will never forget.
If you would like to join the Promenade Choir, find out more details on their website - http://www.promenade.org.uk/mobile/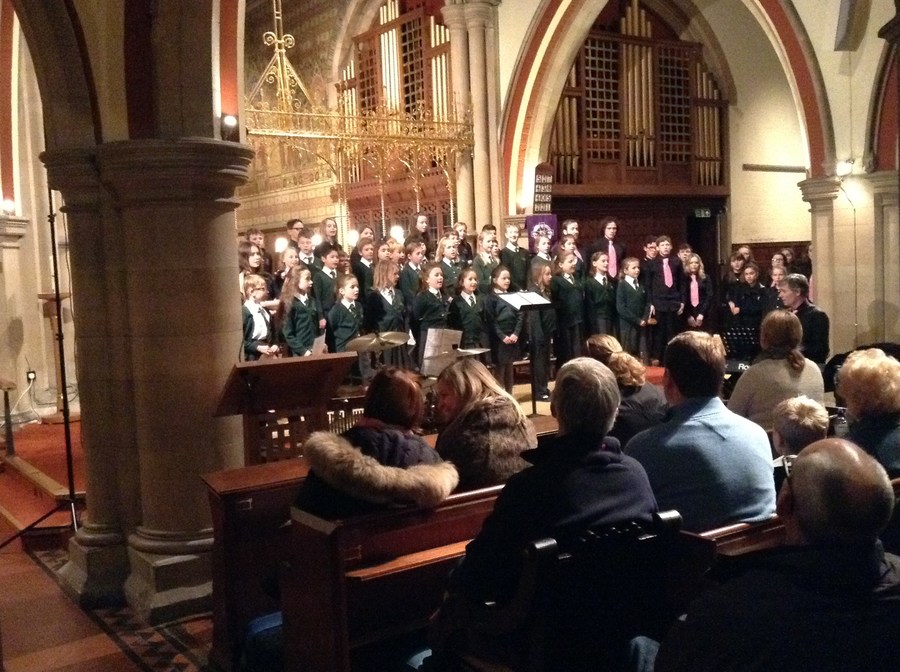 What is sustainable fishing?
Year Five have been exploring the different methods that are used to catch our fish. From trawling to line-pole, they used a range of resources (paperclips and glitter) to recreate the methods. They then analysed the methods and decided the impact it had upon the eco-system - was it sustainable? It was difficult to decide between some of the methods as there were many considerations to make - cost, profit, effort and impact upon the sea bed. Ask them to share with you how trawling and dredging effects the sea bed and what 'bycatch' is. We now have many passionate fish fighters in Year Five! Do you know where your fish comes from?
National Young Mathematicians Award - Explore Learning
On Tuesday 8th November, four fantastic mathematicians took part in an exciting maths afternoon at Explore Learning in Walton. Danny, Talal, James and Natalia worked together as a team to solve a challenging number problem. They had to be systematic and strategic in order to be able to solve it. They will find out later this week whether they will be going through to the next round!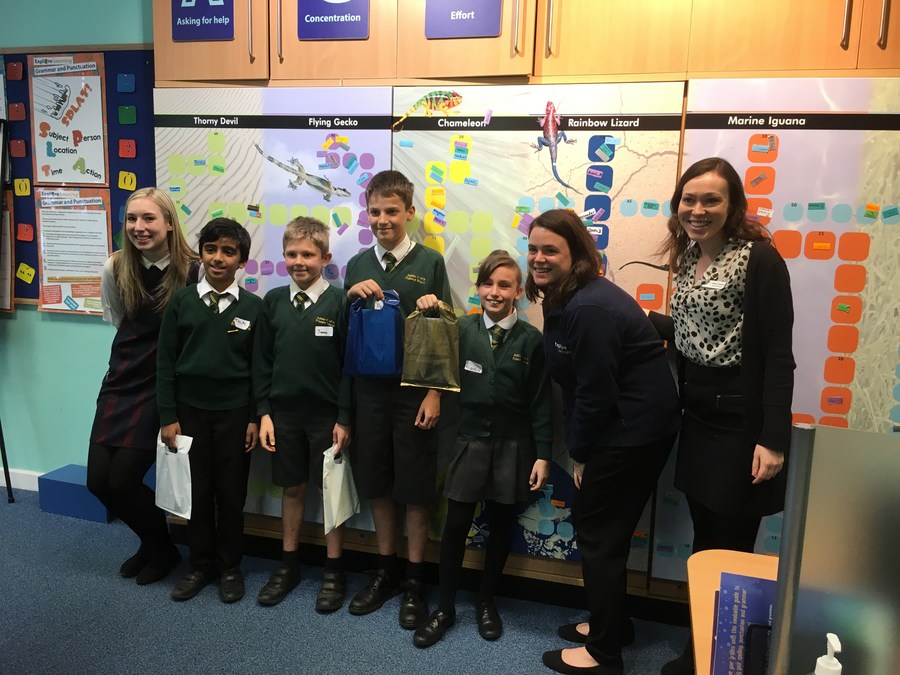 Ocean Creature Presentations
Year Five have certainly been creative and have made some amazing models linked to an ocean creature. They have researched the animal and will be presenting to their class what they have learned.
AUTUMN TERM 1:

What journey does a river take? The Principle of Cycles
Year Five River Walk
On a bright and sunny morning, Year Five headed down to the River Thames to explore our local river and investigate their own lines of enquiry. The children explored the various uses of the River Thames and its tow path, kept a tally for the variety of flora and fauna seen, and also interviewed walkers along the tow path to find out what people thought of the River Thames. Did you know there have been six versions of the Walton Bridge? The children discovered that the river is a very popular place for walkers, joggers and water sports and is also home to an abundance of different birds and plants.
What shape is water?
Year Five began their first learning enquiry with a pop! The children explored the different shapes made with bubbles and investigated why they always reverted to a sphere. They discovered that it was the most efficient shape and atmospheric pressures made it so. Scientists refer to them as "minimal surface structures." This means that they always hold the gas or liquid inside of them with the least possible surface area. The geometric form with the least surface area for any given volume is always a sphere! We loved the shapes and challenged each other to make the biggest bubble possible!
The children then explored the properties of a circle - do you know what a chord is?
____________________________________________________
Information for Parents
Maths progressions in calculations
Click on the above links to see a PowerPoint for progression of maths skills at Ashley school. These will be useful so that you are able to understand the methods your child uses, which may be different to the methods you use, so that you can best support them. Please ask your child which method they use as it will differ for each child. The key is that they are comfortable and secure in the method they use.