Welcome to Year 5
Kestrel Class is taught by Mrs Athersuch and supported by Miss Bardel alongside Mr Wan and Mrs Dorman.
Owl Class is taught by Miss Drew and supported by Mrs Hart alongside Miss Wood.
Take a look at what we have been learning about at school.
There is also additional information for parents at the bottom of this page.
SUMMER TERM 2:

How did the Ancient Greeks use the natural world?The Principle of Oneness
Greek Pottery
Year 5 have worked hard on their pottery skills and even had a go on our potter's wheel - what a challenge. They have finally decorated their Greek pots and they look fantastic.
Greek Theatre Great Works
Year 5 have been working incredibly hard over the past few weeks, developing, writing, editing and rehearsing their Greek plays. On Monday this week, they finally got to perform them to Year 4 who were enthralled by the fantastical Greek myths their plays were drawn from. From Odysseus and the Cyclops to Persephone and Hades. Well done on your final Year 5 Great Works!
The Greek Philosophers - Chris Warne
Year 5 were treated to a fabulous talk from Chris Warne about the Greek Philosophers - Socrates, Plato and Aristotle. We learnt about the history of the different philosophers and the Socratic method. You'll now find Year 5 thinking about thinking and asking lots of questions!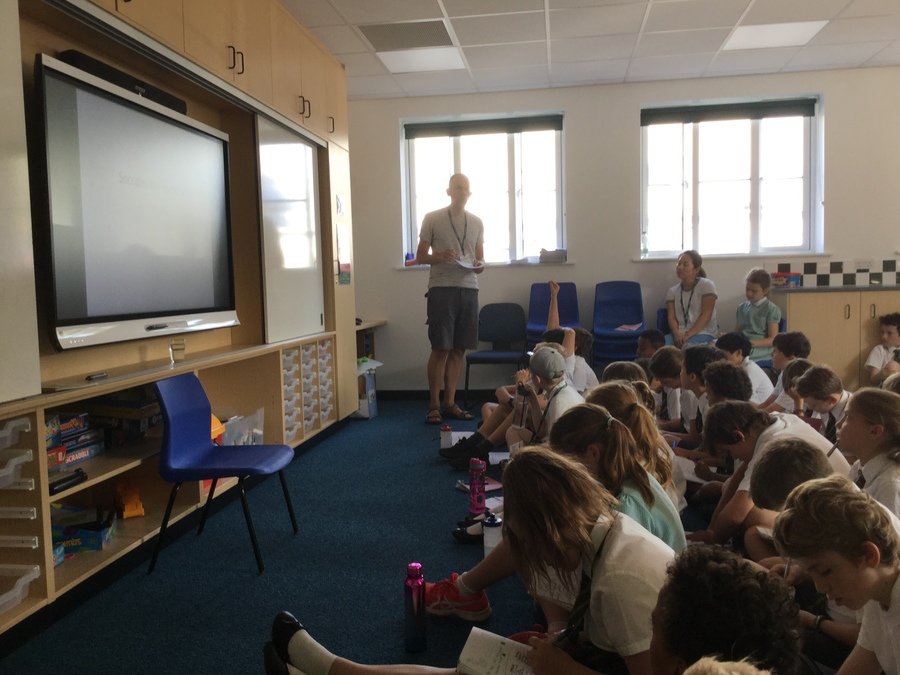 Book Week
Year Five had a very exciting book week this Year. From story swaps to dressing up, the week was filled with reading and stories. We really enjoyed the campfire stories and singing on Thursday after school and the costumes on Friday were truly spectacular!
Stay tuned for more information!
SUMMER TERM 1:

What does Nature do for us? The Principles of Harmony
What can we do for Nature?
On the final day of this half term, Year 5 visited Ashley Park to connect with the trees and make promises, oaths, pledges to our natural world. We played games, found exciting colours in nature and learnt that trees can communicate through their root system to react to incoming weather and other threats to the tree's wellbeing. We also tried to listen to the tree's 'heartbeat' of the water pulsing through its capillaries up to the leaves.
We were then challenged to spend as much time outside during the half term and learn to love Nature and protect it.
Bude 2018
Year 5 had a magical time on the Cornish coast. Read all about it on our blog.
What's below the ground? Worm Charming
On Monday this week, Year 5 got outside to start off their new learning enquiry and learnt about the carbon cycle. They have been learning why soil is so important to us and why it's important to look after it. They even went outside to find our champion detritivores (decomposers) the worm!
The children tried out different worm-charming techniques and identified the different types of worms we have in our school grounds - there's quite a few!
SPRING TERM 2:

How can we experience India through our senses? The Principle of Health
India Day - Great Work
Today Year 5 came to school in a blaze of colours to celebrate the end of their learning enquiry about India. This morning, the children got henna designs from some very helpful and artistic parents, danced to Bollywood music, posed in their outfits, struck some calm yoga poses, watched a fantastic Bollywood film - Lagaan - and then completed the day with a vibrant and colourful Holi festival. The day has been a huge success to finish our enquiry - How can we experience India through our senses?
Indian Street Food
This Monday, the Harmony Centre was filled with the wonderful aromas of Indian street food as Angus from The Jhal Muri Express came to visit year five. The children explored the different elements of 'chaat' - snacks - and what it might be like to be a chaat wallah - a snack seller - on the streets of Kolkata. The children used their tastebuds to explore lentil, chickpea and rice snacks and how they are enhanced with different spices and herbs. It was delicious!
SPRING TERM 1:

What will we see on our journey through India? The Principle of Beauty
Come to India!
On the final day of the first half of the Spring term, Year 5 turned into a travel agents as they tried to persuade their parents to travel to the different places in India we had 'visited' over the half term: Mumbai, Jaipur, Agra, Shimla and Kerala. The children had spent the week creating persuasive websites using simple and progressive future tenses. They then dressed the classrooms to inspire and entice their parents to buy tickets to the 'spice centre of the world'!
Here are some examples:
https://spark.adobe.com/page/0DyUSoLvPABj3/
https://spark.adobe.com/page/gaFwm91nD0Db5/
Owl Class Assembly
Last Thursday, Owl Class had their class assembly. With the Bollywood songs playing, the stage was all set for the Indian dancing edition of 'Dancing Exposed'. The presenters, reporters and dance experts of Owl Class told us all about the history and meaning of the dance and even showed us some moves. To top it off they performed a very exciting Bollywood dance routine to finish the show. Thank you parents for coming to watch - we hope that you enjoyed it as much as we did!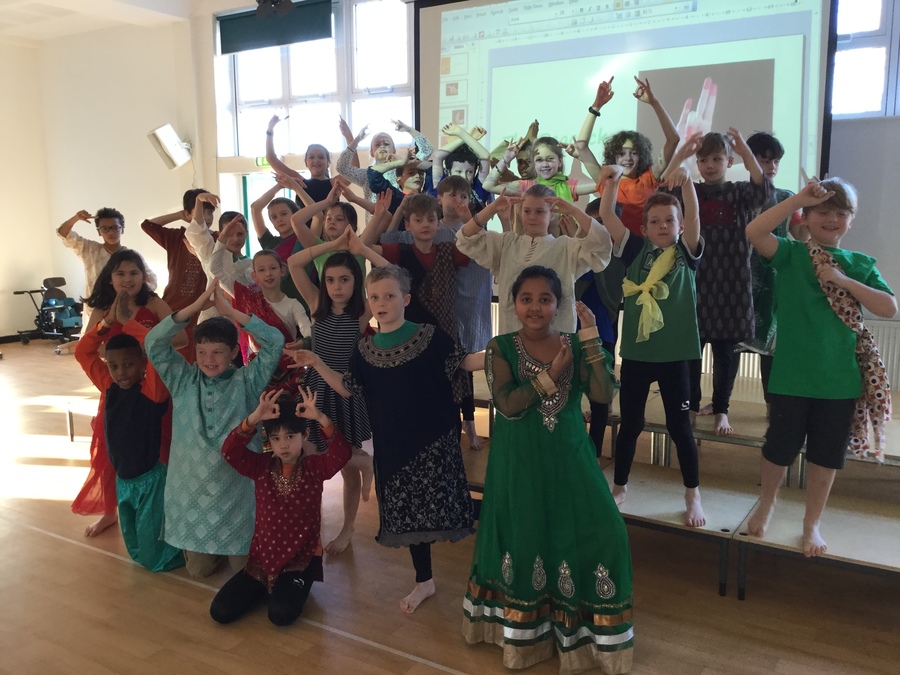 Tetrahedron Kites
This week, Year 5 have been learning about Uttarayan - the Hindu festival of Spring - and how they celebrate with amazing kite festivals. They began the week creating tetrahedron kites and then wrote fantastic instructions for making them.
Luckily, the rain stopped by the end of the week and we were able to fly our kites!
Bollywood Dancing
Year 5 started the spring term off with a smash as they danced their way through the morning. The sounds of bangra and Bollywood pumped out the Harmony Centre as Olivia from Bollywood Vibes took them through some of the exciting dance steps famous in Indian dancing. From twisting the lightbulbs to the peacock, the children had an exciting start to their learning enquiry.
AUTUMN TERM 2:

How can we ensure our oceans stay amazing? The Principle of Interdependence
Great Works Choir
This half term, Year 5 have been working hard with choirmaster Christopher Goldsack rehearsing as a choir for their Great Works. Having had a practice run at the Christmas Bazaar, the children performed their Christmas songs during a carol service at St Peter's Church. The Church was almost full but the children rose to the occasion, sounding absolutely excellent and it put us all in a festive mood! Well done Year 5!
Digital Photo Manipulation using Pixlr
Over the past half term, Year 5 have been learning about how to manipulate images and create digital collages using Pixlr.com/editor.
They have created ocean scenes by cropping and layering different images of ocean creatures and putting them together to make a digital collage. We think they've done an excellent job!
Ocean Creature Presentations
We have been impressed with the children's presentations this half term. They have been very creative with their models as well as their very informative presentations. Who knew that Hammerhead Sharks sunbathe and get suntans!? Thank you, parents, for supporting their creativity and imaginations.
AUTUMN TERM 1:

What journey does a river take? The Principle of The Cycle
Harvest Festival Song
Mrs Athersuch wrote a wonderful song (inspired by a Cub Campfire song) for our harvest festival. We hope you enjoy the important messages within it.
Five little cod fish
All out at sea
Trying to make the big time
And remain to be free
But the cod they were hunted
'Til there were none
Eating too much fish covered in crumb!
Four happy tuna
Riding the waves
Not knowing they'll end up
in tin graves
For they make lovely sarnies
But bluefin's rare
You better check it's pole caught
Yes, yes beware!
Three sharks a'swimming
Splashing about
Getting caught in nets
Or a hook in their snout
But the sharks they are clever
Teeth that go snap
Leave out the sharky soup
Despite their bad rap
Two little red crabs
Scuttling around
Ducking and a'diving
Cos the trawlers are bound
To scour the sea bed
Rip up the ground
One day there'll be no
Crabs to be found.
One little sardine
All on its own
Wondering when the rest of his
Shoal will be home
The ocean is empty
The ocean is sick
We are the reason it's
Crammed with plastic
One great big ocean
One deep blue sea
One chance to save it
For them, you and me
Cos we're all in together
Us and the fish
Saving our seas
is our favourite dish!
Estimating and Measuring
On Friday morning, Year 5 were practising their estimating and measuring skills on the playground. A number of 'rivers' had appeared on the playground and they were challenged to first estimate how long the meandering 'rivers' would be in metres and centimetres. They used a range of tools, including their bodies, to estimate and measure.
A Journey Along the River
On Wednesday this week, Year 5 took a lovely journey along the River Thames to find out more about this important feature in our local area. Our first stop was Walton Bridge where we learnt about the history of the river in this spot. We took our time to sketch the interesting shape of the bridge, which is a white colour so that swans don't fly into it! We then collected data about the physical and human geography, which we will turn into exciting graphs and charts. We estimated how far we would walk down to Sunbury lock - it is 8.8km and over 15,000 steps!
What is the shape of water?
This week, Year 5 explored the unique and wonderful shape of the circle and the sphere during their Harmony learning. After investigating through the use of bubbles that spheres and circles are very efficient shapes, the children learnt about the properties of a circle, including how to find the circumference of a circle using pi!
____________________________________________________
Information for Parents
Click on the above links to see a PowerPoint for progression of maths skills at Ashley school. These will be useful so that you are able to understand the methods your child uses, which may be different to the methods you use, so that you can best support them. Please ask your child which method they use as it will differ for each child. The key is that they are comfortable and secure in the method they use.