Welcome to Year 4
Kingfisher class is taught by Miss Beeby assisted by Mrs Davidian.
Swan class is taught by Miss Greaves assisted by Mrs Attwood-Smith.
Take a look at what we have been learning about at school.
There is also additional information for parents at the bottom of this page.
Summer 2: When is Food at its best?
The Principle of Health and Wellbeing
Our heroes!
This week, we discussed our heroes and what qualities can make someone a hero. We had such a wide range of inspirational people from authors to professional gymnasts! It was great to hear what the children think makes someone a role model character.
Aydin: "Albert Einstein is an inspiration to me as he was so successful."
Imogen: "Beth Tweddle is a famous gymnast and I aspire to be like her one day."
Growing in the Classroom
At Bore Farm the children were shown how to make, reuse and recycle plastic, newspaper and yoghurt pots to make seed trays. The children had a choice of cress or a pea to plant. As you can see below, the cress has grown really well. We are still waiting on the peas to germinate and show a shoot.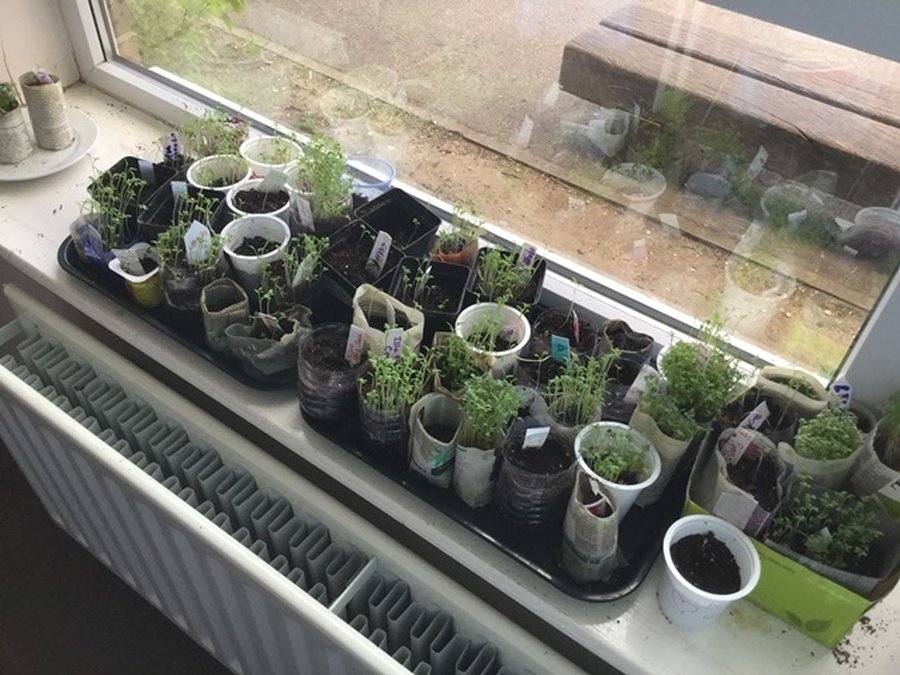 Why is Organic Good for us?
Over the last two weeks, Year 4 have been exploring the world of growing areas. We spent a whole day learning about our school growing area and building our knowledge about how things grow, what organic means and why food should be seasonal. Before half term, Year 4 had been taking part in a lunchtime gardening club weeding and sorting out the beds for the plants. What results we have now seen from our hard work. The artichokes are taller than us, the potatoes are in full bloom and the rest of the growing area is growing well.
We then went to Bore Place Organic Farm in Kent to learn about how they grow things on a massive scale but also how they produce milk as it is a dairy farm. They do not believe in using insecticides or pesticides to spray on their crops. they have very strict rules to follow so they can be organic.
We planted seeds and took a tour of the farm. We also got to see their growing area which had similar things growing to our garden at school.
Book Week
What a week we have had! With reading competitions, plays, story tellers and dress up day, it has been a celebration of all things books! Can you tell which characters we are from our costumes? Check out our creative book reviews too!
Summer 1: How did the Ancient Egyptians live life in balance?
The Principle of Oneness
Our Great Works - Ancient Egyptian Museum
Thank you so much to all the parents who came along for our Ancient Egyptian Museum. We hope you enjoyed learning all about the pyramids, cartouches, canopic jars and more! The children worked incredibly hard on their artefacts we were very impressed with their presentations. Well done to all the children in Year 4 for their hard work. What brilliant artefacts you all created!
Gardening Club
Thanks to Jenny, one of the school's mums, Year 4 have had the opportunity to spend some time in the growing area on the field. With the sun finally here, there is plenty of hard work to get on with. Year 4 have been weeding, digging and harvesting. Yesterday (15.05) we delivered our first batch of school-grown food to the kitchen. It was a box of rhubarb! Let's hope we see the rhubarb inside some delicious cookies or muffins!
Year 4 become Top Golf experts!
For the past few weeks, Year 4 have been learning Top Golf with Mrs Stevenson. They are absolutely loving it and doing really well! Have a look at some pictures of us below!
Battle of the Books: The Jungle Book.
On Friday, six children were invited to Burhill Primary to attend the much-anticipated Battle of the Books for Year 4. We chose to do The Jungle Book this year and create an imaginative and creative interpretation of the story. The children adorned their costumes and had a great time acting and singing. All credit has to go to the children as they had decided what to say, who would interact on stage and how the story would be told. Their skit was full of laughter and funny moments whilst also having some serious moments - especially when Sheer Khan attacked Mowgli! We had a fantastic morning seeing the other interpretations which included: The Velveteen Rabbit; Where the Wild Things Are; The Lion, The Witch and The Wardrobe; Alice in Wonderland; and Peter Pan.The children not only did a skit but also did some creative work around the book. They did their own art work and wrote poems about their character.
Where does the Nile run?
Year 4 kick-started their learning about Egypt by looking at the Nile. They explored the maps and used string to work out how long the Nile is using a scale. We noticed that the Nile runs through 4 different countries and the source is in Tanzania. In English, we focused on figurative language and wrote descriptions about the Nile and why it is so special.
"Before the sun rose, the Nile was like a sleeping serpent. The river flowed like an elegant ballerina turning
at the banks of the cool, clear river. As the sun shimmered over the land, the banks smiled as they felt the warmth.
The Nile swarmed with life, flooded with water, surrounded by lush green trees swaying in the wind." - Isla
"The serpentine Nile twisted through the withered desert. As the scorching sun shone above the
vast land, the river floated like a swan, elegant and peaceful.
The river looked like a silver ribbon laid across the land." - Shae
Why were scarabs special?
Ancient Egyptians believed that scarab beetles came from the sand. What they didn't realise, was that scarabs buried their eggs in dung and buried the dung underground for the larvae to feed. So it looked like magic to see the scarab beetles emerge from the sand. as a result, scarabs became a special symbol of Egyptian life. They were sculpted into jewellery, written on cartouche and used as decoration.
Spring 2: What can we learn from the Stars? The Principle of Diversity
How can we answer word problems using the bar model?
This week, year 4 have been using bar models to help them visualise word problems. They can help us with addition, subtraction, multiplication, division and even fractions and decimals!
"Bar models are helpful as we can see the 'whole' at the top and the parts that make up the whole underneath."
What are the Pillars of Islam?
Year 4 have been exploring the Islamic religion this term and looking at how it compares and contrasts to Christianity. The children conducted their own research on the 5 Pillars of Islam and used the text type of a non-chronological report to display their findings.
"Look up at the stars not down at your feet."
-Stephen Hawking (1942-2018)
This week, Kingfisher class shared with the school and their parents a class assembly all about the stars! We used the acronym S-T-A-R-S to stand for learning we have done in class over the half term. Adorning their science lab coats and crazy professor hair, the children spoke confidently about the night sky and what we have learnt from the stars.
S is for Sun
T is for Telescope
A is for Astrology
R is for Remote
S is for Significance
Stars
Over the last two weeks, Year 4 have delved into the world of constellations and Greek Mythology. They have been learning about the order of the constellations and why there are certain constellations associated to the months. For example, Capricorn is in January because that is when it is at its brightest. Due to the tilt of the Earth, constellations appear brighter because of their location and distance to us.
We have also explored 10-pointed stars in geometry and looked at home one can be made using a circle and angles.
Space Dome
We had a very special treat, when we were joined by the Space Dome from Greenwich Observatory. In the Harmony Centre, we entered an inflatable dome and laid down on the floor to look at our night sky. We navigated the sky and also saw how different the sky was in the northern hemisphere compared to the southern hemisphere.
The most exciting part was the drawings of the constellations overlaying the stars. We could find our own horoscope linked to our birthday!
The children had started this term's learning enquiry exploring the constellations and why they are in the order they are. For example, in January, the stars that form "Capricorn" are at their brightest. The constellations follow a cycle and you can map that cycle across the sky.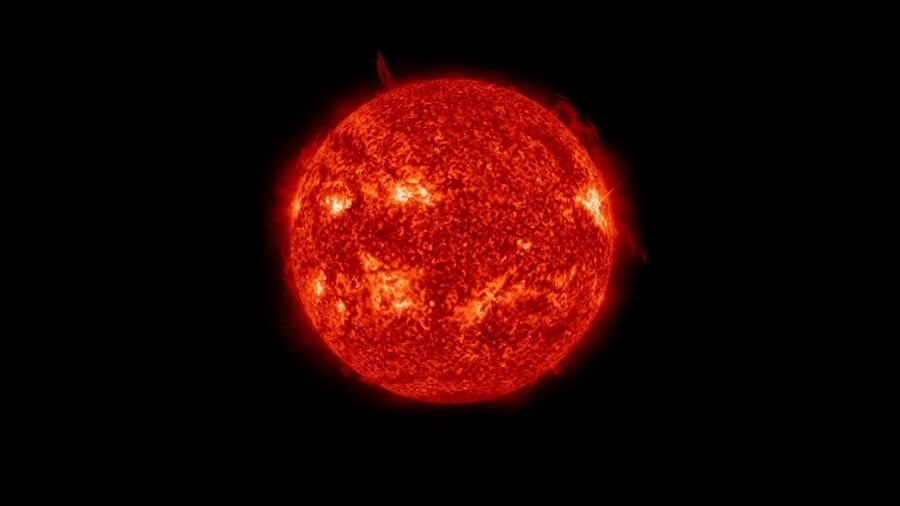 Did you know?
Our sun is a star! It is continually burning hydrogen and helium to create energy!
Spring 1: What are the cycles of the solar system? The Principle of the Cycles
Year 4 Great Works
To celebrate our learning this half term, we invited Year 2 to come and spend some time learning about Space. Year 4 had put together PowerPoint presentations for the ICT learning and learnt how to do transitions, animations and much more.The Year 2s were very excited to come and visit us and they were amazed at the facts they picked up from the presentations.
The Year 2 children navigated their way through the PowerPoints and the Year 4 children showed them how they added pictures, facts and captions. It was a fantastic afternoon.
What are the relative distances of the planets?
Year 4 have been exploring how far away the planets are from the sun. We were surprised to know that the closest planet to the sun, Mercury, is a whopping 28.5 million miles away. So... Year 4 had a challenge! Could they use place value to divide the distances and recreate them on the field? Well they gave it a go and here are our results. We think we did a good job!
What are the phases of the moon?
This week, year 4 have looked at the 8 different phases of the moon. Interestingly, the word "month" actually comes from the word "moonth" (the phases of the moon). Here are some pictures of our geometry work based on the 8 phases. We also look forward to seeing the children's Moon Diaries next week!
What can we learn about the moon?
This week, Y4 have been exploring the cycle of the moon with some interesting learning about solar eclipses. The children have been learning how to use pencil shading for effect and have created their own observational drawing of the moon. Looking at the cycle of the moon orbiting the Earth, the children explored the different moon phases and looked at how much of the moon we see. They created their own fraction shadows and created the lunar cycle.
Here we are focusing on the shading of the moon from a satellite photo taken in space.
Why Space matters to me!
Welcome back to Y4 who have had a fantastic Christmas. This week we have begun our learning on space. We were very lucky to have an author and astronomer, Colin Stuart, come and visit us. He has written a book called "Why space matters to me." For his talk, Colin discussed how we are intrinsically linked to space and that we are very much part of it. From burping suns to colliding asteroids, the children were transfixed!
Year 4 have also started their learning on Microsoft Powerpoint and they will be designing their own slide shows on Space. We look forward to seeing the final product! In English the children have begun their poetry writing and in Maths, it's all things fractions!
Autumn 2: How can we build community in Walton? The Principle of Interdependence
Year 4 Great Works
For our Great Work linked to community, Y4 went to do some busking in town to surprise all the Monday morning shoppers. The children sang fantastically well and the audience that gathered was huge!
Thank you to all those who came down and had a little sing song with us!
Community Sports afternoon!
Year 4 were lucky enough to take part in a Community Sport afternoon. Mr Dowson joined year 4 for an afternoon of practising all sorts of ball skills. He took us through different skills before we played football games of our own.This was a fantastic opportunity for us all to come together and work as a team to improve our physical and social skills. We thoroughly enjoyed this afternoon and would like to thank Mr Dowson for giving up his time for us!
Science
We are learning all about electricity in Science at the moment. This week, we explored different types of switches. We looked at why we have switches and what could be used for a switch. We investigated how to make an effective switch by creating our own circuits and using paper clips, pins and tin foil to see which was most successful.
Gabriel - "I found that a metal clip was the most effective switch in my circuit because the electricity travelled through it the easiest."
What have we been exploring this week?
This week Year 4 have been completing their leaflets about Walton. We hope to share them with the community once they are complete. In Maths we have been looking at grid method and applying our knowledge of factor pairs and place value. We have also been exploring inverse operations and finding the other half of the factor pair to make a multiple.
In Science this week, we have been exploring simple circuits and understanding what a circuit it. What components are and what a circuit needs in order to work.
"I learnt that every time you changed the circuit, if you always linked the components,
the light bulb would turn on." - Charley
" I enjoyed trying to fit all the components in to make the circuit. It was complicated." - Jack
How can we celebrate green spaces in Walton?
This week Year 4 have been exploring the rich variety of green spaces around Walton. We began the week exploring our own green space on the field and feeling lucky that we have this space to play, learn and have fun in. We talked about other green spaces near Walton e.g. Bushy Park, Wisley and Ripley. Community is important to our green space. We have to look after it, care for it and ensure it is not redeveloped on for more housing. We feel better when we are in the natural outdoors and we need to ensure our green spaces are protected.
The children's grammar focus this week is contractions and they have been looking at how an apostrophe replaces a letter or letters to make one word. The challenge was to apply this learning to their leaflets and the section on "green spaces."
In Maths we have been exploring area and understanding the need for knowing our times tables. We have been estimating the area of different green spaces so we can understand scale and space too.
We also came together as a community to show respect to those who have died and are dieing because of conflict.
What can we celebrate in Walton?
This week, Year 4 have started their new learning enquiry. In English we took a stroll around Walton spotting things, places, opportunities to celebrate what's in our town. The children will be making their own information leaflet about Walton and we wanted to get some good ideas. In Maths the children are looking at perimeter and we are looking at area next week. this is so we can look at green spaces in our town too and celebrate what they have to offer as well.
In Science we are looking at electricity and the children have been having a look around school to see what energy sources they can find; natural and unnatural!
Autumn 1: How can we prepare for a Tudor Banquet? The Principle of Adaptation
Swan Class Assembly: The Tudor Dynasty
Swan Class took us back to 1485 when the Tudor dynasty began. The children took us through the Tudor period with a focus on the six monarchs that reigned England, including Henry Vlll and his 6 wives! We discovered fascinating facts about each monarch, finishing with Elizabeth l ending the Tudor dynasty in 1603. The children thoroughly enjoyed learning all about the Tudors and this was the perfect way to bring our learning together for all to enjoy.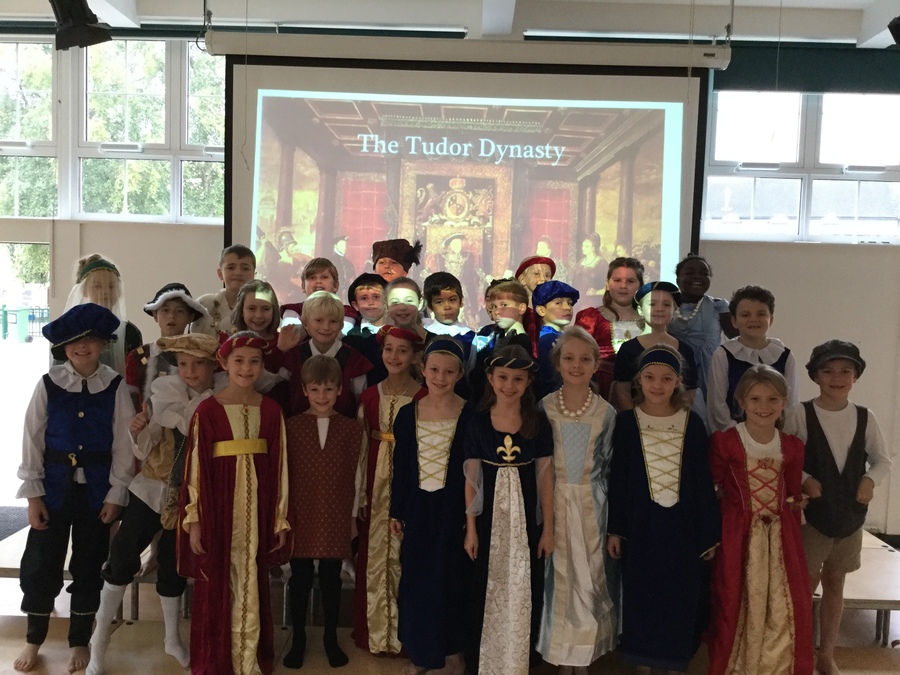 Harvest Festival Performance
In Year 4 we have been learning about the Tudors. As part of our learning we spent the day at Hampton Court Palace. We discovered the Great Banquet Hall and we thought how wonderful it would be to have a feast. But… How did the Tudors prepare for their banquet?
Let us take you back to the reign of King Henry VIII. "Long Live the King."
The year is 1535, King Henry wants to show off to his gentry. He tells his servants to prepare a feast.
The greatest feast there ever was.
"But what to eat?" They asked.
King Henry VIII, the noble sportsman, has an idea.
"I shall go to the forest and collect such delicious treats.
Hunting, I shall go and bring back a doe!"
So with his gallant men of the court, King Henry goes a hunting.
Upon their steads they rode through the forest.
Bearing their arrows and keen eye looking for the prize.
Upon a glade, they spotted a rabbit.
"How quaint it would be to have some pie filled with the most scrumptious game."
The gallant men pulled back their bows and shot into the air
Rabbit pie was now on the menu.
But suddenly, through the trees, the gallant men saw a flash of brown.
The horn was sounded as the men shouted,
"A deer, a deer, the best prize for a feast!"
Turning their horses they stampeded into the trees.
King Henry, filled with haste, pulled back his arrow which pierced the beating heart.
Trumpets sounded as the gallant men paraded into the court.
"A most wonderful celebration we will have." The crowd cried.
The noblemen and the gentry filled the halls.
Table upon table filled with the most delicious meats.
A sign of Henry's fortune.
Long live the king! Long live the king! Long live the king!
What did we learn at Hampton Court?
As we arrived at Hampton Court, we saw the beautiful Palace. There were chimneys as high as the clouds. First we went to Henry's Apartments and saw the Great Hall. It would have been filled with many people eating and drinking for banquets. Next, we went to the haunted gallery and saw amazing painting's above a creepy staircase. Apparently, the walk way (The Processional Gallery) is haunted!
After that, we went to the large Tudor kitchens where they prepare banquets. We saw some meat being cooked over a dazzling fire! They call it a spit. We went for a tour around Hampton Court and went into the most amazing places ever! We saw the old crown. Not the original one - of course, but a replica. It was amazing!
We also went to the Gardens. It was bursting with wildlife and filled with many spectacular trees cut into various shapes. We had a fantastic day!
What is in our body?
This week in Year we have been exploring our bodies and what is inside them. The children's knowledge was challenged to draw and label a human body with what's inside it. WE discussed bones, organs, systems and some odd things too! The biggest surprise was the fact that skin is an organ too. It is the biggest organ in our body. We also learned that the intestines come in two parts- the large and the small! Have a look at our photos below to see what we knew!
Who were the Tudors?
Year 4 have started their learning enquiry on who were the Tudors. WE have been exporing the Tudor family and all the gory bits! In English, we are exploring the pivotal Battle of Bosworth which allowed the Tudors to rule on the throne. We are also looking at our learning enquiry as a whole and questioning what we want to find out about life as a Tudor. We have begun our learning with portraits of the Tudors, recognising them and looking at their proportions to draw accurate pencil sketches of the portraits. We made sure to measure so we could draw a 1:1 scale of the portraits.
____________________________________________________
W

hat is Bikeability Level 1?

Bikeability Level 1 is part of the National Standard for cycle training. Watch the Department of Transport video about Level 1.

It teaches basic control and balance skills in a traffic-free environment - generally the school playground. It is suitable for those who have just learned to ride and no longer use stabilisers. The course lasts for 3 hours.

Trainees learn:
Checking your bike and understanding the need of safety equipment and clothing

Getting on and off a bike without help

Start cycling, pedalling and stopping without help

Ride along without help for roughly one minute or more

Make the bike go where they want

Using gears if you have them

Stop quickly with control

Manoeuvre safely to avoid objects

Look all around, including behind, without loss of control

Control the bike with one hand
All trainees receive a certificate showing their achievement against each individual outcome, enabling their parent or carer to see where they need most help to continue improving their riding.
____________________________________________________
Information for parents
Suggested books for Year 4.pdf
Click on the above link to see a PowerPoint for progression of maths skills at Ashley school. These will be useful so that you are able to understand the methods your child uses, which may be different to the methods you use, so that you can best support them. Please ask your child which method they use as it will differ for each child. The key is that they are comfortable and secure in the method they use.