Welcome to Year 4
Kingfisher class is taught by Miss Beeby and supported by Mrs Davidian.
Swan class is taught by Miss Greaves and supported by Mrs Ovenell.
Take a look at what we have been learning about at school.
There is also additional information for parents at the bottom of this page.
Autumn 2: How can we build community in Walton? The Principle of Interdependence
Community Sports afternoon!
Year 4 were lucky enough to take part in a Community Sport afternoon. Mr Dowson joined year 4 for an afternoon of practising all sorts of ball skills. He took us through different skills before we played football games of our own.This was a fantastic opportunity for us all to come together and work as a team to improve our physical and social skills. We thoroughly enjoyed this afternoon and would like to thank Mr Dowson for giving up his time for us!
Science
We are learning all about electricity in Science at the moment. This week, we explored different types of switches. We looked at why we have switches and what could be used for a switch. We investigated how to make an effective switch by creating our own circuits and using paper clips, pins and tin foil to see which was most successful.
Gabriel - "I found that a metal clip was the most effective switch in my circuit because the electricity travelled through it the easiest."
What have we been exploring this week?
This week Year 4 have been completing their leaflets about Walton. We hope to share them with the community once they are complete. In Maths we have been looking at grid method and applying our knowledge of factor pairs and place value. We have also been exploring inverse operations and finding the other half of the factor pair to make a multiple.
In Science this week, we have been exploring simple circuits and understanding what a circuit it. What components are and what a circuit needs in order to work.
"I learnt that every time you changed the circuit, if you always linked the components,
the light bulb would turn on." - Charley
" I enjoyed trying to fit all the components in to make the circuit. It was complicated." - Jack
How can we celebrate green spaces in Walton?
This week Year 4 have been exploring the rich variety of green spaces around Walton. We began the week exploring our own green space on the field and feeling lucky that we have this space to play, learn and have fun in. We talked about other green spaces near Walton e.g. Bushy Park, Wisley and Ripley. Community is important to our green space. We have to look after it, care for it and ensure it is not redeveloped on for more housing. We feel better when we are in the natural outdoors and we need to ensure our green spaces are protected.
The children's grammar focus this week is contractions and they have been looking at how an apostrophe replaces a letter or letters to make one word. The challenge was to apply this learning to their leaflets and the section on "green spaces."
In Maths we have been exploring area and understanding the need for knowing our times tables. We have been estimating the area of different green spaces so we can understand scale and space too.
We also came together as a community to show respect to those who have died and are dieing because of conflict.
What can we celebrate in Walton?
This week, Year 4 have started their new learning enquiry. In English we took a stroll around Walton spotting things, places, opportunities to celebrate what's in our town. The children will be making their own information leaflet about Walton and we wanted to get some good ideas. In Maths the children are looking at perimeter and we are looking at area next week. this is so we can look at green spaces in our town too and celebrate what they have to offer as well.
In Science we are looking at electricity and the children have been having a look around school to see what energy sources they can find; natural and unnatural!
Autumn 1: How can we prepare for a Tudor Banquet? The Principle of Adaptation
Swan Class Assembly: The Tudor Dynasty
Swan Class took us back to 1485 when the Tudor dynasty began. The children took us through the Tudor period with a focus on the six monarchs that reigned England, including Henry Vlll and his 6 wives! We discovered fascinating facts about each monarch, finishing with Elizabeth l ending the Tudor dynasty in 1603. The children thoroughly enjoyed learning all about the Tudors and this was the perfect way to bring our learning together for all to enjoy.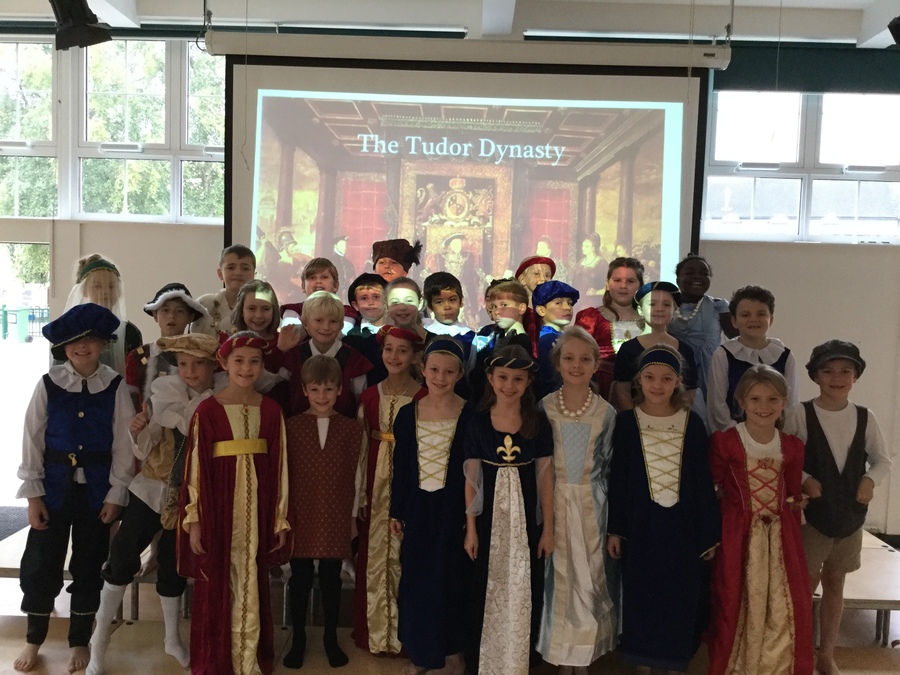 Harvest Festival Performance
In Year 4 we have been learning about the Tudors. As part of our learning we spent the day at Hampton Court Palace. We discovered the Great Banquet Hall and we thought how wonderful it would be to have a feast. But… How did the Tudors prepare for their banquet?
Let us take you back to the reign of King Henry VIII. "Long Live the King."
The year is 1535, King Henry wants to show off to his gentry. He tells his servants to prepare a feast.
The greatest feast there ever was.
"But what to eat?" They asked.
King Henry VIII, the noble sportsman, has an idea.
"I shall go to the forest and collect such delicious treats.
Hunting, I shall go and bring back a doe!"
So with his gallant men of the court, King Henry goes a hunting.
Upon their steads they rode through the forest.
Bearing their arrows and keen eye looking for the prize.
Upon a glade, they spotted a rabbit.
"How quaint it would be to have some pie filled with the most scrumptious game."
The gallant men pulled back their bows and shot into the air
Rabbit pie was now on the menu.
But suddenly, through the trees, the gallant men saw a flash of brown.
The horn was sounded as the men shouted,
"A deer, a deer, the best prize for a feast!"
Turning their horses they stampeded into the trees.
King Henry, filled with haste, pulled back his arrow which pierced the beating heart.
Trumpets sounded as the gallant men paraded into the court.
"A most wonderful celebration we will have." The crowd cried.
The noblemen and the gentry filled the halls.
Table upon table filled with the most delicious meats.
A sign of Henry's fortune.
Long live the king! Long live the king! Long live the king!
What did we learn at Hampton Court?
As we arrived at Hampton Court, we saw the beautiful Palace. There were chimneys as high as the clouds. First we went to Henry's Apartments and saw the Great Hall. It would have been filled with many people eating and drinking for banquets. Next, we went to the haunted gallery and saw amazing painting's above a creepy staircase. Apparently, the walk way (The Processional Gallery) is haunted!
After that, we went to the large Tudor kitchens where they prepare banquets. We saw some meat being cooked over a dazzling fire! They call it a spit. We went for a tour around Hampton Court and went into the most amazing places ever! We saw the old crown. Not the original one - of course, but a replica. It was amazing!
We also went to the Gardens. It was bursting with wildlife and filled with many spectacular trees cut into various shapes. We had a fantastic day!
What is in our body?
This week in Year we have been exploring our bodies and what is inside them. The children's knowledge was challenged to draw and label a human body with what's inside it. WE discussed bones, organs, systems and some odd things too! The biggest surprise was the fact that skin is an organ too. It is the biggest organ in our body. We also learned that the intestines come in two parts- the large and the small! Have a look at our photos below to see what we knew!
Who were the Tudors?
Year 4 have started their learning enquiry on who were the Tudors. WE have been exporing the Tudor family and all the gory bits! In English, we are exploring the pivotal Battle of Bosworth which allowed the Tudors to rule on the throne. We are also looking at our learning enquiry as a whole and questioning what we want to find out about life as a Tudor. We have begun our learning with portraits of the Tudors, recognising them and looking at their proportions to draw accurate pencil sketches of the portraits. We made sure to measure so we could draw a 1:1 scale of the portraits.
____________________________________________________
Information for parents
Suggested reading books for Year 4
Click on the above link to see a PowerPoint for progression of maths skills at Ashley school. These will be useful so that you are able to understand the methods your child uses, which may be different to the methods you use, so that you can best support them. Please ask your child which method they use as it will differ for each child. The key is that they are comfortable and secure in the method they use.