Welcome to Year 3
Skylark Class is taught by Miss Hood and supported by Mrs Rides.
Robin Class is taught by Miss Lefevre and supported by Mrs Heavens.
There is also additional information for parents at the bottom of this page.
Year 3 will be studying the trees in the school grounds throughout the year. We have an ongoing learning enquiry which we will return to each term: How do trees change through the seasons? The Principle of the Cycle
Summer Term 2: What can Africa teach us about food? The principle of Health and Well-being
Summer Term 1: What traditions are there in Africa? The principle of oneness
For their great work, Skylark and Robin class performed African dances to their parents. They danced to the strong rhythms of African music, working in unison as a whole class as well as performing group sections they had choreographed themselves. They also showed off their amazing traditional African masks which had been decorated with bright colours and geometric patterns. The children were proud of their hard work and thoroughly enjoyed the performances.
On Monday 24th April Olivia from Zest Dance visited to teach Year 3 some traditional African dancing. The rhythmic drumming and catching music put smiles on all our faces and we couldn't help moving to the beat. Each class learnt several different movements and worked together to create a choreographed dance which we performed to each other. We will now be busy practising and improving our dances so that we can perform them to Year 3 parents just before half term.
Visit to Ash Lodge
30 children from Year 3 visited the Lodge to present special pop-up books about the rainforest, which they have been busy making in class, before splitting into groups and reading aloud from their story books. The visit marks the ongoing partnership between Ash Lodge and Ashley Primary school, as Churchill looks to build community links in the areas surrounding its Lodges.
Anne Scherrer, regional marketing manager at Churchill Retirement Living, said: "We thoroughly enjoyed the visit from the children and their reading was brilliant. It's great for the Owners to get involved with visits like this. We are always keen to arrange an assortment of events to take place in the Owners' Lounge at the Lodge, and look forward to welcoming the children back again."
The children thoroughly enjoyed spending time at Ash Lodge and being able to share their amazing creations and knowledge about the rainforest.
Spring Term 2: How can I be a great team player? The principle of Interdependence
On Wednesday 1st March a very excited and nervous group of Year 3 children set off for their first school residential trip. We arrived at Sayers Croft Field Centre a short while later and from that moment on it was non-stop until we collapsed back onto the coach on Friday, absolutely exhausted, for the return journey.
Here our some of the activities we took part in: orienteering, blindfold trail, maze, pond-dipping, shelter building, team challenges, making hazel frames and exploring the forest using our senses. We also sang out hearts out at a campfire and braved our fears to go on a night walk through the woods. We supported each other, persevered when things were challenging, got muddy, got lost in the maze, fell over tyres while blindfolded, worked together, listened to the sounds of the forest, discovered new things, smiled, laughed and had an absolutely fantastic time. We just wish we could go back again!
Spring Term 1: Why should we protect the rainforest? The principle of Diversity
Robin Class Assembly
Robin class performed a fantastic class assembly. They started by transporting everyone on a journey to the rainforest with an amazing soundscape. They then told their own version of The Great Kapok Tree, a variety of different animals shared their reasons as to why the trees should not be chopped down and shared information about just how amazing the rainforests of the world are.
Did you know that more than 20% of the worlds oxygen is produced in the Amazon rainforest and that over half of the worlds species of plants and animals are also found in the rainforest!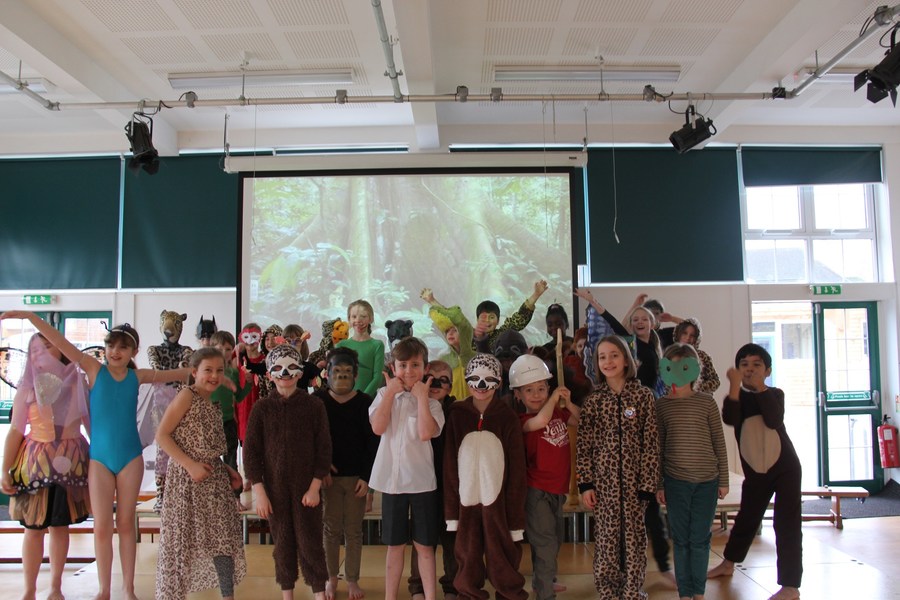 Rainforest Creatures
Year 3 were very excited when a range of amazing rainforest creatures visited them in their classroom. They were all thrilled to see, handle and learn about spiders, scorpions lizards, snakes and frogs as well as a beautiful owl. We discovered lots of facts about habitats, food chains and how each creature was adapted to living in the rainforest. A meerkat also put in an appearance despite not living in the rainforest. It was so cute, nobody minded!
Cooking from the Rainforest
Skylark class cooked Pineapple Upside Down Cake this week. They worked in small groups to weigh, slice and combine the ingredients and then baked the cakes. They looked fantastic and tasted even better. It was a great way to taste some ingredients found in the rainforest.
AUTUMN TERM 2: Who were the Romans? The Principle of Geometry
As the doors to the back of the hall flung open 30 Roman soldiers, in perfect time and dressed in red tunics, marched in to begin their story of what it was like to be a Roman soldier. They explained about the letters that were written home, the numerous items that had to be carried by each soldier and the fact they were all signed up into the roman army for 20 long years. Well done Skylark Class, what a great assembly and a great song to finish with. We all enjoyed singing along with you at the end.
AUTUMN TERM 1: Why are trees so important to us? The Principle of the Cycle
Apple Tasting
In Year three we have been learning all about the different varieties of apples that are grown in the UK.
We were lucky enough to get lots of different apples to taste from RHS Wisley.
Some of the varieties we tried included: Kidds Orange Pippin, Bowdens Seedling, Byford Wonder and Worcester Permain.
'The Worcester Permain apple had a strawberry aftertaste' Ella
'It was fun because it made us all pull different faces' Toby
'Some of the apples were yummy, some of them were sour' Olivia T
'All of the apples tasted really nice' Scott
'I like all of them apart from the Byford Wonder because it was super sour' Leo
How do we measure trees?
Year three started their enquiry by looking at how we can measure trees. We learnt three different methods and then evaluated which one was the most accurate.
Method 1: Ask a friend to stand in front of the tree. Use your fingers to measure your friend and work out how many of them it would take to reach the top of the tree.
Method 2: Stand with your legs hip width apart, look through your legs and walk away until you can see the top of the tree. Then measure the distance from the tree to the person.
Method 3: Make a thumbs up sign. Stretch your arm out straight in front of you, make sure the bottom of the tree is at the bottom of your hand and move until the top of your thumb is at the top of the tree. Then turn your hand sideways, ask a friend to stand by the tree and move sideways until your thumb covers them. Measure from the tree to your friend.
If you would like to have a go at measuring a tree ask a year three to help you!
____________________________________________________
Information for parents
Maths progressions in calculations
Click on the above links to see a PowerPoint for progression of maths skills at Ashley school. These will be useful so that you are able to understand the methods your child uses, which may be different to the methods you use, so that you can best support them. Please ask your child which method they use as it will differ for each child. The key is that they are comfortable and secure in the method they use.