Welcome to Year 3
Skylark Class is taught by Miss Hood and supported by Mrs Rides.
Robin Class is taught by Mr Cadman and Mrs Morgan, supported by Mrs Heavens alongside Mrs Pratt and Mrs Horan.
There is additional information for parents at the bottom of this page.
SUMMER TERM 2: What is daily life like in rural Uganda? The Principle of Health and wellbeing
Compassion UK
On 9th July, Year Three were visited by two workers for Compassion UK, a charity committed to ending poverty for children around the world. During their presentation, they shared some of the challenges that young people experience in Africa and rural Uganda in particular. However, they also shared good news; the news that some of these hardships can be eased. Donations and sponsoring children can enable them to pay for school and get an education water filters can make clean water more accessible; mosquito nets can prevent the spread of disease; and solar panels and lamps can bring light to the darkness of homes in the evenings. Also, a letter showing compassion and understanding can go a long way. Thank you so much Cathy and Catherine for giving your time to help us better understand child poverty and how we can help. Please look at their website and maybe you could sponsor a child and make a difference too - https://www.compassionuk.org/
Why is Fairtrade important?
If a banana costs 30p, how much of that does the farmer who grew it get? This question was posed to the children. They were informed of other people who needed money as well, including the shop that sells the banana, the shipper, the importer and the plantation owner. Most guessed the farmer would get around 15p or at least 10p. They were shocked to hear it was just 1p. They then divided up the cost of the banana to what they felt was a fair deal for all.
Year Three will now focus their attention on Fairtrade products and look to educate those around them on their importance.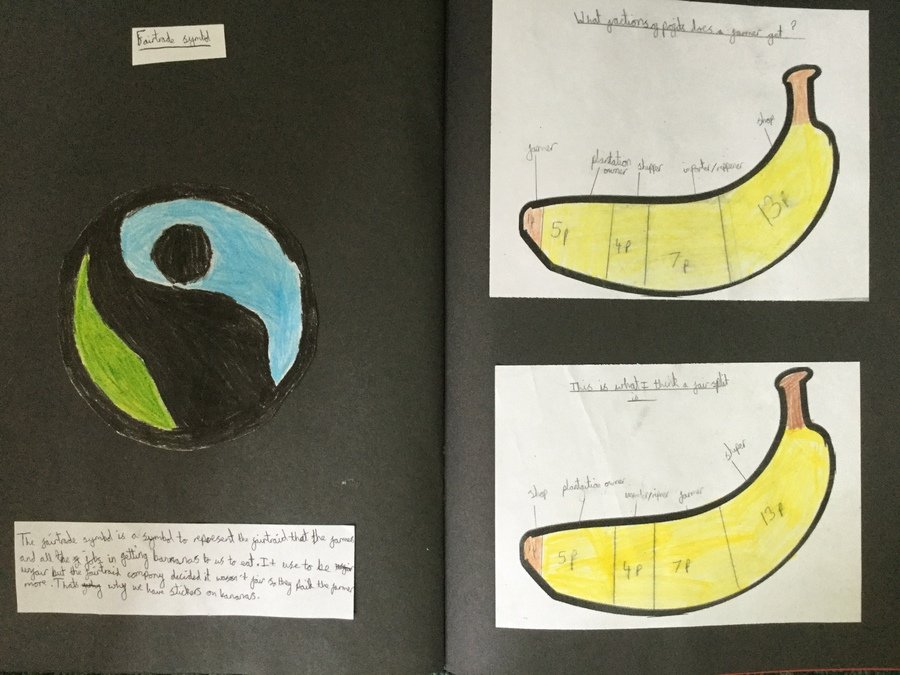 What is family life like in rural Uganda?
We have really enjoyed learning more about daily life for families in rural Uganda. At first, we thought we wouldn't enjoy life without video games, our own bed rooms and family cars to get us around. However, after further research, we quite liked many aspects of their lives, such as being altogether in one big room, helping out with chores more like a team and also having lots of time to play and be with extended family. Learning about their life style has made us want to change ours a little.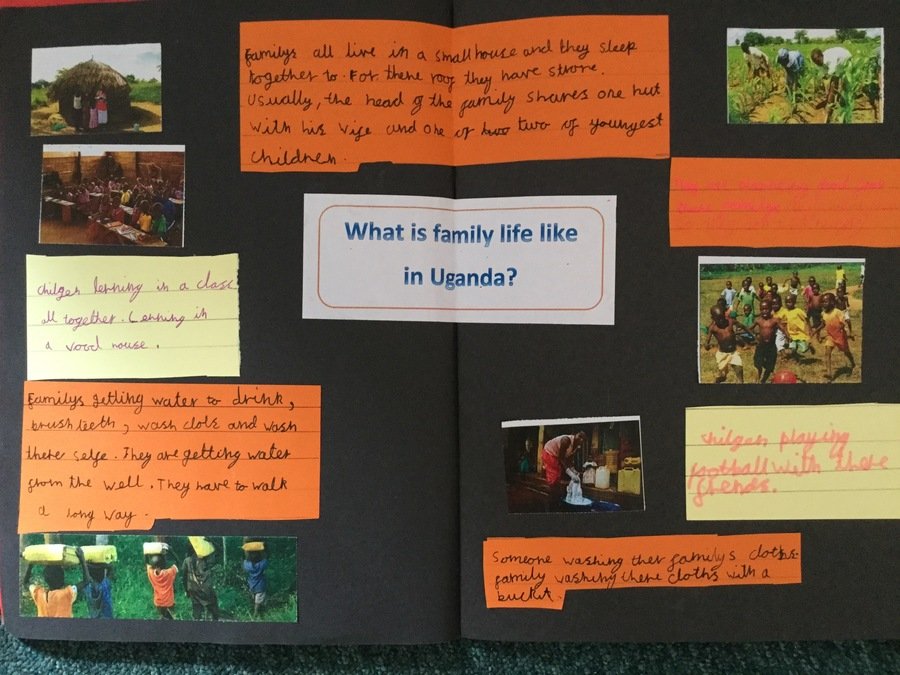 How far do some families need to go to collect water?
We learnt that sometimes children travel 8 miles to fetch the water they need to wash, cook and clean. We wondered what this would feel like so we filled some buckets with water and carried them around the field. It made our backs and hands ache, even though we didn't walk very far. We realised how lucky we were to be able to go to a nearby tap and have a 1 minute water walk, rather than a 1 hour water walk.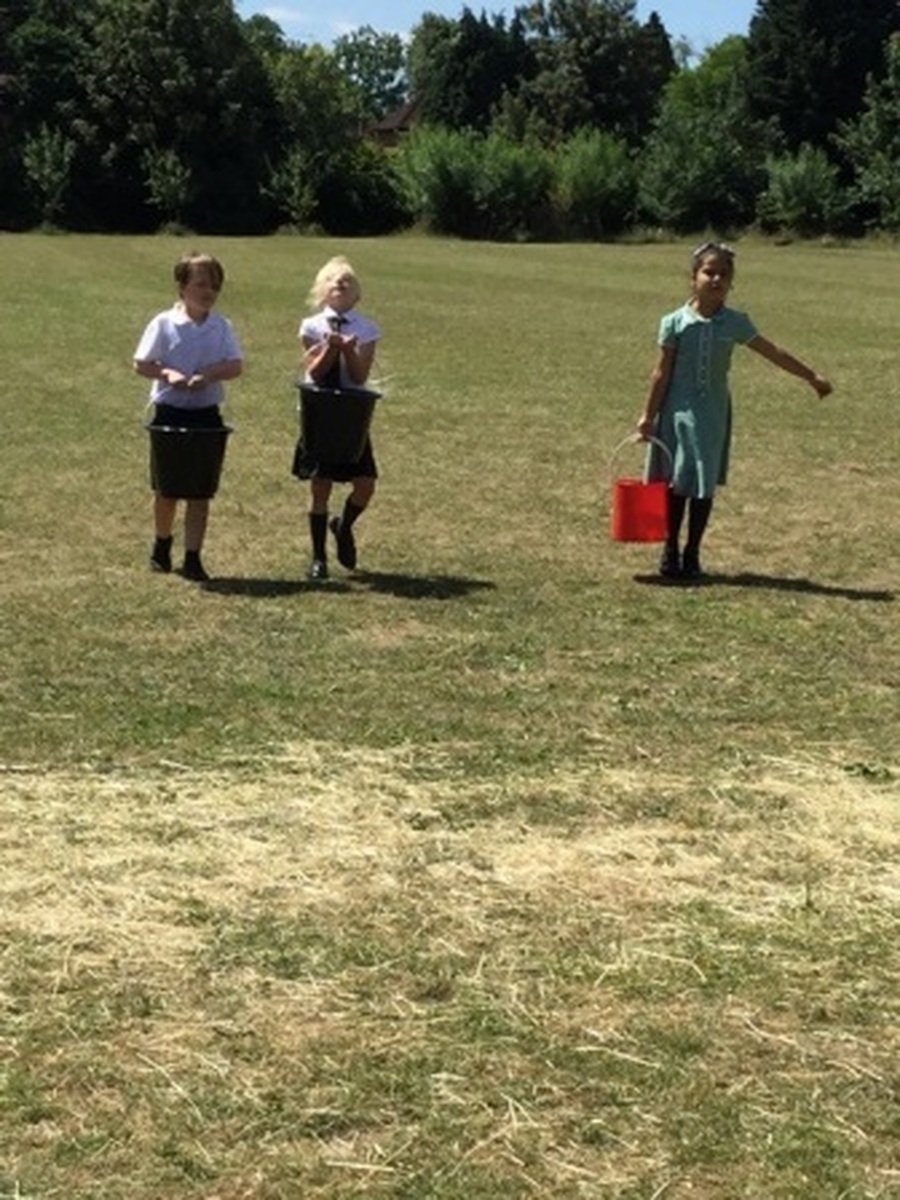 SUMMER TERM 1: What are the traditions of Africa? The Principle of Oneness
African Great Work
We have enjoyed choreographing African traditional dances, learning African songs and creating our own interpretations of African masks through this half term. We were really happy to share all of these for our great work. We hope you enjoyed it too.
African Silhouettes
The setting sun on African plains creating silhouettes of wildlife is a sight to behold. We really enjoyed trying the capture that magic.
What are the flags of Africa?
Examining and exploring atlases is fascinating. Wen have loved seeing the names of the many (54 in total) African countries and in our ICT and English we have researched one country in particular. The flags of Africa are particularly interesting with their many colours and designs. In our geometry sessions we were challenged to replicate one country's flag design and its colours. We were very happy with the finished outcomes.
Feel the rhythm and dance!
One of Africa's strongest traditions is its love of music and dance. The rhythms and sounds of the continent are something Year Three were excited to experience. On Monday 23rd April, we welcomed Olivia from Zest Dance to the Harmony Centre where the children enjoyed dance workshops. During the workshops, we looked at traditional African dance clothing from Eastern Africa as well as performing many of their dance moves. At the end, both classes came together to perform their dances. Don't worry! Once we have mastered them in our PE sessions, we will perform to parents for our Great Work on Tuesday 22nd May.
SPRING TERM 2: How can I be a great team player? Why should we protect the rainforests? The Principle of interdependence
Great Work
Year 3 shared their accounts of Sayers Croft with parents and family on Wednesday 28th March. They were keen to show off the 'suitcases' they had created with recounts about the exciting, challenging and best moments of their residential trip. They were also able to share their rainforest topic and pop-up books. Thank you to everyone who came - it was a great turn out.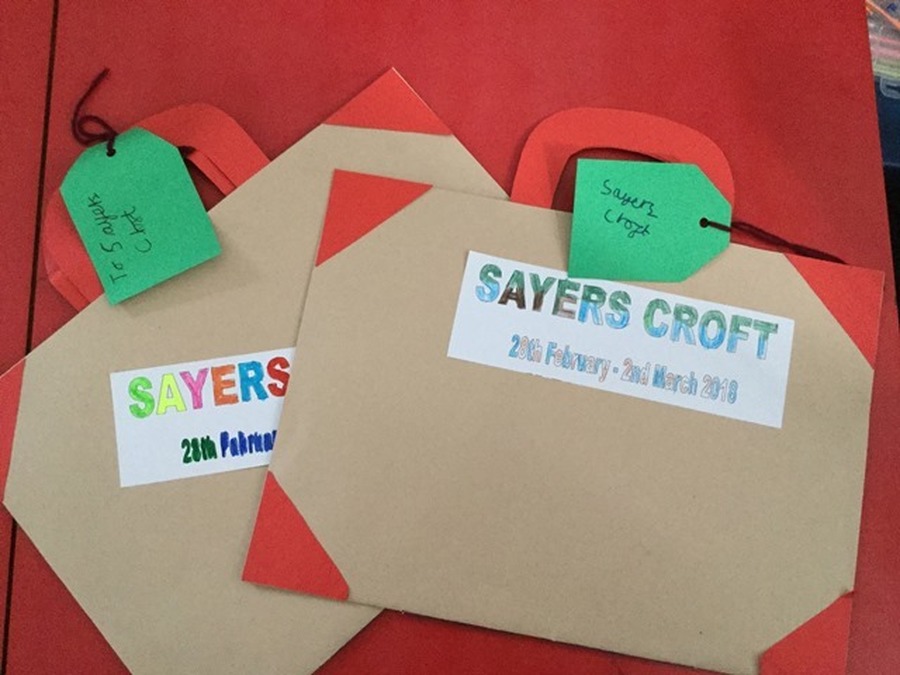 How can we protect our rainforests?
After the excitement of Sayers Croft, we returned our focus to the awe inspiring rainforests. However, this time, we took a sobering look at how these wonderful natural organisms are threatened by humans, particularly through deforestation as a result of sourcing wood, clearing the land to graze cattle or grow feed for cattle and for palm oil. We combined our design technology skills, our sketching and persuasive writing to create some beautiful pop-up books that share some helpful hints on what we can do in our everyday lives to protect the rainforests.
Sayers Croft
On a very snowy Wednesday Year 3 set off full of excitement, but also lots of trepidation, towards Sayers Croft for a three day residential. We arrived safe and sound and were quickly involved in making our beds and unpacking. After a delicious lunch, we put lots of layers of clothing on and headed off for our first activity - orienteering around the woods followed by team activities. In the evening, we added even more layers of clothing ready for a campfire. We sung our hearts out around a roaring fire under a brightly moonlit sky - magical!
The next day's activities were den building, orienteering, hazel frame making, visiting the roundhouse and exploring the woodlands and nature. While there we worked as a team, listened to each other and shared ideas, supported each other, played in the snow, laughed and had fun.
SPRING TERM 1: What makes rainforests so awesome? The Principle of diversity
Great Work: a rainforest soundscape
On Tuesday 6th February, parents were welcomed to the hall where they were surrounded by year 3 children. At first they were treated to a rainforest soundscape where a light trickle of rain soon became a thunderous downpour. All of a sudden, the sounds of insects, snakes, birds, monkeys and much more encompassed the hall with an incredible cacophony. Following that, the importance of diversity was shared - 'healthy ecosystems have diversity'. Finally, The Lion Sleeps Tonight was sung with smiles and a parent sing along. A great way to celebrate the sights, sounds and music of the rainforests.
"I just wanted to say thank you for the Great Works performance the children did yesterday. I was almost bursting with pride watching them all. It was most enjoyable and the sounds going round the room were so effective." (Year 3 parent)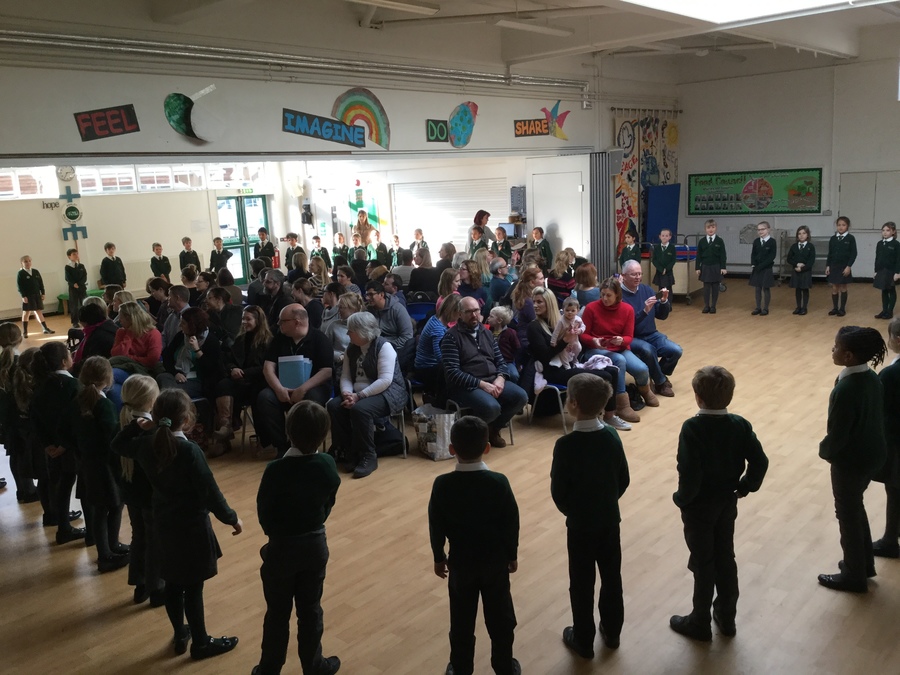 Animal Fact Files
We have been fascinated researching facts and information about different rainforest animals. After enjoying reading so many fact files in different books and online, we decided to make our own on an animal of our choice. The finished products took lots of time but they were well worth it. Here are just a few:
Skylark Class Assembly
Skylark class have had fun creating and practising a rainforest soundscape as well as dancing to and singing a rainforest song. We hope that you enjoyed them too when we performed them for our class assembly.
Thank you to all Skylark parents for helping to create costumes - the children looked amazing!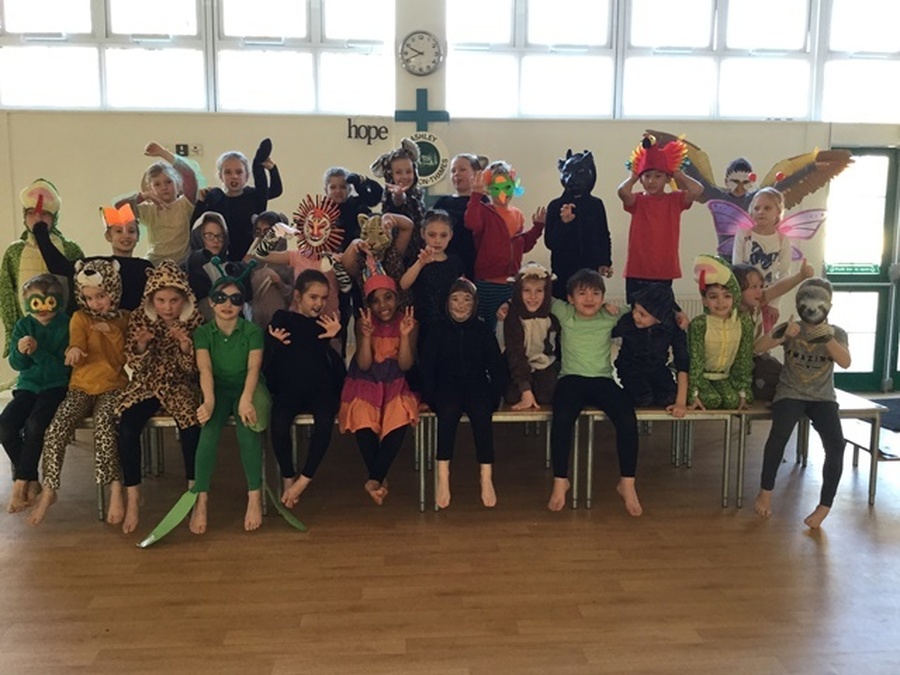 Which animals live in the rainforest?
There was great excitement in Year 3 when we were lucky enough to be visited by some creatures from the rainforest. It was amazing to see and touch them and we learnt lots!
The fat bullfrog felt like a huge green water balloon! Connor
I learnt that lizards have blue tongues to chase away their enemies Mary
The tree frog was slimy as it stuck to my hand. Harry
I didn't want to hold the snake. You could feel the scales when you did. Afterwards, I was pleased I'd held it - it was really cool! Bella
I was surprised that a 1 1/2 year old female snake was bigger than a 7 year old male snake! Damin
Thank you Steve from Tropical Inc for bringing them!
AUTUMN TERM 2: How did the Roman Army achieve so much? The Principle of Adaptation
Roman Mosaics
For this half term's Great Work, we have created our own Roman mosaics. We first explored examples of mosaics examining both their patterns and designs and also their place in Roman culture and what we can learn from them. Following that, we designed our own using squared paper. This was a great opportunity to further practice our fractions knowledge; we created designs that were symmetrical through two lines of symmetry, in four quarters of a square. When making the mosaics, we used estimations skills alongside precise measuring to accurately glue each tile in place. We learnt that just like Roman mosaicists, we needed to work in a calm, quiet and focused way to achieve outstanding results.
When we put all 64 tiles together (8 x 8 - a square number), we were really proud of our work and impressed of how they looked together. Like the Roman army, each soldier was strong but when they came together as a legion, they were even stronger.
Catapults
The Romans have invaded Britain and are planning to attack the forts in Walton-on-Thames. Year 3 are Roman engineers and were challenged to design and build a catapult that would help the Roman army attack. To be effective, the catapult needed to fire the furthest distance. The finished catapults fired stones surprisingly long distances. They measured their results and began evaluated what made a catapult more effective.
Roman Army Training!
Year 3 began their new enquiry by finding out whether they were suitable candidates to join the Roman army. Only those fit enough, tall enough and willing to obey their centurion at all times passed the test. Fortunately, both Skylarks and Robins proved to be excellent candidates. This meant they were able to make their own Roman shield. This was a tricky task involving symmetrical patterns. The children, however, took a lot of care over their shields and the results are fantastic. We hope to use them soon to practise our marching in formation!
AUTUMN TERM 1: How can we identify native trees through the seasons? The Principle of the Cycle
Green Stall
On Friday 20th October Year Three parents organised the first Green Stall of the year. It was a fantastic success. The stall celebrated seasonal food alongside the creativity and talents of our parents and children with a smorgasbord on offer including chilli oil, pickled onions, mac-n-cheese, apple cakes and lots more. There were also some sumptuous chocolate-dipped apples created by the children on Thursday afternoon alongside parents in the Harmony Centre. Thank you to everyone who contributed. The proceeds will be used to invest in the Year Three outdoor area.
Apple Day
On Friday 20th October, to culminate a wonderful half term's learning, Year Three celebrated the apple. The 21st October is National Apple Day, a day celebrated since 1990 when the group Common Ground established this holiday to both celebrate the apple and highlight the danger of us losing so many delicious varieties. Over the course of the day we tasted different varieties and described their flavours; explored the symmetry of an apple cross section using printing and drawing pentagonal star shapes; ate some delicious apple cakes (thank you Mrs Rides) and apple juice; and finally went to our own Ashley Apple orchard (which includes over 20 varieties of Surrey apples) and wassailed - a tradition of visiting orchards and singing to encourage a good harvest for the following year. It certainly was a juicy way to finish the half term!
Tree Journals
This half term we have been recording our learning journey in our Tree Journals. These special books celebrate the art, geometry, English, science and outdoor learning over the last seven weeks. Importantly, we will return to these books each season to reflect on how native trees change through the seasons and changing weather. Here is a taster of some work included:
Harvest Festival Celebrations
Year Three's contribution to our Harvest Festival was a celebration of the fruits that are harvested in autumn. The words are below and we performed them to the tune of My Guy.
Autumn Fruit
There's nothing more appealing than fruit on the trees in autumn,
Nothing more delicious than juicy fruits in autumn
Fresh, ripe apples - crunchy as ever
Pears and plums they - taste great together I'm tellin' you fruit is delicious when eaten in the autumn.
There's nothing more tempting that hanging fruit in autumn.
Dangling from the trees in the warm rising in autumn
Blackberries and quince fit - for a crumble
It feels like a kiss and - a warm cuddle
I'm tellin' you fruit is sumptuous when eaten in the autumn.
You must admit it's the time of the year
To bow to the trees and give them a cheer
They give us this fruit so tasty and fine
A gift from above that is surely divine.
There's nothing more wondrous than fruits on the trees in autumn,
Nothing more delectable than harvest fruits in autumn
Elderberries - plucked from the tree
A treasure to be found for - you and me.
Fruit is best when eaten in the autumn.
Fruit is best when eaten in the autumn.
Fruit is best when eaten in the autumn.
A Walk in the Woods
On Friday 22nd September, Year Three visited Esher Woods to learn about our local woodlands linked to our enquiry How can we identify native trees through the seasons? First we took part in a scavenger hunt to find different trees; looking closely, we saw interesting things like some trees having sticky buds and others didn't. We also found some unusual shaped nuts. Afterwards we met Hannah Maw fro Link Up With Nature who showed us the different ways to identify trees by looking at their leaves, bark, buds, nuts and fruits. We also created art using natural objects we found. It was a beautiful day and it was lovely spending it in the woods.
A report by Jessica and Romilly
To start off our enquiry, Year Three headed out to our school field to explore and identify the trees that grow there. After estimating the heights of four trees (Oak, Silver Birch, Willow and Field maple), we trialed two different methods to find their height. Firstly, we walked away from the tree until we could see the top through our legs. We measured this distance which is equal to the height of the tree. Secondly, we stood by the tree and estimated how many of us equalled the height of the tree. As we had measured how tall we were, we could work out how tall the tree was. The 'through the legs' method was great fun, but we all got different results. We don't think it was a very accurate method! Ask a Year Three child to explain if you would like to try measuring trees for yourself.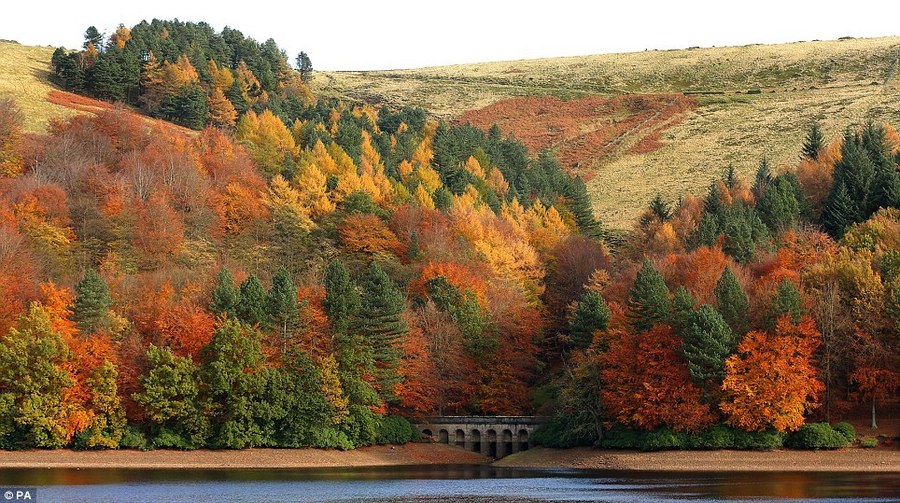 "If I could write words like on an autumn forest floor, what a bonfire my letters would make." (Spike Milligan)