Welcome to Year 2
Otter Class is taught by Miss Holden (Mon-Wed) and Mrs Wilde (Thur-Fri) and is supported by Mrs Kalbassi
Fox Class is taught by Miss Goymer and is supported by Mrs Nunn alongside Mrs Horan and Mrs Pratt
Further information about Year 2 can be found at the bottom of this page including Key Stage 1 SATs
Summer 2: Why do I think dinosaurs became extinct?
Science Week
WOW. What a brilliant first week back after half term. We were exploring bridges and towers in our Science and investigation week. We had lots of different challenges to work together as a team to complete, these included: making a piece of paper stand up, building a tall strong tower and building a long bridge that could hold lots of weight! Year 2 co-operated really well together during the challenges with great success. On Wednesday a beautiful walk to Walton Bridge helped inspire our designs. We loved our Science Week!
Summer 1: Why are Ashley bees and bugs so brilliant?
The Harmony Principle of Diversity
Bzzzzz Bzzzzzz. What a buzzing start we have had to our new learning enquiry! We have been busy roaming the school fields looking for a wide variety of minibeasts in their habitats. Next, we will go out and take photos ourselves with our new cameras bought for us from our Green Stall money. Photos to come soon!
Beekeeper visit
How lucky we were to have a visit from Michael Townsend who is a beekeeper. He shared with us his very own bees in a special hive with glass sides so we could see inside. After spotting the queen bee, we watched as she laid eggs in the hexagonal cells and worker bees circling around her to spread her scent. It was fascinating hearing Michael talk about bees and we can't wait to go and visit our own bees after half term.
Spring 2: What can we learn from a journey around the world?
The Harmony Principle of Oneness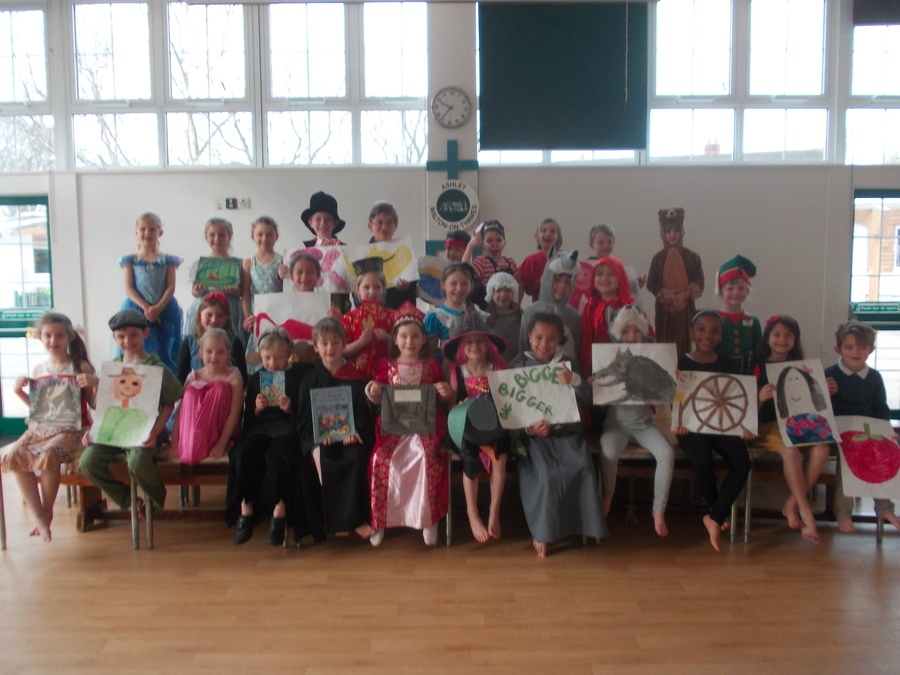 Otter Class had fun with their assembly when they presented their own versions of traditional tales. There were lots of laughs from the school when somebody married a bowl of porridge or turned into an apple! They also gave a great performance of "The enormous beetroot" in song. Well done Otter Class
Spring 1: How can we bring traditional tales to life?
The Harmony Principle of Cycles
Puppetry in Year 2
Year 2 were treated to a fantastically entertaining puppet show experience on Monday. Joe Ridgely, a puppeteer, gave the children and staff a mesmerising magic and puppet show. Later on this term, Year 2 will be creating and performing their very own puppet shows so this week's experience was excellent training and gave them all a great start!
A Woodland Walk
On our first day back we took to the woods and explored our Forest School area in the school grounds. Amongst the trees we listened to the story of Hansel and Gretel and acted it out ourselves. This was the inspiration for our descriptive writing about the spooky forest in the story!
The ground was frosty and crisp and the trees were bare which made for excellent bark rubbing! We then used this bark rubbing to create our own trees.
Autumn 2: What can we learn from The Great Fire of London?
The Harmony Principle of Interdependence
Curriculum Mapping Autumn 2 2016.pdf
Fire Poems
On a chilly morning, Year 2 were treated to a bonfire to inspire them for their fire poems. As we sat and watched the fire, we generated language to describe what the fire looked, sounded and felt like. We then used these ideas to create our own fire poems and explored using alliteration and similes. Here are some extracts from our poems.
Hear the crackling flames twisting and turning like a tornado.

The fire slowly dies down as it screams for help.- Zac, Fox Class

Fire crackling aggressively like a scary dragon- William, Otter Class

Fire furiously destroying everything in its path- mean like a tiger.

Fire exploding like TNT, popping like popcorn. - Oliver, Fox Class

Smoke swirling, swimming, dancing like a volcano. - Arabella,, Otter Class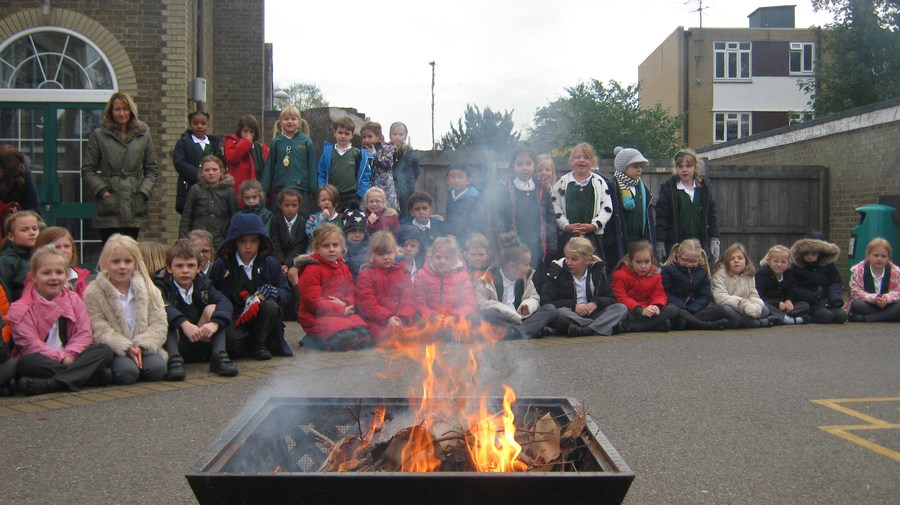 Autumn 1: What does it mean to be healthy?
The Harmony Principle of Health
Garsons Farm
The sun was shining and the sky was clear- the perfect day for a visit to Garsons Farm. The children explored the farm following a trail to find the biggest pumpkin, longest bean and different types of apples. At the end they were able to pick their own produce to buy. It was a fantastic opportunity to see seasonal food growing and to practise our money skills too!
'I liked picking the apples because I liked twisting the stalk first.'- Owen
Yoga in Year 2
We were very lucky to be taught by Mrs Rich who came back to school especially to teach us yoga. We learnt about different poses and how they are inspired by nature such as the crow, tree, snake, downface dog and salute to the sun. Some of the poses were quite tricky but we all really enjoyed it and are looking forward to continuing with yoga in our PE lessons.
Information for parents
Maths progression in calculations
Click on the above links to see a PowerPoint for progression of maths skills at Ashley school. These will be useful so that you are able to understand the methods your child uses, which may be different to the methods you use, so that you can best support them. Please ask your child which method they use as it will differ for each child. The key is that they are comfortable and secure in the method they use.