Welcome to Year 1
Frog Class is taught by Miss Osborne (Mon-Wed) Mrs Cowden (Thurs-Fri) and supported by
Mrs Bradford, Mrs Kean and Miss Porter.
Dragonfly Class is taught by Miss Beresford (Mon-Wed) and Mrs Goodfellow (Wed-Fri) and
supported by Mrs Pledger.
Butterfly Class is taught by Miss Gardiner and supported by Mrs Mitchell.
There is also additional information for parents at the bottom of this page.
SUMMER TERM 2: Why do I like to be beside the seaside?
The Principle of Interdependence
Curriculum Map Summer 2nd 2018
We started this term by getting up close with fish! We held, felt and investigated some red mullet and sketched fish that we might find in the sea. They were fascinating and we spotted that their scales and their bodies made vesica shapes!
Ten children from Year 1 were very excited to visit Rowan Hill Preparatory School in Claygate for a workshop with the author and illustrator Petr Horacek. He shared some of his stories and explained to the children how his editor asked him to improve these, just like their teachers ask them to. He explained that at first he felt sad about this but once he had developed his ideas further that the finished product was even better! The children created a collaborative piece of art with their own drawings of animals doing funny things, using oil pastels. They also used ICT to create scenes from his books and made collages with his images. A truly inspirational day!
Year 1 had a fabulous time at Littlehampton this term.
The children wrote recounts about their trip when they returned. Here is one of them.
Year 1 went on a fantastic trip to Littlehampton. First we went on a mini train which was slow. I felt happy. Next we had an important talk from the lifeguards about flags. Then we went for a paddle in the deep, blue sea. We jumped over the waves, I got wet. Finally we had some delicious ice lollies. It was a fun day, I want to go again!
During prayer week Year 1 explored the meaning behind the Lord's Prayer. We thought about the reasons why Christians pray and wrote our own prayers. We will share these in church next week when we visit on our class trips.
We had an amazing time on our 'tech' day being animators. We were inspired by a real life animator who worked on creating Dobby from the Harry Potter films. We also watched Morph and then drew our own storyboards to plan out our animations. We then created backgrounds, props and characters and filmed them using Stop Motion Animator. We can't wait to show them to our parents this term.
SUMMER TERM 1: What is my favourite wildflower and why?
The Principle of Beauty
This week Year 1 have been making flowers out of willow. We have learned to weave and work as a team! We are looking forward to seeing them displayed in our outdoor area.
Butterfly Class were incredible in their class assembly and cheered everyone up with their acting, singing and dancing about wild flowers.
Please click on the links below for more information about our learning this term.
In Year One, we have been looking at shapes and patterns in flowers. We could see that each flower is made up of overlapping circles, which create vesica shapes. We also spotted some triangles too. Look at our beautiful art work below using compasses to draw our overlapping circles.
SPRING TERM 2: How is the Caribbean different from where we live?
The Principle of Oneness
Year One got off to a 'flying' start this term! We boarded their 'Ashley Airlines' plane which landed in the Caribbean. When we arrived we enjoyed the lovely hot, sunny weather and visited the local markets. After that, we carefully sketched some of the delicious fruits before having a taste of them. In cooking this term, we have been learning how to use knives safely and prepared our own Caribbean fruit salad to share with our families at home.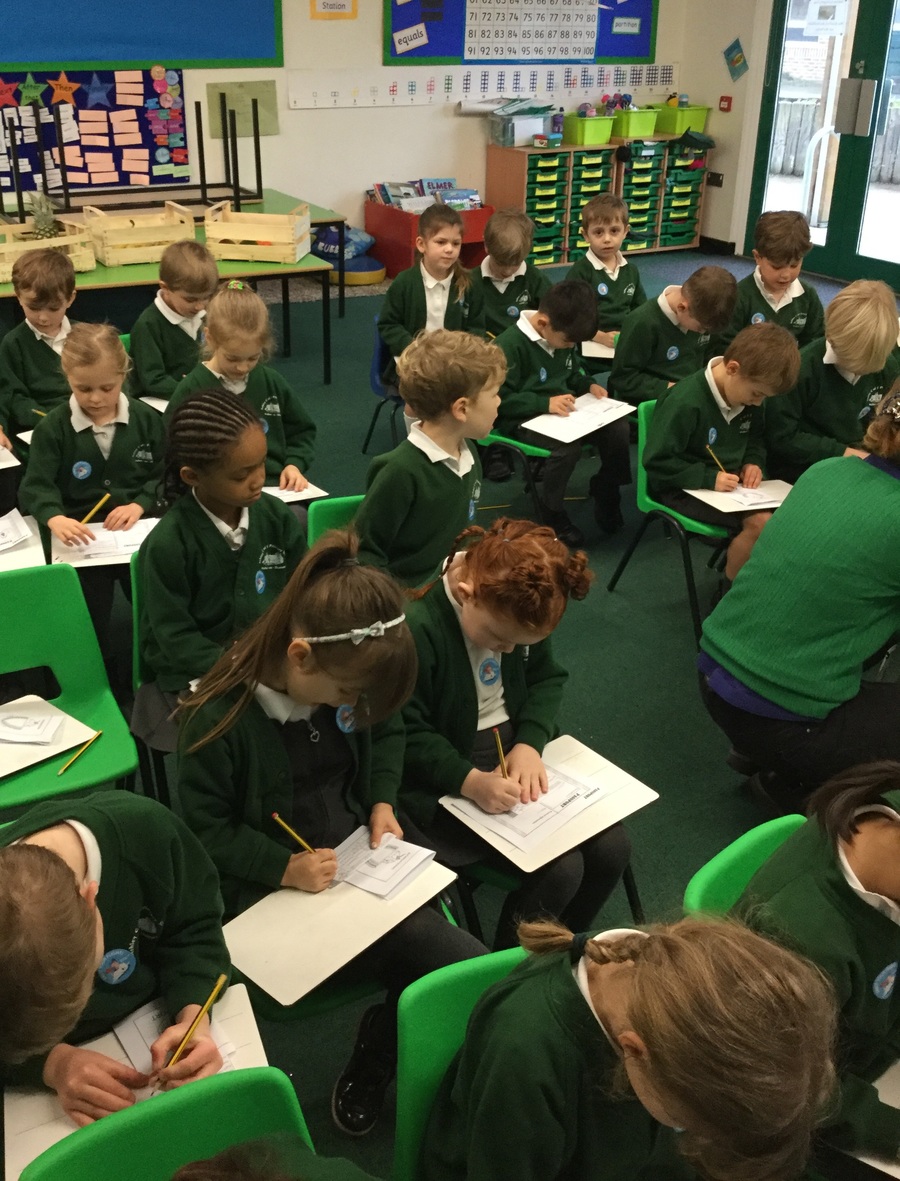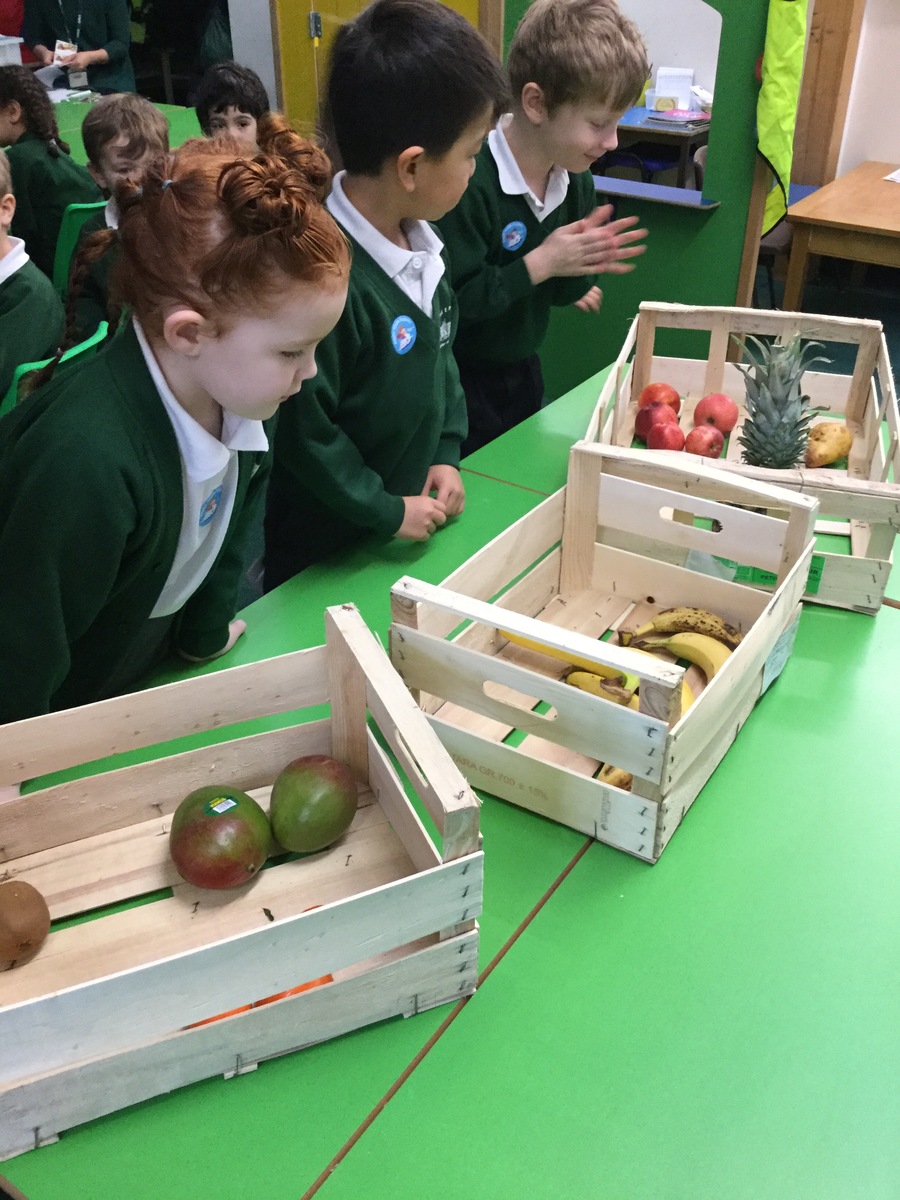 Dragonfly Class were AMAZING in their class assembly and brightened up everyones day with their singing, dancing and acting about their trip to Jamaica. Even Mr Dunne was keen to join in with our funky dance moves!
For our Great Works this term the children came into school in their colourful clothes ready for 'Caribbean Day'. The children took part in a mixture of activities such as: creating Caribbean music on 2sequence (Purple Mash), making feather headdresses, using oil pastels to draw Caribbean scenes and animals, creating a class banner for our carnival as well as measuring and making their own mocktails! At lunchtime we enjoyed a Caribbean feast provided by the school kitchen staff, which was delicious. In the afternoon we put on our headdresses and tie dyed fabric wrist bands (which we had made in class). Then we danced away to some Calypso music, did limbo dancing and sang to Bob Marley. What an amazing day!
SPRING TERM 1: How has Learning Changed Since Victorian Times?
The Principle of Adaptation
Click below for more information about our learning enquiry this term.
Victorian Schools Curriculum Map
For our 'Great Works' this term we invited our grandparents, parents, relatives or friends to come and share their experiences of school. We shared our non-chronological reports with them about our school. Then we asked them questions about things such as - What was the lunch like? Were the teachers strict? Did you like school? it was so lovely to learn from other peoples experiences as it helped us to imagine how school might have been in the past. Thank you for visiting us.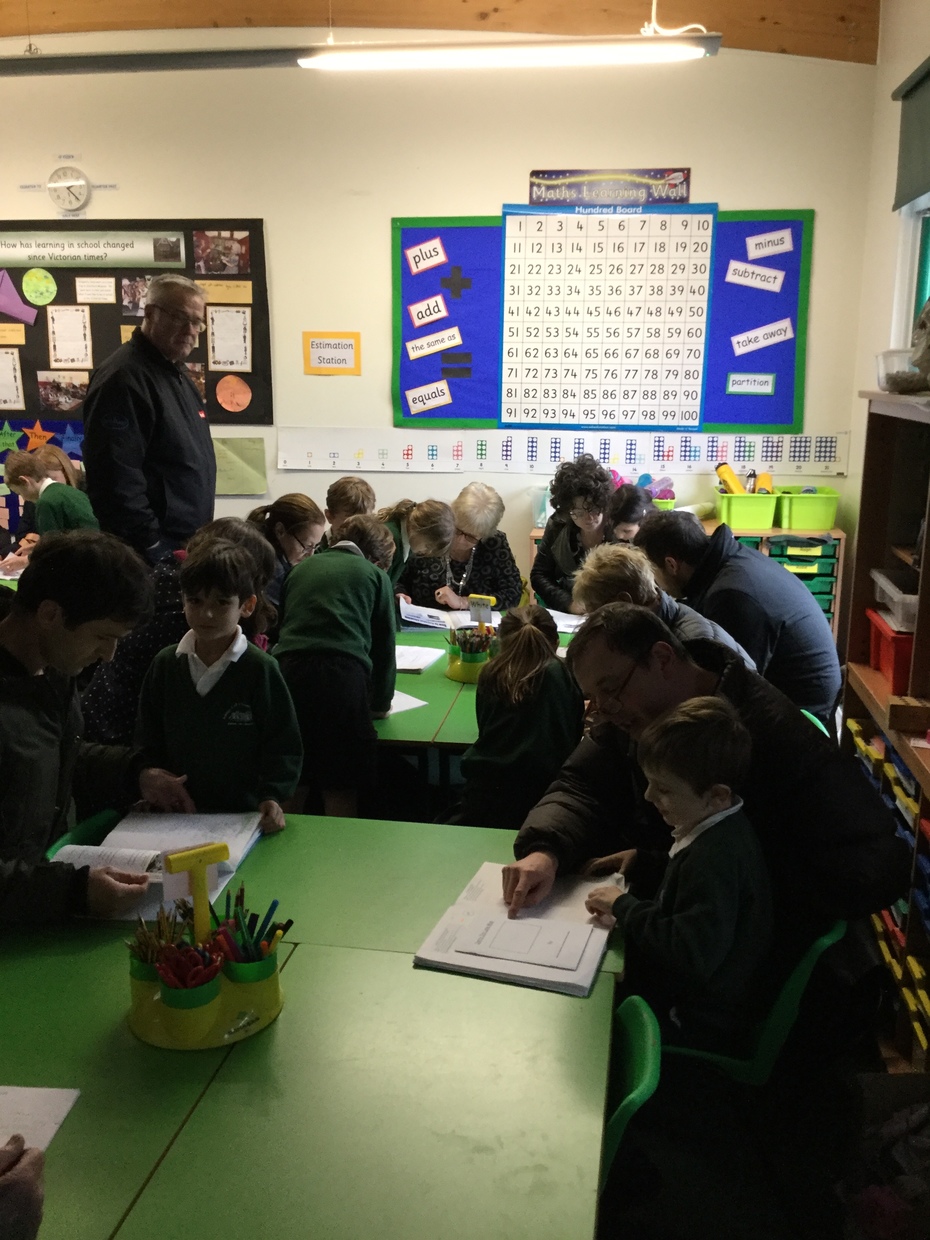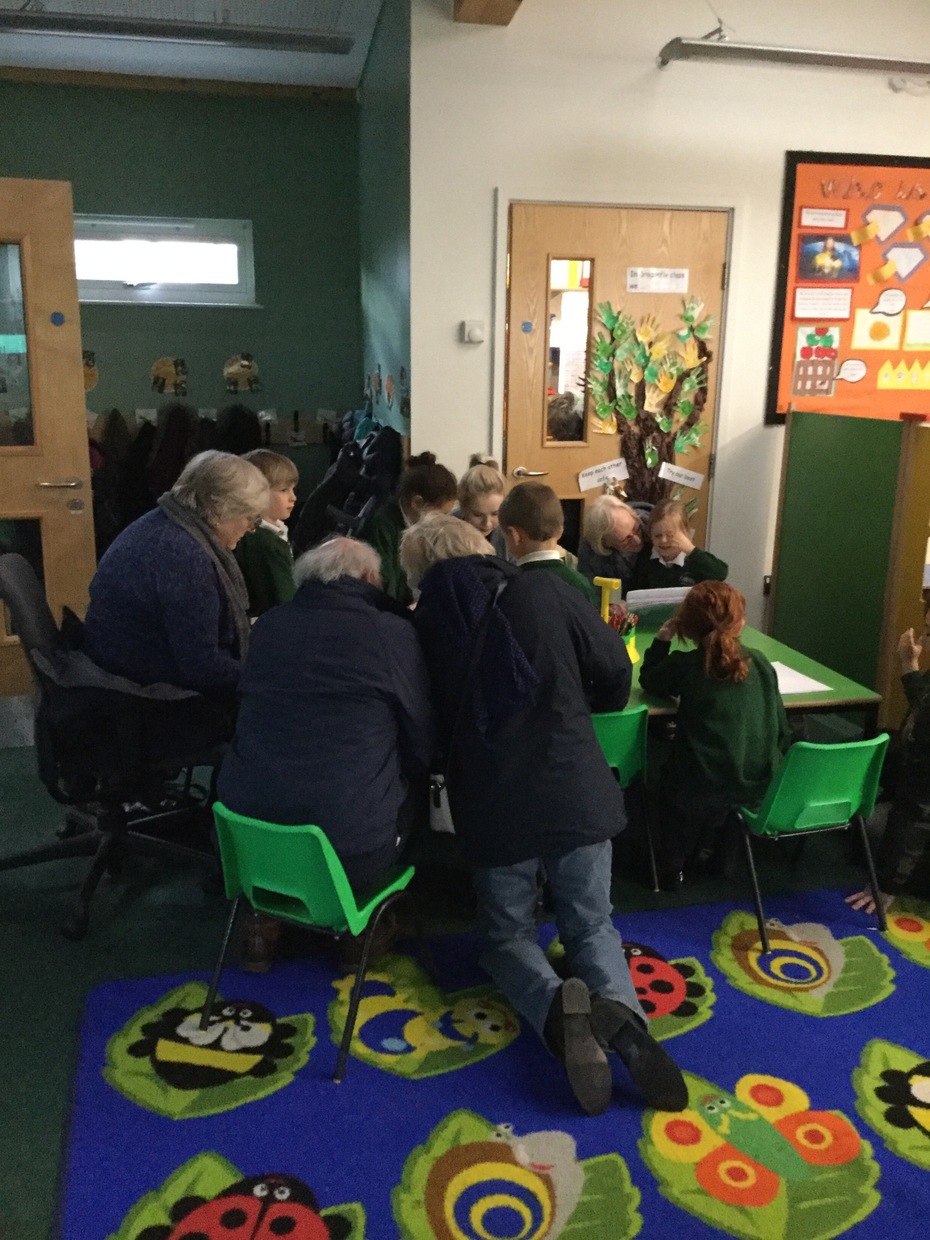 Year One really did look the part in their Victorian clothes all ready for their trip to Guildford Museum. The children have written recounts about their trip using time connectives to recall events in the correct time order. Here are a few of them.
Recount by Paddy
On Wednesday I went to the Guildford Museum. First I went on the coach. I was excited. Then it was fun because you got to play with Victorian toys. Next we wrote with ink. Then the boys made hats. We did not use glue we folded it. Finally we had our food. I learned that the teachers were strict.
Recount by Savannah
On Wednesday we went to Guildford Museum. I was excited. We learned about Victorians. The girls did sewing and the boys made hats. After lunch we went to the museum and we saw a fake body. We went back on a coach.
Recount by Ollie
On Wednesday I went to Guildford Museum. First I got off the coach. Then I hung my coat up. Next I sat on the desks. Then I made a hat. Finally I played. I learned about sitting with your hands behind your back.
AUTUMN TERM 2: Have toys and games changed?
The principle of Health
Click below for more information about our learning enquiry this term.
For our Great Works this term the children made board games based on 'snakes and ladders'. They made their boards, chose their own items to climb up and go down, made counters by sawing wood and then shared them with Reception children. They then took them home to enjoy with their families over Christmas.
Cooking
The children were very excited to have the opportunity to cook this term. The children read and followed a recipe to make stained glass biscuits. They had to use their maths skills to weigh out the ingredients and check they had enough of each item. A BIG thank you to our lovely helpers, we really couldn't have done it without you.
If you would like to make some at home follow the recipe below.
Stained Glass Biscuit Recipe for adults
Chertsey Museum Visit
Year 1 had the opportunity of exploring old toys to find out about the past. We found out that some toys in the past were made of lead and that people realised these were poisonous to children. We sorted toys according to their materials and noticed that most old toys are made of wood or metal. In addition to this we also sketched toys, played with them and made our own thaumatrope to take home.
AUTUMN TERM 1: How can we be superheroes? The principle of Diversity
Year One dressed up as Superheroes for Superhero Day and did lots of good deeds around the school. The children commented on how they felt ' good' and were happy to do exciting jobs that they had never done before. Some of their good deeds included - sharpening pencils, tidying book corners, sorting lost property and sweeping leaves outside. Great job Superheroes!
Harvest Festival
Year 1 shared a poem and song to Grandparents about our school grown produce and how it all starts as a little seed.
A little seed for me to sow,
A little soil to make it grow.
A little hole, a little pat.
A little wish, and that is that.
A little sun, a little shower.
A little while, and then a flower.
This is our allotment, there's such a lot to see.
With our growing vegetables, there is no place we'd rather be.
Have you been here before or not, well let us show you what we've got.
A spade, a fork, a wheelbarrow.
Cabbage, runner beans, tomatoes and a marrow.
Watering can, a trowel, some seeds.
Cabbage, lettuce, a couple of weeds.
With our veg and plants,
We can sing and dance.
See them sprout, watch them grow.
Pop along and say hello.
There's so much they can teach us all.
We'll laugh and learn, we'll have a ball.
It's such a special place to be.
In Ashley school's nursery.
Year 1 participated in Superhero training to see if they had the qualities it takes to be a superhero. They participated in physical challenges, learnt how to care for animals and brain busting puzzles! All of them achieved Superhero status and were awarded Superhero certificates and badges which they made a finger print on to show their unique ID.
The children have also been dressing up as Superheroes and writing about their special Superhero powers. They have been using capital letters, full stops as well as 'and' to extend their sentence.
_______________________________________________
Information for

pa

rents
Click on the above links to see a PowerPoint for progression of maths skills at Ashley school. These will be useful so that you are able to understand the methods your child uses, which may be different to the methods you use, so that you can best support them. Please ask your child which method they use as it will differ for each child. The key is that they are comfortable and secure in the method they use.