Welcome to Year 1
Frog Class is taught by Mrs Cowden and supported by Mrs Mitchell and Mrs Holt.
Dragonfly Class is taught by Miss Sargeant (Mon-Wed) and Mrs Goodfellow (Wed-Fri) and
supported by Mrs Pledger and Mr Grace.
Butterfly Class is taught by Miss Cole and supported by Mrs Bradford and Mrs De Quincey.
There is also additional information for parents at the bottom of this page.
SUMMER TERM 2: What is my favourite wild flower and why?
The principle of Beauty
The Life Cycle of a Dandelion
We read the book - It Started with a Seed. The story told us the life cycle of a dandelion but was written in a very simple way. We decided to develop it using descriptive language. The outcome was incredible, we are such great authors!
We have taken the lead in our reflection times this term. Co-operation is our value for June and we definitely did this, planning and delivering a fantastic session. We chose the story of Noah's Ark and discussed how they co-operated to build the ark. Then we played a co-operation game which was fun. Finally we ended with a prayer that we had written. We can't wait to arrange the next one.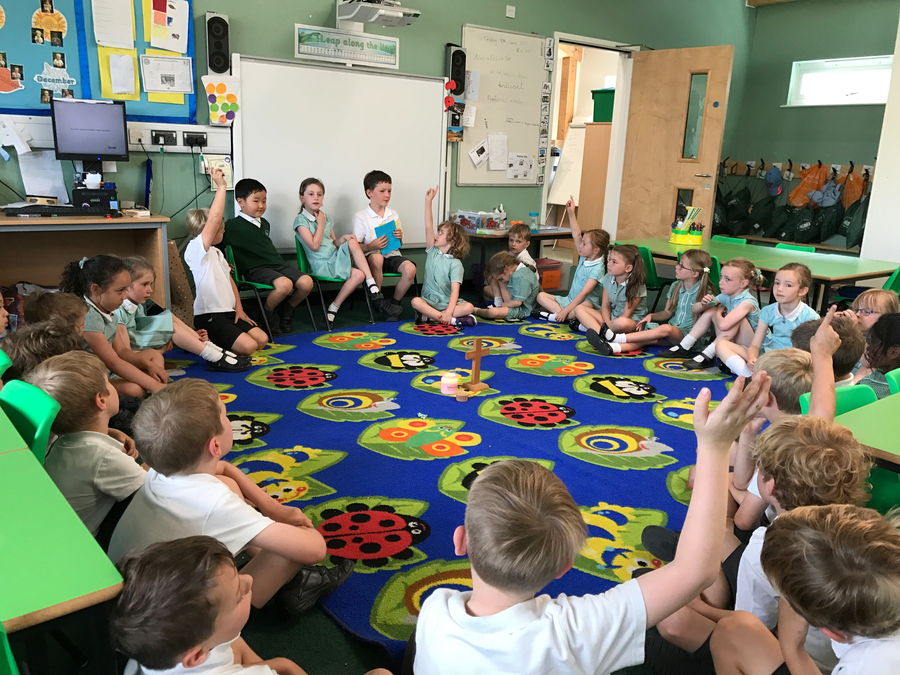 Year 1 have been busy planting wild flower seeds in their outdoor area. We are looking forward to learning all about them this term and seeing what grows there.
SUMMER TERM 1: Why do I like to be beside the seaside?
The Principle of Interdependence
We have been reading the story of 'The Lighthouse Keeper's Lunch' this term. We have written diaries as the characters, acted out the story and written dialogue. Then we designed and built our own lighthouses which look fantastic. At first we experimented to see how we could get a tube to attach to a base. We then discovered that cutting slits in the bottom would help us to do this and ensured that it stood up straight. We measured and cut our stripes, attaching windows and doors too. After that we created rocks out of scrunched up paper and painted our bases. Finally, we added our light to finish them off.
Year 1 have been exploring different fish that live around coastlines in the U.K. We looked carefully and sketched mackerel, pollock, sole, sea bass and red mullet. Then we got to hold and feel trout and sole. We linked the vesica shape of the fish, to the shape of shells, leaves and our eyes. Later on in the week we will be learning facts about British seaside fish and creating our own leaflets all about British seaside creatures
SPRING TERM 2: How is the Caribbean different from where we live?
The Principle of Oneness
Year One got off to a flying start this term by boarding their plane to the Caribbean. When they arrived there they went outside, visited the local market and tasted some of the delicious fruits grown there. We can't wait to find out more about this wonderful place.
In Maths we have been measuring capacity. We used our knowledge of halves and quarters to make a Caribbean fruit punch. First we planned our drinks by deciding how much of each fruit juice we would like. Then we measured on our cup where half and a quarter would be. Once we had made them we enjoyed drinking them. They tasted refreshing and fortunately we all measured accurately enough that none of the cups overflowed.
We had an amazing day for our Caribbean day to round off our learning this term. We started the day by watching a Caribbean carnival and then created our own headdresses. We also made a Caribbean fruit salad which involved chopping fruits very carefully. For lunch we had a delicious Caribbean curry with rice, sweet potato, coleslaw and a coconut muffin for pudding, all made by the wonderful cooks at school. In the afternoon we had a Carnival all together and tried limbo dancing. The teachers joined in too and we had a special guest visit from Mr Dunne! After that we danced to 'hot, hot, hot' and sang a Bob Marley song. The day ended with us eating our fruit salads with ice cream. The sun may not have shone but we certainly had lots of fun and laughter.
SPRING TERM 1: How has Learning in School Changed Since Victorian Times? The Principle of Interdependence
Please click the link for our curriculum map for this half term.
Curriculum Map Spring 1st Half Term 2017
For more information about this term please read our letter below
When the children arrived back at school this term they were slightly confused. The boys had to use one entrance and the girls another, then when they entered the classroom they were surprised to see the tables all in rows and no whiteboards but blackboards!! Year 1 had gone back in time to what school was like in the Victorian times. They chanted their times tables, practised copying handwriting and recited prayers and poems.
During History, the children have been learning about key evens in the Victorian era. As you can see below the children ordered events to make a timeline. We are looking forward to finding out more about learning in Victorian times and hope the teachers aren't too strict with us!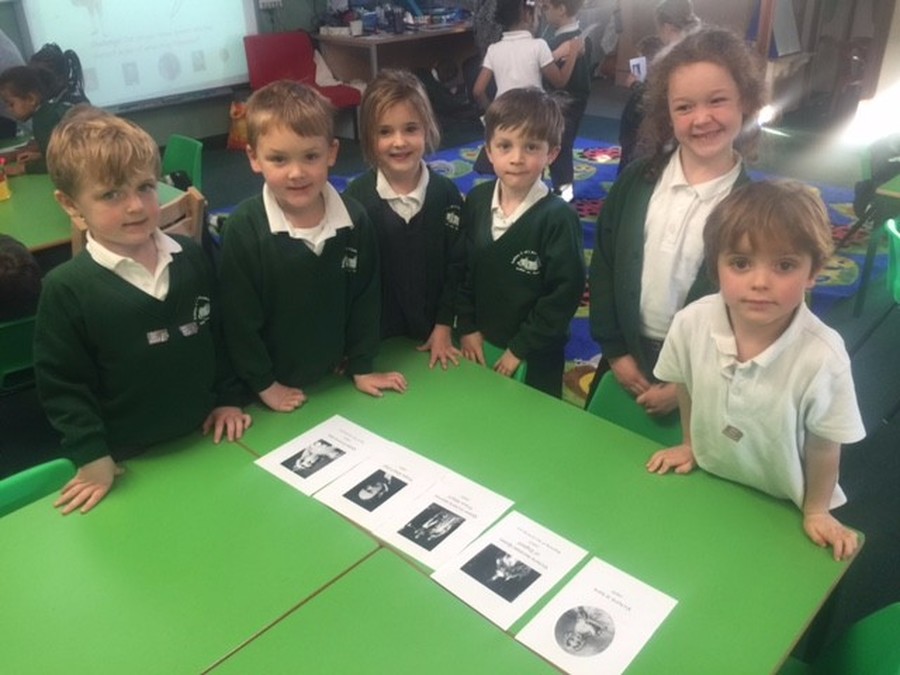 As the weather has been getting colder we have been exploring the ice in our outdoor area. We used it to make a beautiful spiral.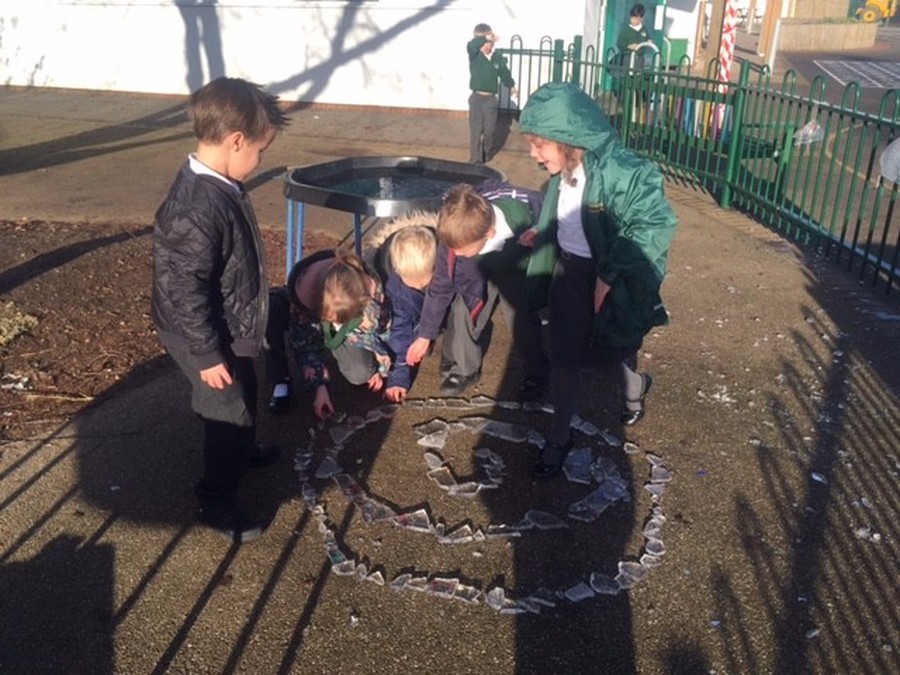 We have been learning how to weave and sew like the Victorians would have done. It has been great fun using big pieces of material to do BIG weaving outside.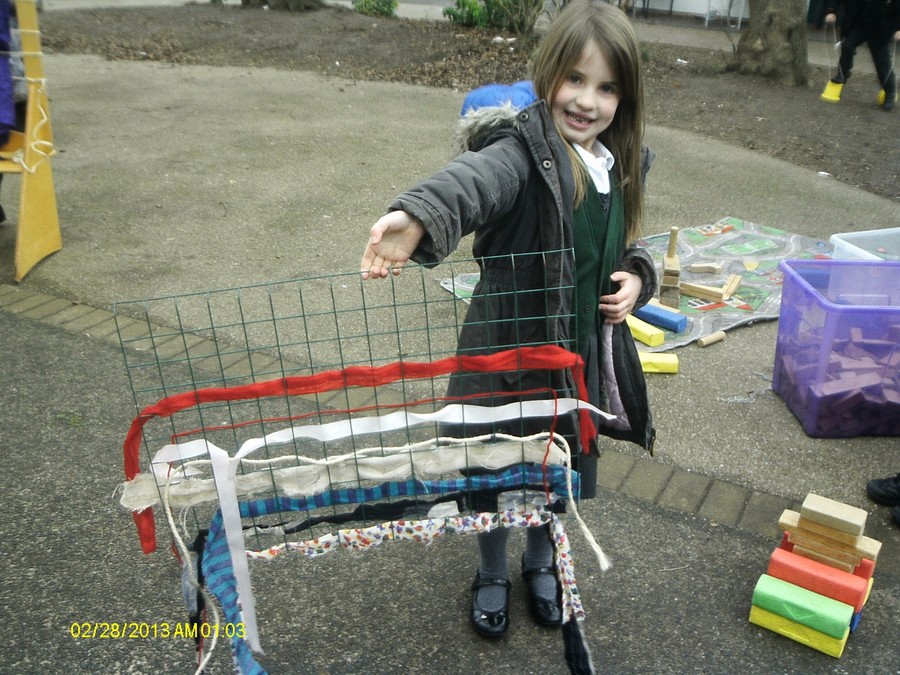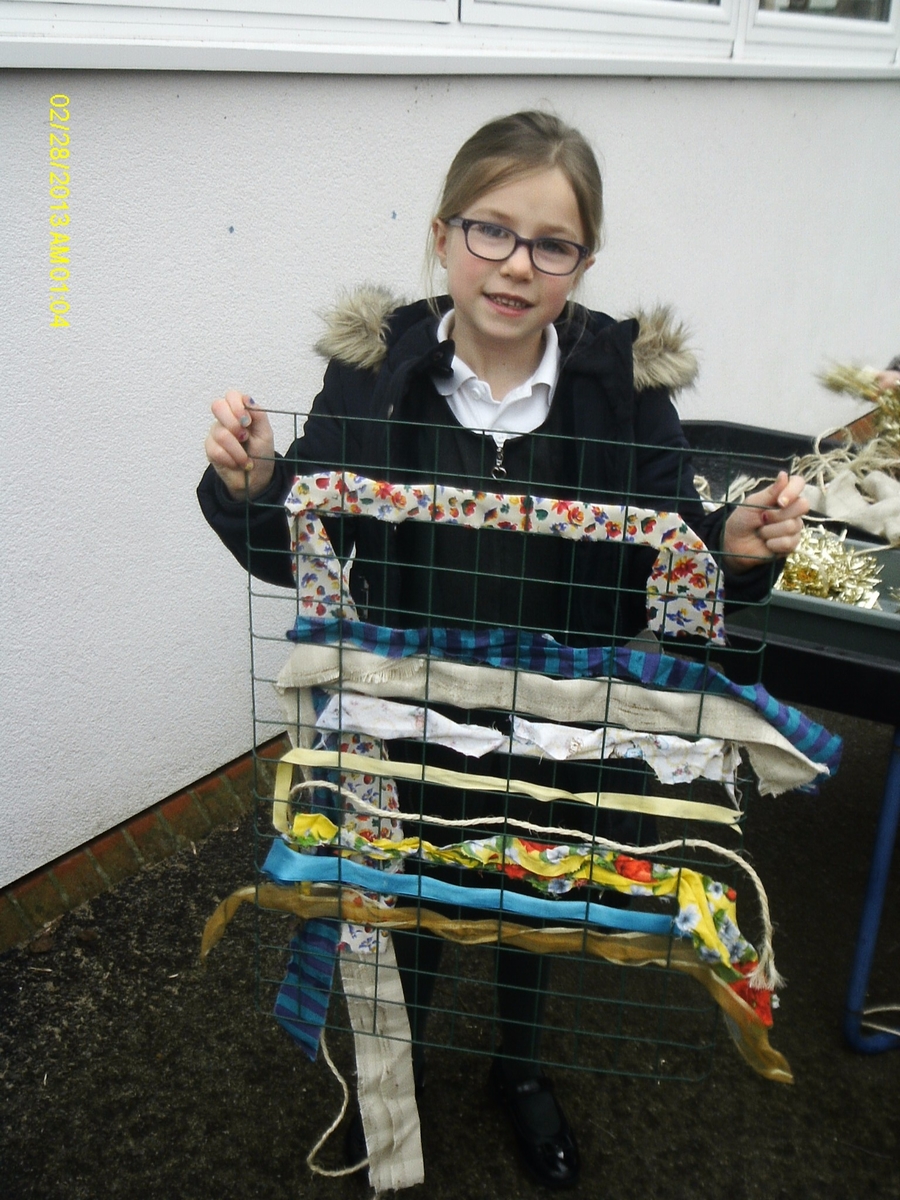 We had a wonderful time at Holly Lodge in Richmond Park for our Victorian Day. When we arrived the girls and boys had to line up separately and we were given a penny to give to the teacher to pay for our schooling. The teacher was quite strict and made sure we were on our best behaviour. We used slates to practice our writing and maths. Then we went outside to do some drill exercises. In the afternoon we experienced life as a Victorian child. We had to collect the hot water for washing, do some cleaning, lay the tables, wash clothes and do some cooking. T
For our Great Works we invited our Grandparents, relatives and friends to find out all about school life. We made books about our school that we read to our visitors. We then provided them with refreshments before asking them questions about their experiences of school. Some people brought in old school photos, toys and other artefacts. It was really interesting and an enjoyable event. Thank you to all our special guests for coming.
AUTUMN TERM 2: Have toys and games changed? The principle of Geometry
Autumn 2nd Half Term Curriculum Map
We were lucky enough to have a visit from Chertsey Museum this term. They showed us some old toys, how to use them and helped us to make our own old toy. We then made Thaumatropes (a spinning Victorian toy). It was so much fun and enabled us to understand what toys were like a long time ago.
In RE we have been learning about the Bible. We brought in our own special books to share with the class and then we found out that the Bible has 2 parts - the old and new testament. Mandy came in and told us two stories from each part of the Bible. We thought about where God was in the stories.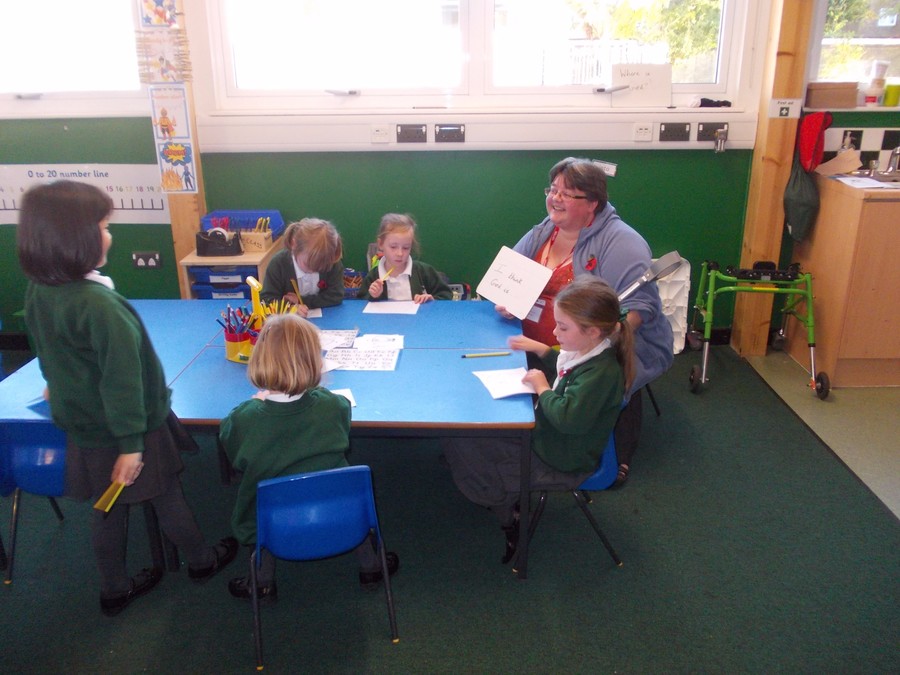 AUTUMN TERM 1: How can we be superheroes? The principle of Diversity
Autumn 1st Half Term Curriculum Map
Year 1 participated in Superhero training to see if they had the qualities it takes to be a superhero. They participated in physical challenges, learnt how to care for animals and brain busting puzzles! All of them achieved Superhero status and were awarded Superhero badges which they made a finger print on to show their unique ID.
The children have also been dressing up as Superheroes and writing about their special Superhero powers. They have been using capital letters, full stops as well as 'and' to extend their sentence.
We have been learning about senses this term and how important these are to superheroes. We have been exploring tastes, smells, the feel and look of fruit and vegetables. We then used these to print with. Look at our wonderful creations.
Year One celebrated their Great Work by being Superheroes for the day. This involved dressing up and helping with various jobs around the school such as - sharpening pencils, tidying up inside and outside, helping in the hall at lunchtime etc. The children had so much fun and reflected on how they felt at the end of the day. The children said that they felt happy, pleased and proud of themselves and recognised what a wonderful feeling they got when they saw that helping others made a difference. Excellent job Year One.
_______________________________________________
Information for

pa

rents
Maths progressions in calculations
Click on the above links to see a PowerPoint for progression of maths skills at Ashley school. These will be useful so that you are able to understand the methods your child uses, which may be different to the methods you use, so that you can best support them. Please ask your child which method they use as it will differ for each child. The key is that they are comfortable and secure in the method they use.