Welcome to Reception
Rabbit Class is taught by Miss Luxford and is supported by Miss Maybury.
Squirrel Class is taught by Mrs Spencer and is supported by Mrs Brooks.
Hedgehog Class is taught by Mrs Cookman (Mon-Weds pm) and Mrs Atkinson (Weds am-Fri), and is supported by Mrs Faghihi.
There is also additional information for parents at the bottom of this page.
SUMMER TERM 2 - What lives outside our classroom door?
INVESTIGATION WEEK
We have kicked off our final half term with Investigation Week! In Reception, we have been exploring the science of colour.
We have been colour mixing, colour separating (chromatography), absorption of colour through flowers, and finally making colourful lava lamps.
Children have been using some fantastic scientific language and they have been very equisitive, asking lots of questions and testing out their theories.
We finished the week with everyone dressing up as a scientist! We had nurses, doctors, inventors, astronauts and lots of crazy haired chemists!
Take a look at our photos below!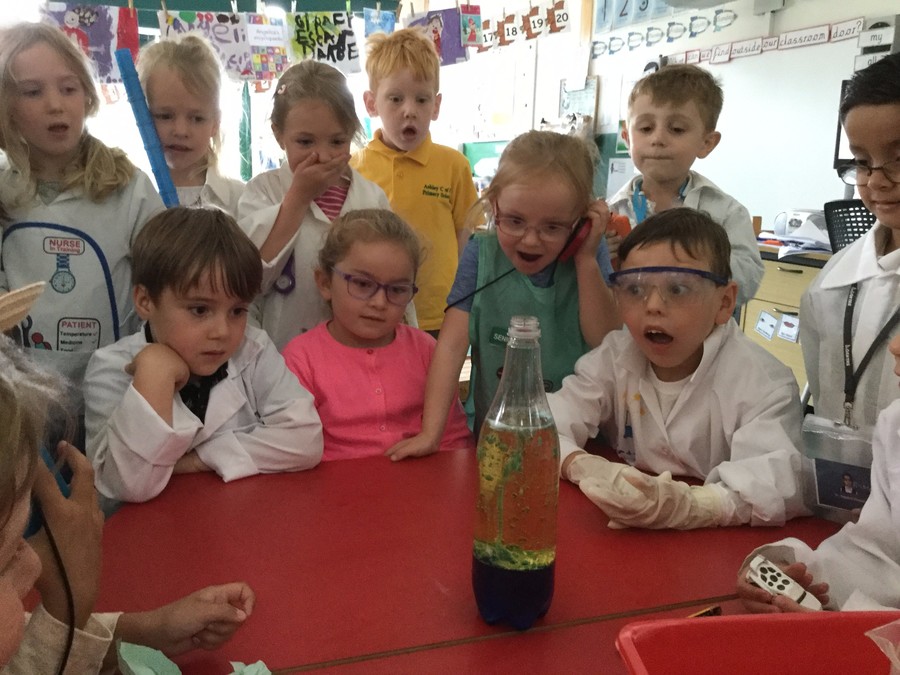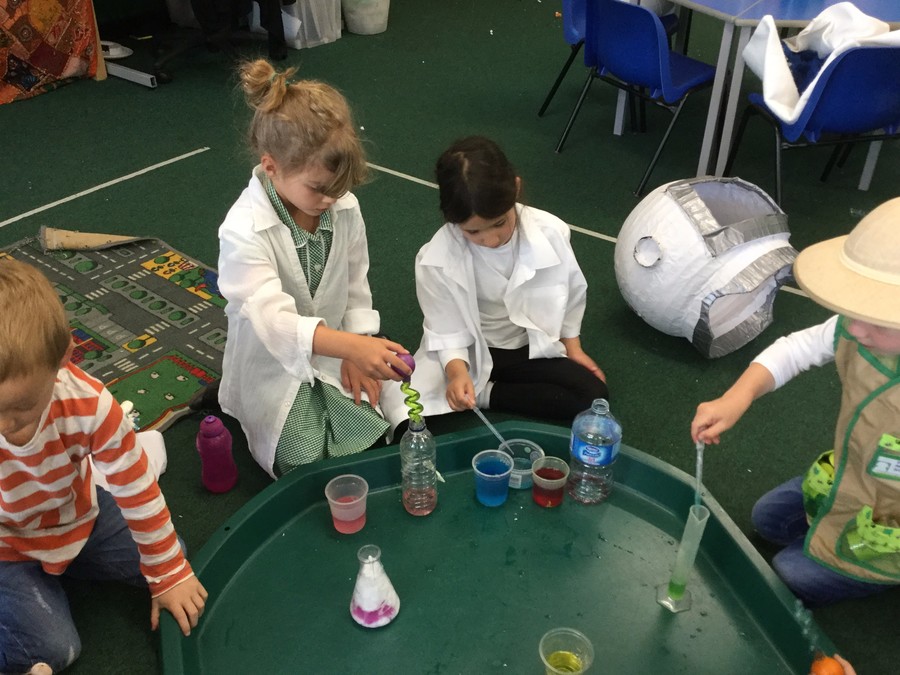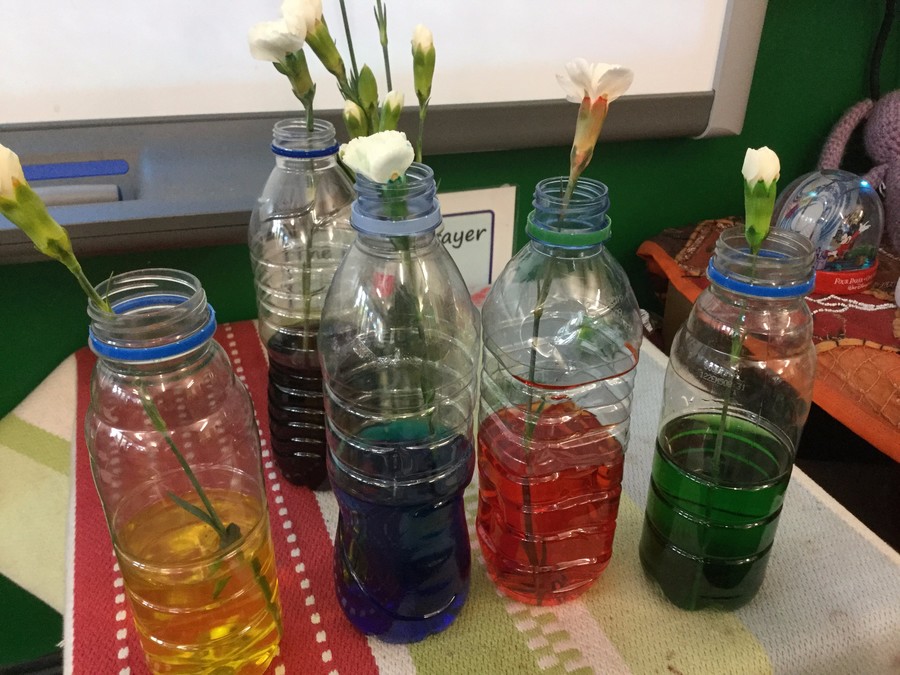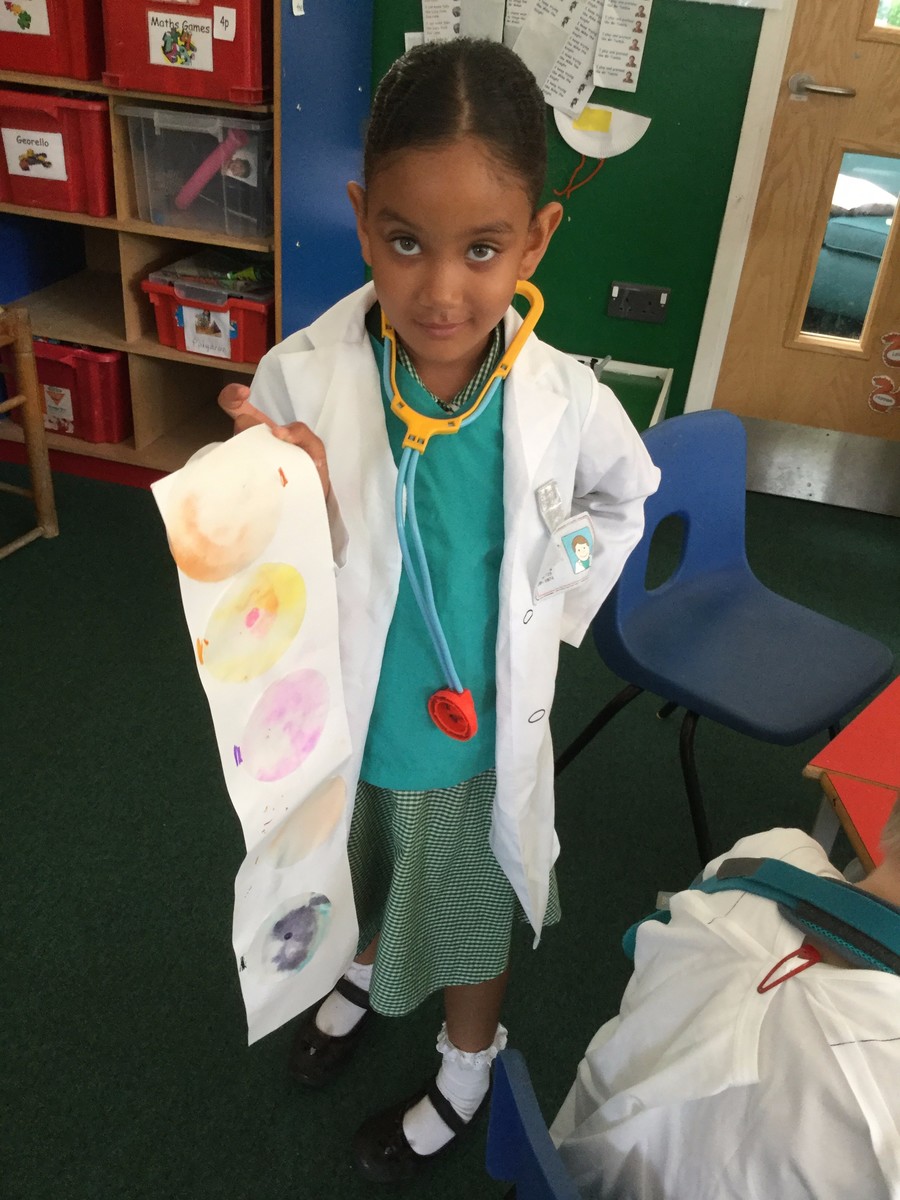 In our first 4 weeks will we will be discovering the beauty of the natural world around us. We will be focussing mainly on the living creatures that live within our school grounds but will also visit Nower Wood to find out about a different habitat.
The last 2 whole weeks will be delving into the fantasy land of pirate adventures. We will embark on treasure hunts and learn how to stay safe around water.
During our final week we will focus wholly on our upcoming transition to Year 1. We will meet our new class teacher and think about any questions we have about the new chapter of our school life.
SUMMER TERM 1 - Which stories do we love and why?
As part of our learning around 'The Gingerbread Man' story we decided to design and make a boat so that any future gingerbread men would not get eaten by a fox. We looked at lots of different materials and tested to see which ones were waterproof and which ones weren't. We tested our boats in the water to find out if they kept the gingerbread man dry and if he stayed dry we were allowed to eat him. Poor gingerbread man!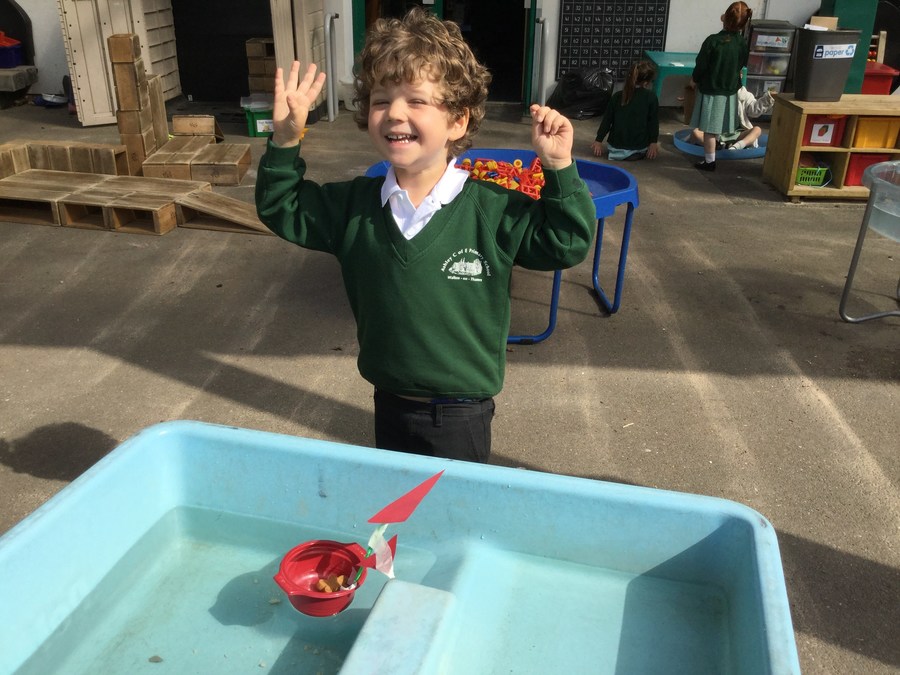 SUMMER TERM 1 - Which stories do we love and why?
This half term we are looking forward to sharing some of our favourite stories, revisiting some well known tales and discovering new ones.
This week our story focus will be Julia Donaldson's 'Charlie Cook's Favourite Book'. In the coming weeks we will also be looking at the following stories to inspire our learning; The Gingerbread Man, The Ugly Duckling, The Elves and the Shoemaker, The Enormous Turnip and The Queen's Hat.
SPRING TERM 2 - What can we learn about animals that live on the farm?
06.03.17 Philosophy 4 Children
The children have really been enjoying our P4C sessions this half term. So far we have discussed whether it would be a good or bad idea if it rained chocolate, if you stayed up all night, and this week we had a great debate about whether it would be a good or bad thing if there were no grown ups! This sparked a lot of conversation between all of the children with the classes starting off with quite an equal split. The children discussed the good and bad points and afterwards they voted again to see if anyone had changed their minds. See the picture below and read what some of Rabbit Class thought!
We have had babies!
We now have 10 new additions to our Reception family who all hatched safely at the end of last week. They were transferred to their brooder box once they were dry and have had a lovely holiday at Miss Luxford's house over the weekend. The children have been very caring towards the chicks and have made posters to help other people know how to look after the chicks. What an exciting time for us all!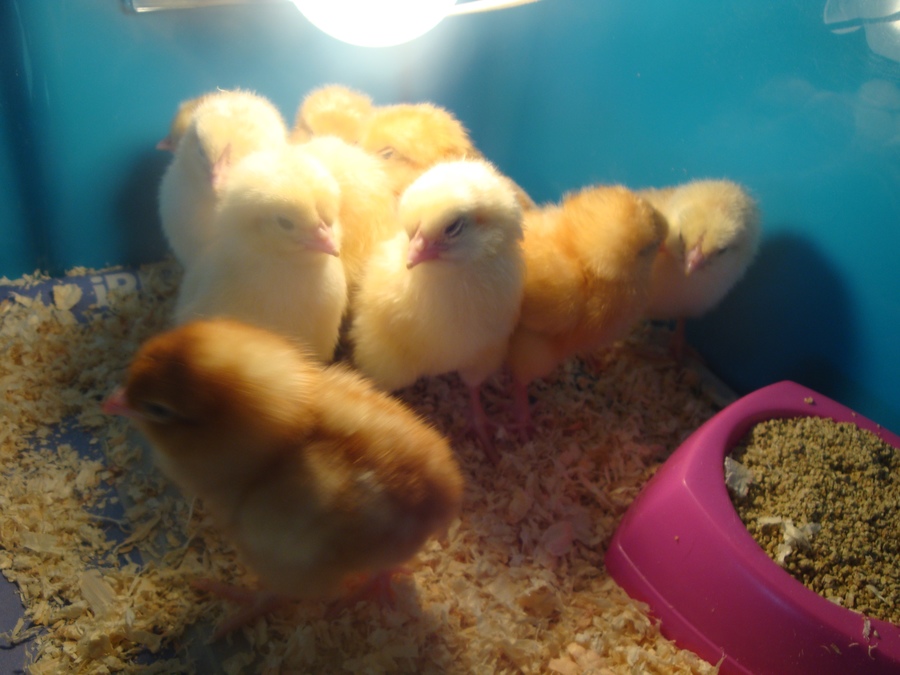 Do not lean on the table.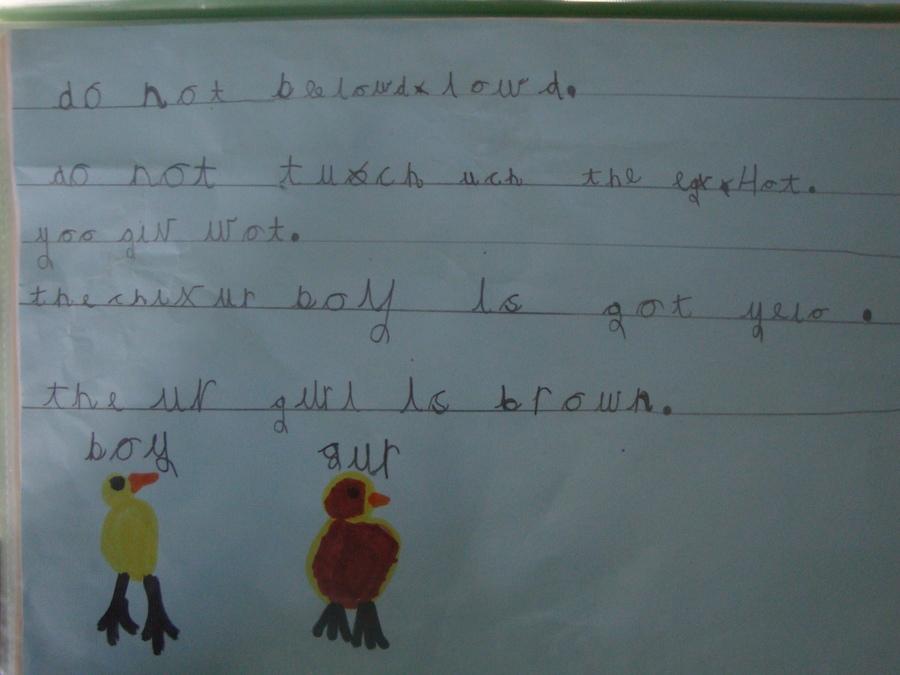 SPRING TERM 2 - What can we learn about animals that live on the farm?
Harmony Principle - Life Cycles
We are really excited about this half term. The weather is warming up and things are starting to grow and change around us. This morning (Mon 20th Feb) we had a delivery of 10 eggs in an incubator. The eggs are on day 19 of their growing time so we expect to have some chicks in the next few days! We are all very excited about it and can't wait to meet them! Keep an eye out for an update later this week.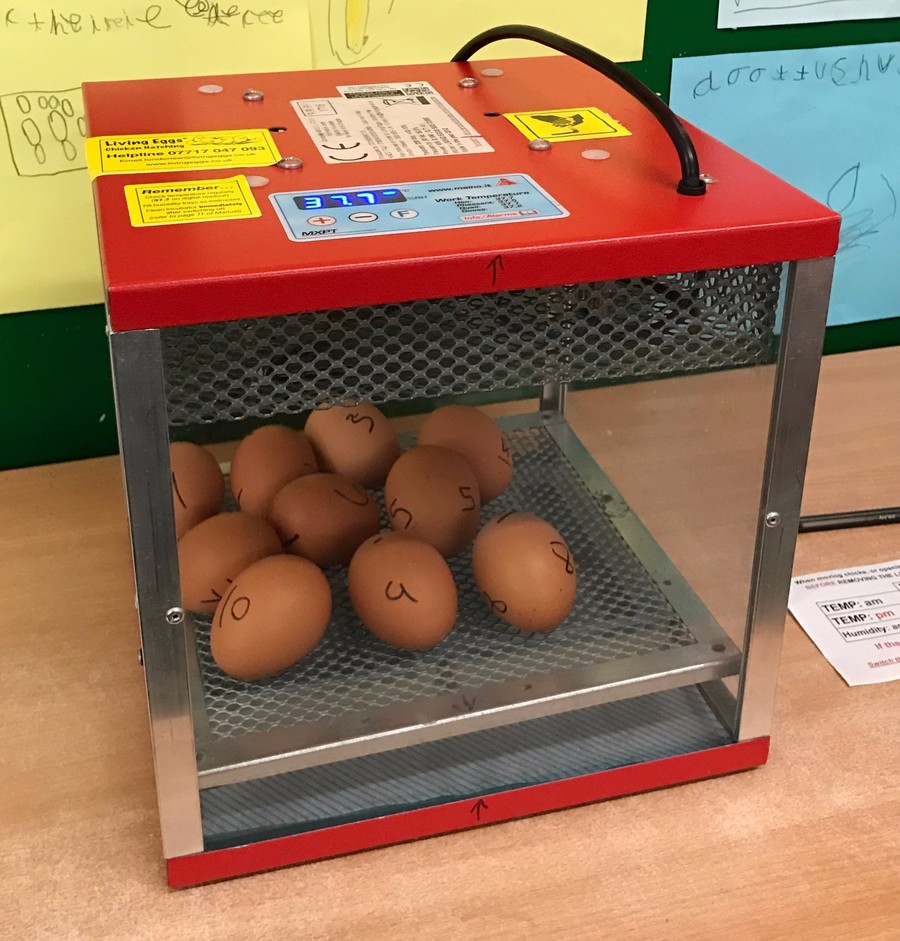 Spring Term 1 (Weeks 3,4 and 5) - How do we get there?
We are learning about various forms of transport and how we can travel to places near and far in the most eco-friendly way possible. Exploring how to travel in the air, on land and on sea reminded us of all the interesting vehicles out there! We brought our scooters in from home and practised safe travelling in our playground. We made posters and road signs to remind people about road safety.
We are also remembering not just what we are learning but how we learn and our characters are helping us. We keep trying like Mike the Knight and find out and explore like the Octonauts!
Part of our maths learning has been about weight and using language such as 'heaviest', 'lightest' and 'balance'. We have had great fun finding out whose water bottle is heaviest and exploring how we could make them lighter.
Chinese New Year!
Last Friday we celebrated Chinese New Year a day early and had a fantastic time. We cooked and tasted noodles, using real chopsticks and made a dragon to use in a traditional dragon dance. We said hello to each other in Chinese - "Ni Hao".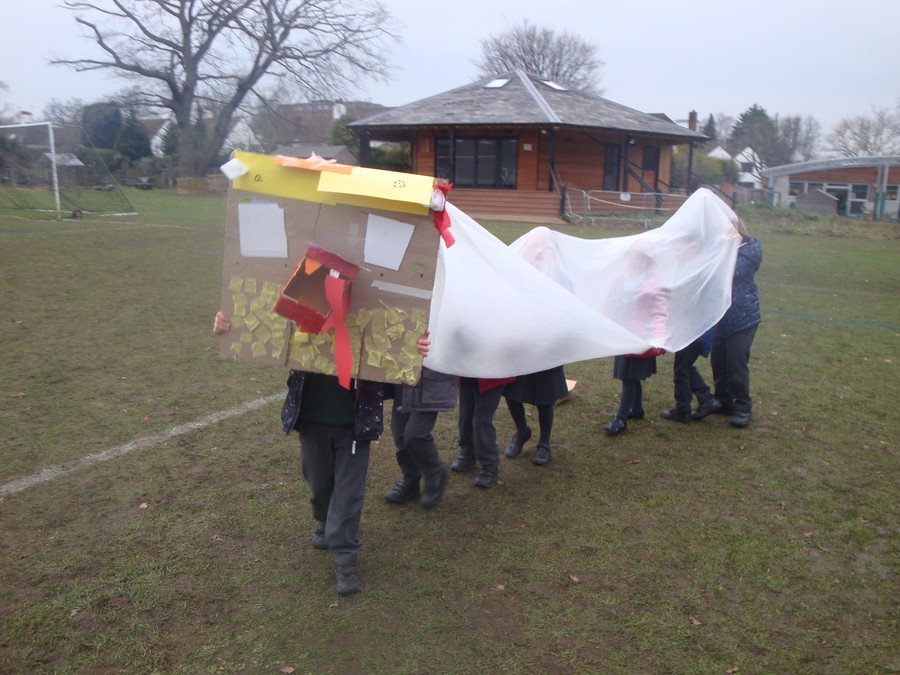 Spring Term 1 (Weeks 1 and 2) - Zoom to the moon! What will we see? Harmony Principle - Geometry
Week 2 - This week we have been learning about the planets. We have been thinking about the way they all spin and orbit the sun and how this creates night and day. We have produced some lovely art work of the solar system and they will be on display at the end of the week in the corridor by the school office.
We have also been learning how to count one less this week. We've learnt some great space songs to do with one less, like '10 little men in a flying sauce'. Maybe you should ask us to teach you the songs at home!
Week 1 - what a week we have had! The children are so engaged in this learning enquiry and it is fascinating to hear how many facts they already know about Space and beyond. We have been having lots of discussions and our UTW skills are getting very good. The children are becoming very articulate in their explanations and they are loving being fact finders!
What are we up to?
This half term we are learning all about the wonders of Space! In our first week we will be thinking all about the moon and astronauts. In the second week we will be focussing on the planets, and in the third week we will be focussing on aliens and using our imaginations!
As we become more familiar with the Harmony principles, our focus this half term will be heavily on the Geometry of Space. We will be looking at stars, and orbits, and the different shapes that are in the atmosphere.
Autumn 2: Where are the bears?
Goldilocks and the Three Bears
This week is the second of our enquiry about bears and we have been thinking about 3 bears in particular (plus a visitor that they had at their house!)
We couldn't believe it when we came in on Monday to discover that the police had roped off an area of our classroom because someone had eaten some porridge and broken a chair! We spent the rest of the week investigating and we planned and made new chairs for baby bear. We also got to make and eat porridge and it was very interesting learning about the changes in the porridge oats. They cant be changed back once you have cooked them!
We're going on a bear hunt!
This half term we will have three mini learning enquiries, starting with 'Where are the bears?'.
We have opened our first week by 'going on a bearhunt'. Can you guess which story we might be working with?
We've been making bear masks, writing sentences about bears using the words 'it, is, in, the, to', we went on a hunt and found bears on the field! We have been so busy and its only the first week back!
AUTUMN TERM 1: What makes me special? The Principle of Diversity
This week we have been thinking about our learning enquiry 'What makes me special?. We have looked at the story of Elmer who was special but also different and unique. We have linked lots of our learning to this story and have really thought about our principle of diversity. Next week we are going to share our 'Special boxes' which contain 3 items that we feel makes us special. We will also be practising our speaking skills as we present these boxes to the class.
We have had a great first few weeks in Reception and are really settling into the routines of the school day. We've loved going on tours around the school, getting to know all of the staff, and most importantly making new friends amongst the 90 of us!
Take a look at some of the things we've been up to!
We are happy to see the children in Hedgehogs, Rabbits and Squirrels settling into their new classes really well. Here is our Welcome Letter which contains useful information regarding some of our routines in Reception.
We have started our Learning Enquiry for this half term and are finding out about all the things that make us special. Have a look at our enquiry web to discover more about our learning.
____________________________________________________
Information for parents
Maths progressions in calculations
Welcome to Reception - Thursday 6th October
Click on the above link to see a PowerPoint for progression of maths skills at Ashley school. These will be useful so that you are able to understand the methods your child uses, which may be different to the methods you use, so that you can best support them. Please ask your child which method they use as it will differ for each child. The key is that they are comfortable and secure in the method they use.
If you were unable to attend the 'Welcome to Reception' evening last week, the PowerPoint used can be found by clicking the link above. If you have any questions about it please see your child's class teacher.