Welcome to Reception
Rabbit Class is taught by Miss Luxford and is supported by Miss Maybury.
Squirrel Class is taught by Mrs Spencer and is supported by Mrs Faghihi.
Hedgehog Class is taught by Mrs Cookman (Mon-Weds pm) and Mrs Atkinson (Weds am-Fri), and is supported by Mrs Holt.
There is also additional information for parents at the bottom of this page.
Summer 1 - Which stories do we love and why?
We are very excited about our new learning enquiry. We have already shared our favourite stories with each other and have looked in detail at the stories 'Charlie Cook's Favourite Book' by Julia Donaldson and the traditional tale 'The Gingerbread Man'.
This week we are making boats for the gingerbread man and we will test them on the water to explore floating and (hopefully not) sinking! We are enjoying learning new techniques to help our storytelling skills such as hot seating and drama games.
Spring 2 - What can we learn about animals that live on the farm?
We also enjoyed a visit from Mill House farm. They brought in lots of animals for us to see. The pigs liked digging in our school field!
This half term we are learning all about farm animals. We started the enquiry off with a delivery of an incubator containing 10 eggs! We have made posters to remind people not to unplug the incubator and to be careful with the eggs.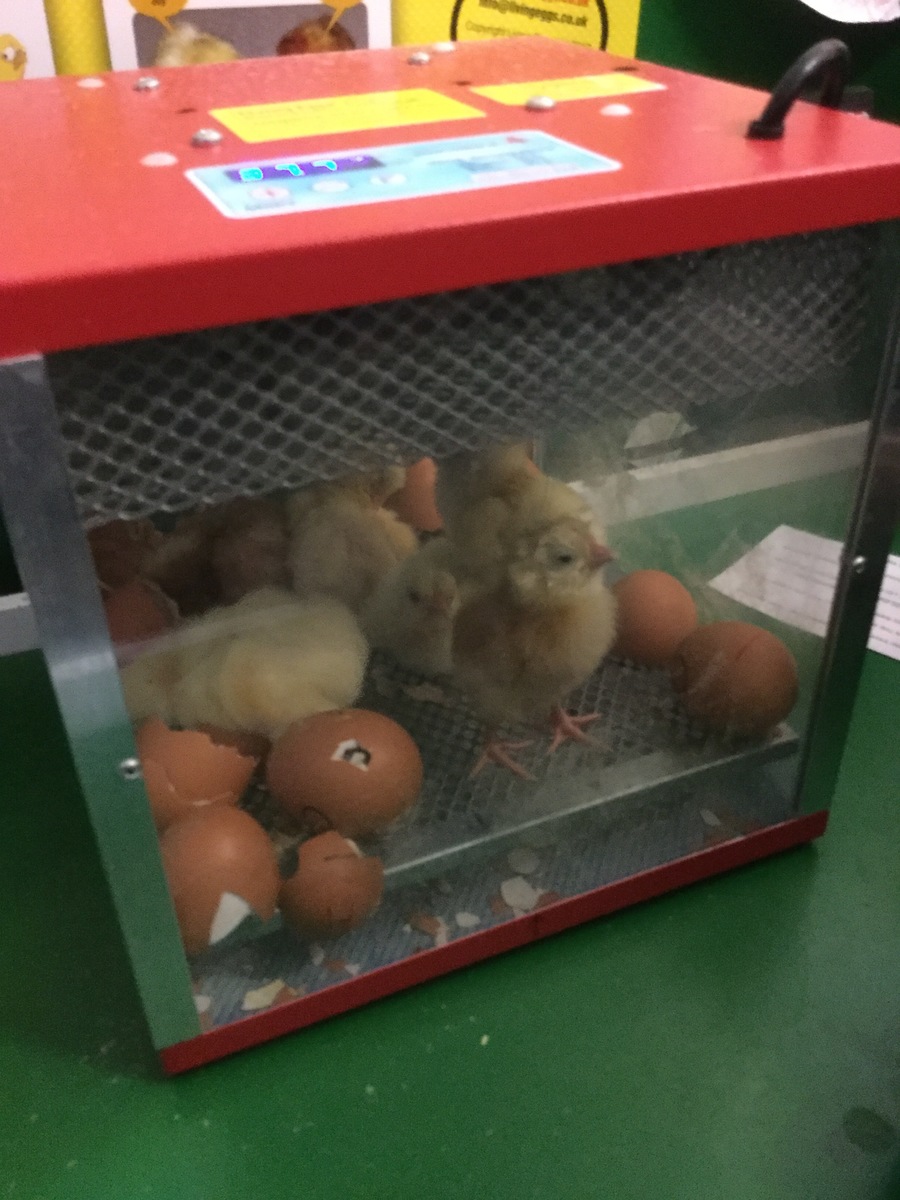 Spring 1 Pt 2 - How do we get there?
Great Works
This week we have been preparing for our great works presentation on Friday. We will be presenting to the rest of our class how we feel our learning has improved since we started school. We have been looking in our 'special folders' which contain a culmination of our best learning evidence to remind ourselves of how and what we have learnt so far. These learning journey 'special folders' will be available for parents to see at parents evening.
Travel Surveys
We have tallied our local traffic and conducted travel surveys to find out how people travel to school. We have been learning to count in groups of 5s and 10s to help us collate this information more quickly.
Look at our fantastic digraph scarecrow. This is a typical example of child initiated learning!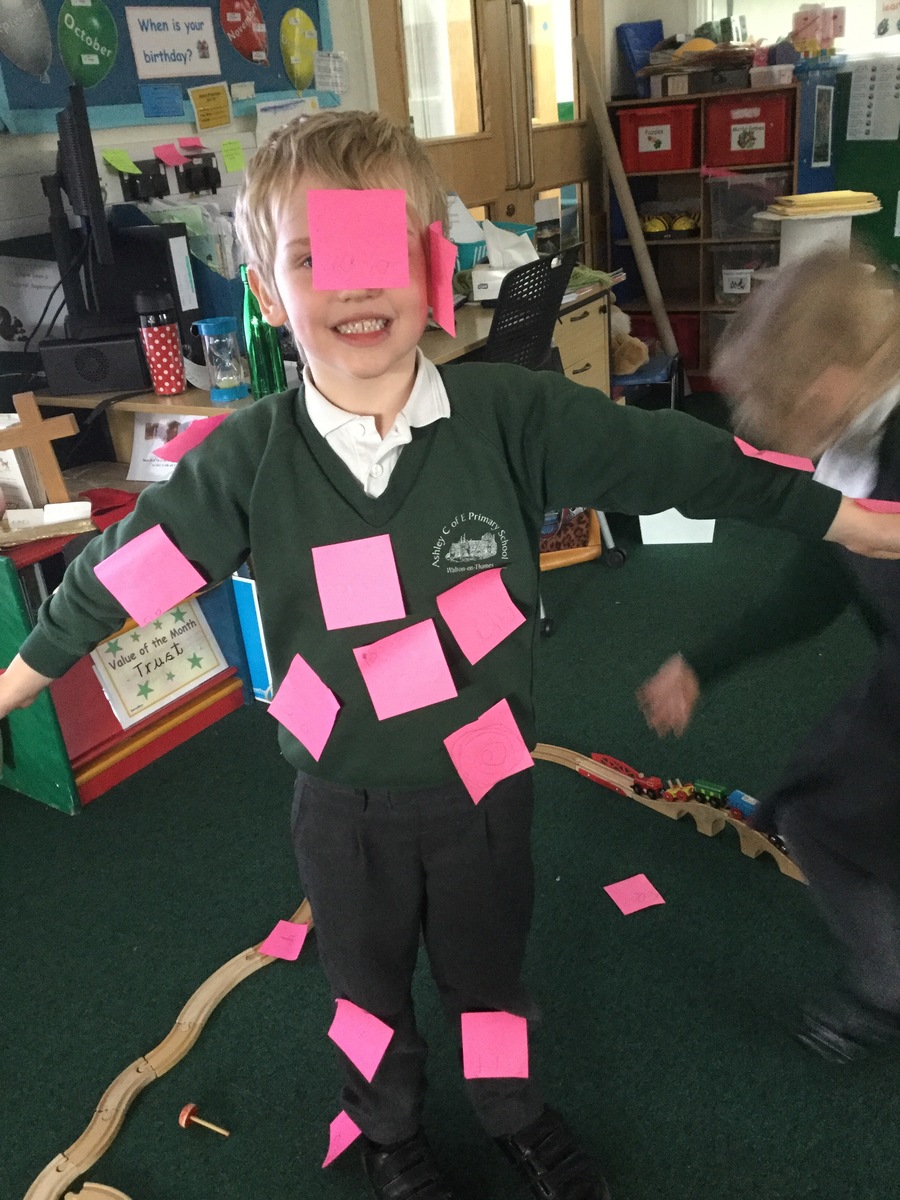 This week we have started our second learning enquiry of the half term. We are thinking about different ways to travel. We started the week by bringing in our own vehicles, and we thought about how we make them move. We spoke about forces and how we use our bodies to provide power and movement.
We also had a visit from a real pilot who showed us amazing pictures and told us lots of information about flying a plane.
Spring 1 - Zoom to the moon! What will we see? Principle of Geometry
Forest School Update
In forest school this half term, we have been focusing on looking after the birds. We always see Robbie the resident Robin when we are in the Forest School Garden so we decided to make lots of things to make him happy! We have made bird feeders. This involved counting lots of cereal hoops and comparing lengths to make sure they fit on the wire and the tree. The following week we built bird baths in the ground and experimented with natural resources to make the base of the bath hold water. When we went back this week, we saw Robbie using one of them!
This week we continued to develop our learning of shape and geometry, focusing on the Fibonacci Spiral. We looked at the spiral on the playground and discussed what natural things have a Fibonacci spiral on them in our world. We came up with a snail, a sea horse tail, milky way, a curled up snake and many more! We also brought some spiral shapes back to the classroom to have a look at them under a microscope.
Week 2
We have been very creative this half term. We have been making 3D planets using papier mache, rockets using recycled materials, rocket pictures using a variety of 2D shapes and planets using splatter techniques! We have also had a visit from a class alien who became stranded when he landed and crashed in our classrooms. We created funny alien name cards for him and we designed spaceships for him to choose from so that he could get safely back to the moon!
Week 1
Over the last few weeks we have been exploring the wonders of space. We have looked at the planets, rockets, aliens and more! We've even learnt that galaxies are spiral shaped just like lots of things around us.
We have been exploring shape a lot through this enquiry as we have also been looking at stars and constellations.
We spent the first week looking at the story of Whatever Next! By Jill Murphy. We made rockets out of boxes and wrote a wish list of what we would take to the moon - come and look in the corridor in the main building at our amazing space themed displays!
CHRISTMAS!
What a few weeks it has been! From our Christmas show to our first service at Church - and not to mention the glitter everywhere!
We have had a fantastic first term in Reception and our teachers are so proud of how independent we are becoming.
Take a look below at what we've been up to over the last few weeks!
MERRY CHRISTMAS AND A HAPPY NEW YEAR!
AUTUMN TERM 2: Where are the bears? The Principle of Geometry
Well, what a week it has been! This week has been the final week of our learning enquiry 'Where are the bears?' and we have had SO much fun!
We started the week off with a visit from children from Year 3 who learnt how to be bee keepers last year! They told us all about the bees and how they made the honey. Thank you to the children for speaking so clearly and articulately to our reception children!
Rabbit Class made their 3 bears porridge on Monday and Miss Luxford was pleased to see every single child try it - with most polishing off their entire bowl! The children weighed out the ingredients and stirred them on the hob (and they even washed up after themselves!).
Thursday was equally exciting as the children brought in their teddy bears ready for a teddy bear sleepover. Little did they know that when they tucked them in before home time, that the bears would soon be getting up to mischief in the classrooms and all around the school! The children were very excited to check the 'footage' from the 'security cameras' the next day and squealed with excitement when they found out what their bears had been up to.
After a successful sleepover, we have rounded the week off with our Teddy Bear Picnic, including honey sandwiches (made by the children themselves), teddy bear crisps, bear hats, and lots of bear themed games. It has been a fantastic week of learning and we can't wait to see what our next enquiry has in store!
FOREST SCHOOL
We are two weeks into our new forest school program and it has been a great success so far (and the weather has been kind!). We have been on bear hunts, built new chairs for baby bear, built houses with beds in for Mr Bear in Peace At Last, and listened to the sounds around us! Take a look below. Thanks to our parent volunteers who help make these sessions happen!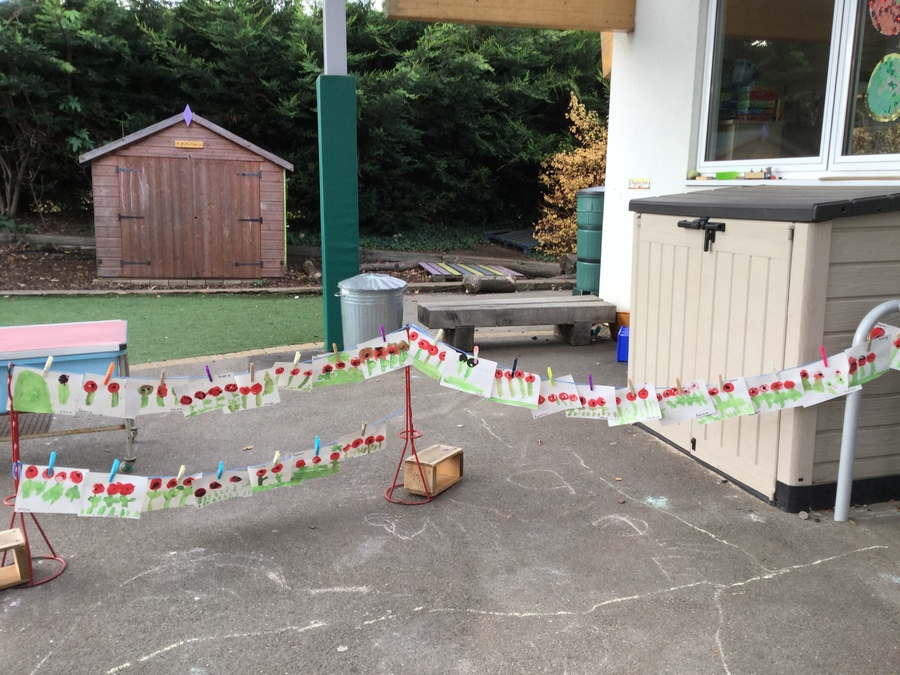 On Friday the children in reception learnt about Remembrance Day in an age appropriate way and showed their respect by partaking in a 2 minute silence at 11am. All classes created some poppy inspired art. Here is Hedgehog Class' poppy exhibition.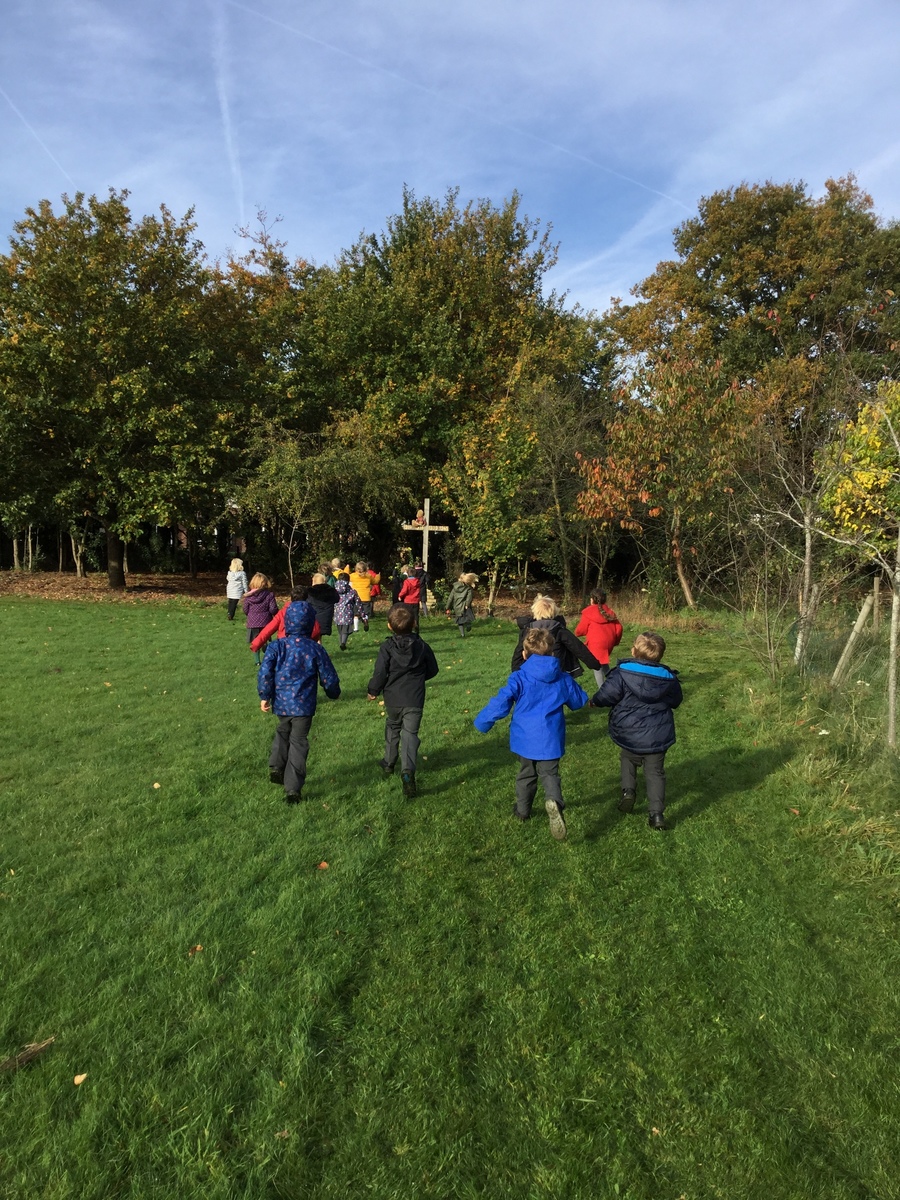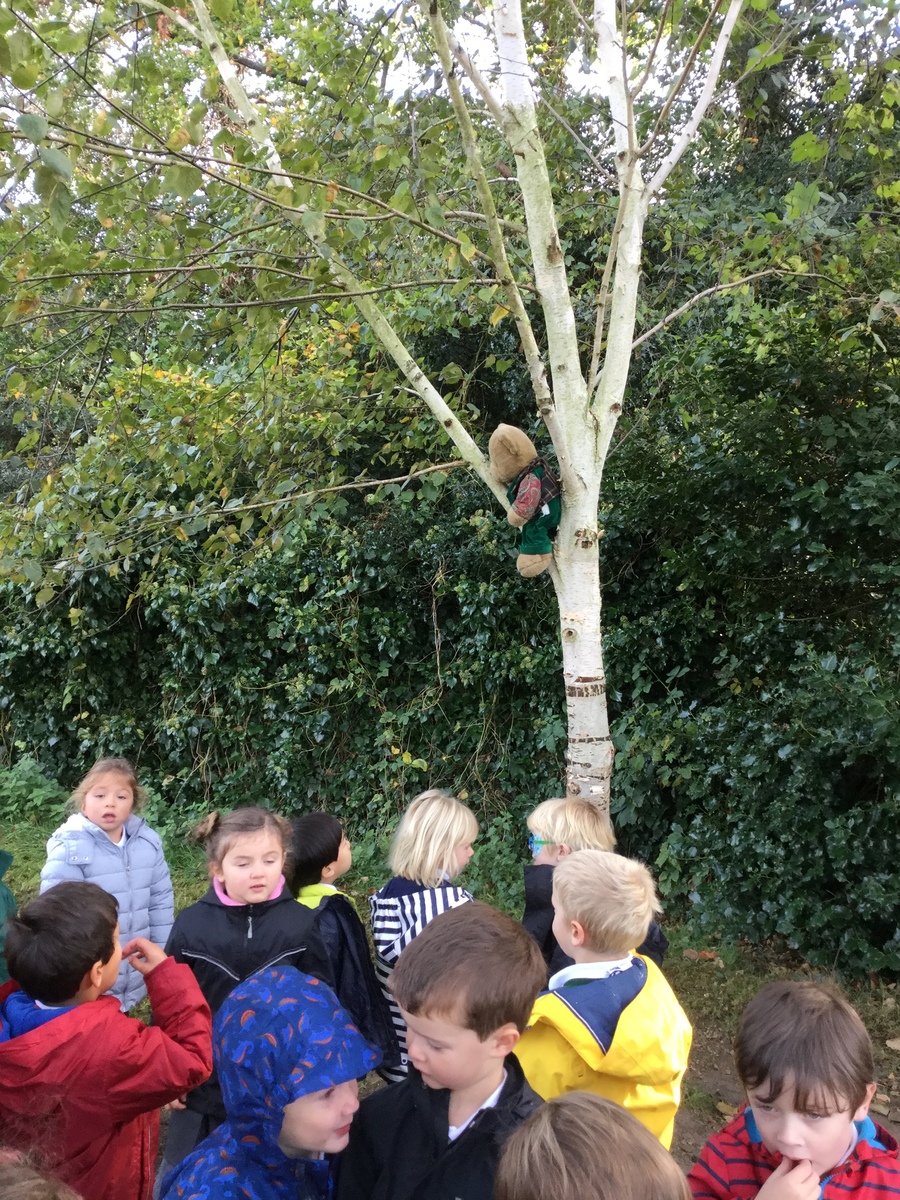 We began our learning enquiry by going on a bear hunt within our school environment. Those cheeky bears were hiding all over the place!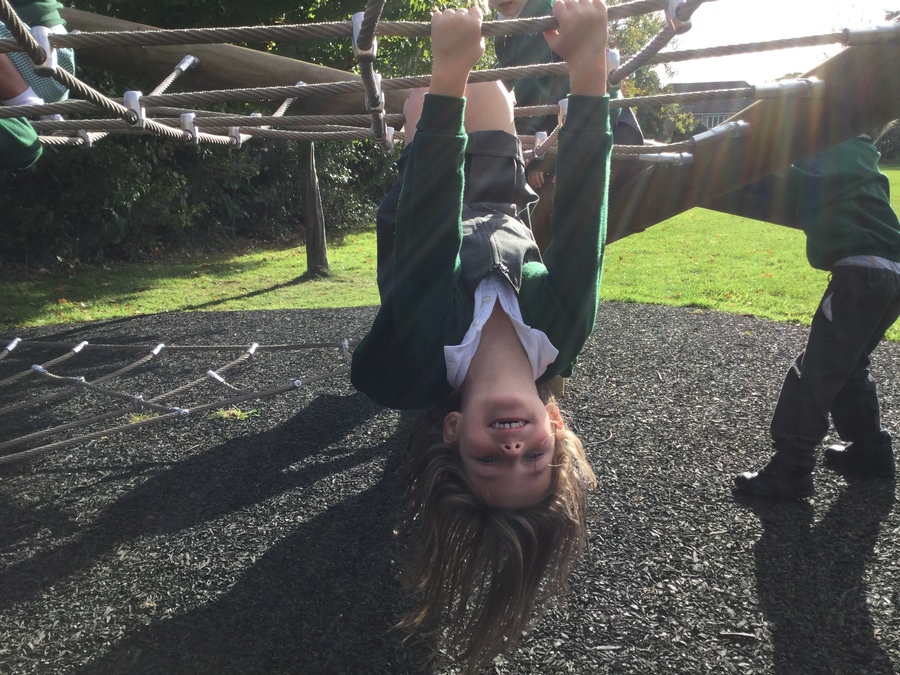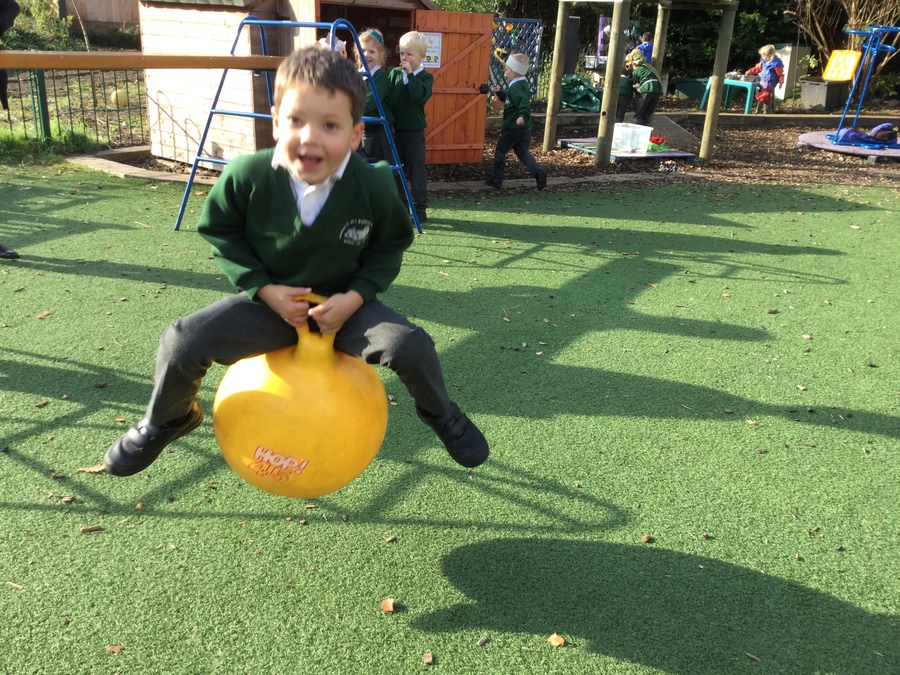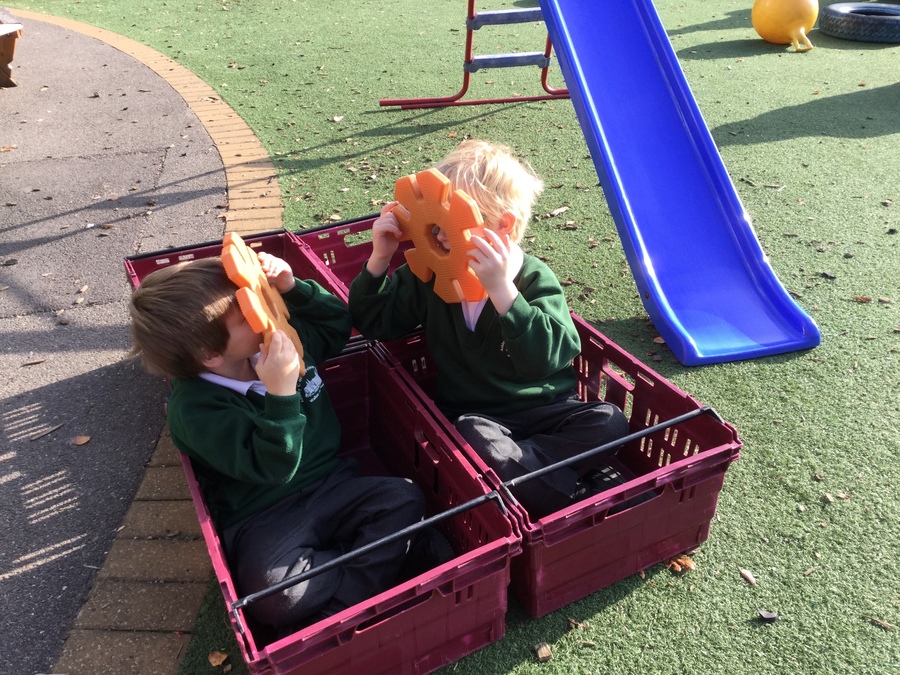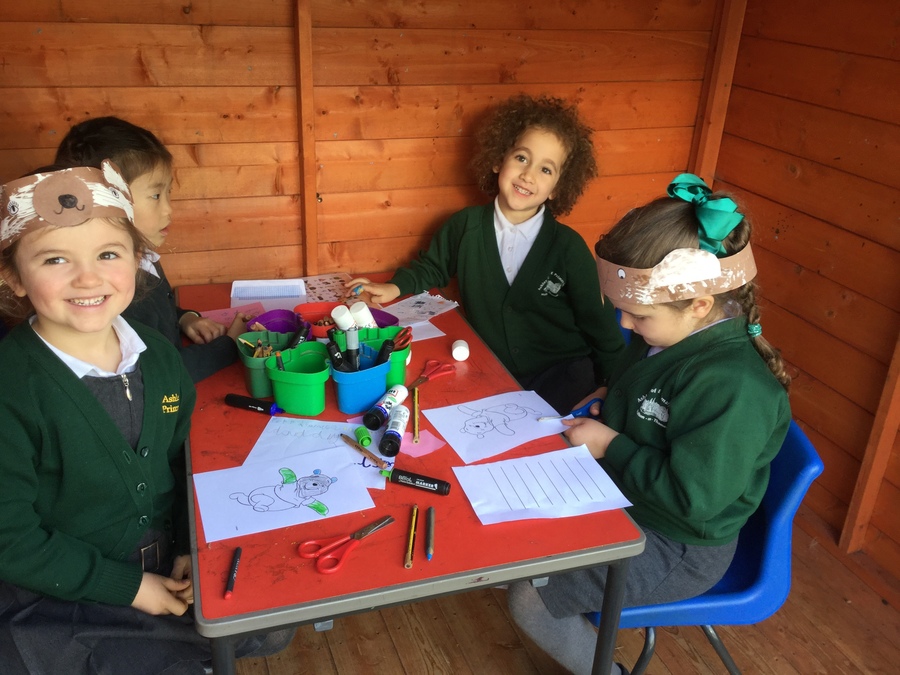 Enjoying the winter sunshine in our outdoor learning area.
AUTUMN TERM 1: What makes me special? The Principle of Diversity
Harvest
We have been learning about harvesting food during autumn. Look at our carrots that show our harmony principle of diversity. They come in all shapes and sizes....just like us!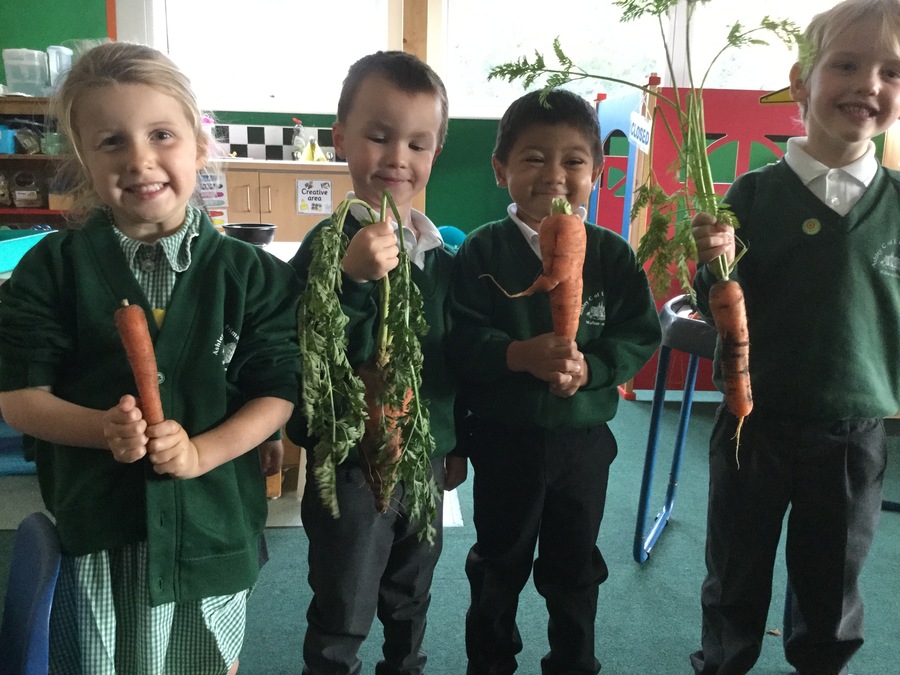 Special Boxes
The children have amazed us this week with their confidence in presenting their boxes of items that show what makes them special. Well done everyone!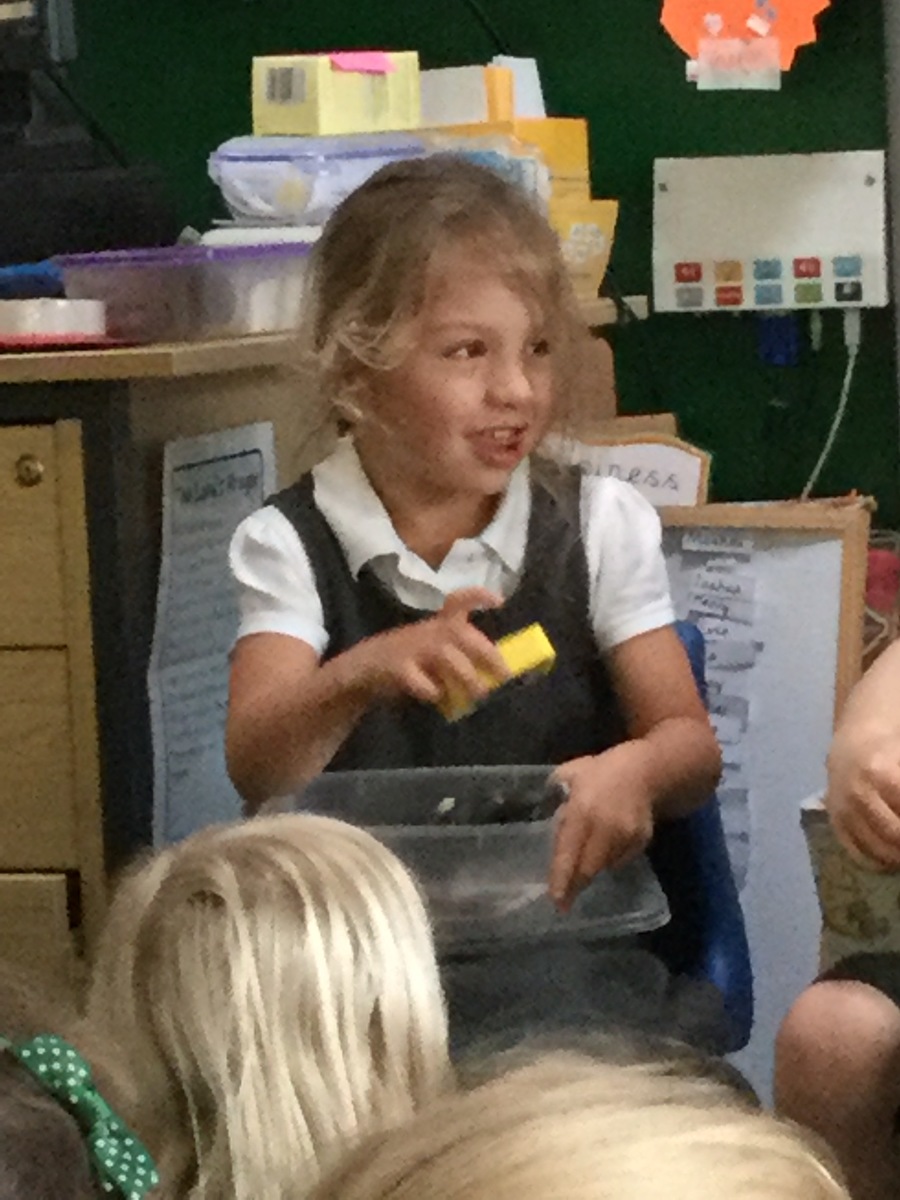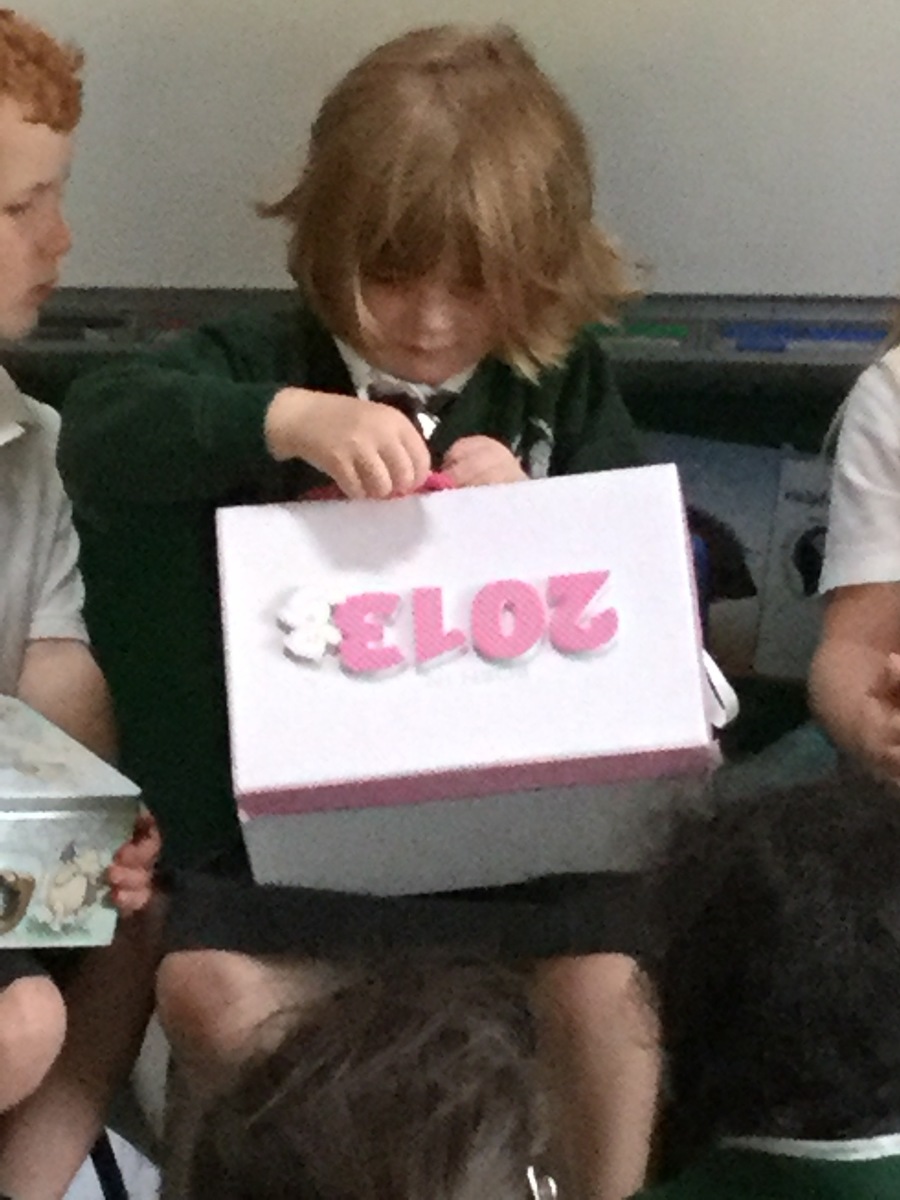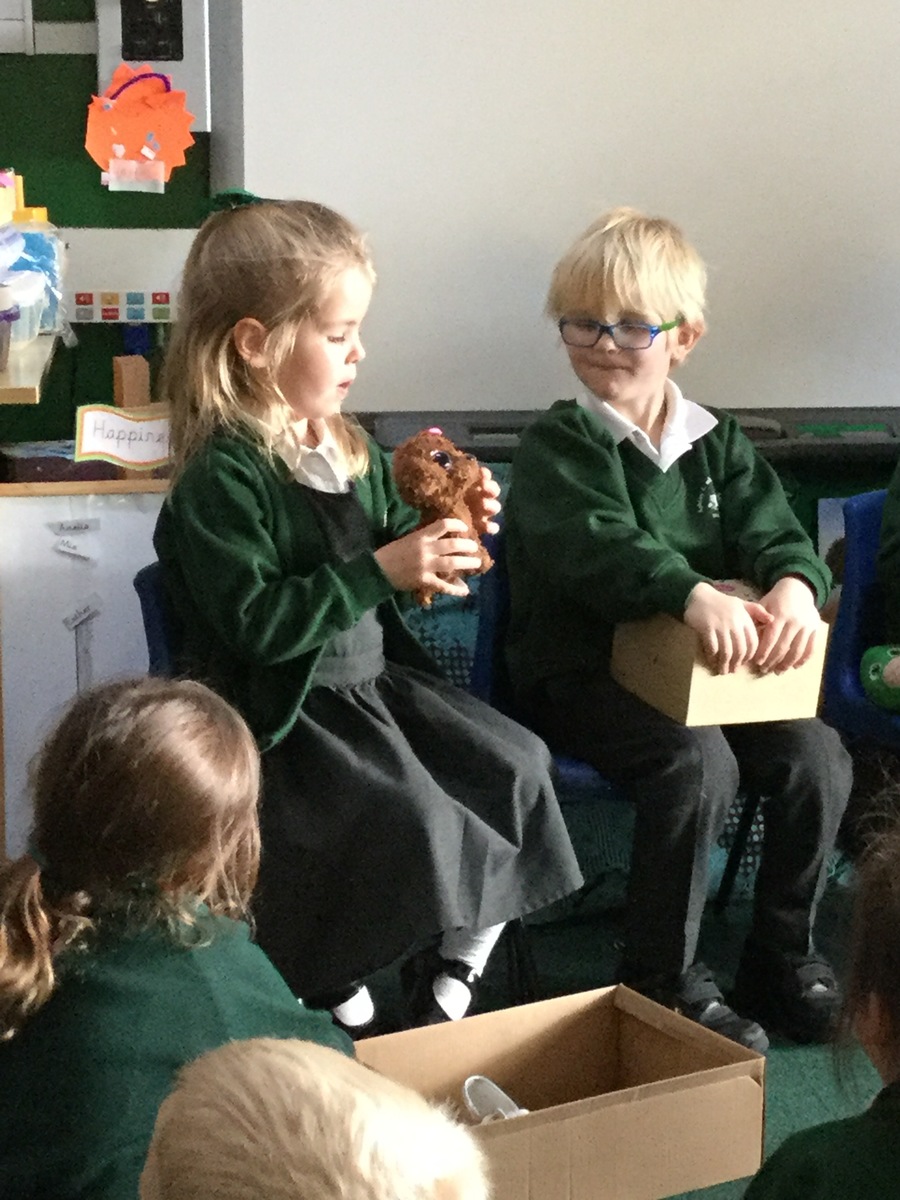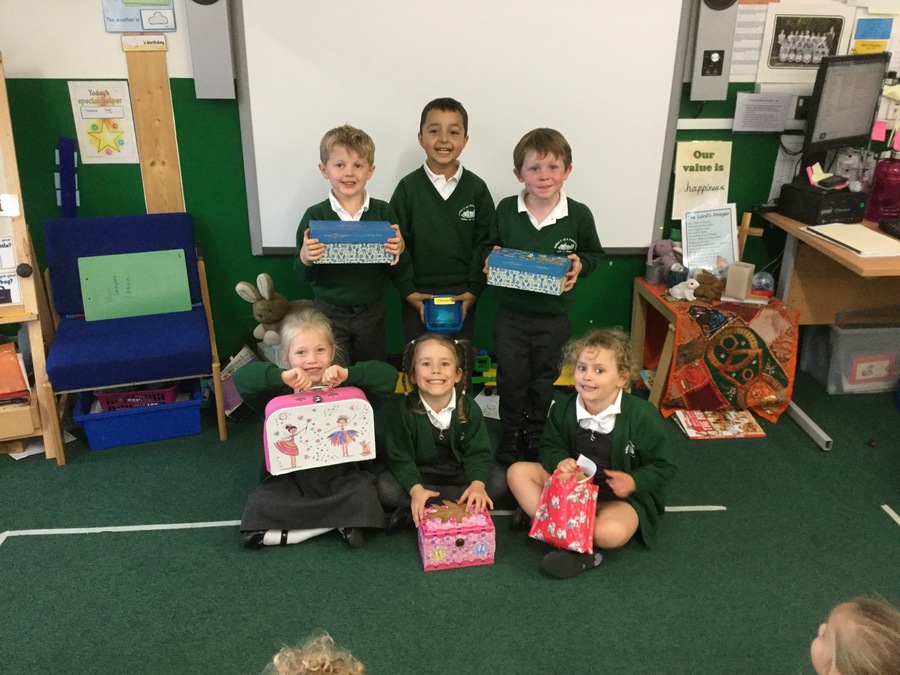 Conker Rolling!
We had great fun having conker races!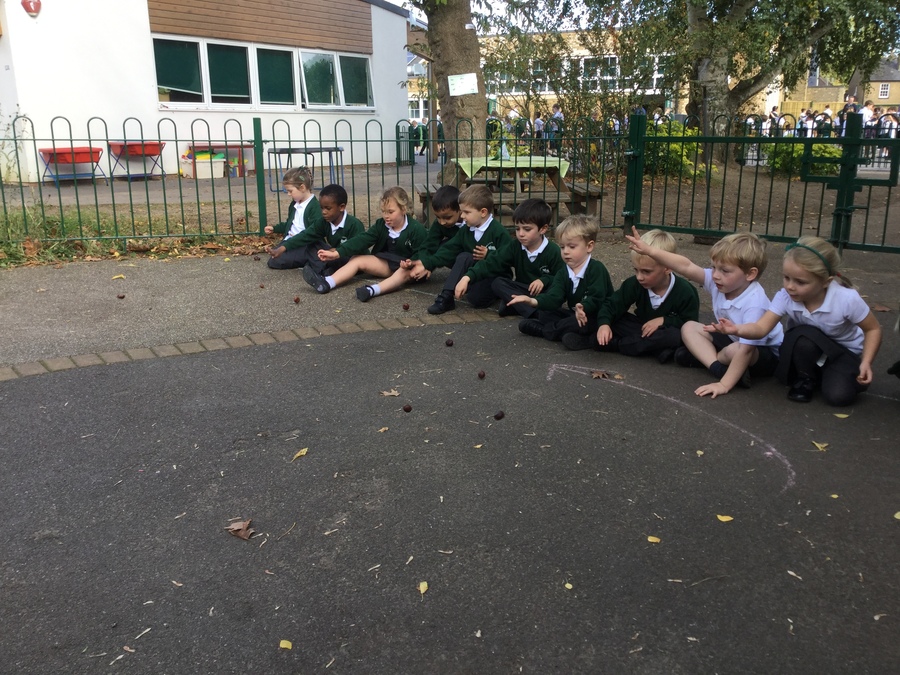 We have had a great first few weeks in Reception and are really settling into the routines of the school day. We've loved going on tours around the school, getting to know all of the staff, and most importantly making new friends among the 90 of us!
Take a look at some of the things we've been up to!
We have started our Learning Enquiry for this half term and are finding out about all the things that make us special. Have a look at our enquiry web to discover more about our learning.
What makes me special? Year R - Autumn 1
____________________________________________________
Information for parents
Welcome to Reception Meeting- Thursday 19th October 2017
Click on the above link to see a PowerPoint for progression of maths skills at Ashley school. These will be useful so that you are able to understand the methods your child uses, which may be different to the methods you use, so that you can best support them. Please ask your child which method they use as it will differ for each child. The key is that they are comfortable and secure in the method they use.