Welcome to the Ashley School Sports Page.
Keep up to date with our latest news, match reports and scores.
Letters for sports fixtures can be found at the bottom.
Spend a day with Mr Phil!
James Taylor won "Spend a day with Mr Phil" at the Summer Fayre last year and November 30th was a day James will never forget.
James was picked up from his classroom at 9am and spent an hour and half on the field having a 1 on 1 session with Mr Phil. They worked on all aspects of football and ended up with a game which James won!
After break James had to organize the football kits for the afternoon girls tournament and spent time coming up with tactics and positioning for each individual player. He also wrote an email for the office to send out to all parents about bringing back football kit.
In the afternoon James helped at the girls football tournament, he led the warm up with the girls and spoke to them about their positioning and tactics. In the first game we had a penalty and James decided Lily would take it, great decision...... She scored!
With the girls winning the football tournament James can say that he has 100% record in his managerial career!
James ended up with a present from Mr Phil of a Pro Direct tracksuit for all of his hard work throughout the day.
Cobham Rugby Festival November 2017
Reported by Lance and Lenny:
On 17th November, Ashleigh, Lance, Lenny, James, Aidan, Darcey, Lucy, Danny, Lara and Henry took part in the Cobham Rugby Festival. We played 6 matches against some very strong teams and amazingly we won them all! Lance and Danny both stood out as playing fantastically and they scored many tries for our team. We all had a brilliant afternoon and want to thank Mr Phil for supporting us.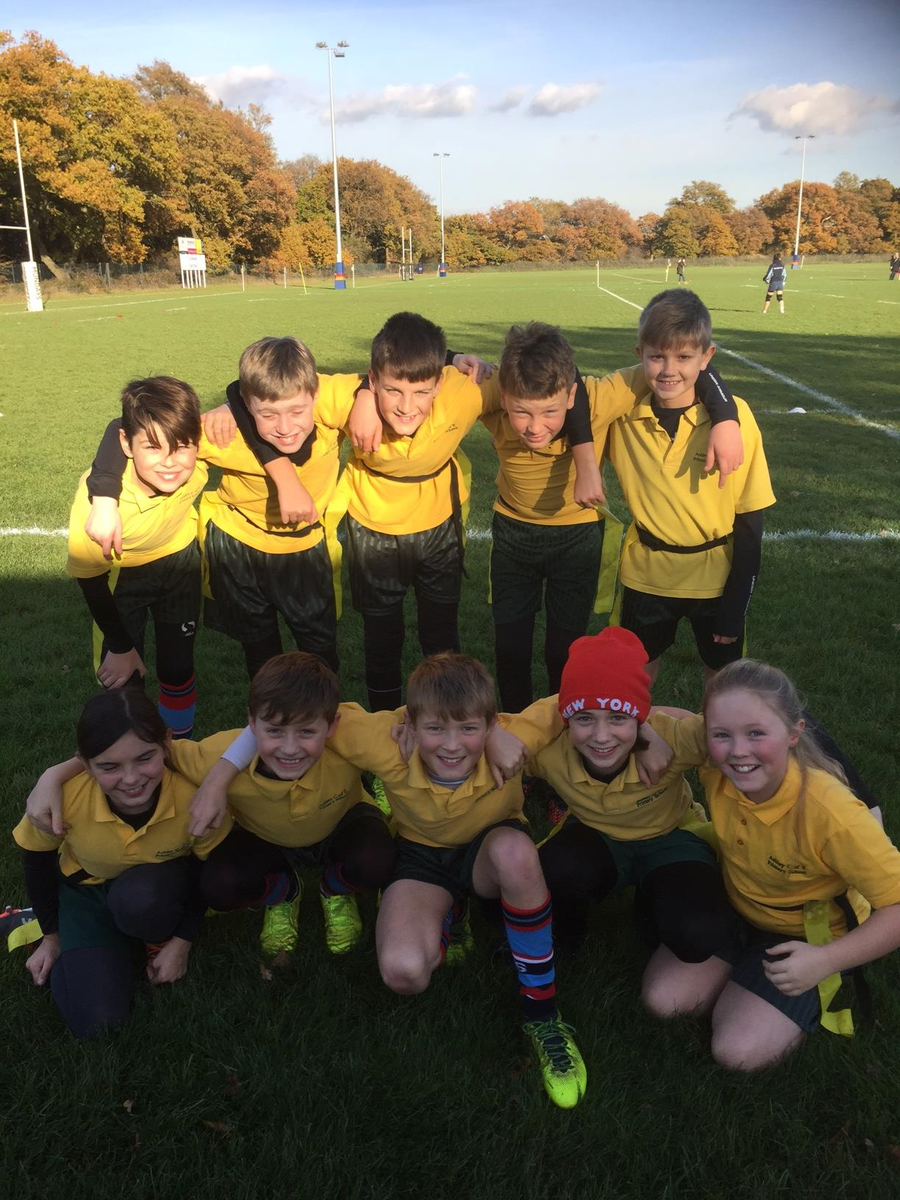 Year 5 and 6 girls football team!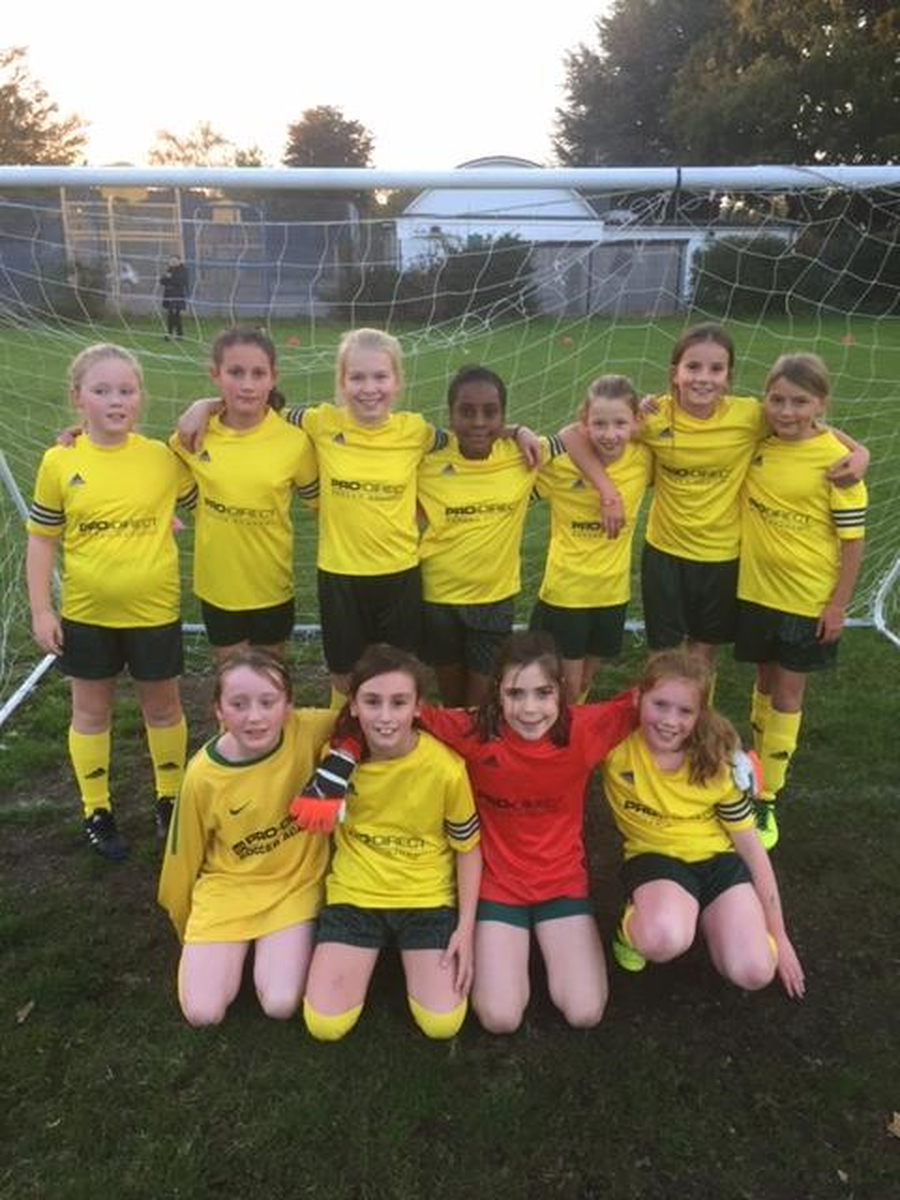 Year 6 Football Tournament at Royal Holloway University
Thursday 9th November 2017
Reported by Joe and Lewis:
On the 9th November 2017, Ashley football team (Joe, James, Lance, Isaac, Lewis, Tom, Luke, Aaron and Danny) competed in a football tournament at Royal Holloway University. We were in a group with St James, Bell Farm, St. Ann's Heath, Hive and Stepgate. The top 3 schools in each group progressed to the quarter finals. By winning 3 games and drawing 2, we managed to come 3rd and get into the quarter finals! Our first game in the knockout stage was against St. Judes. The match was incredibly even and the game went to a penalty shootout. Thankfully, we managed to win the shootout 4-1 and get into the semi-finals. We were really chuffed! The next game was against St. James and if we won, we would be in the final. Once again, the game was tight and Ashley had a few chances including Lewis hitting the post! Unfortunately, in the dying seconds, they snatched the victory and left us devastated. Overall we had a really good day and played some great football.
Ashley Infant and Junior Sports Council 2017-2018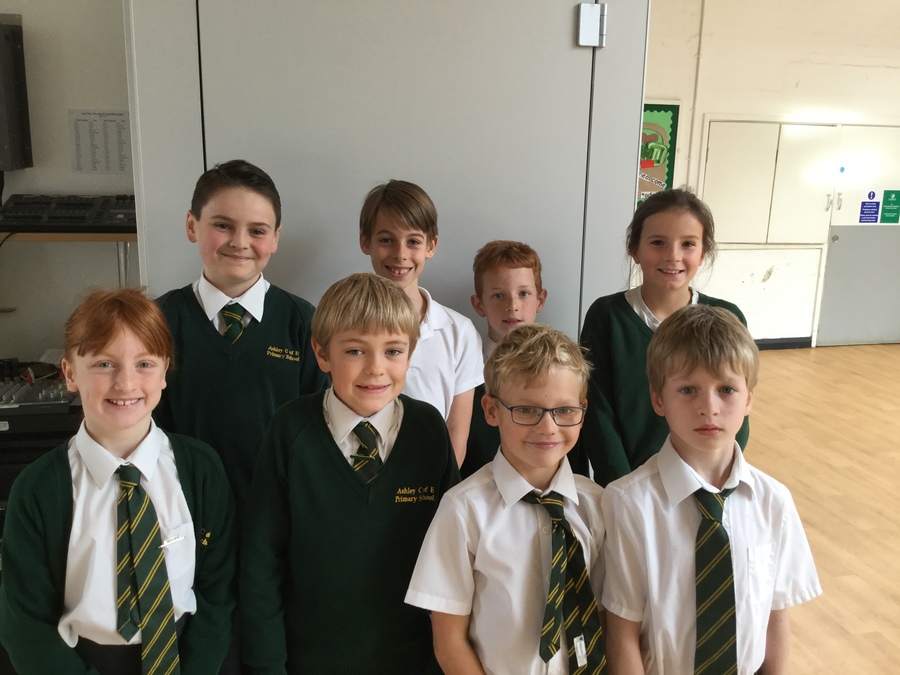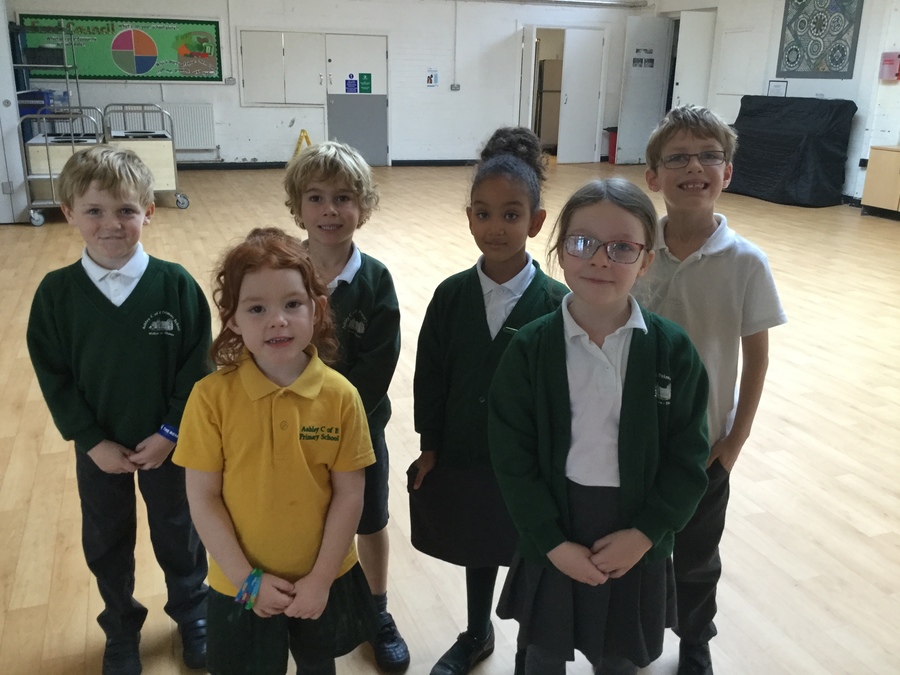 Cricketers: Fourth Best in Surrey!
Thursday 13th July
Joe Paddon reports:
Yesterday, having won the Elmbridge Kwik Cricket tournament, we travelled to Sunbury cricket club to play in the Surrey Cricket County Finals! There were two teams competing and firstly we were split into four groups of three teams; this was the group stage. Our first game was a thrilling match in which we set a target of 232 for the opposition to score. They were going very well and were tied with our score with two balls left. Incredibly, Lance Lavery bowled an amazing ball that hit middle stump. They were now on 221...and we were on course to win! It was the last ball and our opposition had to hit a 6 to win. Lance bowled, and thankfully he didn't make a connection so we won the game by five runs.
We then had a twenty-five minute rest before our next game versus Bushy Hill. It was our 2nd game and a win would give us the opportunity to compete for the trophy. Once again we batted first and did slightly better by getting 242 for Bushy Hill to chase. We got several early wickets and came out winners by 44 runs, with Bushy Hill only being able to reply with 198 runs. We sat down for lunch knowing that the trophy was up for grabs.
In the afternoon session we would be in a group of four, and whoever came top of the group would win the trophy. Unfortunately we dramatically collapsed in all three games (possibly due to two days of Sports Days prior to the event!) in the second group stage and ended up 4th. However, we are absolutely thrilled with our achievement as we can officially call ourselves 'the fourth best team in Surrey'! We certainly all went home with smiles on our faces
Ashley Sports Day
Tuesday 11th and Wednesday 12th July
This week saw our biggest day of the sporting calendar, and this year we turned it into two days... Sports Day!! Tuesday was a day of field events with the children competing in their classes for points, encouraging everyone to take part and have fun. Activities included welly throwing, long jumping, football dribbling and even a 'water sponge relay'! Huge congratulations to Fox class who were the overall winners for the day. Wednesday saw the more traditional side of Sports Day with races along the track including sprints, long distance, egg and spoon, three-legged and even a sack race. We were also very pleased to see our largest number of parents in a long time take part in the Parents Race! Well done to House Berkley for winning, by two points! Thank you to all the parents for coming and cheering them on and to Miss Penney and Miss Greaves for their organisation and preparation.
Ashley School Triathlon Team
Sunday 9th July
Despite the incredibly early start, Imogen Thomas, Lance Lavery, Lucy Hart, Max Fernandes, Dan Elderkin and Aidan Murphy McCreath had a fantastic time competing in the Elmbridge Triathlon, held at the Xcel Leisure Centre. The school team comprised of Imogen, Lance and Lucy each completing all three phases and Max, Aidan and Dan forming a 'team within a team', completing a leg each (Dan running, Max swimming and Aidan cycling). The children all performed exceptionally well and came a brilliant 5th (out of 12 schools taking part). A huge well done to all of the children and a big thank you to the parents for supporting them. "IntoTri" hold triathlons every month at the Xcel, specifically aimed at children. If you think your child might like to take part in future events please look at their website - www.intotri.com. We'd love to have even more teams entering next time!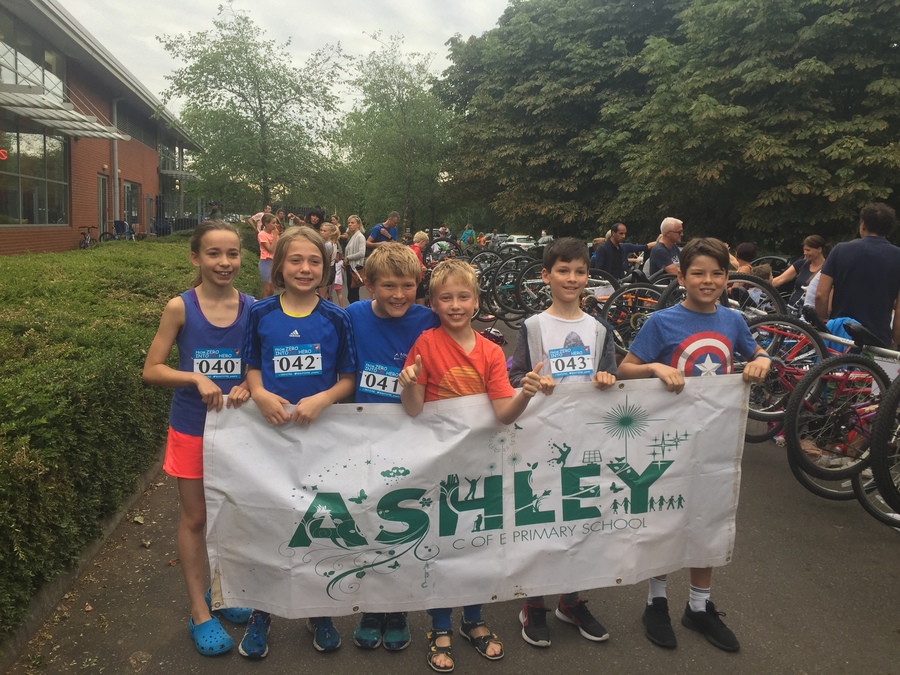 District Athletics
Thursday 6th July
We had a fantastic day yesterday at Woking Athletics Club despite the unrelenting, blistering heat. All of the children jumped, threw and ran their hearts out and we had some fantastic results:
Year 3
Boys throwing - Connor O'Herlihy - 6th
Girls throwing - Taylor Warren - 1st
Girls long jump - Olivia Thomas - 4th
Year 3 overall - 7th
Year 4
Boys 600m - George Upsdell - 5th
Boys sprint - George Upsdell - 2nd
Boys long jump - Sam Condron - 3rd
Boys throwing - Noah Wilson - 4th
Girls 600m - Lily Martin - 1st
Girls long jump - Chloe-Jane Evea - 2nd
Girls throwing - Lily Martin - 2nd
Year 4 relay team - 3rd
Year 4 overall - 1st!
Year 5
Boys 600m - Lance Lavery - 5th
Boys throwing - Lance Lavery - 1st
Girls sprint - Natalia Gorrin - 5th
Girls 600m - Lucy Hart - 6th
Year 5 overall - 7th
Year 6
Boys sprint - Louis Powell - 5th
Boys 600m - Tom Jenkins - 5th
Boys long jump - Louis Powell - 3rd
Girls sprint - Lily-Anne Gibson - 5th
Girls long jump - Georgia Thomas - 2nd
Y6 Girls relay - 5th
Year 6 overall - 6th
ASHLEY SCHOOL OVERALL - 5th out of 11 schools.

As well as their results the children must be congratulated on their behaviour and energy throughout the afternoon - there was a real sense of team spirit, looking after each other and cheering one another on. It was the largest number of children we have ever taken to District Sports (nearly 50!) so it was wonderful to have so many different children representing the school. It was also really lovely to see the children cheering and supporting their friends from other schools as well. Well done Team Ashley!
Ashley School representatives at Surrey Youth Games
Tuesday 27th June 2017
Over the last couple of months a large number of Ashley children have been taking part in a whole host of sports to train for the Surrey Youth Games. The P&G Surrey Youth Games 2016 is a multi-sports competition, spread over the weekend of 17th and 18th June, in which all eleven districts and boroughs in Surrey entered teams into a variety of indoor and outdoor sports. There were sports for all ages, including events for young people with disabilities. The children - many of whom had never tried the sports they were playing before - attended local coaching sessions in the two months prior to the Games. For many of the players selected the event was their first experience of countywide competition, and was held at the prestigious Surrey Sports Park in Guildford.
Ashley school had a number of representatives for Elmbridge Borough and performed exceptionally well:
Taylor Warren – Tennis (Won 3 singles and 1 doubles, Team 4th)
Louisa Carrodus – Judo (Bronze Medal)
Eva Freeland – Football (Silver Medal)
Maisie Freeland – Football (Team 5th)
Lucy Hart – U11 cricket (Silver Medal)
Year 5 Cricket Team through to County Finals!
Monday 19th June 2017
Mr Phil reports:
Year 5 boys played in a cricket tournament on Monday at Reeds School. They played against some very good teams in very hot weather but performed fantastically well.
In the group stages we ended up beating Cleves School and Hinchley Wood School which progressed us through to the semi final where we beat Cardinal Newman School in a very tight game.
In the final we had a rematch against Cleves. We started off very nervously but ended the game getting 6 wickets in the last over meaning we came out victorious. The boys were amazing from start to finish, from applying their sun tan lotion to batting and bowling.
We have progressed through to the county finals which will be in mid July. We are very much looking forward to this and if the boys play as well as they did on Monday we could have some future England stars.
Year 5 Netball Team win the league!
Friday 16th June 2017
Miss Penney reports:
Over the previous two terms, the year five netball team have played in a number of matches against other local schools with all scores being recorded and points going towards a league. Winning six out of the eight matches played, and the majority of those being won convincingly, the team were very excited to hear that they had WON the overall year five league within the Elmbridge and Runnymede Borough!
The season culminated in a tournament on Wednesday: the team played fantastically all afternoon and won the overall points in the round robin stage. They then went through to the final to play CFS (a team they had just beaten 4-1), and despite Ashley dominating the game and showing fantastic skills, they unfortunately lost the match 3-1. A proud result though to be runners-up, having played some very exciting games and had lots of convincing wins.
The team have shown outstanding dedication, sportsmanship and camaraderie throughout the entire netball season (come rain or shine!) and I am exceptionally proud of them all. Bring on the next season!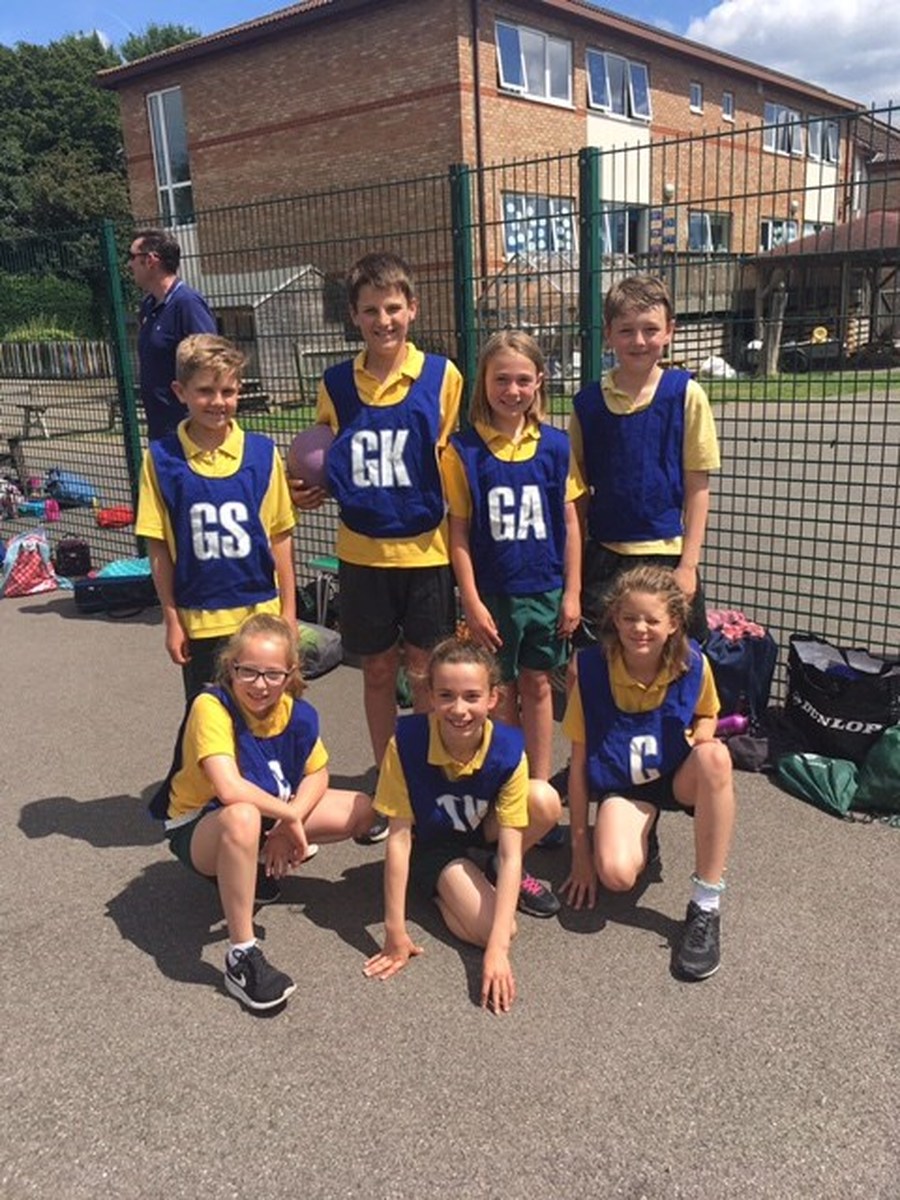 U8 & U9 Girls' Biathlon
Tuesday 9th May 2017
Lily and Eden report:
On the 9th May, 12 girls from Year 3 and 4 went to a Biathlon event at Notre Dame. We swam 50 metres and then ran 800 metres. We all had a lot of fun competing against 6 other girls. We were extremely nervous when we were sitting beside the very cold pool and unfortunately it was boiling in the waiting room! The event was over very quickly but we all thoroughly enjoyed it. We were all so proud of each other and we hope to compete in more Biathlons in the future.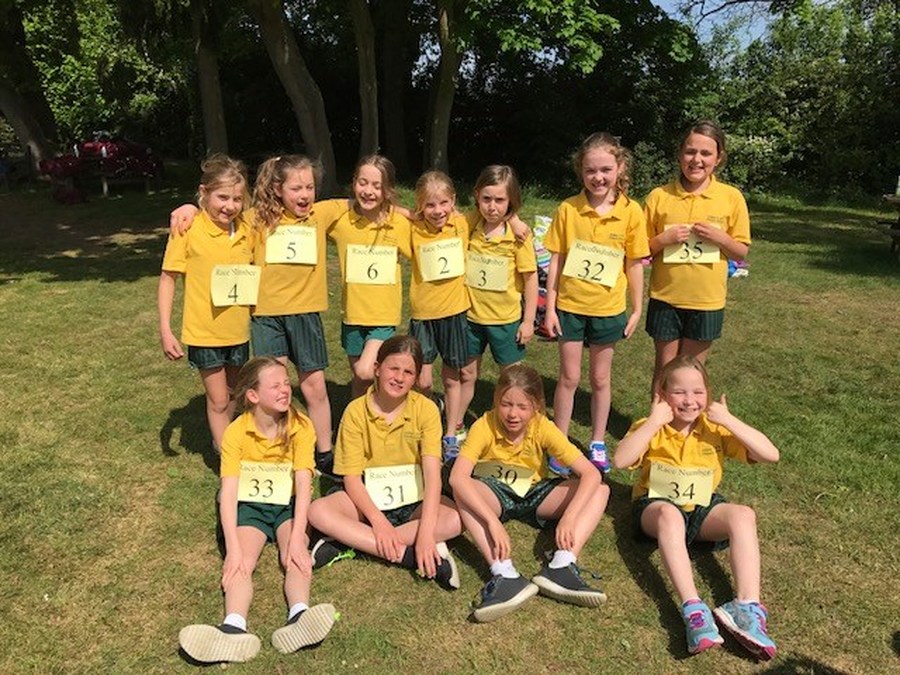 Year Four Tennis Tournament
Monday 24th April 2017
Chloe-Jane Evea, Zach Cheung, Thomas Lowe and Catherine Boon report:
On Monday we travelled to Stompond Lane to take part in the Elmbridge Schools Tennis Tournament. When we arrived we had some time to practise before Rob, the tennis coach, asked us all to come and sit down and he told us the rules. Our teams played lots of different schools and both teams lost two matches and won three matches. Unfortunately we were just 1 point off going into the final but we were really happy that we came 3rd out of 12 teams.
Netball vs Burhill
Tuesday 21st March 2017
James Maloney reports:
On Tuesday 21st March, the Year Five netball team played a match against Burhill. As soon as started we knew that we were dominating the game. Imogen and I both scored in the first quarter so we were heading for 2-0. The second quarter was not very different as Lucy, Talal and Kate controlled Burhill's 'D'. Lucy scored to help us keep our lead at half time. The third quarter was even better as Kate scored three magnificent goals and Danny also scored one. Burhill hadn't even had a shot; our defence was so strong! Our passing was also exceptionally quick and accurate. At the start of the fourth and final quarter, we were leading 7-0. The goals didn't stop there though as I scored two more goals to give us a total of nine goals to none. When the final whistle blew we couldn't believe the final score: it was a really impressive victory and we left feeling very pleased with ourselves.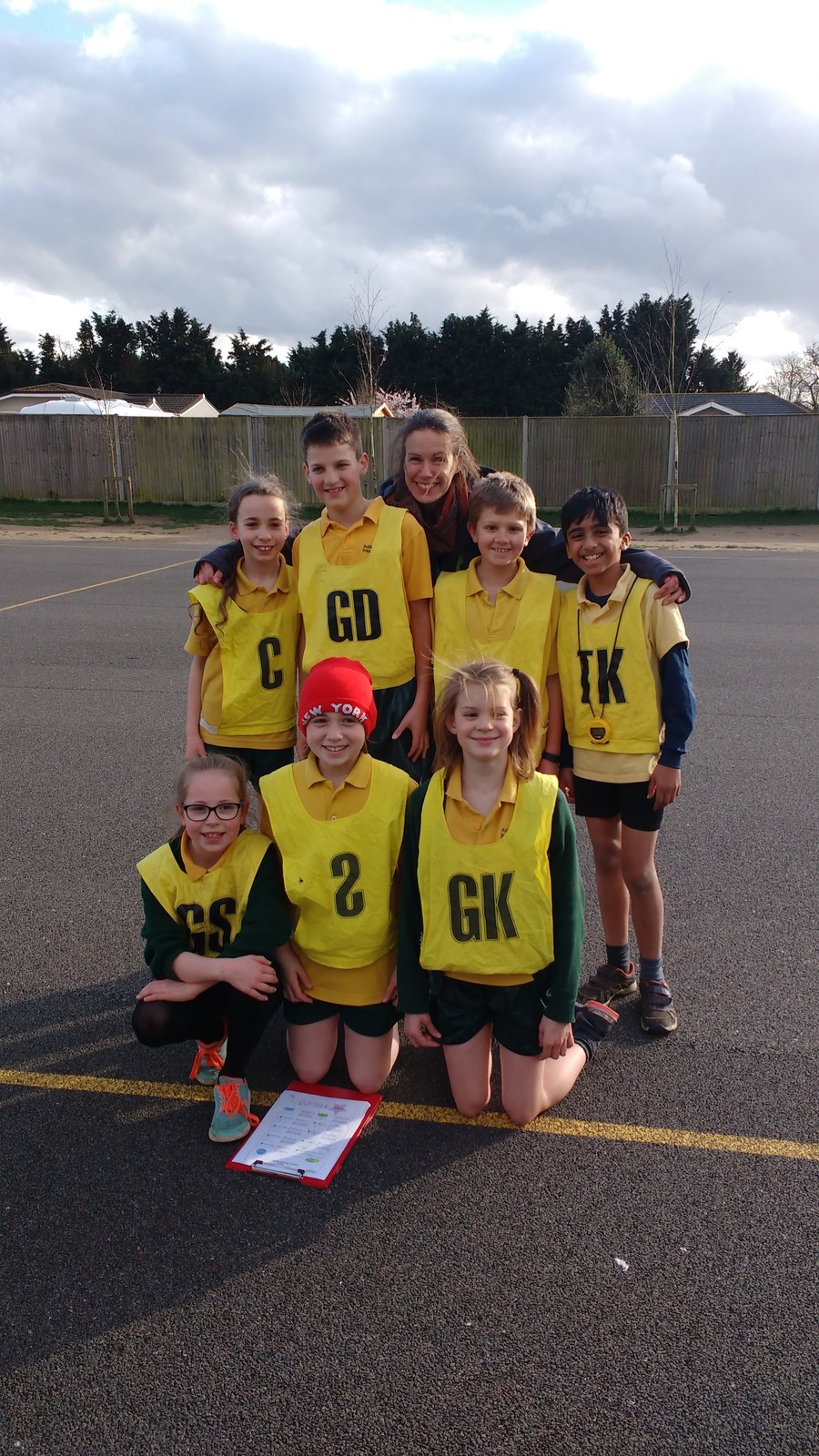 District Cross Country
Saturday 18th March 2017
Miss Penney reports:
Last Saturday, 23 children from years 3-6 took part in the District Cross Country Running event, held at Notre Dame School. With fifteen local schools taking part and nearly 100 children per race, it was an exciting opportunity for the children to represent their school. After six weeks of intensive training sessions running round and round our school field, the children were very excited to see that the event's course was made up of a combination of woodland paths, tarmac and grass fields – proper cross country! The U9 groups, a combination of Y3 and Y4 children, ran 1.2km, with the girls and boys respectively coming 5th and 10th. A special mention for Evie Bedford (4th individually) and Lily Martin (5th indiviudually). The U10 and U11 groups each ran 1.6km, with the U10 girls and boys both coming 10th collectively; a special mention for Lance Lavery who came 4th individually. The U11 girls came 11th collectively. Louis Powell was our soul representative for the U11 boys and put in a magnificent performance, finishing in the top half. There was huge team spirit from all of the children and it was great having so many parents there supporting our runners – thank you.
Netball vs Cleves
Thursday 16th March 2017
Daniel Whitehouse reports:
On Thursday, the year five and six netball team travelled to cleves for a sure to be hot-headed match! The year sixes played first and unfortunately lost by quite some margine. Seeing this, the year fives became quite apprehensive and intimidated! It was our turn after, and, it was hard. In the first quarter, Cleves scored the opening goal and we levelled it out with it being 1-all. The second quarter ended with the score 2-1 to Cleves; this set us back but we knew we had to win. The third quarter was tiring but Andrew Lee got a goal to level out the score to 2-2. The last quarter was tense. Incredibly hard. We needed a goal. And… We did! Lara Clayton scored a magnificent goal to finish the match of 3-2 to us, Ashley. Here's a quote from Hannah Mukasa: " The game was…fantastic!"
Year 5 Yoga Workshop
Thursday 9th March 2017
On Thursday morning all 62 children (and adults!) in Year Five were treated to an inspirational Yoga session from Faye Koe - the biggest class she had ever taught! The children were first told the story about 'the weed and the big tree', which comes from the translations and commentary by Sri Swami Satchidananda on The Yoga Sutras of Patanjali. This taught the children the importance of having a supple body, as well as how a supple body will always be healthy and tension free. Following on from this the children learned a number of different yoga poses including apanasana, setu bandha, lying twists, cat balances and downward facing dog, to mention just a few! The session was ended with some calming relaxation, exploring how each body part felt as well as focussing on their breathing. As Faye commented, "I have never seen a room of 62 children before, all with eyes shut and calm; a lovely moment for me and the teaching staff!" The children were all particularly calm and focussed for the remainder of the morning - maybe every morning should be started with a yoga class?!
Thank you very much Faye! (Faye Koe, owner of 'Body Soul Yoga Surrey' and British Wheel of Yoga Qualified and Certified yoga teacher).
Netball vs St. Ann's Heath
Tuesday 7th March 2017
Lucy Hart & Imogen Thomas report:
On Tuesday 7th March Lucy Hart, Imogen Thomas, Lara Clayton, Megan Attwood-smith, Grace Bannister, Daniel Whitehouse, James Maloney and Talal Faraz played a very tense and exciting netball match against St Ann's Heath. Everyone on the team tried hard and Miss Penney said it was the best netball match we had played. In the first quarter Daniel and Talal scored one goal each, in the second Quarter Megan scored, in the third quarter Lara scored and in the fourth quarter James scored. The final score was 5-0 to us! We were about to score again just as the final whistle blew! Everyone loved playing the game and can't wait for the next match.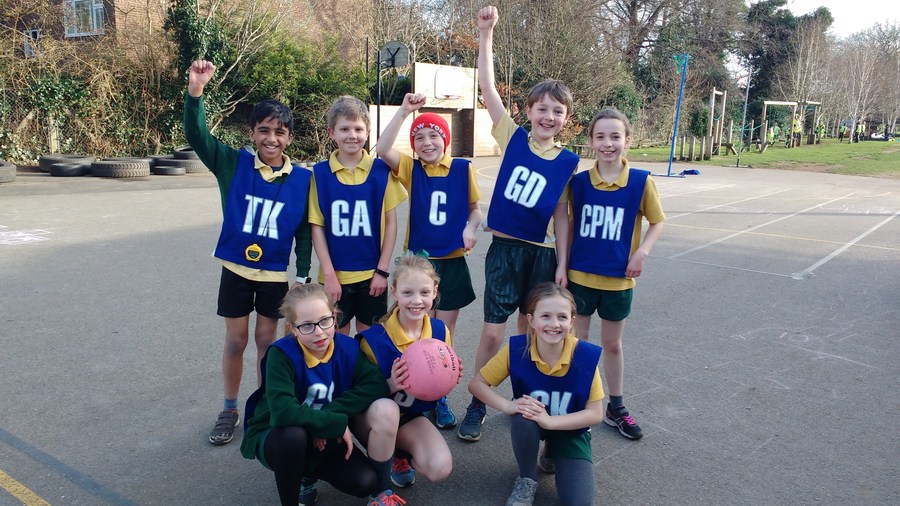 Netball vs Cobham Free School
Friday 3rd March 2017
Annie Campbell reports:
On Friday afternoon the year five netball team had two matches against Cobham Free School. It was great having loads of parents cheering us on. Our opponents were extremely friendly and played well. The first match was an exciting, eventful game (including having a fire alarm in the middle!) and everyone tried their hardest. CFS played really well and the final result was 7-2 to them. It was disappointing for us but we had fun and that is what matters. Miss Penney was an encouraging, hard-working coach and helped us a lot.
Football vs Manorcroft School
Friday 3rd March 2017
Callum Mepsted reports:
On Friday 3rd March Ashley travelled to Manorcroft for their penultimate game of the season. The game kicked off with Ashley passing it around well in their half, when they quickly counter attacked and Samuel found himself crossing the ball into the Manorcroft box. Callum connected sweetly with it as he tapped round the keeper - 0-1 Ashley. As Manorcroft kicked off, they lobbed the ball over the back of Ashley's defence, then scoring to make it 1-1. Ashley was falling apart as Manorcroft made it 2-1 and then 3-1 and then 4-1 in the first half. Second half. Callum was subbed off for Tom as the second half got underway. A free kick was given to Ashley with Tom crossing it in to meet Samuel's head just putting it wide. Daniel was then subbed on for Zach who made a few tackles in defence. A much better second half for Ashley when Callum took a shot rebounding off the keeper for Jake being in the right place at the right time to hit it in the bottom right.4-2. Ashley's chances came and went in the second half with the game ending 2-4. Well played both teams!
Football vs St. Paul's School
Tuesday 28th February 2017
Joe Paddon reports:
On the 28th of February 2017, Ashley school played at home to St Paul`s School. Parents gathered on the Harmony Centre steps to watch the game. The game kicked off with Ashley on the front foot pushing for the opening goal and about 10 minutes into the game Aaron Mortimer struck a shot which went in the bottom corner of the net. Soon after that, James Maloney got a second goal for Ashley who were on a roll now. Ashley kept on searching for a third goal and it eventually came with a fierce cross by Lewis which was unfortunately turned into his own net by a St Paul`s defender. Ashley went into the break with a 3-goal advantage over their opposition. The second half began with St Paul`s gradually getting a foot hold in the game but with about five minutes left Joe Paddon struck a sweet volley into the roof of the net after a fantastic throw by Lance Lavery. 4-0! In the dying seconds of the game, a few mistakes at the back for Ashley led to a good goal by St Paul`s who denied Ashley their first clean sheet of the season. The final whistle blew and Ashley had picked up their first win of the season against St Paul`s!
Netball vs St. Anne's, Chertsey
Tuesday 28th February 2017
Year 5 - Imogen and Megan report:
Despite the pouring rain, freezing temperature and strong winds, Imogen, Lucy Hart, Andrew, Lily, Talal , Lara Clayton, Daniel W and Kate played a fierce netball match against St Anne's School. We missed a few goals because our hands were cold and slippery, so it was hard to grip the ball. It was a tough match as everyone's hands were as cold as ice! The final score was 2-2! Imogen and Daniel W scored a goal each. As the whistle blew for the end of the match, we were about to shoot, but we didn't have enough time to score the winning goal. It was a fun game and we can't wait until we play the next netball match!
Surrey School Games Dance Festival
Thursday 24th February 2017
On Thursday 23
rd
February, Miss Penney and Miss Greaves took Ashley Dance Squad to Surrey Sports Park, Guildford for the Surrey School Games Dance Festival. While we were there we were encouraged to develop six values: honesty, team work, self-belief, passion, respect and determination.
When we arrived at the festival we took part in a very active, lively warm up before moving on to two workshops. In each of the workshops we were with two other schools and we learnt different dances using different styles of dance. The first workshop was a Kung-Fu dance which we did to Kung Fu Panda. The next workshop was a hip-hop dance to 'Can't Stop the Feeling'.
Over lunchtime we had a chance to rehearse the dance we had been learning at school, and we also saw other schools' dances so we knew what we were up against! After lunch everyone took part in a big performance, performing the dances we'd learnt that day with the other schools as well as our own dance with just our group.
We had a really good day; it was great learning lots of different dances whilst having lots of fun, and also performing in such a big hall in front of so many people!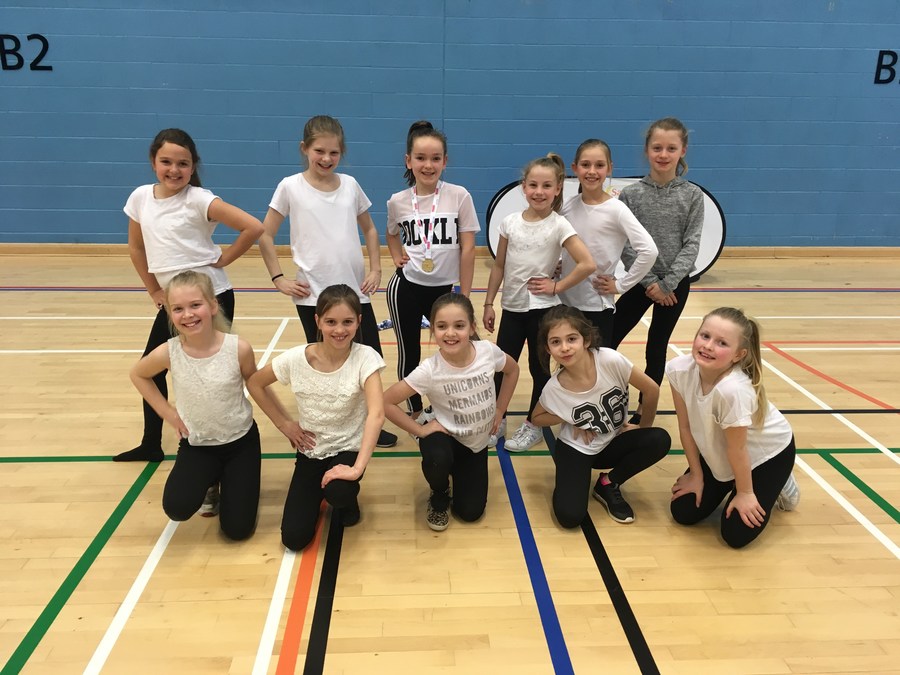 New Football Kits!
A HUGE thank you to Pro-Direct for sponsoring our Year 5 and Year 6 football teams and treating them to a new, bright and shiny kit. Our teams now look even smarter than usual when they play matches against other schools. Please see the photos below of the Year 5 boys and Year 6 boys modelling the kit!
Year 6 Football - Ashley vs St Pauls'
Wednesday 22nd February
Tom Jenkins reports:
On Wednesday 22nd February, Ashley school played St Pauls' - another home game on Ashley turf. The crowd was roaring with cheers, as Ashley started the game. It started the game off when Jake scored the first goal of the half within just a few minutes. Jake scored another during the first half, creating an immense atmosphere to go around the game. Samuel M then scored another great goal! He tapped round the keeper, keeping the score at a high level. Another goal for Jake, ending the first half. St Pauls' were doing very well, until Tom scored two goals in a row to make it 6-0 to Ashley. Samuel and Jake both then scored another brilliant goal each. The last two goals were from Yonotan, ending the game 11-0 to Ashley. Man of the match was Daniel K for his faultless defending. Both teams worked very well, and deserved a good rest afterwards. Our first win of the season and what a win!
Year 6 Football - Ashley vs St James'
Friday 10th February
Jake Meek reports:
On the last day of half term, Ashley school and St James battled it out in a 30 minute football game on the Ashley turf. It was the home team to get the game underway as everyone was ready and buzzing to play. The game started with the ball being played around the pitch until a late first half goal for Jake Meek and an assist for Tom Jenkins with Jake blasting it top bins.1-0 Ashley. While the second half started Alex Young was subbed on for Samuel M and a few subs for St James. St James had an early free kick and a magnificent save from the new Ashley goalkeeper, Samuel N. Later on, Ashley earned a counter attack. With Jake up front, with a few skills, going around the St James defender, skimmed the post. Unfortunately, with the final kick of the game and the whistle already in the referee's mouth, St James got a good chance and finished the score sheet up with a 1-1 at full time. Our first points of the season!
Year 6 Talented Trip - High Ashurst
Friday 3rd February
On a very chilly Friday morning, Miss Penney and Phil took 10 of year sixes most talented sports people to High Ashurst for a day of challenges, team building and skills development. In the morning, the children had to work closely as a team to tackle a low-ropes challenge course which required a huge amount of coordination, communication and balance.
"I was surprised at how difficult it was; it looked really easy at first!" - Georgia.
"We certainly couldn't have tackled even the first obstacle without working together; we all had to rely heavily upon each other." - Jake.
After lunch, the children had to work in smaller teams for the high-ropes crate challenge and even Miss Penney and Phil had to overcome their fear of heights and had a go! Whilst some of the children were suspended up high, balancing on top of the crates, the rest of the group were either part of the safety team ensuring everyone up high was kept safe, or helping pass the crates and stack them.
"I was really worried at first, but as we worked together as a team I gradually increased my trust and felt far more safe and comfortable in what I was doing." - Tom
It was a fantastic day and the children all left the site feeling they had achieved a goal as well as having increased their confidence, communication and resilience skills.
Sports Journalists visit Elmbridge Xcel
Wednesday 7th December
Last Wednesday, Ashley's Sports Journalists were treated to a guided tour of the new Xcel Leisure Centre to find out how it can be used by the local community and to learn more about the construction process, as well as finding out how sustainable to building will be.
See Daniel Whitehouse's newspaper report below:
Year Five Netball vs Grovelands
Thursday 24th November
Lucy Hart (Sports Journalist) reports:
On Thursday 24th November, eight year 5 children went to play their first netball match against Grovelands School. They played AMAZINGLY in all four quarters. In the first quarter, Lucy Howard scored two goals and Danny settle scored one. In the 2nd quarter, Imogen Thomas scored two goals. Daniel Whitehouse scored one in the 3rd quarter. In the last quarter Lara Clayton scored one and Talal scored one. In the end the score was 8-1 to Ashley! We all had lots of fun and really enjoyed it. After the match we shook hands and went back for biscuits and juice.
Skipping Workshops
22nd, 23rd and 24th November
Daniel Whitehouse and Joe Paddon (Sports Journalists) report:
This week, all of the children at school have taken part in a skipping workshop with Lizzie Juffs, National Skipping Coach. From our youngest children learning the basics of how to skip right through to our older, more accomplished skippers doing 'Double-Unders', 'The Pretzel', 'Double-Dutch' and even French skipping, all of the children were challenged and stretched to the very best of their ability. Our sports journalists, Joe Paddon and Daniel Whitehouse, have been interviewing some of the children about their workshop:
"It was great fun; we learnt so many different skipping techniques" – Jake & Freya, Eagle Class
"'Keep the Kettle Boiling' was a great way for our whole class to be involved in a game. We have been playing it at breaktime, too!" – Anthony & Lily, Kestrel Class
"I didn't know how to skip backwards until Lizzie taught me." – George, Robin Class
"My favourite game was shark attack. I gave the workshop a 10/10!" – Lily, Frog Class
Our Year Five Play Leaders are going to continue the skipping craze with regular skipping games and challenges on the playground. Can you beat your personal best?!
Surrey Leadership Academy
Monday 21st November
Lucy Howard reports:
On Monday 21st November, ten Year Five Play Leaders went to the launch of the Surrey Leadership Academy to learn how to be a fantastic leader. The morning was started with an inspirational talk by Paralympic-Judo medallist, Ian Rose. We discussed the six main qualities a good leader should have: determination, honesty, respect, passion, teamwork and self-belief.
We then took part in two workshops; the first one in the morning was about games we could lead on the playground. Some of our favourite games were 'Rats and Rabbits', 'Human Knots' and 'Twinkle Toes'. They gave us a really helpful booklet to help us run these events back at school – we're really excited about planning and organising a 'Run XC' event next term!
In the afternoon we took part in a 'PhysiFun' workshop which taught us even more activities and healthy lifestyle games that we could take back to school and lead other year groups in. We used 'STEP' cards to help us learn the games and then we had to teach these games to another school.
The day was great fun and we all came away feeling excited to share our ideas with the other Play Leaders, as well as helping others to play the games at lunchtimes.
Year Three Hockey Tournament
Tuesday 8th November
Lucy Hart (Sports Journalist) reports:
A team of eight year threes went to Ashford hockey club to play in a hockey tournament. Six children played in each eight minute match.
Match 1: Unfortunately, Ashley didn't get off to a strong start. They lost 2:0 but Charley Warren was close to scoring.
Match 2: Ashley won 2:0. Taylor Warren set Conner O'Herlihy up to score and he tapped it in the goal. Conner scored once more.
Match 3: Conner scored the first goal of the match. The other team scored a goal and another close goal by Charley but the score remained 1:1.
Match 4: It was a close game. Katy Ellis nearly scored but the score ended at 0:0.
Match 5: Another winning game for Ashley. Taylor scored, swiping the ball into the goal and the final score was 1:0
Match 6: Again, Ashley was the stronger team and Taylor scored for the second time in a row. The score was 1:0.
Semi-final
Match 7: Not a good match for Ashley, the other team scored and Ashley sadly lost 1:0.
Match 8: Ashley won the match! Conner scored the winning goal. Taylor saved an amazing goal which stopped the other team from winning. The end score was 1:0.
Over all Ashley came 3rd out of 13 schools and the team were presented with a bronze medal each. A fantastic achievement after just a half-term learning hockey skills – well done year three.
Scintillating Nerf Session
Wednesday 19th October
Joe Paddon reports:
On the 19thof October Year 3 and Year 5 had a treat of having 'Nerf' PE session. Both years were eagerly anticipating this session and they loved it. The coach, Angus, split us into 3 groups. We played the same game for the whole hour but the rules were changed slightly as it went along. On every round the teams had to pick a medic, both medics shook hands at the start so that the teams knew who they were.
This PE session took place on the field with tents to hide behind and it was awesome! All three teams played about 5 games of constant charging around shooting bullets at their opponents. The basic rules are 2 teams played at a time , the medic had an area where he couldn`t be hit, if his team mate got hit the medic had to come out of his area to free the player so that he or she could come back into the action. If the medic was hit, the game ended and we had a winner. The excitement was on another level in this session and you could tell by their grinning faces as they tried to shoot their opponents.
A club will be opening after school on Wednesdays (year 3 and 4) and Fridays (year 5 and 6) for an hour each week. Lots of people are intrigued by this club!
Sports Council Training
Thursday 22nd September
On Thursday 22nd September, Ashley's newly elected Sports Council travelled to Cleves School for Sports Crew training along with ten other schools. Most other schools choose their Sports Councils from years five and six, so it was great to be able to show off our youngest members in years three and four! The children started off the morning with some team building activities and challenges to test their teamwork skills, before then spending the rest of the morning developing their leadership skills through helping deliver multi-skills competitions. The morning culminated with an exciting opportunity to partake in a 'Run XC' event, something the children are very eager to organise and deliver back at school.
"The morning taught me not only how to organise events, but also how to include everyone and get everyone involved" – James, Year Five.
"I'm so excited to organise more sporting events at school now!" – Charley, Year Three
Sports Day
Tuesday 12th June
It was grey, it was gloomy, it rained…but we did it! Sports Day 2016 was a huge success thanks to the high spirits from all of the children, the staff and the parents watching. In the morning all of the children took part in a carousel of activities including running, throwing and jumping, an egg and spoon relay for the Infants, and even a space hopper relay for the Juniors. The Infants were brilliant in their running races in the morning; supporting one another and trying their absolute hardest. It was fantastic to see so many parents supporting as well. The afternoon saw the grey storm clouds gather but that didn't stop us - the Juniors all took part in their individual races, class relays and 300m (and even 600m for Year Five and Year Six!) and refused to let the rain dampen their spirits. Again, a fantastic turnout from so many supportive parents – even in the torrential rain. A special well done to all children in Berkeley house for being the champions; the first time in a long time!
Surrey Youth Games
18th & 19th June 2016
Over the last couple of months a large number of Ashley children have been taking part in a whole host of sports to train for the Surrey Youth Games. The P&G Surrey Youth Games 2016 is a multi-sports competition, spread over the weekend of 18th and 19th June, in which all eleven districts and boroughs in Surrey entered teams into a variety of indoor and outdoor sports. There were sports for all ages, including events for young people with disabilities. The children - many of whom had never tried the sports they were playing before - attended local coaching sessions in the two months prior to the Games. For many of the players selected the event was their first experience of countywide competition, and was held at the prestigious Surrey Sports Park in Guildford.
Ashley school had a number of representatives for Elmbridge Borough and performed exceptionally well, helping Elmbridge reach a fantastic 5th place:
Louisa Carrodus (football team – 1st place, Judo individual – 1st place)
Amber McDermott (football team – 9th place)
Joe Bradley, Lily Martin, Samuel Christopher, ChloeJane Evea (Tennis team – 1st place)
Lucy Hart & Jemima Koe (squash – unplaced, but exceptional sportsmanship displayed by both of them)
Lucy Hart (cricket team – 6th out of 12 teams)
Ella Gainsborough & Maisie Freeland (Football team – 2nd out of 10 teams)
Catherine Blandford, Jenny Gray, Alex Brewis (Touch rugby - 2nd out of 12 teams)
Tate Foxhall (Badminton – won all of his matches but Elmbridge were unplaced. Again, exceptional sportsmanship displayed; shaking of hands and cheering on competitors).
However, the biggest achievement has to be Elmbridge Borough WINNING the 'Fair Play Award' – an award which is decided by the event officials in recognition of their overall sportsmanship across the two days. Great sportsmanship is something Ashley very much prides itself in, so to have had a part in winning that award is a superb achievement – well done everyone.
District Athletics
Wednesday 15th June 2016
Miss Penney reports:
On Wednesday, some of Ashley School's finest athletes took part in the Elmbridge and Runnymede Schools District Athletics event, held at Stompond Lane. Despite the ever looming storm clouds, spirits were high and chanting was loud as the children led the opening procession around the track, carrying their school banner proudly. Throughout the entire afternoon the children showed fantastic team spirit, all supporting one another and cheering each other on. Individual results are below, but overall we came 5th out of 14 schools – a massive achievement! A huge well done to all of our athletes, particularly those who ran in torrential rain on a rather flooded track.
Individual results
Year Three:
Boys 50m sprint - George Upsdell - 2nd
Boys Standing long jump - George Upsdell - 3rd
Girls 50m sprint - ChloeJane Evea - 3rd
Girls Standing long jump - ChloeJane Evea - 3rd
Girls Rounders ball throw - Lily Martin - 1st
Year three relay team - 2nd
Year Three overall - 1st
Year Four:
Boys 600m - Lance Lavery - 4th
Boys standing long jump - Daniel Kyritsis - 3rd
Girls 600m - Lucy Hart - 4th
Girls standing long jump - Hannah Mukasa - 5th
Girls rounders ball throw - Imogen Thomas - 1st
Year four relay team - 4th
Year Four overall - 5th
Year Five:
Boys 70m - Louis Powell - 4th
Boys 600m - Jake Meek - 6th
Girls 600m - Maddy Tester - 5th
Year Five overall - 10th
Year Six:
Boys 600m - Jacob Gelona - 6th
Boys long jump - Koby Malabre - 3rd
Boys rounders ball throw - Sam Martin - 6th
Girls 80m - Jenny Gray - 3rd
Girls 600m - Alice Horan - 4th
Girls long jump - Phoebe Christopher - 5th
Girls rounders ball throw - Alexandra Brewis - 5th
Boys relay team - 4th
Girls relay team - 5th
Year Six overall - 4th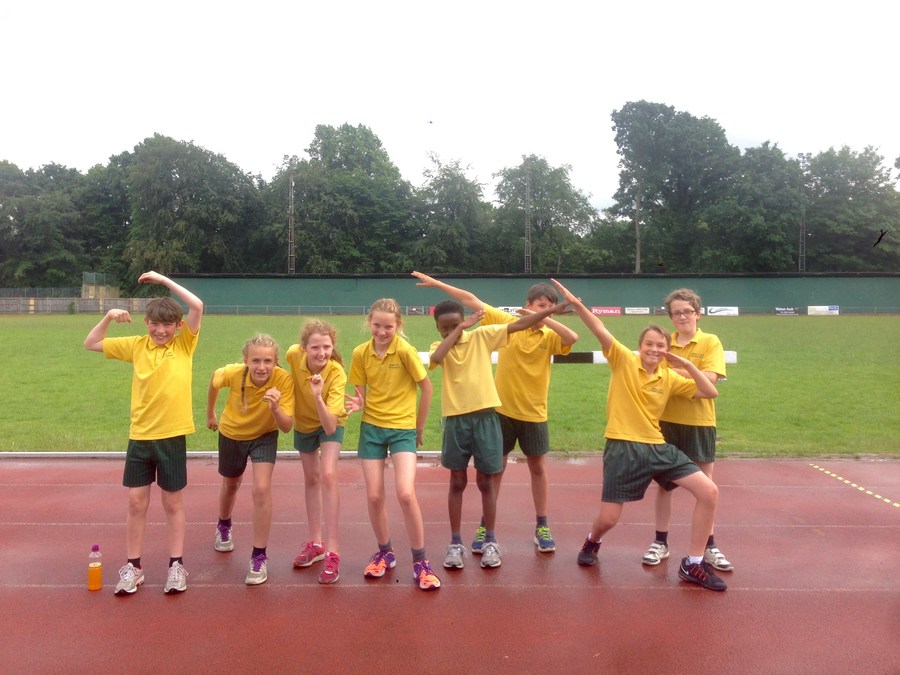 Inclusive Tennis at Surbiton Tennis Club
Wednesday 8th June 2016
Sabrina and Anabel report:
On Wednesday afternoon, Sabrina, Anabel, Ben, Max, Freddie, Alfie and William went by minibus to Surbiton Tennis Club to learn some new skills.
"My favourite skill was hitting the ball with a racquet" (Anabel)
"I liked squashing the ball like a tomato" (Sabrina)
At the end we had a chance to watch a tennis match. It was a really fun day and we learnt lots. Thank you Mrs Stevens and Mr Phil for taking us, we had a fantastic time.
Year 5 Netball Tournament
Wednesday 29th April 2016
Marina, Jake, Daniel K and Tom report:
On Friday afternoon, the year five netball team consisting of Jake, Freya, Tom, Maddy, Daniel K, Marina and Grace E headed to Bell Farm for an afternoon of netball matches against other local schools. We were also up against the weather too as we had heavy rain, strong winds and even some hail!
Match 1: Ashley 1 – St Cuthbert's 0.
Super defending from our GD and GK, and good attacking from GA and GS. Not our best match but we managed to score one goal and defend any others, so we won 1-0.
Match 2: Ashley 1 – Bell Farm 3
Our teamwork improved in this match and we worked really hard. However Bell Farm were just slightly better so they scored three goals and won.
Match 3: Ashley 3 – St Anne's 0
We were playing really strongly now and our teamwork was fantastic. We scored three fantastic goals and blocked all of St Anne's, putting us in the lead. We were through to the semi-finals!
Semi-finals: Ashley 4 – St Ann's Heath 7
We knew this was going to be a tough match as they had beaten us in a league match, but we were feeling confident…especially after we scored the first goal! It was a tense but exciting game and we were very evenly matched. Unfortunately St Ann's had height on their side and were able to score a few more goals so they were through to the final against Bell Farm. They beat Bell Farm 3-2.
We then had a play-off against Cleves for 3rd and 4th place and we won that 2-1 so we came 3rd overall! Thank you to all of the organisers and a big thank you to Miss Penney for training us all year.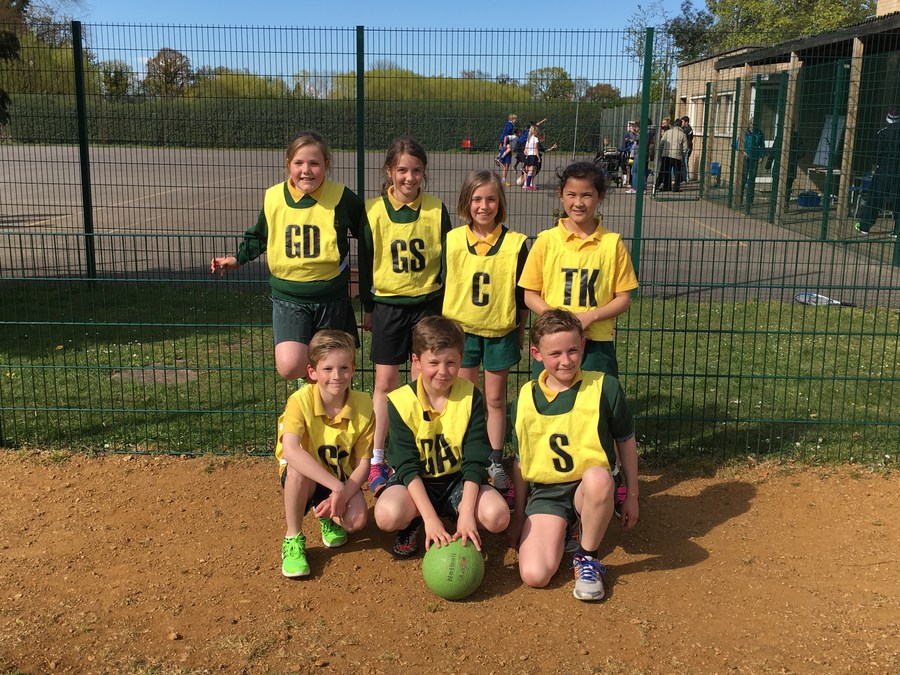 Year 3 & 4 Tennis Tournament
Wednesday 27th April 2016
Phil reports:
On Wednesday four children represented Ashley School in the annual tennis competition at Stompond Lane. With over 12 schools from Elmbridge competing, we were up against some very hard competition. The children play mini tennis in primary school, which some say is harder than normal tennis as the courts are smaller, meaning there is less chance to move your opponent around the court.
Jemima, Lily, Andrew and James performed fantastically well in the group stages, not losing a game. We won our group by over 30 points, meaning that we had to play second place of the other group in the semi final. We came up against a very tough St Charles team, but yet again the children performed excellently well and ended up winning 37 points to 30.
Ashley School progressed to the final and faced Thames Ditton Junior School, who were also unbeaten. After six minutes of action packed, hard hitting tennis, we ended up in a draw meaning we needed to play another one minute of tennis. Unfortunately, Thames Ditton beat us in the sudden death play off. However, as Thames Ditton isn't in the Elmbridge Borough, we were crowned Elmbridge champions and the children are off to the county finals on the 29th June!! A brilliant achievement and a first for Ashley School.
The children were brilliant and represented the school amazingly well with a fantastic attitude, great sportsmanship and some superb tennis. We are all looking forward to the county finals.
Year 5 & 6 'B' team Netball vs Cleves
Wednesday 23rd March 2016
(Year 5) Pippa Tester reports:
On Wednesday 23rd March, the year 5 'B' netball team played Cleves school away at their school. With lots of enthusiasm from the start it wasn't long before Jess scored our 1st goal and soon after she scored our second - we were on a roll! With great defending and marking from our team, we pulled through the 1st quarter. Then, with a quick turn about Valerie and Theo B came on as our goal shooter and goal attack and worked really well together, grabbing every opportunity to score. With Max being a strong captain and centre we gained much control of the ball but Cleves were able to score. In the 3rd quarter myself and Gianna were in goal, I finally scored my 1st goal with great team work especially from Maisie And Hannah defending so well. Cleves scored their second goal and in the last quarter we scored our 4th goal; final score 4-2 to us . Thank you to Miss Penney for all her selfless time and effort and to all the parents who took us to our victory.
(Year 6) Megan Maddocks reports:
On Friday 23rd March the year 6 netball team played a match against Cleves school. The year 6's won the match 8-2. The first goal was scored by Killian, the second third and fourth scored by Catherine. The fifth scored by Cullen and the sixth and seventh scored by Megan. The final one was scored by Sam.
Year 6 Boys Football vs St Anne's
Thursday 18th March 2016
Maldini Borzacco reports:
On Thursday 18th March Ashley welcomed St Anne's for the last game of the season. Ashley started on the back foot as St Anne's attacked but Tate Foxhall luckily cleared the ball. Maldini, Tom and Will counter attacked and Will finished it with an outstanding shot on the edge of the area, sailing into the top left corner of the goal. About three minutes later, Tom played a good through ball to Will who crossed to Maldini who tucked it into the bottom left corner making it 2-0. St Anne's then had a great chance but Joe Kent made an outstanding save to deny them. In the second half Madini finished off another good pass from Will, smashing it in the roof of the net to make it 3-0. Tom Smith then whipped in a cross which bounced of George Burns' knee and went in. As the game drew to a close, Ashley won a corner which George finished with a bullet header which hit the crossbar and went into the goal. The game finished 5-0 to Ashley. Man of the Match: Will Lowe.
And an afterword from Mr Cadman -
Huge congratulations to the Year Six boys on a very successful final season of football at Ashley. In all, the team played five games: won four and lost just the one. In that loss they were without three key players. The team developed fantastically over the season, in particular learning how to play as a team and be positive when things don't go to plan. Well done boys. Mr Cadman.
Year 3 & 4 Tag Rugby Festival
Monday 14th March 2016
James Maloney and Danny Settle report:
On Monday 14th March, ten children from year three and four went to Weybridge Vandals Rugby club and played in a rugby festival. Firstly, we did a warm up drill where we had to jog around in a square and get into groups of a certain number. After that, we played a game of bulldog and over and under to practise our teamwork, speed and dodging. Soon after, we played our first match which was against Cleves. We managed to play exceptionally well, resulting in a 9-2 win to Ashley. Straight after, we played a school called Ongar Place. Again we pulled the victory but this time it was a 6-2 win. Seconds later we had a very tough match against Sayers Court. However, we edged the win with just seconds to go. The end result was 6-5 to Ashley. It was an amazing experience and everyone was chuffed with what we had achieved.
Year Six Netball Tournament
Friday 11th March 2016
Jenny Gray (Captain) reports:
On Friday 11th March, the year six netball team took part in a tournament against other local schools at Bell Farm. The first stage was a round robin and we played really, really well in our group – we drew one match and won four matches. After the five matches we were very pleased to hear that we had won our group so were through to the semi-final where we played the runners up of group two: Holy Family. It was a very tense match but one which had so much enthusiasm and excitement that George ran straight into the netball post trying to get the ball! Fortunately we won 2-1 so were through the final against Bell Farm. We knew they had a very strong team, but as we had also got to the final we knew we must be a good match for them. We played our very hardest and performed some outstanding marking and at half time were winning 2-0. However, due to some excellent shots from them, the score was 5-2 to Bell Farm on the final whistle. We had a really fun afternoon with lots of fun and laughter and it was a great way to finish playing netball for Ashley School.
Invitational Cross Country at Claremont Fan Court
Wednesday 9th March 2016
Phil reports:
On Wednesday afternoon 10 Year 6 children represented the school at the invitational Cross Country Event at Claremont Fan Court. We arrived early to prepare ourselves properly and were able to walk part of the course. The children had to run 2.4km through wooded areas, up very steep hills and on very wet grass.
Five very nervous Year 6 girls went off first and ran amazingly well.
Alice - 9th place
Alexandra - 10th place
Jenny - 12th place
Catherine - 13th place
Isla - 15th place
The first 4 athletes scored points, with each place equating to points. The school with the lowest combined score from their four fastest athletes will win. The girls ended up with a very impressive 44 points and out of eight schools the girls finished second overall which is a huge achievement. Well done girls.
The boys were up next and with the sun starting to come out it was perfect running conditions. With over 13 schools competing in the boys race, they were up against some very strong opposition.
Jacob G - 20th place
Tom - 28th place
Tate - 38th place
Ben - 45th place
George - 51st place
The boys came equal 7th out of 11 schools; another fantastic result.
Well done everyone!
Year 6 Football vs Bell Farm
Friday 4th March 2016
Joe Kent reports:
On Friday 4th March Ashley played against Bell Farm B team in a home game. Tom Smith scored the opener against Maldini (who went in goal for Bell Farm who turned up with only six players). Both teams had good chances in quite an even game. Then Tom scored a second giving Ashley a 2-0 lead. In the second half Maldini came back on Ashley's side and George Burns, making his Ashley debut, played up front for the opposition. About eight minutes in, eager to impress, George dribbled through the Ashley defence and smashed the ball into the net. Later on, Bell Farm pushed for an equaliser but luckily for Ashley, Tom got his hatrick. Final score 3-1 to Ashley who are now top of their group of four with one game to go.
Year 5 & 6 Netball vs Bell Farm
Tuesday 23rd February 2016
Year 5: Killian (Captain) and Jake report:
On the 23rd of February year five played a netball match against Bell Farm primary school. The Team was Killian, Freya, Maddy, Marina, Grace E, Jake and Daniel K. They were all really excited and worried as in football they had beaten Ashley 1-0. The players were tall, but the team coach (Miss Penney) had faith. In the first quarter Ashley didn't concede or score. In the second half Killian Smith scored two amazing goals, which put Ashley 2-0 up. The third half was a mix of goals as Bell Farm scored once, but Jake and Freya made a comeback and scored two great goals! In the last four minutes of the game, Ashley scored twice and Bell Farm scored once and left Ashley with a proud victory 6-2.
Year 6: Jenny Gray (Captain) reports:
On the 23rd February, year six played a netball match against Bell Farm. It was a tight game with lots of epic goals scored. Unfortunately, we just lost (7-3) but we played really, really well. The Bell Farm coach commented on how much we had improved since last year and we were all very proud of our effort and skills.
Year 5 & 6 Netball vs St. Ann's Heath
Tuesday 2nd February 2016
Year 5: Tom Jenkins (Captain) reports:
The match took place at Ashley on Tuesday 2nd February. The team for the match were; Freya, Tom J, Daniel K, Mollie, Maisie, Lily, Jake and Marina. St Ann's Heath were a very good side and have won a lot of their previous matches, and this was clear from the start of the game. They passed quickly and scored early in the first quarter and again in the second. Ashley marked their players well and passed swiftly but the opposition managed to intercept many of our passes. We fought back in the third quarter with Freya scoring four quick goals, who remained calm at each opportunity. This brought the score to 4-2 to Ashley. Unfortunately in the final quarter St Ann's Heath came back strong and scored three good goals leaving the final score 4-5 to St Ann's Heath. Both teams played extremely well and it was a very close match.
Year 6: Sam Martin (Captain) reports:
On Tuesday 2nd February, St Ann's Heath came to face the year six netball team. The game started evenly and both sides had several chances, but at the end of the first quarter the score was still 0-0. At the start of the second quarter, a beautiful move came to a finish with a goal by Sam Martin making it 1-0. Two more fantastic moves became two more beautiful goals, both scored by Phoebe Christopher. However, St Ann's Heath very quickly scored three goals with clever tactics on their part. At half time after a quick change of positions and team talk from Miss Penney, our spirits were lifted and we were keen to continue! The third quarter was very tense but luckily Tom Smith scored a fantastic goal just before the whistle blew. It was 4-3 to Ashley at the start of the fourth quarter but it was important we continued to play our best. It was a very tight quarter but in the dying ends of the match William Lowe scored a superb goal, making it 5-3. The whistle blew 12 seconds later and we cheered in victory!
Inclusive Badminton Festival
Friday 29th January 2016
Zach and Leo report:
Last Friday we went to play badminton at Surrey Sports Park. There were eight schools there in total. We had eight different activities to do and our favourite was when we had to play girls vs boys from our school - it got very competitive! On each of the activities we gained points for scoring, but also points for our team work and improved badminton skills. Out of the eight schools, we came 5th which we were really pleased with.
"I really liked it. I got much better at catching and throwing by the end of it." - Freya
"I learnt how to hit a shuttlecock. My favourite part was when we were throwing the larger shuttlecock to each other. The whole day was brilliant fun!" - Zach
"I liked picking up the little shuttlecocks and moving them to the different hoops. I had to have good balance." - Alfie
"It was really fun. I enjoyed hitting the shuttlecocks and didn't want to come home." - William
"I enjoyed it when we clapped and then we had to catch the big shuttlecock. It was quite challenging!" - Amelia
Year 5 & 6 Boys Football vs St. Anne's
Thursday 28th January 2016
Year 5 - Mr Phil reports:
The Year 5 football team travelled to St Anne's for their first match of the New Year yesterday. After a nervous start and a couple of great goal line clearances, we started to settle in to the game. At half time the score was 0-0 and we were quietly confident that we could go on and win the game in the second half. Unfortunately we went 1-0 down, but we showed great character and very quickly made the score 1-1. We ended up losing 4-1, but we could easily have won the game! Unfortunately for us, St Anne's took their chances in front of goal and we didn't, but the boys performed brilliantly and I am very confident we will have a good rest of the season. Well done, boys.
Year 6 - Ben Carrodus reports:
Last Thursday the year 6 football team journeyed to St Anne's for their first match of 2016. It was a slow start but eventually Tom Smith thundered a goal into the top left corner to give Ashley the lead. St Anne's fought back with an equalizer but only to have it answered by another Ashley goal from Maldini Borzacco. The score at half time was 2-1 to Ashley. The Ashley team settled into the second half quickly with another goal. Their confidence was up and they attacked the opponent's goal threateningly. The goals then came thick and fast, Tom Smith got his hat-trick with Will Lowe picking up two; Ashley found themselves 6-1 up. St Anne's kept on going, claiming a consolation goal towards the end. The man of the match was Ben Carrodus who had a stormer, showed team commitment and was unfortunate not to score himself after a couple of assists. A great start to this term's league of three teams: Ashley, St Anne's and Bell Farm. Next up, Bell Farm away.
Year 5 & 6 Girls' Football Tournament at Royal Holloway University
Tuesday 26th January 2016
Mollie and Lily-Anne report:
On a very wet and windy Tuesday afternoon, the year 5 & 6 girls' football teams travelled to a football tournament at Royal Holloway University. When we arrived we were slightly put off by the howling gale and lashing rain, but also really excited as the pitches looked amazing! We quickly got changed and were ready for our warm up with Mr Phil. We then started the round robin phase of the tournament. Both teams played really well with the A team winning their first match 1-0, drawing the next two matches 0-0 and then winning their final match 3-0. The B team drew their first match 0-0, lost their second match 0-1 and drew in their final match 0-0. We had some excellent defenders and goal keepers! After knockout stage, the A team were in second place in their group so went through to the quarter finals. Unfortunately the B team didn't get through but they had played really well. The A team had a very tense match against Cleves which went to extra time and then penalties as the score was still 0-0. Mr Phil and Miss Penney were really nervous by this point, but they knew we had the excellent goal keeper Maddy T, and some fantastic strikers. We won on penalties 4-2 and were through to the semi-finals! The semi-final was against St Charles Borromeo and they had one particularly strong player on their team. However, with the fantastic defending pair Holly F and Alice, they didn't score any goals. Despite our best efforts from Alex B, Jenny, Marina and Catherine all playing striker or mid-field, we also didn't score any goals. Another penalty shoot out!! Unfortunately we weren't quite as lucky this time even though Maddy made some fantastic saves. Nonetheless, we were thrilled to have reached the semi-finals and left the tournament in 3rd place out of 18 teams. Miss Penney and Mr Phil said that as the tournament went on we became stronger and better as a team and played really well together. Thank you Mr Phil, Miss Penney and Holly's dad for taking us and standing in the cold and wet all afternoon to support us and cheer us on.
Four wins in two days: Ashley Netball teams are victorious!
Tuesday 19th and Wednesday 20th January 2016
Year Six vs Cardinal Newman - Jenny and Will report:
On Tuesday 19th of January after school, Cardinal Newman came to our school to play a netball match vs our year six. It was a very cold and quick game and in the end we won 14-0 . We dominated the match and had fast passing and super shooting skills. Will scored 4 goals, Jenny scored 3, Phoebe and Alice both scored 2 and George Tom and Alex all scored one! Miss Penney said our team spirit was fantastic and kept her smiling throughout the match.
Year Five vs Cardinal Newman - Daniel and Marina report:
The year 5 netball team consisted of Tom J, Daniel K, Max, Marina, Freya, Jess, Gianna and Maisie. It was a great start from both teams; our quick passing was excellent. The goal keeper and goal defence were fantastic at defending, only letting in one goal. The goal shooter and goal attack worked really well together at marking and shooting, scoring seven goals in total, and the centre was always on the lookout if any team mates needed help. Overall it was a tense match but we played really well as a team and won 7-1.
Year Six vs Cleves - Jenny reports:
On Wednesday, 20th January on another freezing cold afternoon, year six played a netball match against Cleves. It was a very evenly balanced game but we were just a tiny bit better because we won 4-1. Cleves scored an awesome goal, and we worked really hard to mark our players and make quick passes. Everyone had a great time and it was a huge success.
Year Five vs Cleves - Marina and Daniel report:
The year 5 netball team consisted of Tom J, Daniel K, Killian, Marina, Freya, Jess, Pippa and Grace. Again we had a good start from both teams, both making excellent passes with some really strong marking. We were fortunate to score two goals very early on in the first quarter. As the match continued our team played better than ever, but unfortunately Cleves weren't able to keep up with our quick passing and super marking skills. The final result was 9-0 to Ashley. Thank you to both schools for organising and preparing the two matches.
Year 5 & 6 Girls Football vs St Cuthberts
Friday 4th December 2015
Marina Lasa reports:
The Y5 team consisted of: Maisie, Pippa, Maddie, Georgia, Gianna, Mollie, Eva, Lily-Anne and Marina.
Match 1: Ashley 0 - St Cuthberts 0.
It was a brilliant game from both teams. Excellent start from Maddie who was midfield. The defenders (Pippa, Gianna and Maisie) were great at being alert all the time, making sure that the ball didn't go behind them at all. Marina and Eva were subs on the side cheering the team on! Half way through the match they swapped with other players so they could have a rest. Lily-Anne was an amazing goalkeeper saving lots of goals and Marina kept shooting the ball with a lot of power, but unfortunately kept hitting the post. After the beep indicating the end of the match none of the teams scored, but the important thing was that we all tried our hardest.
Match 2: Ashley 1 (Marina 1)– St Cuthberts 2
The second game was a bit harder because the other team played really, really well. With one of Marina's kicks she scored a brilliant goal, right in the top right corner! We never gave the ball away, we kept in contact with our team mates and passed the ball to them so we could try and score again. Maddie was about to score but the defenders were very good and stopped it.
We all had a lot of fun and played amazingly well. Thank you for those who organised this match for us to play in. Also a big thank you to our coach Phil who was fantastic!
District Cross Country
Saturday 28th November 2015
The Ashley Cross Country team have been training hard every Thursday morning before school for the last 10 weeks, and this Saturday was show time! Every child who ran on Saturday should feel exceptionally proud of themselves; not only did they run a (very!) long way against a lot of other children (there were approximately 70 children in every race), their sportsmanship and team spirit was second to none. It was fantastic to see so much cheering for one another and support across the different age groups. All of the individuals did really well, but special mention must go to our highest placed individuals:
U9 girls (1.6km) – Evie Bedford (10th), Matilda Fagg (14th)
U9 boys (1.6km) – Lance Lavery (7th)
U10 girls (1.8km) – Maddy Tester (27th)
U10 boys (1.8km) – Tom Jenkins (33rd)
U11 girls (2km) – Isla Carpenter (9th), Alice Horan (13th), Alexandra Brewis (14th)
U11 boys (2km) – Jacob Gelona (16th), Tom Smith (19th)
Overall results:
U9 girls – 3rd place
U9 boys – 3rd place
U11 girls & boys – 3rd place
These results are fantastic as there were over 15 schools taking part, so very well done team! Miss Penney
Year Six Boys Football vs Manorcroft
Friday 27th November 2015
Maldini Borzacco reports:
On Friday 27th November, Ashley played in a crucial table decider but with two key players missing: Will Lowe and Joe Kent. Jacob Gelona got called up to play and Maldini Borzacco started in goal. Manorcroft got the first shot powering a ball at Maldini who stretched to keep it out. Then Ashley began to dominate. Tom Smith took a lovely corner but no-one got their head on it. At the end of the half Ashley had a great chance to score but Koby Malabre put it just wide. Half time: 0-0. In the second half the Ashley defence was solid with Tate Foxhall, Sam Martin and Sean Mortimer all strong. Unfortunately, Tate gave a way a penalty that was a 50,50 challenge. Fortunately, they put the penalty wide. Later on, Ben Carrodus was having a great game whipping in great crosses but the goal just wouldn't come. Tom Smith had an amazing game, winning tackles and always threatening the goal. Late on, Manorcroft got a lucky goal from the last corner of the game, with the ball difficult to see in the fading light. Ashley were devastated to lose after playing so well. Full time 1-0 to Manorcroft. Man of the match: Tom Smith. The result means Ashley come second in their group of four.
Year Six Netball vs St Anne's, Chertsey
Wednesday 25th November 2015
Alex Brewis (Captain) reports:
On the 25th November it was the year 6 netball teams first match of the season. They were very nervous and also very excited . It was against St Anne's. It was a tight match and unfortunately St Anne's won 5-4. Although St Anne's won, the year 6s still tried extremely hard. The only thing that let them down was their foot work and the referee definitely noticed that! Miss Penny is very proud of them and thinks that they did very well.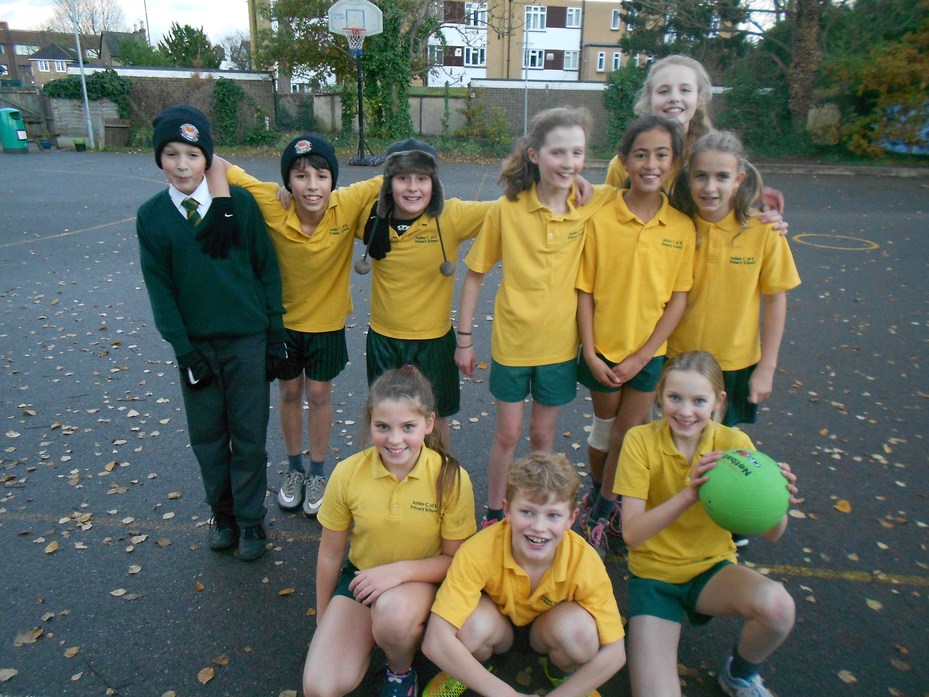 Year Six Boys Football vs Bell Farm
Thursday 19th November 2015
Coach Cadman reports:
Following Tuesday's positive performance in the schools tournament, only coming unstuck in a penalty shoot out in the quarter finals, we were feeling confident; however, our opponents, Bell Farm, also had a strong tournament, only losing 1-0 in the final. The game started well with Ashley pushing and probing up front. Maldini Borzacco was confident on the ball and had good energy around him in Tom Smith and Sam Martin. Eventually, Bell farm could not hold anymore and Maldini put one past the keeper. The pressure continued and within minutes, the keeper pushed a stinging shot from Tom Smith to the feet of Will Lowe who finished confidently. Bell Farm came back strongly and our defence did not seem secure. After half time our defence's positional play improved significantly. Sean Mortimer and Tate Foxhall making great interceptions, including an incredible goal saving header off the line by Sean. Despite this, a lucky deflection and questionable slide on Joe Kent in goal got Bell Farm on equal terms at 2-2 with five minutes to go. Ashley kept pushing for the win and a great goal by Ben Carrodus gave Ashley an exciting winner which we held onto well. A great first league win: 3-2.
Year Six Football Tournament at Royal Holloway
Tuesday 17th November 2015
Tom and Joe report:
On Tuesday 17th November, Ashley's year six football team took part in a tournament at Royal Holloway University. In our group we faced St Paul's, Stepgate, Holy Family and St Anne's Heath. We came top of our group with three wins and a draw, and in the quarter final we faced St Cuthbert's. After eight minutes it was 0-0, and then it went to three minutes extra time that was also goal-less. Before we knew it, the ref had blown his whistle and signalled a penalty shoot out! Tom took first strike and unfortunately hit the crossbar, but was inches away from a great penalty. Next up, Joe made a fantastic and vital penalty score to keep Ashley in the shootout. Now it was 2-1 to St Cuthbert's in penalties and up to take next was Tate, but unfortunately it was placed wide. Finally it was Sean and Maldini, who both scored brilliant penalties, but despite our best efforts we lost to them 4-2. It was a fantastic afternoon and we all really enjoyed ourselves.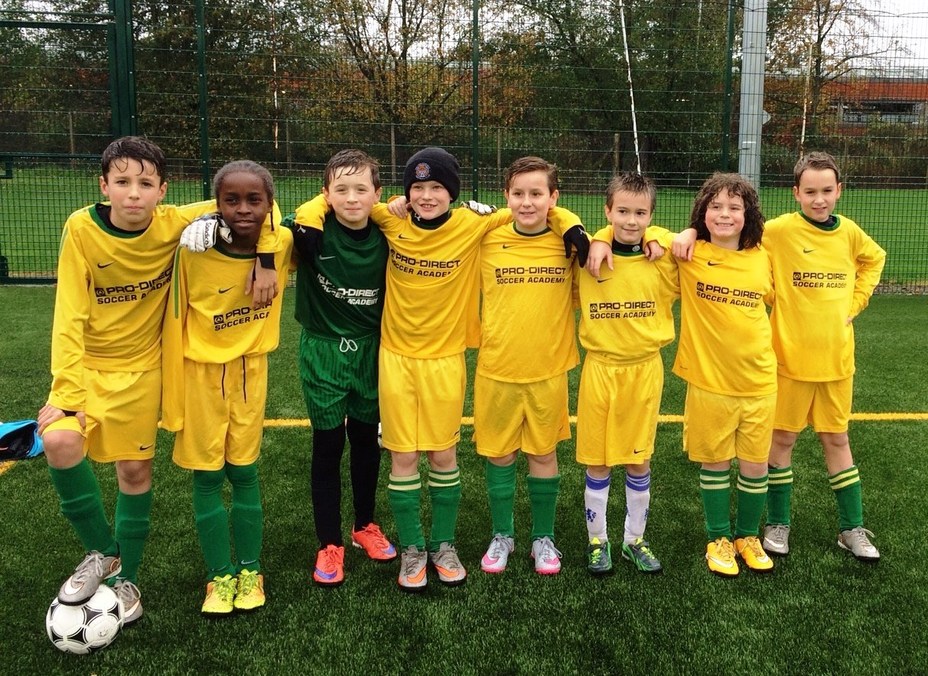 Year 5 Netball vs St Anne's, Chertsey
Tuesday 10th November 2015
Lilly-Anne (Captain) reports:
Yesterday was our first ever netball match against another school - we were all very nervous but really excited at the same time. Our first thought when St Anne's arrived was how tall they were. They were MUCH taller than us! The first two quarters were very competitive and by half time the score was still 0-0. We went into the third quarter feeling confident and determined to score, but St Anne's had the same idea and they scored first! We quickly took control again though and Grace scored a fantastic goal to bring us back to 1-1. St Anne's then scored another goal, but Jake did a super goal from quite far out to put us back to 2-2. Just before the whistle blew for the end of the third quarter, Jake scored again and we were winning 3-2. We were really excited for the final quarter and very quickly an excellent goal was scored by Tom. We managed to keep possession of the ball for quite a lot of the final quarter, but St Anne's got another quick goal. We were back to the centre, and before we knew it St Anne's had the ball in their attacking third, just about to score and.... the whistle blew! We had won our first match 4-3!! It was an incredibly close game and extremely fun.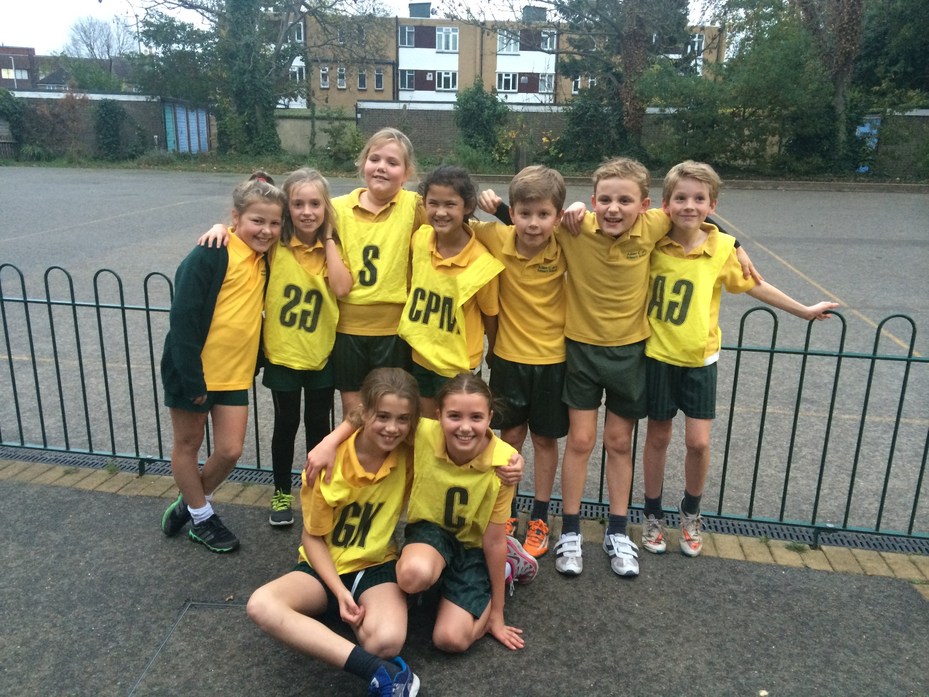 Tag Rugby Festival at Cobham Rugby Club
Wednesday 4th November 2015
Matthew T reports:
On Wednesday 4th November, 11 children from years five and six took part in a Tag Rugby festival at Cobham Rugby Club. Other schools such as Cardinal Newman and Cleves were also there. Maldini, Grace, Maisie, Samuel, Sam, Zach, Macarena, Flo, Lyla, Rhys and Matthew all did very well. With a nerve-wracking score of 4-0 after our first match, we were all feeling a little nervous. However, we played much better in the second game, finishing on 3-1 with a fantastic try from Matthew. Although we then lost our next match, Maldini's quote "keep going team, we can do this!" really inspired us all. Our final match was drawn 2-2, with great tries from Rhys and Maldini. "I can't believe I scored a try!" - Maldini was ecstatic. At the end of the day awards were presented for discipline, enjoyment, sportsmanship, fair play and team work by Luke and George from Harlequins Rugby Club. Despite not receiving any awards, it was great to end on such a good note and a fun afternoon was had by all.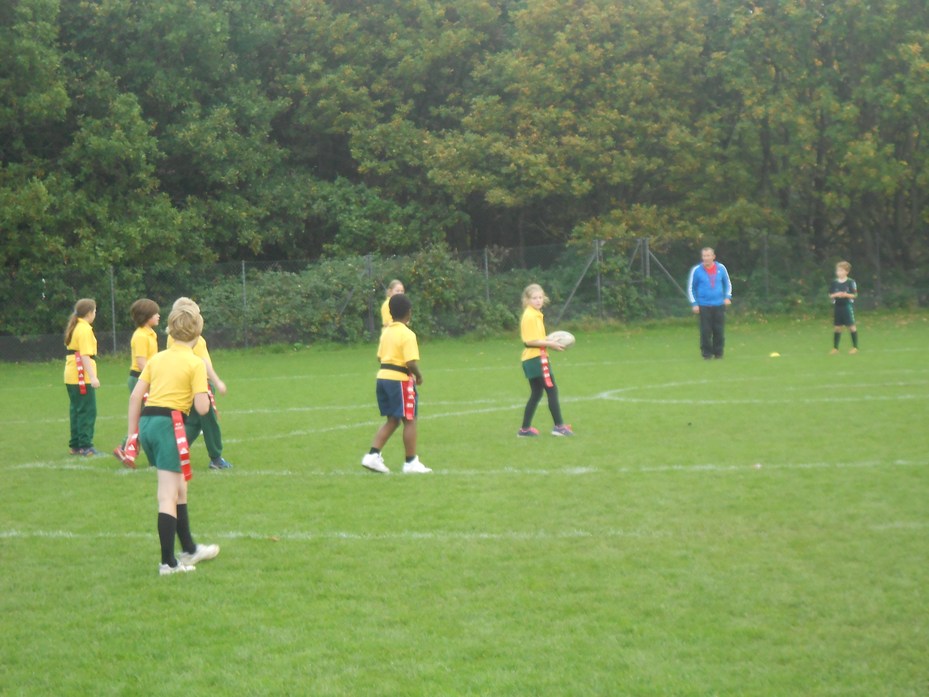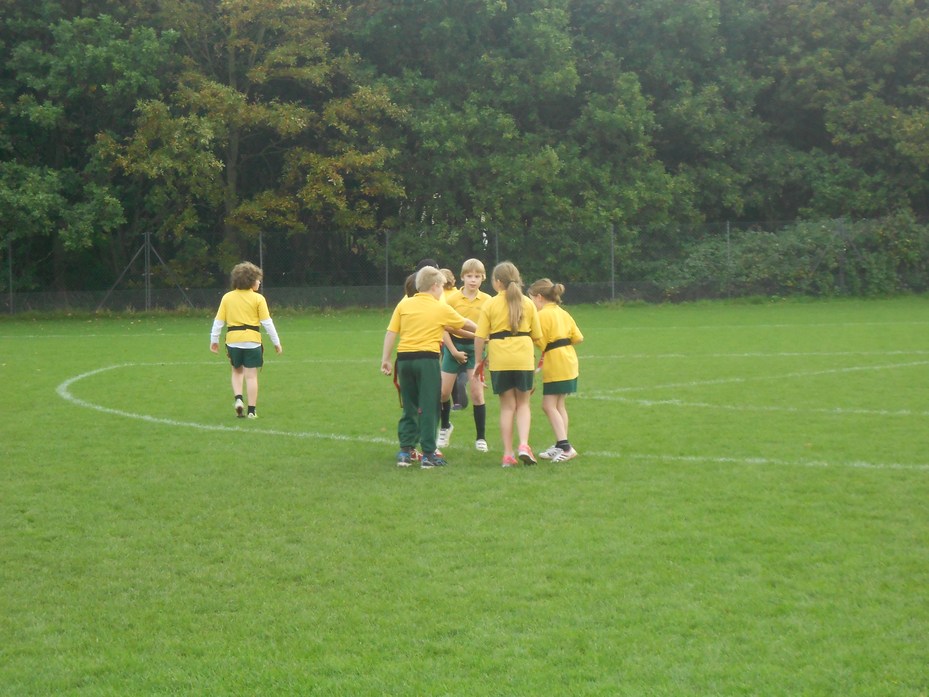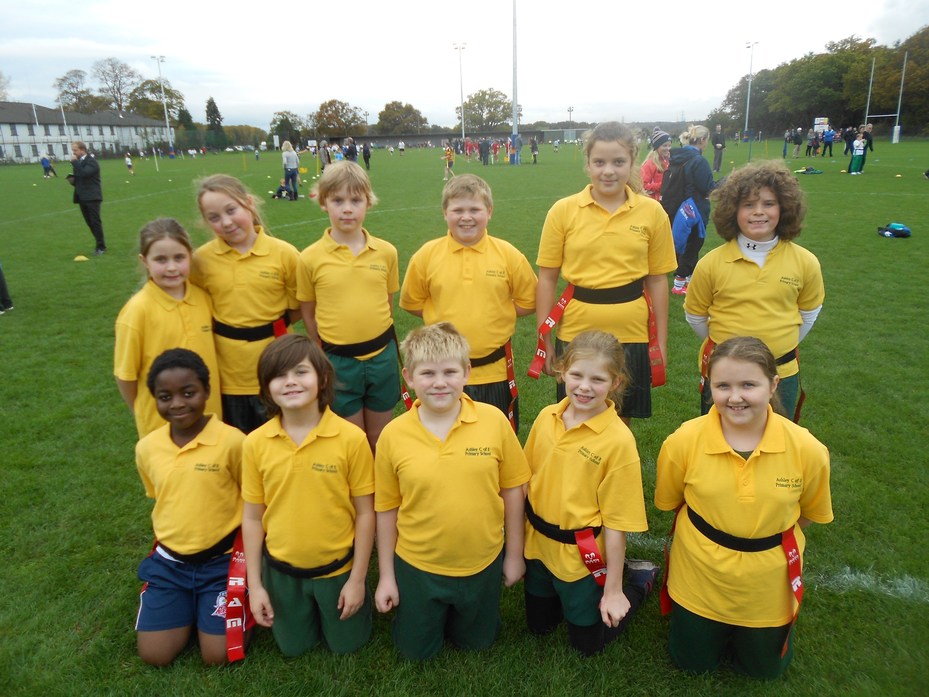 Skipping Workshop
Wednesday 13th and Thursday 14th October 2015
On Wednesday and Thursday, the 14th and 15th October, we were very fortunate to be able to welcome Lizzie Cox, a National skipping coach, into our school. Every class took part in a fantastic half an hour workshop wherethey learnt different skipping skills, tricks and routines. Each day culminated in an exciting performance, show casing the different skills the children had learnt throughout the day. A particular highlight has to be Callum from year 5 skipping inside the double-dutch ropes, and Mr Cadman taking part in 3-man skipping! The Sports Council now look forward to continuing the 'skipping craze' out on the playground at breaktimes and lunchtimes – make sure you look out for their Skipping Club.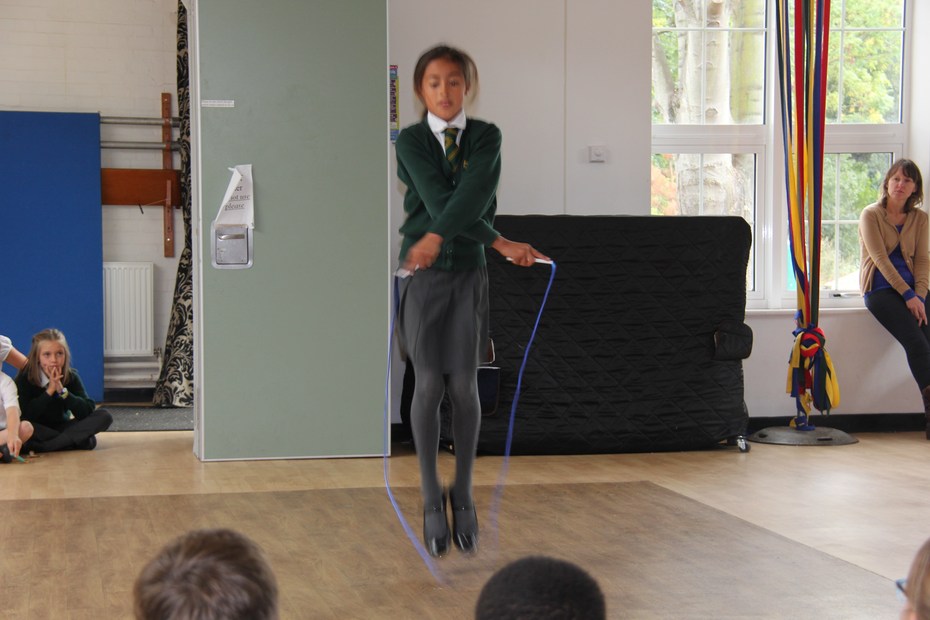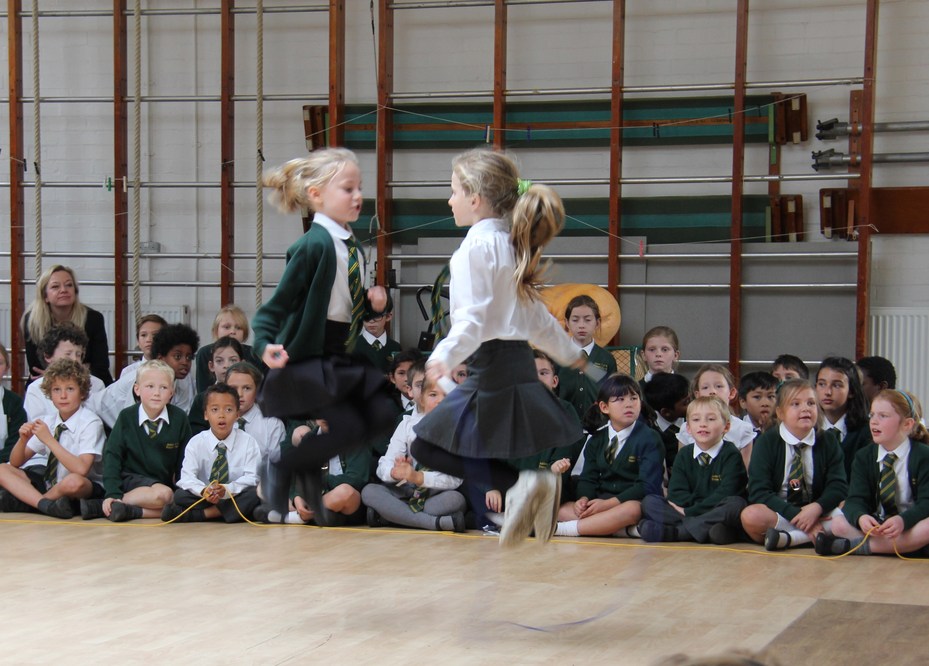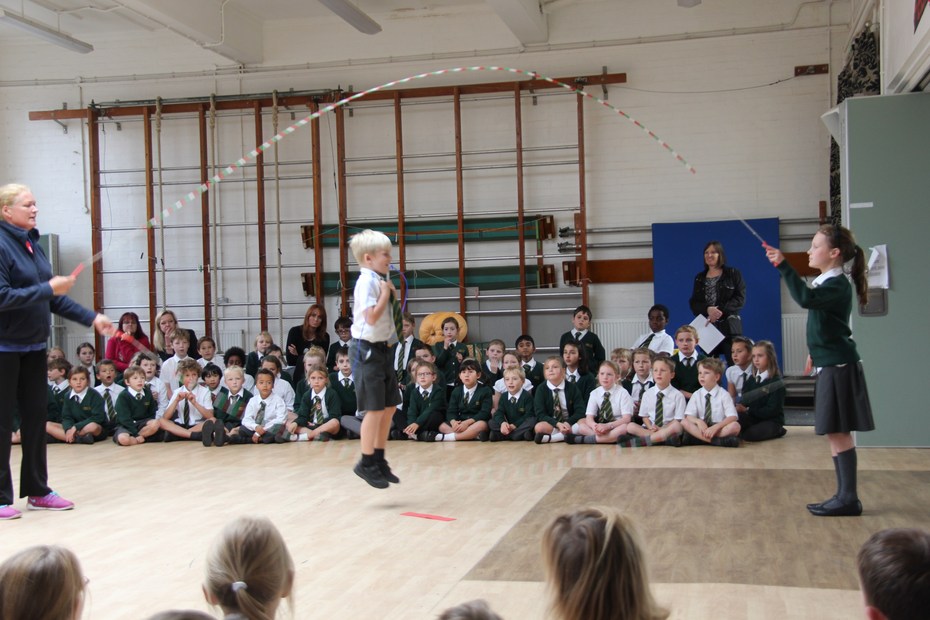 "I never realised how fun skipping was before the workshop" – Hannah, Kestrel class
"We need to keep practicing in case we forget it" – Mary, Dragonfly class
"Skipping was brilliant because you get to do different skipping like front skipping, back skipping, wrapping it around your arm. I didn't like skipping but now I do!"- Toryn, Fox class
"I really liked skipping because it was so active – I don't like sitting still! I couldn't believe how much energy it used up, I was exhausted afterwards." – Lewis, Swan class
Sports Council 2015-2016
The role of the Sports Council is to make sure that all of the children at Ashley School have an opportunity to take part in different sports and events throughout the year. They will help to plan, organise, and share ideas with Miss Penney and be the voices of the children in the school. We're looking forward to an exciting year of sport!

Year 3

Year 4

Year 5

Year 6
Sports Day 2015
Tuesday 14th July 2015
Last Tuesday saw all the children of Ashley school running, jumping, throwing and space hopping which could mean only one thing… Sports Day! And what a fantastic day was had by all. The children thoroughly enjoyed their field events throughout the morning which involved a variety of different sporting skills, team work and competitiveness. The sprint races and long distance races were also a great success; not only do we have some incredibly speedy children in our school but also some amazing sportsmanship – it was absolutely fantastic to see everyone cheering on their team mates, friends and peers to the finish line, as well as encouraging and even joining those who were perhaps trailing behind a little. There was a wonderful atmosphere throughout the whole day and it allowed our whole school ethos to shine through magnificently – well done Ashley School!